Three races down in the 2018 Moto2 World Championship, and it is Francesco Bagnaia who leads the pack as the paddock arrives in Jerez for the first European round of the season. A win in the opening round of the season in Qatar, where he won a last-lap battle with his flatmate Lorenzo Baldassarri, saw Pecco take the immediate lead in the championship, but a ninth place in Argentina meant that he had to bounce back well in Austin. He did that – winning the race comfortably in the end after Alex Marquez led the early laps. Thinking to Jerez, it is the place where Bagnaia took his first Grand Prix podium back in 2016 on the Aspar Mahindra, and again last year he took his first Moto2 podium at the Spanish track. With that in mind, it could take a particularly special performance to beat the number 42 this weekend, but there are plenty lining up to do just that.
Firstly, Alex Marquez. The Spaniard has had the pace to at least be on the podium in all three of the opening fly-away races. In Qatar he somewhat fulfilled that, although an overheating rear brake cost him a chance to fight for the win in the season opener. Argentina went a different way for the Marc VDS rider, though, as he made a mistake in the closing stages of the race when trying to pass Baldassarri for fourth place, and that cost him a chance at the Argentine podium – fifth in the end for the 2014 Moto3 World Champion. Last time out, in Austin, Marquez was the pre-race favourite, and early on it looked as though he was going to take his first win of the year, but it was not meant to be as Bagnaia's tyre conservation proved superior, and Marquez was left to fight off the late charge of Miguel Oliveira for second place. But Marquez won this race last year, and you could argue that it was only so because his teammate and eventual World Champion Franco Morbidelli crashed out in the early part of the race, but equally it is possible to say that it was the pace of Marquez early on that brought the mistake out of Morbidelli, handing Marquez a comfortable victory. Will it be quite as simple for the home favourite this year? Probably not. The KTMs are stronger and in bigger numbers this year, and there are a number of Kalex riders who look strong at this early phase of the season. But do not discount Marquez, he will be there.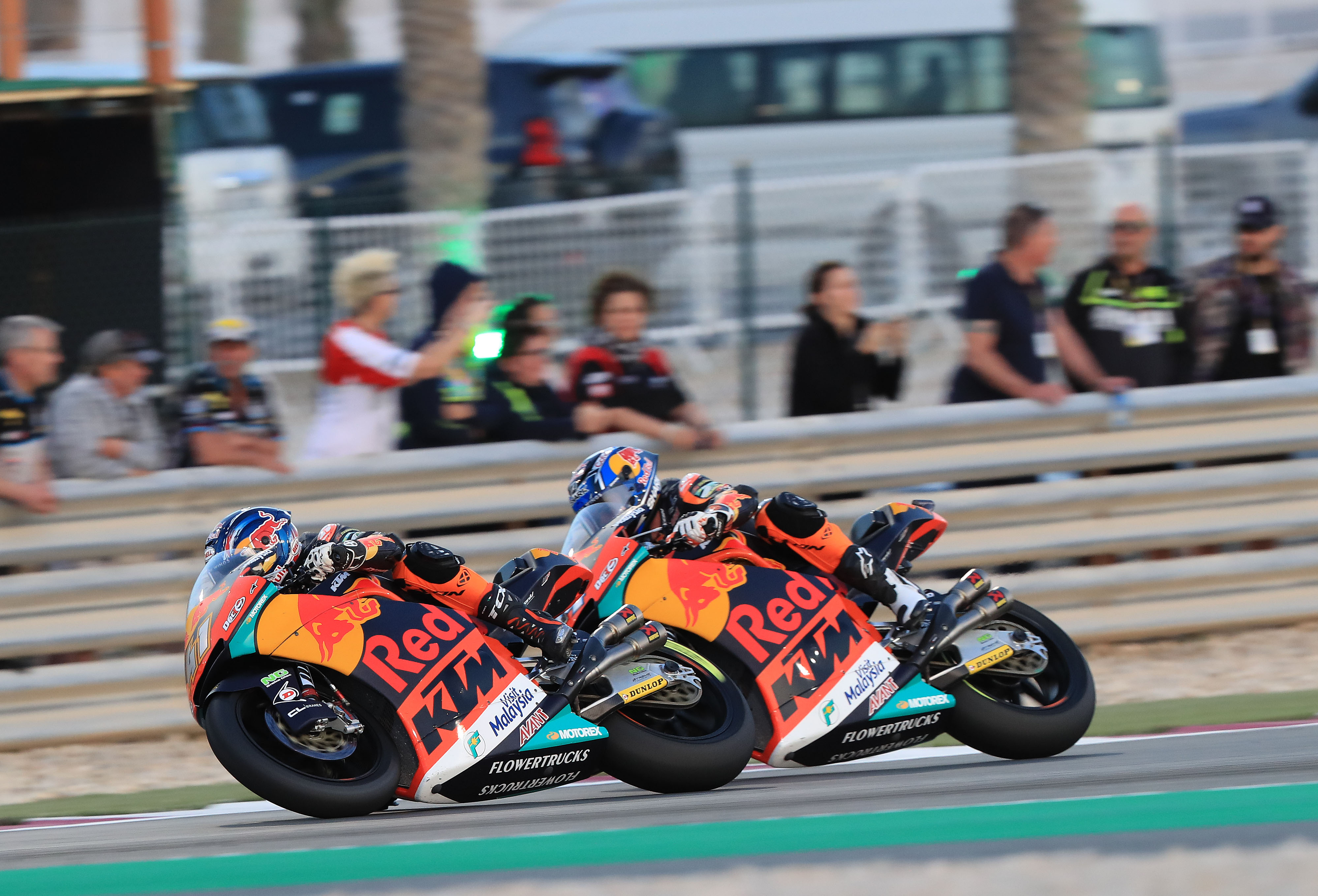 But perhaps this weekend will finally be the coming of the KTMs. Qatar never materialised for the Austrian marque, the two 'factory' riders, Oliveira and Brad Binder, had average qualifying performances, and even more average first laps, and Sam Lowes on the Swiss Innovative Investors KTM had a false neutral issue, which eventually caused him to crash midway through the race at the final corner. Argentina should have been Miguel Oliveira's win, but the determination of Mattia Pasini proved enough to deny the Portuguese, who took his first 2018 podium in the end with third place. Once more, Austin should have seen the Portuguese flag lifted above the top spot on the rostrum, but another poor qualifying for both Oliveira and Binder, coupled with average-at-best opening laps for the pair, and a bizarre crash early on for front-running Sam Lowes meant that once again there was nothing that anyone on a KTM could do about the win. But, finally, in Austin we saw the KTMs excel where we expected, late in the race, with supreme tyre management. Oliveira's pace once he got some open asphalt in front of him was only matched by Joan Mir when he too cleared the train that had formed from third place down to about twelfth or thirteenth. With that in mind, and with the nature of Jerez, even with the new surface, the KTM riders will once again be in with a good chance to take the victory.
Jerez is a good circuit for some of the KTM riders, too, with Brad Binder picking up his first Grand Prix win back in 2016 when he started from last, and Sam Lowes dominated the Moto2 race the same year when he was riding the Gresini Kalex. Also, it is the first race of the season to be held at a race track known by Iker Lecuona, who has shown good progress so far this season on the #27 SII KTM (he is Sam Lowes' teammate), and yet he had not been to any of the three tracks the World Championship has so far visited in 2018. Could a first Grand Prix podium be on the cards for the young Spaniard?
Mattia Pasini has already claimed one win this season, and started it much better than one year ago. In 2017, the opening races of the season for Paso were a demonstration in how to throw away good positions in the middle of races, but in 2018 he finished fourth in Qatar, first in Argentina and seventh after a tyre choice mistake in Austin. Pasini took until Jerez last year to turn his sharp-end pace into a sharp-end result, when he finished fourth, just beaten by Oliveira at the end of the race as the KTM rider came through with, you guessed it, better rear tyre life. Pasini has no option but to eye the championship this season, and will be aiming for the win this weekend – as we saw in Argentina (and Mugello last year), when Paso can win, he is very difficult to deny.
It would also be a mistake to discount Joan Mir this weekend. He had the pace for his first podium in Moto2 in Texas, but he got caught up in an incident with Domi Aegerter on the first lap which cost him the chance ultimately. Maybe at his home race, Mir can do as Bagnaia last year, and claim his first intermediate class rostrum.
Two riders will not be in attendance this weekend: Domi Aegerter and Remy Gardner, both of whom injured themselves in training crashed – a broken hip for Domi and a pair of broken legs and an ankle for Gardner will keep the pair out for Jerez and maybe also Le Mans (in fact that is almost a certainty for Remy). Gardner will be replaced by Hector Garzo this weekend, who replaced Xavi Vierge last year in Germany, and qualified on the front row, although he crashed out of the race and has so far been out-performed (at least out-paced) by his teammate in the CEV Moto2 European Championship, Lucas Tulovic, but it is a big opportunity for Garzo on a circuit he knows. But it will be Tulovic who replaces Aegerter at Kiefer Racing, which is an opportunity similar to that of Garzo – a big one on a track he knows.
Normally, this would be the point in the season where we really start to see who can compete for the championship, because everyone knows Jerez, and also because it shares similarities with almost every other track on the calendar. However, this weekend is perhaps a little bit different for the Moto2 class, because the field is so competitive. But that just means that we should be in for a classic Moto2 battle, right?
Featured image courtesy of Redbull Contentpool