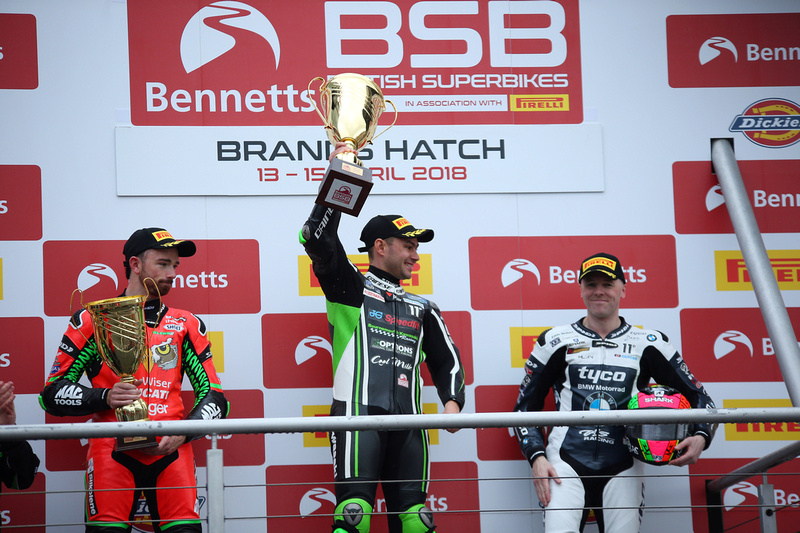 After a dry race one, rain arrived for the second BSB race of round two. The clouds began to open up during the supersport race which preceded the second outing of the day for the BSB class, but stopped early enough to allow a dry start to the premier class race.
After setting the fastest lap of race one, Bradley Ray started on pole for the third time in as many races, and just as in race one he arrived at turn one at the head of the pack. However, unlike race one, it was Leon Haslam who slipped into second place, whilst Shane Byrne dropped from his second-place grid slot to fourth as Jake Dixon also found a way through as they made their way into Paddock Hill for the first time. Danny Buchan got caught on some cement dust put down after an oil spillage in the sidecar race, and that dropped him close to the rear of the pack.
The first lap was over, and it had been a good one for James Ellison, who had made up a number of positions after his poor luck in race one meant that he was forced to start  further down the grid. Brad Ray had also had a stunner, and was already opening a gap on Leon Haslam. And with Byrne still down in fourth, with Christian Iddon hounding him as well, it looked to be a good opportunity for Ray to take his third win in four races.
Indeed, it was Iddon who demoted Byrne to fifth place at Paddock Hill at the beginning of lap two, and at the same time Haslam started to reel the leader back in. Bringing Dixon with him, Haslam had managed to peg Ray back with the fastest lap of the race as they moved onto lap three.
After a few laps of little-to-no change in the order at the front, Jason O'Halloran moved past Byrne to take fifth place away from the reigning champion on lap five, the Aussie then, set his sights on his second podium of the day, and now it was the second Buildbase Suzuki of Richard Cooper who was having a look at the exhaust layout of the #67 Ducati Panigale.
Lap seven; and Peter Hickman chose that moment to make his move on Glenn Irwin for eighth place – the Smiths BMW rider at this point enjoying his best ride of 2018. As the leaders came to the end of the seventh circulation,  the rain had started to worsen, and Jake Dixon was the first rider to put his hand up to signal that conditions were becoming too dangerous to continue, and his move was reflected by Leon Haslam before the red flag came out just as they crossed the line to start lap eight.
The race resumed a few minutes later in wet conditions, shortened to twenty-two laps. Everyone chose a rain tyre at both ends, apart from Jason O'Halloran who took a gamble with an intermediate rear.
Bradley Ray once more went off pole position, but this time he was beaten into turn one, as Leon Haslam assumed the early lead. At Druids, Richard Cooper stormed up the inside on the #47 Buildbase Suzuki to take third place, as Christian Iddon ran wide on corner entry, allowing Jake Dixon up the inside, but Iddon managed to hold the Tyco BMW around the outside, giving him the inside line at Graham Hill Bend with which he managed to reclaim the advantage from Dixon.  It was nearly curtains for the pair of them when at the same moment Shane Byrne tried to take advantage of Dixon's involuntary wider line at turn three, and came close to wiping the three of them out.
Shakey being Shakey, though, he managed to avoid the potential disaster, and despite running a little wide himself, luckily  he only lost one position, to Glenn Irwin on the other Be Wiser Ducati ;  who went around the outside of Surtees to take the inside at McLaren's. On the exit of Clearways, Cooper continued his strong start to the race as he moved past Haslam to take the lead. As for Cooper's teammate, Ray, the first lap had not been so great, as he was passed by Cooperman at Graham Hill Bend, which sent him a little bit wide and thus allowed Christian Iddon and Jake Dixon past.
Onto lap two, and Leon Haslam had a couple of goes at Cooper's lead at Paddock Hill and then Druids, but ran wide on both occasions, allowing the Suzuki rider to remain in the lead. Meanwhile, Ray was falling further back, as the two Be Wiser Ducatis of, first, Irwin and then Byrne came through at turn two. Peter Hickman also looked for a way through at Surtees but that in fact gave Michael Laverty the chance to move through at Clearways as the Smiths BMW ran wide.
Laverty was then immediately looking for a way past Ray as lap three began, but the championship leader held firm, albeit temporarily as the Northern Irishman came through in the Surtees/McLaren's/Clearways section.
Meanwhile, Dixon moved past Iddon at Graham Hill Bend for third place, whilst Cooper and Haslam remained out front. But no one looked as though they had a significant advantage with which they could mount an escape from the pack.
On lap four, the charge of the Be Wiser Ducatis continued, as Irwin charged past Christian Iddon for fourth, and Byrne followed him through with an expected immediacy. It is probably a ludicrous suggestion that Shakey does not understand the ability of Irwin in the rain, and so it is probable that the reigning champion was just gauging his race and the grip levels from the behaviour of Irwin, and he wanted to keep him in sight, hence the immediacy.
So, that was Iddon back to sixth place, and then his teammate, Laverty, made his way through at Druids on lap five, and made a better job of it than Haslam ahead, who went for the inside on Cooper at the second turn but ran wide. Cooper cut back underneath, but Haslam had the more flowing line into Graham Hill Bend and took the lead around the outside.
Michael Laverty then performed one of the most outstanding overtakes you are likely to see, as he went around the outside of both Shane Byrne and Glenn Irwin at Druids to go from sixth to fourth in one go. One corner later, Dixon made his move on Cooper for second,  Byrne then decided that the time had come to demote his teammate and slid by for fifth. Laverty continued his charge, taking third away from Cooper between McLaren's and Clearways. Cooper tried to come back at Paddock Hill but was unable to hold his line, and Laverty passed him back on the drive out of the corner.
Cooper fell yet further back when Byrne forced his way underneath him at Graham Hill Bend on lap seven. The lack of drive that Cooper had on the exit was irresistible for Irwin, who proceeded to have a look and make the pass down at Surtees. Richard's decline was halted, though, thanks to a crash at Clearways just seconds after Irwin had past him.
At the beginning of lap eight, Michael Laverty passed Jake Dixon for second, and then set his sights on the lead of Leon Haslam, which he confiscated at Paddock Hill at the beginning of lap nine. Dixon followed Laverty through at Graham Hill Bend on the same lap. By the end of lap nine, which he began in the lead, Haslam was fifth, and at the back of the front group, whilst Michael Laverty was stretching away.
At Paddock Hill on lap ten, Irwin passed his teammate, and then pointed his crosshairs at Jake Dixon. Irwin seemed impatient to get past,  but did so at Paddock Hill a lap after he put a similar move on Byrne, as he could see Laverty escaping at the front. Byrne, sensing the same, passed Dixon for third at Druids on lap 11, and Haslam came through on the youngster too at Surtees.
At the beginning of lap twelve, Brad Ray made his way past Christian Iddon, putting the Tyco BMW in a Suzuki sandwich, with Tommy Bridewell's Halsall Suzuki at the rear of the trio. There was no change at the front, as they were all aiming at Michael Laverty.
Laverty, meanwhile, was aiming at Jason O'Halloran, who he lapped on lap thirteen, after which the Aussie decided to retire, knowing the tyre choice had rendered his race pointless – literally. On the same lap, Haslam went inside Byrne at Paddock Hill to claim third place for the time being. Byrne was passed by Dixon too, at Graham Hill Bend, and the reigning champion was now dropping off the back of the group.
At the same time, Irwin was closing down Laverty at the front, Haslam and Dixon joined him to make a quartet at the head of the race. Haslam, though, was not content with sitting behind the #2 Ducati, and overtook Irwin on lap fourteen, but only to be repassed at the beginning of lap fifteen.
Irwin came back at Haslam at turn two on lap 16, but had a huge moment at the end of the lap at Clarke Curve, though it didn't cost him too much time.
Jake Dixon crashed on lap 17 at Graham Hill Bend as he was looking for a way past Leon Haslam. Unfortunately for RAF Regular and Reserves Kawasaki rider, he opened the throttle a little bit too much on the exit of the corner, and it spat him over the high side. Dixon was clearly okay, as he immediately got up and ran after the bike, before realising he was in the middle of the track, and probably shouldn't continue to be there. It was a big shame for both Dixon & Cooper,  because the pair had tricky rounds at Donington, and also looked really good in this race. Hopefully both will be able to take the positives from their respective outings in race two, and continue to fight at the front in the future.
That left a rather satisfying three-way battle for the win – satisfying in that, as long as they all remained in the saddle until the conclusion of lap 22, all of them would be on the podium. I don't know if it is just me, but a four-way fight for the top three places always frustrates me, because probably all of the riders deserve to be on the rostrum, but inevitably one of them has to miss out.
But in this (satisfying) scrap for the win, hostilities were paused momentarily after Dixon's crash, and the two Ulstermen led Haslam as lap nineteen began. And the order remained – Laverty from Irwin from Haslam – until Glenn passed Michael for the lead at Druids with three laps to go. Sensing a possible breakaway for Irwin, Haslam immediately followed him through at Graham Hill Bend.
Haslam and Laverty got close on the entrance to Druids on the penultimate lap, and that sent the Tyco BMW wide, and cost him a few tenths. It might not sound like much, but with 53-second lap times, three tenths is a pretty giant margin. As such, it was at this point that Laverty's victory hopes ended.
At Surtees on lap 21, Haslam passed Irwin for the lead, but it was only momentary, as the Ducati re-appeared on the inside of the Kawasaki between McLaren's and Clearways, and led as they entered the final lap.
Haslam obviously knew he had to try somewhere, but was not close enough into turn two or three. He was close enough into Surtees, as on the previous lap, and made the move in almost identical fashion, but this time covered off Irwin, meaning Leon was able to take his first win of the season. After missing the podium in two of the first three races, and knowing that his preferred tyre is at a severe disadvantage in the dry, it was quite a critical win for Leon. Furthermore, with Byrne and Ray missing the podium, he closed the difference in the all-important podium credits.
It was also a stunning ride from Irwin, who took his first podium of the season, and the same can be said for Michael Laverty who returned to the podium for the first time in over a season, which is an extremely positive sign for the future, and especially with respect to his Showdown hopes.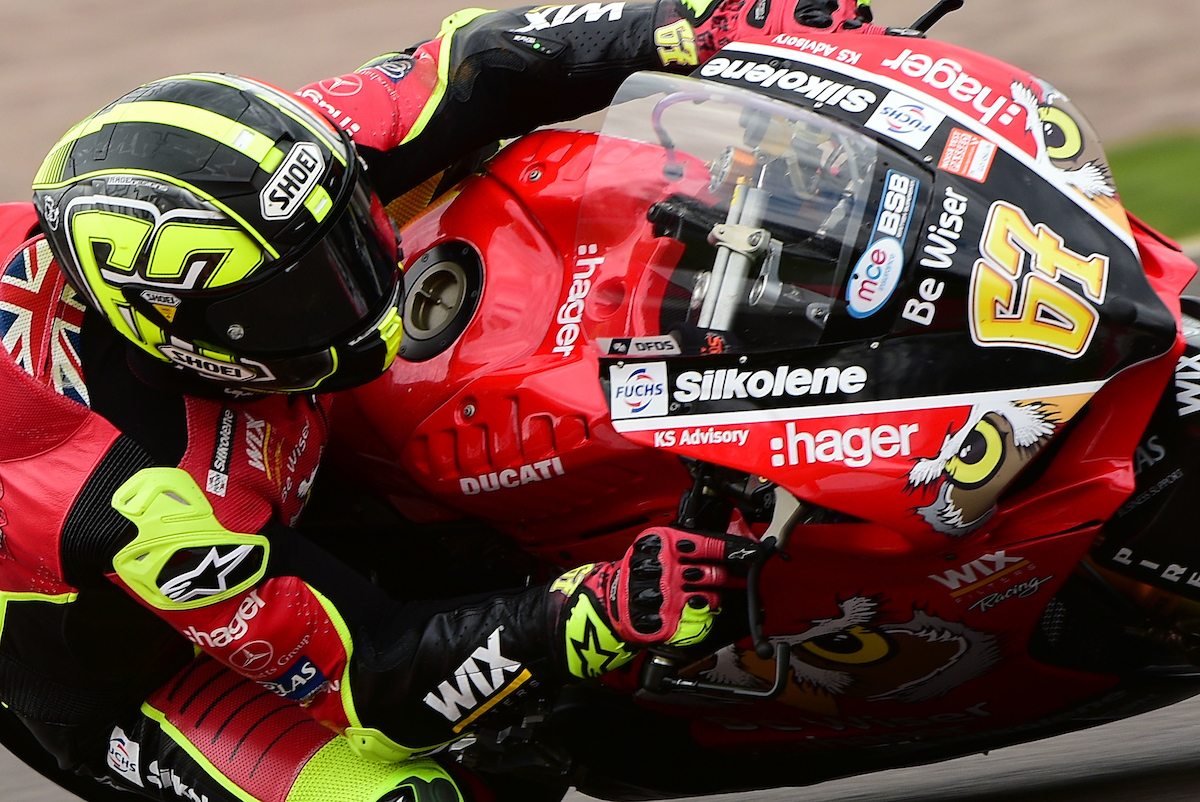 Byrne will be content with his safe fourth place. He missed out on podium credits, but he did not lose out on points, and didn't suffer an injury.
Josh Brookes finished fifth, which is his best result of the season so far. It was an awful opening three races for the Australian, and he will hope that he can continue the season more in line with the experiences from Brands Indy race two.
After a promising start to the race, Christian Iddon could only manage sixth place, 13.570 seconds off the win, but with the likes of Dixon crashing, and with riders such as James Ellison down the order it was an okay result for the number 21.
Despite only managing seventh place in the race, Bradley Ray retains his championship lead ahead of round three at Oulton Park in a few weeks' time. Of course, it was at Oulton that Ray took his first BSB podium last season and will be aiming to achieve a pair of results in a similar vein next time out.
Eighth went to Tommy Bridewell, who was just under half a tenth ahead of Tarran Mackenzie across the line. What a ride it was from Tarran too, in his fourth ever BSB race he took ninth place, and his first race in the wet, too. In fairness, it was a good weekend for Taz, as he scored in both races, and also made Q3 for the first time on Saturday. Also impressing was Carl Phillips on the Gearlink Kawasaki, who took tenth place in just his fourth BSB outing.
Eleventh place went to number eleven, James Ellison, whose race was a disaster as soon as the pit lane closed before the race start; he left he pit lane after it closed, and so had to start from the back of the grid.  From that point it was pretty much a situation where he had to take what he could get, and in the end that was eleventh. The whole start to the season has been a bit of a disaster for Ellison. His lack of decent luck has been well documented over the last years, and so far this season there has been no turn around. Since his podium in the first race of the season, he has crashed (admittedly that was his fault), had a bad tyre, and had to start from last. This is presumably not the start to the season Ellison had envisaged for his final BSB year.
Danny Buchan claimed twelfth, which is probably a lot more than he thought he could achieve when he was stuck on the cement dust on the outside of turn one on the first lap before the red flag. He also beat Luke Mossey, who took thirteenth, which actually is probably where he would have ended up had it been a dry race, such was Skywalker's lack of pace this year at Brands Indy. Peter Hickman was something of a disappointment in 14th place – he normally excels in tricky conditions. The final point was claimed by Taylore Mackenzie for Moto Rapido Ducati.
Jakub Smrz was sixteenth, Gino Rea 17th, Mason Law eighteenth, ahead of Sylvain Barrier and Kyle Ryde who rounded out the top twenty. Shaun Winfield was the final classified rider, in twenty-first.
There were only three retirements, the ones who departed from the front group (Dixon and Cooper), and O'Halloran, who as previously mentioned pulled into pit lane after he was lapped.
After four races in BSB, all six manufacturers (Honda, Yamaha, Suzuki, Ducati, Kawasaki and BMW) have podiums. That is quite an impressive statistic and is indicative of the incredibly level playing field that has been created by the BSB rules. That makes it even more incredible that two riders appear to have an advantage over the rest of the field. They seem to be Ray and Byrne at the moment, but maybe at Oulton Park it will be a different story.