Six stages today, and first up was stage five, a long stage at 35km to really wake up the drivers! The start list for each of the stage looked like this – Bouffier, Mikkelsen, Latvala, Sordo, Evans, Lappi, Tänak, Meeke, Neuville, Ogier, Loeb.
As the last car through, Loeb won the stage whilst Kris was happy with the start and end of the stage but lost his rhythm in the middle and had to pick it up. Elfyn lost some more time in the stage with a spin and a stall, caused when he used the handbrake on a corner. This allowed Dani to close on the Welshman, the gap at just three seconds between them! Meantime, Esapekka in his Yaris was really driving brilliantly, just a little off Loeb's time and making fifth position his!
On to stage six, a shorter stage and the nine-time champion took this one as well. This time it was the Yaris peddled by Tanak who came closest to Loeb. Ogier and Lappi set exactly the same time to go third fastest. Our leader in the M-Sport Fiesta saw his lead open up a little more. His teammate, Elfyn and Dani Sordo were now tied on the same time on the overall leaderboard!
Final stage before the service break, and Ott Tanak took the win, closing the gap further in his pursuit of Kris for the final podium position. Ogier meantime was second fastest and now his lead over Thierry had gone above forty seconds. Elfyn had a scrappy stage, with lots of hesitations and fell behind Dani, into seventh place.
The afternoon stages started with Esapekka winning stage eight, with Loeb picking up another second fastest time. He really was on the pace! Elfyn also had a good stage, closing the gap to Dani in their fight over sixth and seventh! Unfortunately, we lost Jari-Matti in this stage. During service the Toyota team had worked on the balance and made it handle better. Jari-Matti was pushing hard and he lost the rear of the car and hit a tree. He completed the stage but retired afterwards. Kris had also made some changes, returning to last year's setup that worked so well, and he had a car that responded to him. He used it to good affect closing a little to Thierry ahead.
Stage nine, the penultimate stage was won by Loeb and with Kris setting the fourth fastest time, he drew level on time with Thierry on the overall leaderboard. With the C3 WRC returned to the settings the team used last year, he felt much more at ease with how it responded to him. Elfyn was also on the pace but didn't take much time out of Dani. The inter-team battle continued with Tanak and Lappi, who were battling over fourth position, with Lappi faster through the stage, but not by much.
The final stage of the day, would see Lappi and Tanak share the fastest time, but the big shock was the exit of Kris who miss heard a stage note and went too far off the road to regain and complete the test. A big shock and one that meant Tanak went from fourth to second with Thierry now in third place, but just one tenth of a second behind. Elfyn also had a good stage, closing a little to Dani again, feeling that the relationship with Phil Mills was starting to gel.
Summing up Saturday.
Whilst there was all that drama behind him, Seb Ogier continued to lead. There were different stage winners, with Loeb taking three more and Toyota teammates Ott and Esapekka sharing the other three between them. The demise of Kris from second overall was a big shame. It shows how little room for error there is in this sport. I do wonder why the team didn't use the settings from last year from the off.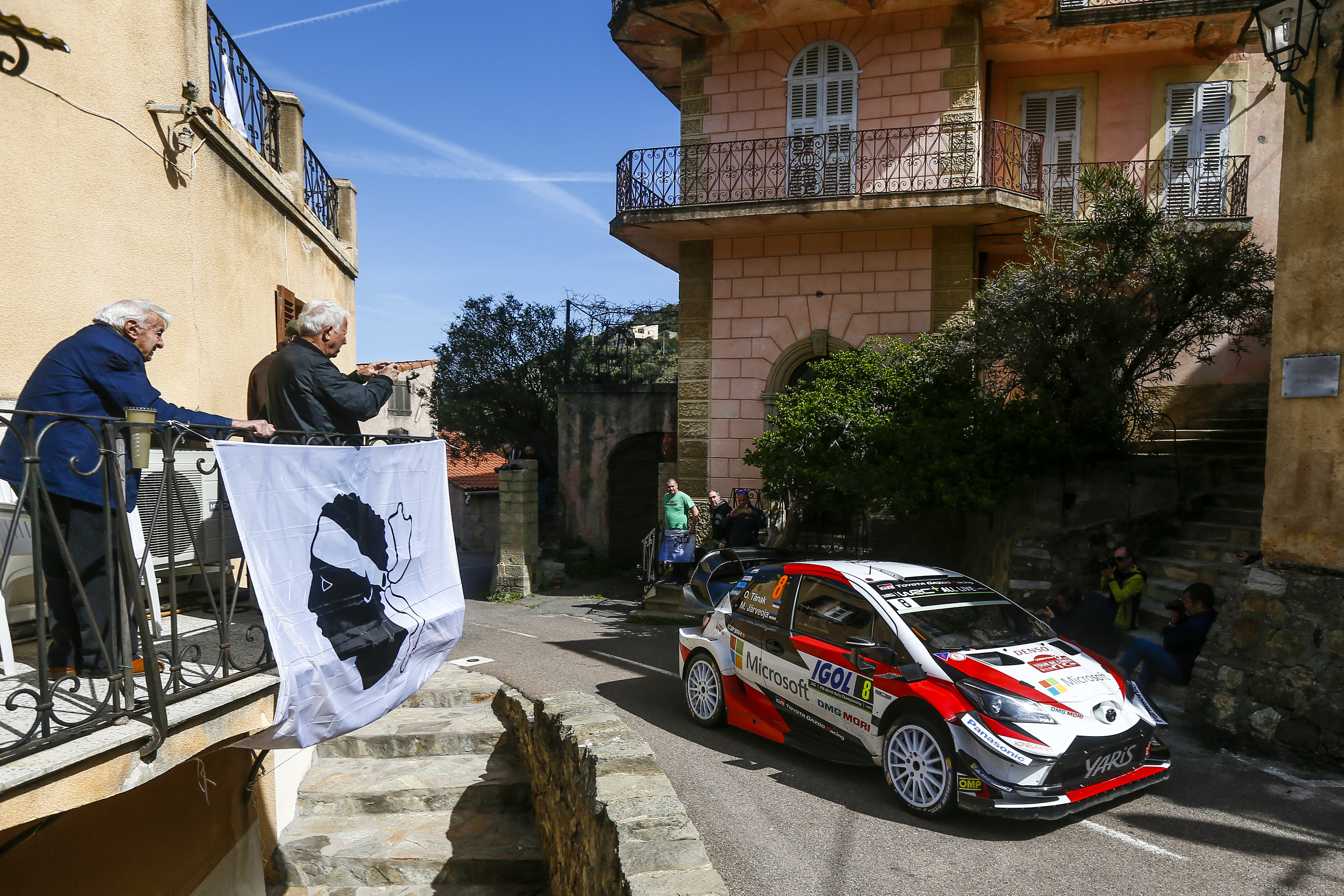 There are only two stages tomorrow, but the first is the longest stage of the entire weekend, a monster of 55km! Anything can still happen.
End of day two (Saturday)
1 Sebastien Ogier/Julien Ingrassia (Ford Fiesta WRC) 2h43m07.7s
2 Ott Tänak/Martin Järveoja (Toyota Yaris WRC) +44.5s
3 Thierry Neuville/Nicolas Gilsoul (Hyundai i20 Coupe WRC) +44.6s
4 Esapekka Lappi/Janne Ferm (Toyota Yaris WRC) +54.9s
5 Dani Sordo/Carlos del Barrio (Hyundai i20 Coupe WRC) +1m46.7s
6 Elfyn Evans/Phil Mills (Ford Fiesta WRC) +1m49.8s
7 Andreas Mikkelsen/Anders Jaeger (Hyundai i20 Coupe WRC) +2m13.5s
8 Jan Kopecky/Pavel Dresler (Skoda Fabia R5) +8m22.9s
9 Kris Meeke/Paul Nagle (Citroen C3 WRC) +10m41.4s
10 Fabio Andolfi/Simone Scattolin (Skoda Fabia R5) +11m27.2s
Let's here from the drivers.
Sébastien Ogier (1st)
"It's been a long, but good day for us. Whereas yesterday we were just driving flat-out, today has been a bit more difficult as we've had to think a bit more about our approach. I tried to keep a good rhythm of course, but at the same time I didn't want to take too many risks. We still managed to extend our lead on every stage, and I'm really pleased with that.
"There's still a long way to go with the longest stage of the whole rally to come. We've had a good feeling all weekend so I hope to finish like that tomorrow. We won't push to the maximum as our target is to cross the finish line – but it's never over until it's over."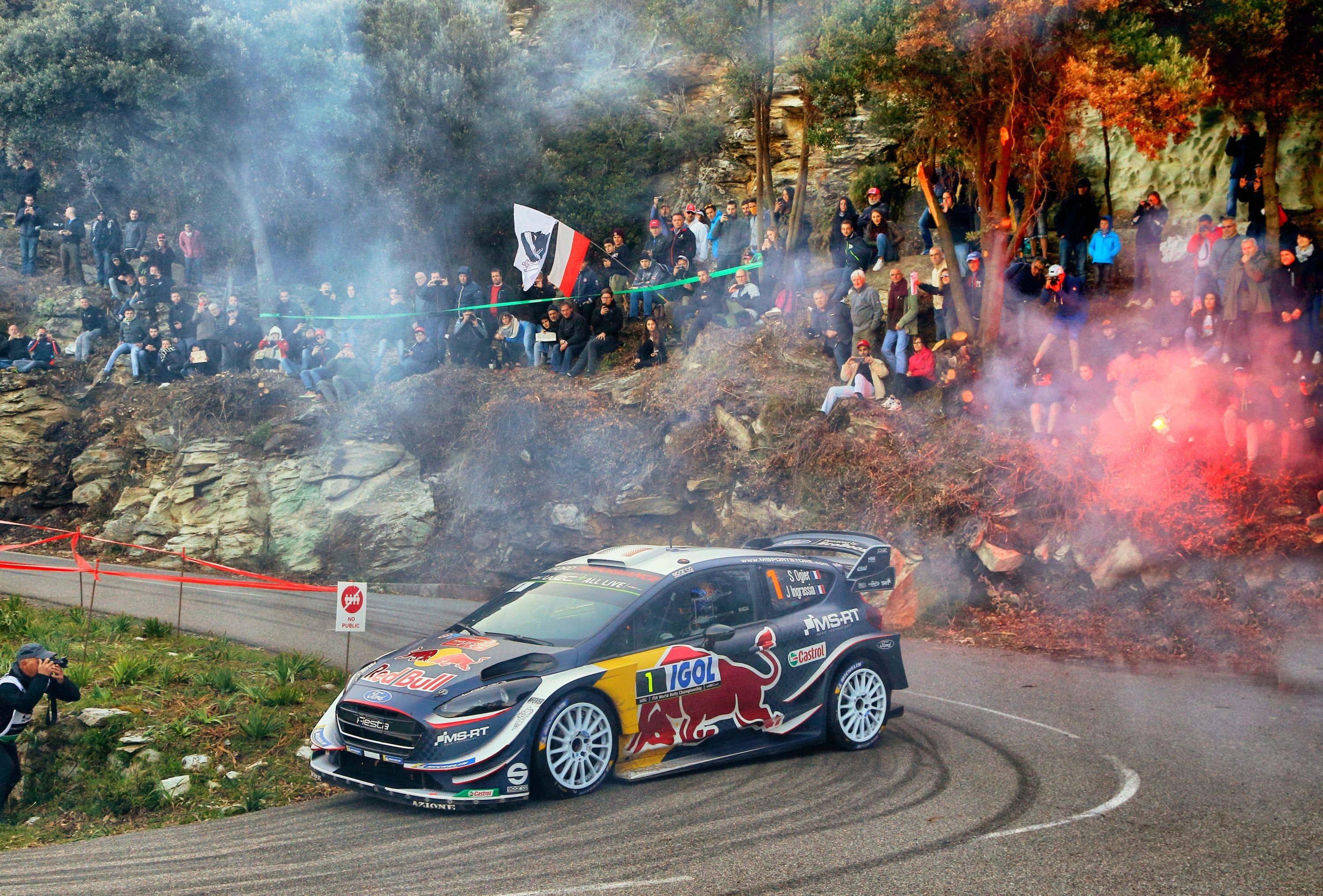 Ott Tanak (2nd)
"It will certainly be interesting tomorrow, with 0.1 seconds to the car behind and 10.4 seconds to Esapekka, who has been setting some really good times and seems to be confident. Overall our feeling in the car has been quite nice and the pace has been consistent. I haven't been pushing to the maximum, just going at a good speed with a good rhythm. Let's see how the feeling is tomorrow. The first stage is a really long one and I think the rhythm will be important there."
Thierry Neuville (3rd)
"There is very little to say after another very demanding day. We have pushed as much as we can in every stage – but a bit too much on the edge at times. It's all we can do to try and defend our podium position. We have struggled with the set-up of the car at times, and some of the roads really didn't suit our car. Like yesterday, we had to accept certain limitations to what we could achieve. It has been mission impossible to defend second place so all we can hope now is that we can keep third position, and minimise the damage after a difficult weekend so far for Hyundai Motorsport."
Esapekka Lappi (4th)
"It has obviously been a really positive day. It's really nice to be fastest over the day. We worked really hard yesterday to try and find a better setup, and today the car felt really good and easy to drive. For me, the times are coming really easily. I didn't need to push too hard, it just came naturally. Tomorrow it's good that both of the stages are new for everyone because it's easier for me when that's the case. I will just try to continue my pace and then we will see what happens. I will not force myself to do something crazy: I'm already happy with fourth place, although I wouldn't mind if we can climb one or two more places!"
Hyundai Motorsport
Dani Sordo (5th)
"We made some modifications to the car for today's stages, which gave us a bit more confidence and a very small improvement on the times. We have done all we can, pushing all the time, but there are still some settings issues that we have yet to resolve. It has been a similar issue for other crews. All we can do is adapt the car to find more front-end grip and aim to improve on tomorrow's long stage. It might be a bit too late, but we won't give up without a fight."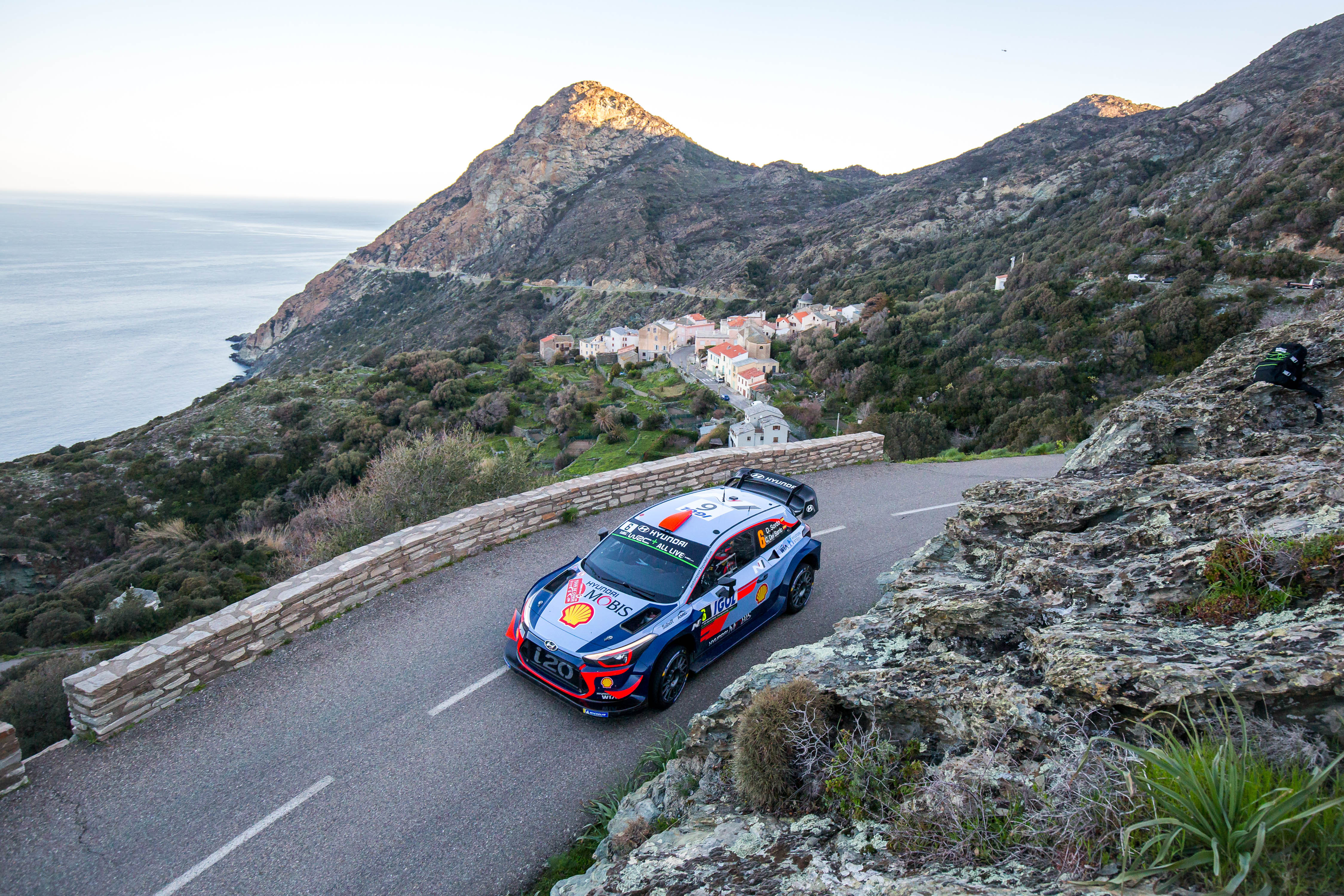 Andreas Mikkelsen (7th)
"Running seventh on the classification is not where we want or expect to be. We have battled a lot with understeer, which has been made worse on the wider, racing-style stages today. We were able to close in a bit on the cars in front of us during the morning loop, but we don't want to be relying on others' misfortune to gain positions. We'd much rather be fighting at the front. I tried to change my driving style in the afternoon, but that didn't deliver any improvement. It's important for us to continue trying to improve the car and our pace until the very end of the rally."
M-Sport Ford WRT
Elfyn Evans (6th)
"We didn't have the best of mornings, and I felt as though I was a bit too hesitant in places. It wasn't anything major, but it soon adds up. We made some improvements in the afternoon and I was feeling a lot more comfortable in the car. The relationship with Phil has gelled quite a lot better today too and we've seen some promising times which bodes well for tomorrow."
Retired
Jari-Matti Latvala
"After we made some changes in mid-day service, the car felt fantastic, so thank you to the team for that. It really gave me the confidence to push, but I maybe pushed a little bit too hard, got too sideways on a left-hand corner and hit a tree with the rear of the car. Normally I would not be smiling after going off the road, but I have some reason to be happy: Ott and Esapekka are going really quickly here, while I had been struggling, but then I found the speed. I learned what we had done wrong with the setup and why I was not fast. Hopefully the guys can fix the car so we can restart tomorrow and show that speed."
Kris Meeke
"We were fighting for second and pushing really hard, absolutely on the limit. Unfortunately, something happened that has never happened before between Paul and me. He got the pace notes a bit mixed up, but that's rallying. It's the very first time that this has happened. We've gone off several times together in the past when it's been my fault and not his. Look, we win together and we lose together. I'm sure we'll bounce back from this very quickly."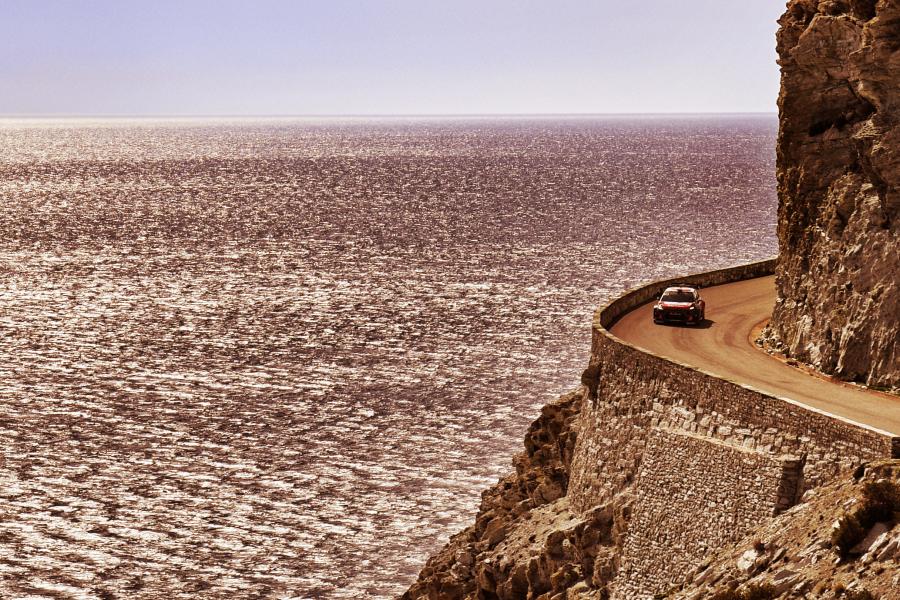 Bryan Bouffier
"I'm disappointed for sure, but this is part of motorsport and we know it can happen. I was happy with my pace as this car is still quite new to me and I have a lot of things still to improve and understand. In this context it was very good to see some good times and I really hope that we can do some more kilometres with this amazing car."