The day dawned sunny, but there had been rain in the days before, which was going to affect those running further down the standings. Four stages today- doesn't sound like much, but with a double run of a 49km stage, anything could happen!
The first stage of the day, and the cars would start in championship order- Ogier, Neuville, Mikkelsen, Meeke, Latvala, Tänak, Lappi, Sordo, Loeb, Evans, and also just 2 minutes between the cars, instead of 3 which we see on gravel.
Ogier would make the most of his starting position winning the stage although he was almost certainly on the limit of grip as he nearly spun a few times in the stage. Loeb was his closest challenger, just 9.7 slower than his compatriot. The fastest Toyota was that driven by Ott Tanak who was a further nine seconds back. Of course, last years early rally leader, Kris found with being fourth he would come across dirty and a wet road, finishing 19 seconds down on the early leader. Elfyn also commented on the condition of the road, with the dirt being pulled out.
Stage two saw Ogier extend his lead over Meeke who was now in second place. Sadly, Loeb had gone out just 300 metres after starting. He lost control, running wide on a kink, which sent him sliding over the road onto the right-hand side and into a ditch, which he couldn't get out of. The reason given – cold tyres. Both Hyundai drivers, Andreas and Thierry were suffering from cars not responding to them. Thierry's main problem was no grip, whilst Andreas just slid into a ditch and then suffered with a vibration afterwards. Kris was still in second but having trouble with his intercom. Now imagine that you're relying on details from your co-driver, but then the system that allows you to hear those keeps cutting out. Very frustrating indeed. Jari-Matti was having trouble with confidence under braking in his Yaris.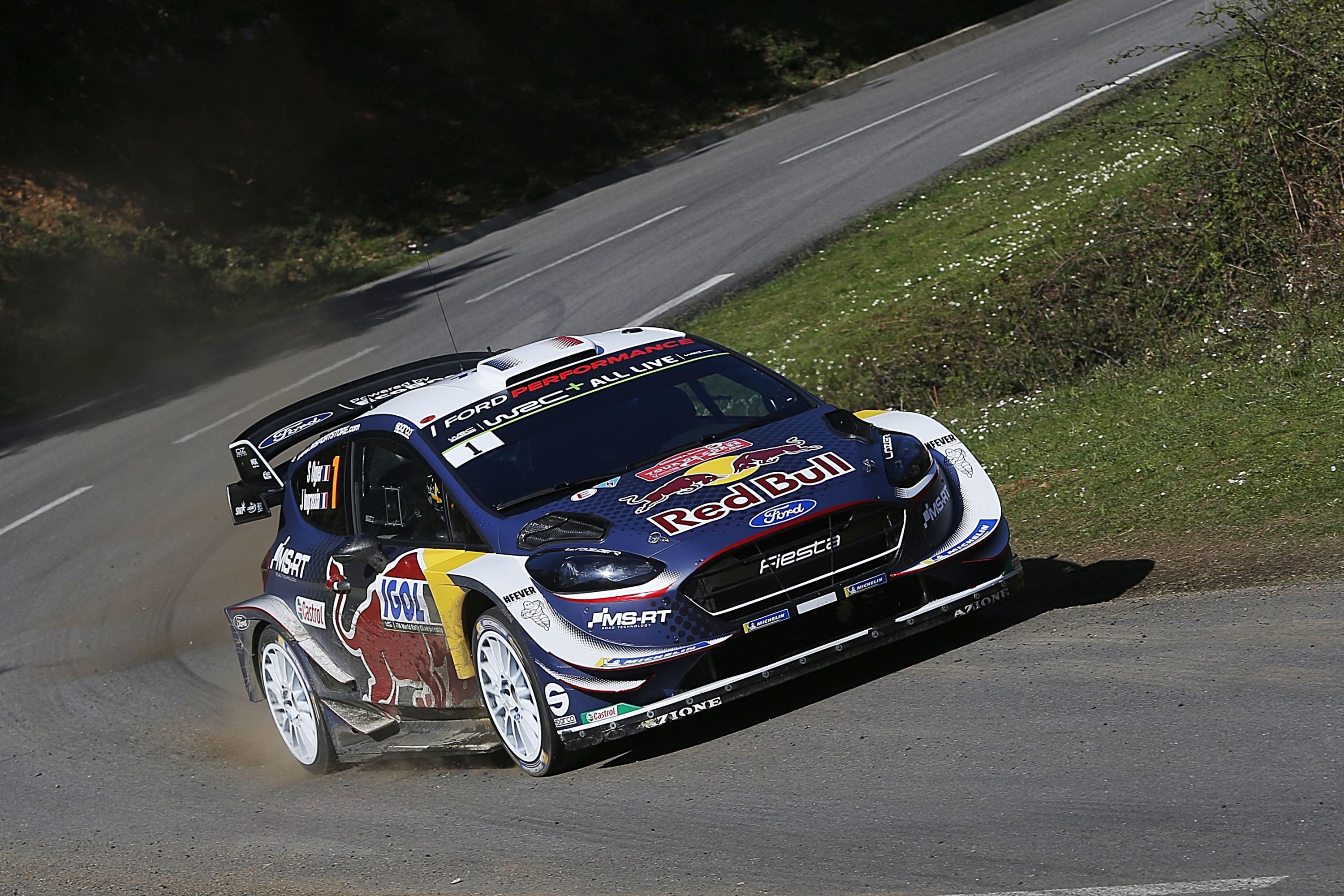 All the cars headed back to service at this point. Thierry would want to get his car sorted, whilst Kris would hopefully get his intercom problem fixed as well.
The second run of La Porta – Valle di Rostino, saw Ogier win again and Thierry go second fastest which saw Kris fall behind the Belgian. The Citroen driver was still getting problems with his intercom. During service, Kris had changed his helmet in a hope that would solve the problem but that didn't help. Meantime, Andreas was still having problems with understeer, dropping 30 seconds to the leader just in this one stage. Jari-Matti was still having trouble with confidence under braking, but his teammate Lappi was in a great position to move up after closing the gap to Dani and Elfyn ahead.
The last stage of the day already and Ogier's time was very good. However, Thierry then Jari-Matti and finally Esapekka Lappi went faster who leapfrogged both Dani and Elfyn into fifth overall. He was really in the groove through this one. Latvala's pace was good enough to allow him to pass Andreas for eighth place, but he'll almost certainly want better from Saturday's stages.
Summing up Friday
Seb Ogier reigned supreme and has built a lead that he can use to his advantage. The question is, can Thierry or Kris get their problems resolved to allow them to express their pace and challenge the leader?
Standings at the end of Day One
1 Sebastien Ogier/Julien Ingrassia (Ford Fiesta WRC) 1h19m39.0s
2 Thierry Neuville/Nicolas Gilsoul (Hyundai i20 Coupe WRC) +33.6s
3 Kris Meeke/Paul Nagle (Citroen C3 WRC) +38.7s
4 Ott Tänak/Martin Järveoja (Toyota Yaris WRC) +44.2s
5 Esapekka Lappi/Janne Ferm (Toyota Yaris WRC) +1m13.5s
6 Elfyn Evans/Phil Mills (Ford Fiesta WRC) +1m13.8s
7 Dani Sordo/Carlos del Barrio (Hyundai i20 Coupe WRC) +1m14.4s
8 Jari-Matti Latvala/Miikka Anttila (Toyota Yaris WRC) +1m25.0s
9 Andreas Mikkelsen/Anders Jaeger (Hyundai i20 Coupe WRC) +1m29.2s
10 Bryan Bouffier/Xavier Panseri (Ford Fiesta WRC) +1m44.8s
Let's hear from the drivers then.
Sébastien Ogier (1st)
"We've had a great day. It's always nice to be in the lead, but it's even nicer to be leading on home soil. The car was very enjoyable to drive today and we've had a lot of fun out on the stages.
"We've made good progress since last year and in this sport you don't achieve anything alone – it's always a team effort. All the energy we've put into developing the car over the past year is really starting to pay off. We saw it already in Mexico with a good step forward on gravel, and so far I think we've improved on asphalt too which is very positive for the future.
"There's still two days of rallying to come with a lot of new stages so there will be no time to relax. We'll take the same approach that we had today into tomorrow and try to stay in a good rhythm. These new sections will be very challenging, but we have to keep pushing."
Thierry Neuville (2nd)
"It hasn't been the best of starts to this rally for us, but we know there are some very long stages to come over the weekend so we have to remain positive. In this morning's loop, we couldn't find a good feeling with the car. We had no efficiency from the brakes missing some bite. Changes made during lunchtime service were in the right direction and we pushed very hard in the afternoon. Ogier has set a strong pace and we have had to accept we can't match him so far, but we will keep attacking as best as we can. We are now in second place overall with a small margin to third, so our target is to consolidate our position."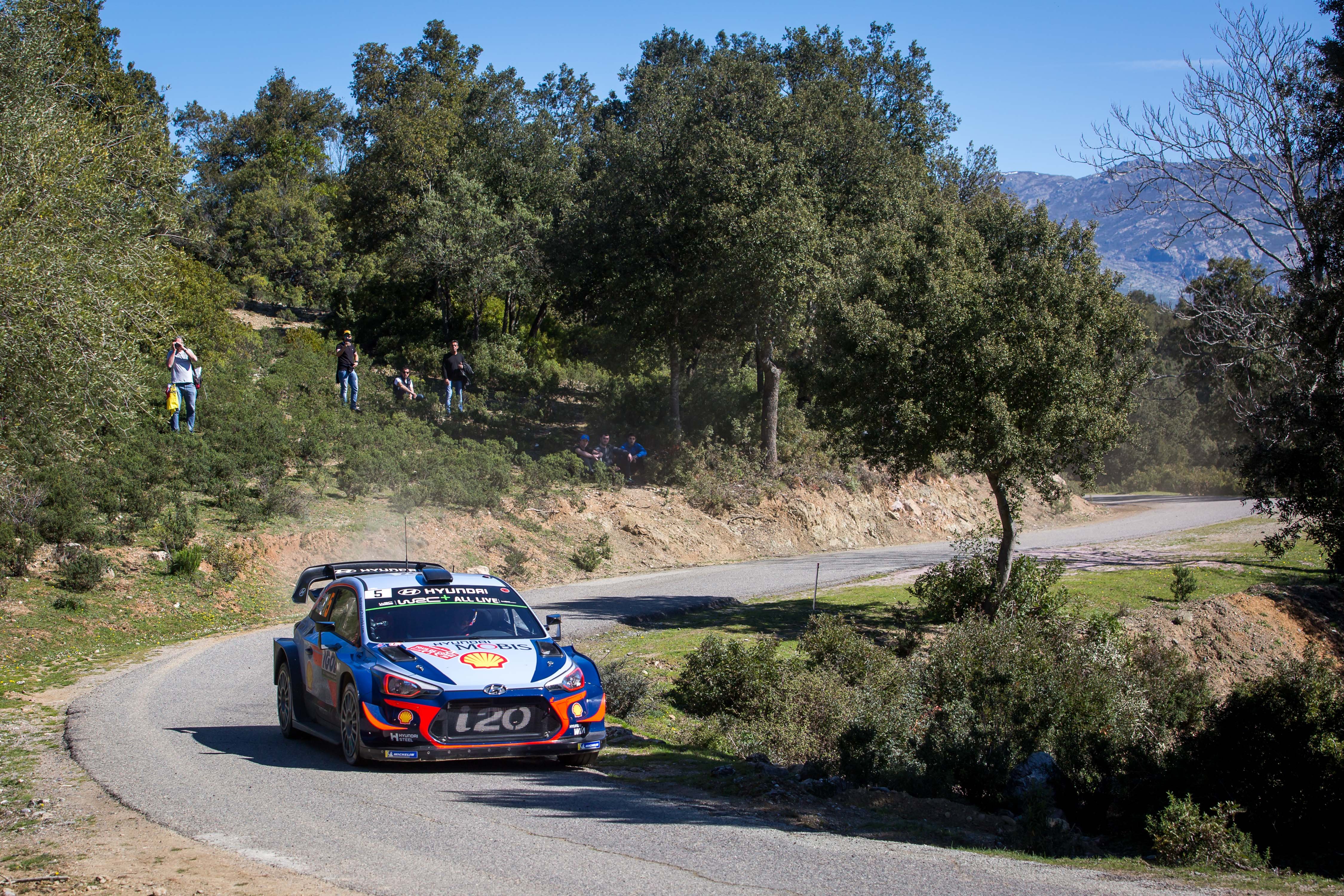 Kris Meeke (3rd)
"It was a pretty good day for us, I was pleased with my rhythm, even though it wasn't quite enough to keep pace with the leader. I don't know to what extent the road became 'polluted' as more cars came completed the stages. In any case, I was pleased with my C3 WRC. My intercom was playing up, which was a bit annoying at times. With a couple of totally new stages tomorrow, a lot can still happen but I'm very determined to fight to stay in the podium places."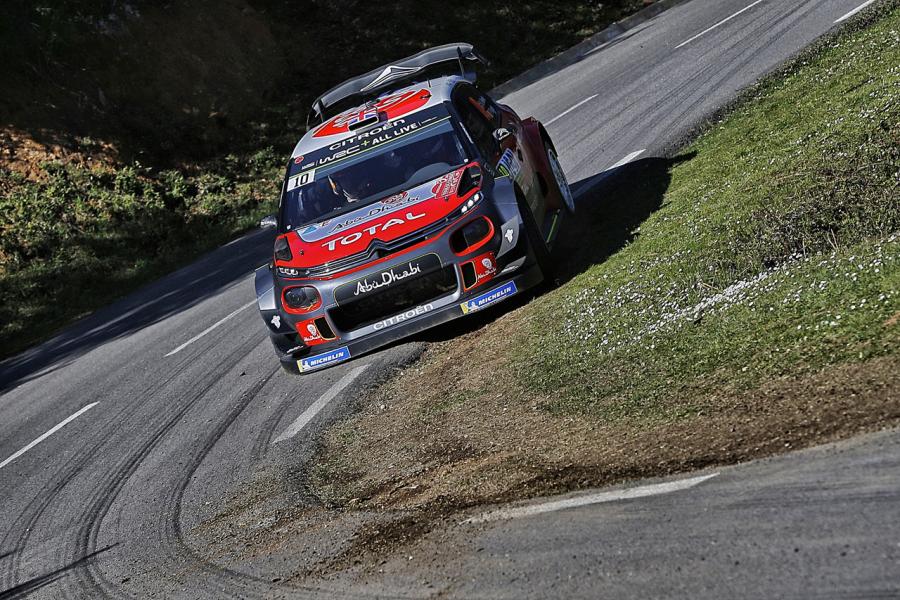 Toyota Gazoo Racing WRT
Ott Tänak (4th)
"This was my first day competing on proper asphalt in this car, and I think we have learned quite a lot today. The general feeling in the car is quite nice. This morning the feeling was already positive: the car was handling well. At lunchtime service we did a couple of changes, and in some areas the feeling was improving and getting better. For tomorrow we have some more ideas of how we would like to improve a bit further to help us in the fight for the podium. We are still quite close to second and third: these places are ours to catch, so we will try our best tomorrow."
Esapekka Lappi (5th)
"The morning and afternoon were quite similar for me today in terms of stage times. We lost quite a bit on the long stage, which is really twisty like a proper Tour de Corse stage. The shorter one is much faster and our car was working really well there. We ended the day with the fastest time, which is always positive. It would be better if we were stronger on the more twisty stages, but we will work on that tomorrow and try to improve the car. The plan will be to try and keep fifth place but there is still a long way to go and anything can happen."
Jari-Matti Latvala (8th)
"It was good to finish today with a quick time on the last stage, after quite a disappointing morning. I went the wrong way with the setup, so I lacked confidence and I was driving badly. We made changes in service and the car definitely felt better on the braking and the rear was more predictable. I made another change before the final stage, and then the confidence came and I could improve my driving. The setup is now good for the dry conditions that we are expecting for the rest of the rally, so the plan now is to just focus on the driving: to be consistent and maintain that speed we had on the last stage. I think we can have a good fight with the guys who are just in front of us."
M-Sport Ford WRT
Elfyn Evans (6th)
"We knew it wouldn't be plain sailing for us today, but I think it's gone as well as we could have hoped in the circumstances. To be fair, Phil has done a really good job. We're building that trust, and hopefully we can keep improving as the weekend goes on.
"My notes aren't the easiest if you don't know them inside out. Obviously Phil knows them quite well from being a part of our Route Note Crew, but there are little tricks and ways that things have to be read to makes everything flow a hundred percent. If you're not used to reading them day after day it's extremely difficult, so he's done a really good job.
"There are a lot of new sections coming up tomorrow and, honestly, I was finding the going a bit easier in the more familiar sections today. We have to keep going so let's just give it our best and see what we can do."
Bryan Bouffier (10th)
"It's been a good day and I was happy with both of our passes through the short stage. We still had something to find in the long one – and I was finding it difficult to place the car. We'll discuss everything this evening and hope to show another improvement tomorrow."
Hyundai Motorsport
Dani Sordo (7th)
"I haven't been very happy with our stage times today, although there has not been anything particularly wrong with the car. In fact, the handling has been quite good during the day. The opening long stage was quite tricky and initially I didn't have enough confidence. The second stage was better, although there was some gravel pulled onto the road in places. I tried to push a bit in the afternoon but again the times were not forthcoming. The speed at the front is very fast but we will try to find more pace tomorrow to try and get into a top five position."
Andreas Mikkelsen (9th)
"Our day was compromised by one spin and a small off in the morning loop, one on each stage, which combined lost us about 50 seconds to the leader. A far from ideal way to start this rally! Still, the car itself performed better than expected, and we found some improvements for the afternoon loop. I drove the car to the limits and kept pushing as much as possible. Now we have found a better feeling since lunchtime service, I hope we can be in better shape tomorrow."
Tomorrow sees six stages totalling 136km. Loeb will return under super rally 2 rules as well. The crews will travel to the northern part of the island.