Power Maxed Racing driver Senna Proctor stormed to the Jack Sears Trophy title in his debut season in 2017, but what is in store for him in 2018? Aaron Irwin had a chat with him to see how his Vauxhall Astra has changed, and what his aspirations are for the coming season. 
AI: So we're back, have you been itching to get back into the car?
SP: "Yeah I've been looking forward to it. Excited to get going again and we're back with Power Maxed Racing this year so we'll have to see what happens."
Has there been many changes to the car? Apart from the new livery obviously?
"Yeah we've changed the livery, we've changed a lot of stuff. Just a few bits and bobs, a bit of weight saving here and there and moving it about to where we want it.
It's been a good winter, it's been productive. We've found out a bit about what works and what doesn't work, we have a bit more of a back-up plan this year shall we say if anything does go wrong. But yeah we're confident going into this year."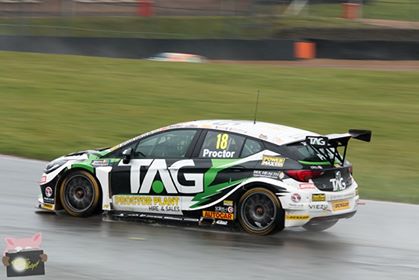 When Rob Huff came in for one meeting last season he changed a lot about the setup. Have you taken his advice on board?
"Yeah he gave us the bulk principle of what will and won't work. Some of it we've put to good practice and some of it didn't work on our car so I'd say he was a big help.
Obviously with myself not being too experienced in how a touring car should feel it was always hard for me to do that. We're ready to get going this year and do our best for the team and for Vauxhall and to thank all our sponsors."
At the back end of last season you were pushing for top ten's, is that the target again this season?
"At the last meeting at Brands Hatch we had our best result of sixth, and we were getting there towards the end of the year to be honest with you.
We made some big steps forward and some quite chunky set up changes and we found out what did and what didn't work again.
That's half the battle, going into a qualifying session and putting on something and you don't have a clue what's going on, it's not ideal. But this year going forward we have a little more experience with the car and also the team have more experience with the car, it's all gone well so yeah we're looking forward to it."
As the reigning Jack Sears Trophy winner your stock continues to rise, some are saying you're the 'rising star', does that cross your mind going into a race?
"I just go out there and do the best job I can. Like I say it's been a good winter so there's been a lot of confidence carried over from where we finished off last year. If we hit the ground running this year getting the same sort of finishes then it's going to be a successful year."
Our thanks to Senna for the interview and we wish him and Power Maxed Racing the best of luck for 2018.
Photos courtesy of Matt Pigg (Photopigg).