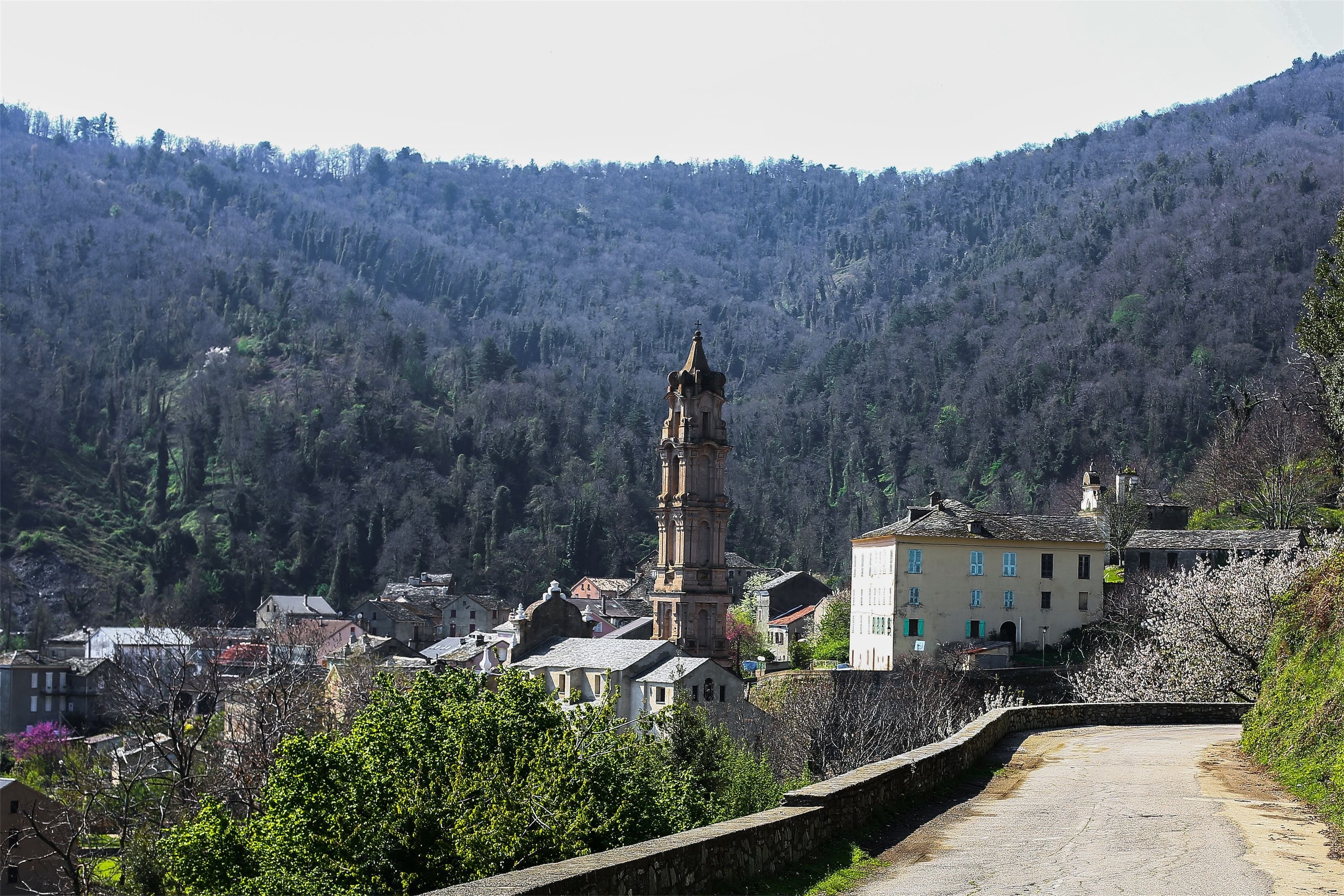 It's time for round four, and just four points separate Seb Ogier and Thierry Neuville at the top of the points table!
This year's edition of this classic event has twelve stages totalling 333.48km over the three days, the longest stage being the 55.17 km for Vero – Sarrola – Carcopino run on Sunday and the shortest being the Piedigriggio – Pont de Castirla 2 13,55 km on Friday afternoon.
Friday sees the crews tackle stages that are in the middle of the island, with four stages, but a mammoth 126 km's. On Saturday, they head to the northern park of the island and tackle the coastal roads, totalling a huge almost 140km's of stages and then Sunday sees them head south west and the longest stage run and then the power stage.
Last year Kris led until he suffered a mechanical failure with his engine on Saturday afternoon and Thierry came through to take the win.
Seb Loeb is driving again for Citroen, with the second of his outings for this year, but bigger than that is the news that Elfyn Evans' co-driver Dan Barritt is sitting out this one as he's still recovering from the high-speed roll that happened in Mexico. Phil Mills' will be stepping into co-driver seat. Yes, world rally champion co-driver to Mr Hollywood, Petter Solberg. He has been part of Elfyns' gravel crew for the past five years, which makes him the ideal man for the job!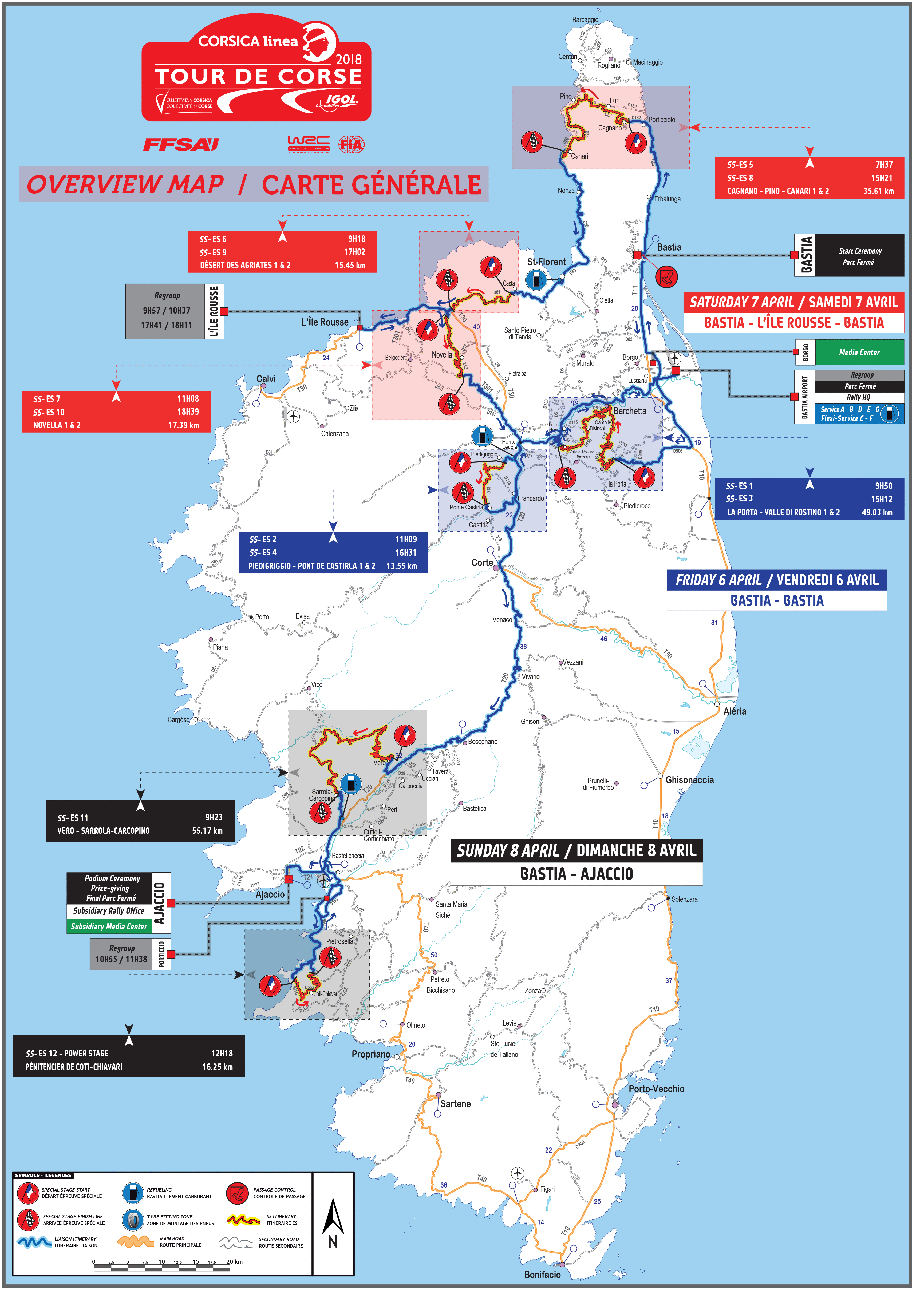 TOUR DE CORSE SCHEDULE (GMT+2)
THURSDAY 5 APRIL
8.00am: Shakedown (Sorbo Ocagnano)
6.30pm: Ceremonial start Bastia – Place Saint Nicolas
FRIDAY 6 APRIL
8.00am: Start in Bastia – Place Saint Nicolas
8.40am: Service A (Bastia airport – 15′)
9.50am: SS 1 – La Porta – Valle di Rostino 1 (49,03 km)
11.09am: SS 2 – Piedigriggio – Pont de Castirla 1 (13,55 km)
1.47pm: Service B (Bastia airport – 30′)
3.12pm: SS 3 – La Porta – Valle di Rostino 2 (49,03 km)
4.31pm: SS 4 – Piedigriggio – Pont de Castirla 2 (13,55 km)
7.01pm: Flexi service C (Bastia airport – 45′)
SATURDAY 7 APRIL
6.10am: Start of day 2 and service D (Bastia airport – 15′)
7.37am: SS 5 – Cagnano – Pino – Canari 1 (35,61 km)
9.18am: SS 6 – Désert des Agriates 1 (15,45 km)
11.08am: SS 7 – Novella 1 (17,39 km)
1.31pm: Service E (Bastia airport – 30′)
3.21pm: SS 8 – Cagnano – Pino – Canari 2 (35,61 km)
5.02pm: SS 9 – Désert des Agriates 2 (15,45 km)
6.39pm: SS 10 – Novella 2 (17,39 km)
8.10pm: Flexi service F (Bastia airport – 45′)
SUNDAY 8 APRIL
7.00am: Start of day 3 and service G (Bastia airport – 15′)
9.23am: SS 11 – Vero – Sarrola – Carcopino (55,17 km)
12.18pm: SS 12 – Pénitencier de Coti-Chiavari (16,25 km)
1.33pm: Finish (Ajaccio, avenue de Paris)
3.00pm: Podium (Ajaccio, place du Diamant)
Well, let's hear from everyone!
M-Sport Ford WRT
Sébastien Ogier
"We've had a really positive start to the season – three events and two victories already under our belts. It's great to see the progress we've made, and we're keen to see that continue with the return to asphalt next week.
"With a lot of mixed conditions in Monte-Carlo, the Tour de Corse is the first proper Tarmac event of the year, and it's nice to be back. We all know that the competition will be strong, but we completed a good test last week – finding a good feeling and discovering the optimum set-ups to deliver a strong performance
"As a Frenchman, there is always added motivation to do well at the Tour de Corse. Known as the Rally of 10,000 Corners, the name alone says it all and many sections of this island are made for rallying. A lot of the route is new this year, but the stages remain very technical with corner after corner demanding total focus and precision.
"It's a beautiful island that I always look forward to visiting, and it would be fantastic to secure another strong result on French soil."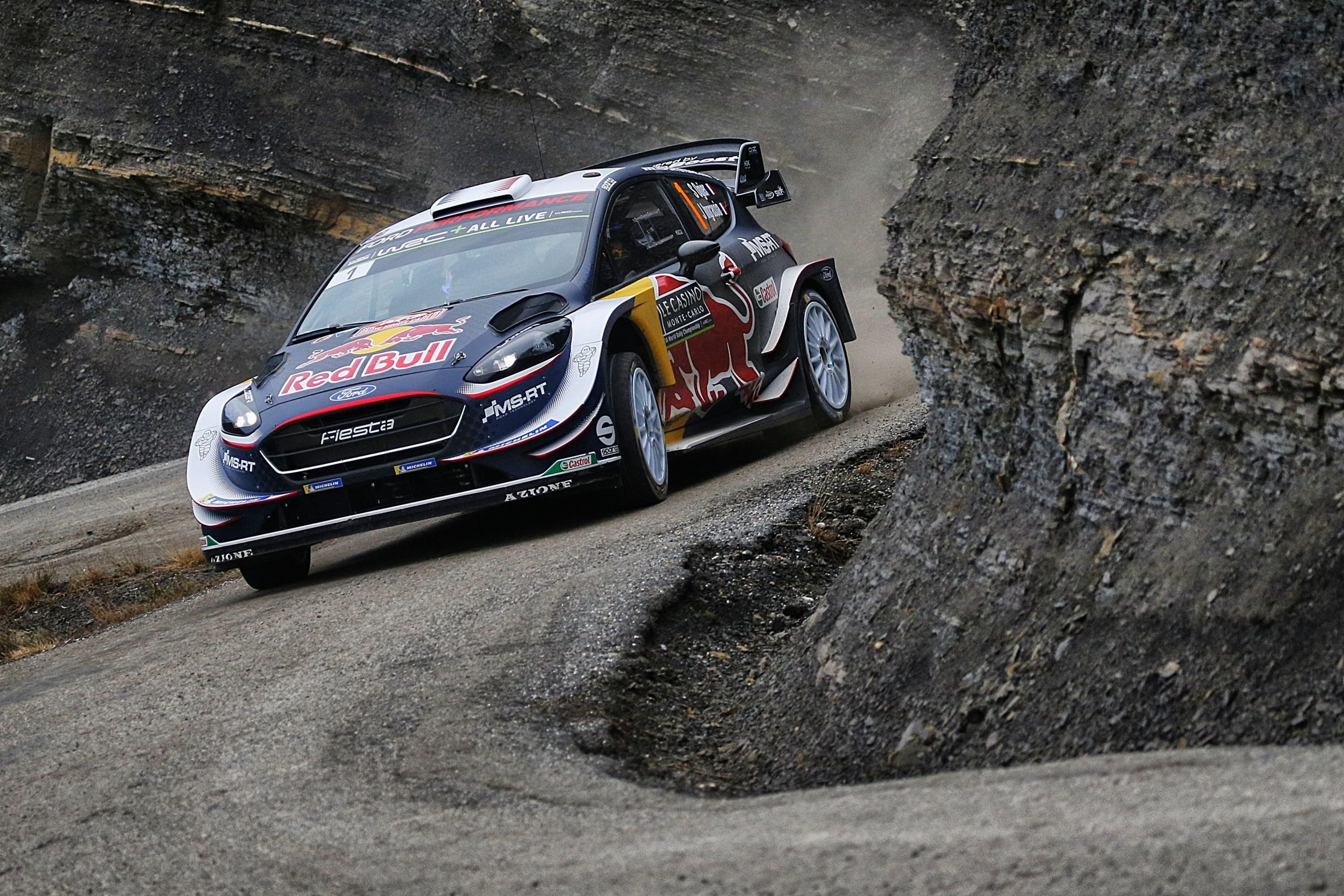 Elfyn Evans
"This is an event that I really enjoy, and we'll be looking to maximise that next week. The speed is there, but I've not had the best start to the year and that's something I'm determined to put right in Corsica.
"It won't be easy without Dan, but his fitness comes first and it's important that he has the time to make a full recovery for the rest of the season. Phil has stepped in, and I hope that we can push for a good result.
"Phil certainly knows his stuff. Other than Dan, he knows my pacenotes better than anyone and he's certainly no stranger when it comes to winning rallies.
"This year's route has a lot of new sections, but it's still a technical challenge which is one of the things I really enjoy here. There's quite a lot of variation amongst the stages – some are surprisingly smooth, but then there are those which are typically Corsican with abrasive Tarmac that twists through the mountains.
"It's all about adapting to the conditions, and that will be the case even more so for us next week. We'll have a fairly late running order which won't be ideal, and we'll need some time to get used to one another in the car as well.
"We'll just have to see how it goes and do the best we can. I've had some good results here in the past, and I'm keen to see what we can do this year."
Bryan Bouffier
"The Tour de Corse has long been one of my favourite events. The roads are amazing, but so is the island and so are the people who live there. It's a fantastic rally and one that I look forward to every year.
"We had a good test last week where I found a good feeling with the balance of the car. Working together with the team, we were able to find some good solutions with the set-up, and I hope that hard work will show on the stages next week.
"Every time I return the FIA World Rally Championship the level is extremely high, but this year the competition is stronger than ever and there are so many drivers able to push for the top results.
"The specific challenge in Corsica is to be consistent through the long stages and to avoid mistakes. That is our goal and we hope to deliver some strong times so that I have the chance to do even more kilometres in this amazing car!"
Hyundai Motorsport
Thierry Neuville
"Tour de Corse is one of my personal highlights of the season. We have some good memories from this rally across the years; we have won twice, including last year's WRC victory so I am hoping for another competitive weekend. We had an accident towards the end of the pre-event test but that won't change our approach to this rally. We know it will be a close contest again, as there are many quick drivers. The long stages that are a particular characteristic of Corsica mean we have to keep focused at all times. It is a really demanding event for crews and teams but we're determined to strengthen our position in both championships."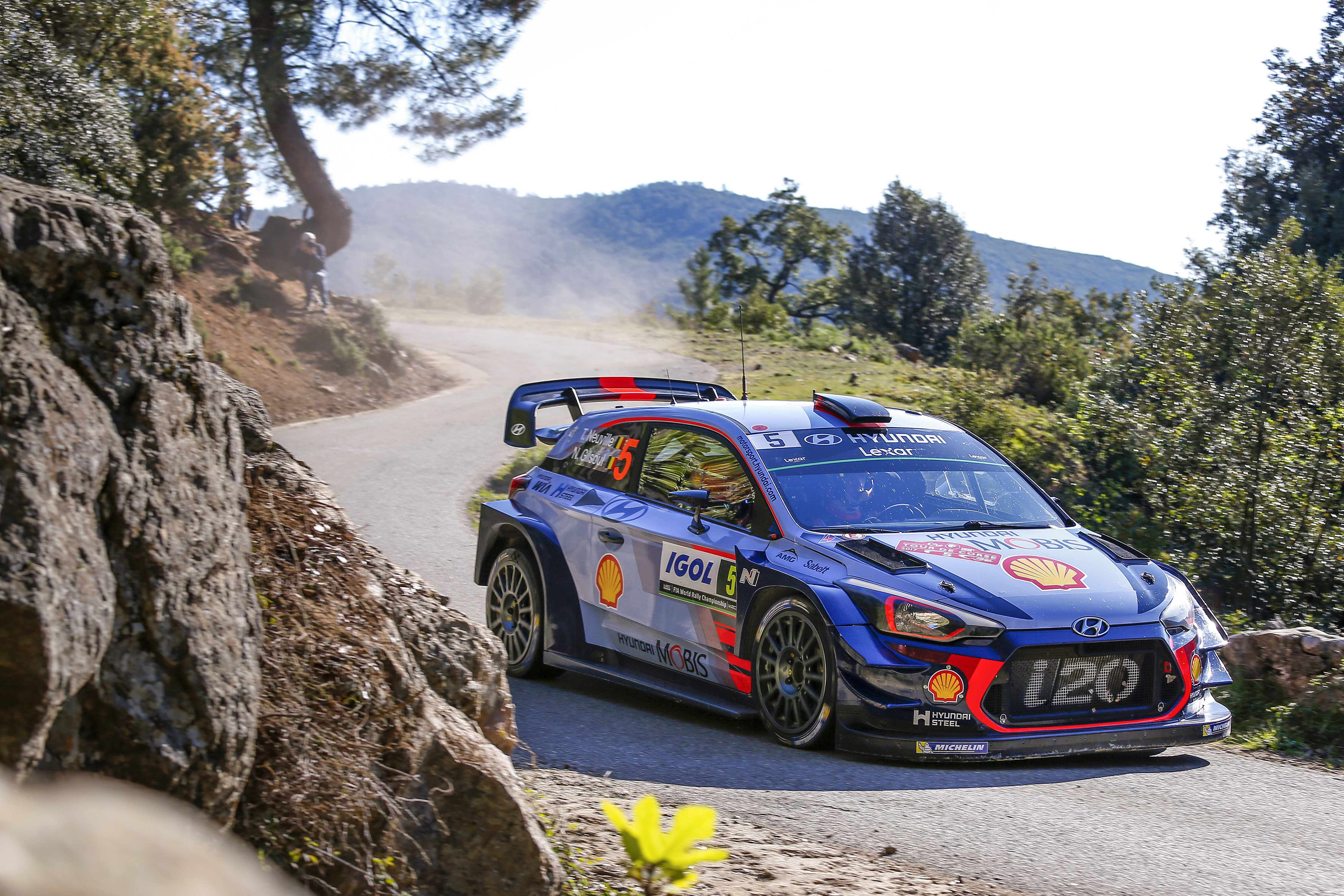 Andreas Mikkelsen
"Corsica is a very special event, and our first true tarmac rally of the season. As a crew, you never really get any break during the stages; it's a continuous corner-to-corner challenge that requires utmost concentration. It's equally tough on the car as it is for the driver and co-driver. It is easy for the brakes to get warm so we have to adapt our driving style to save them for the really long stages. Tour de Corse is a beautiful rally and one I really enjoy."
Dani Sordo
"I was pleased with our result in Mexico and I hope we can continue with this level of performance as we move onto the tarmac challenge of Tour de Corse. It is a rally I always enjoy, and which requires a very specific approach. With long stages held in the mountains, Corsica really is a classic tarmac event. It's corner after corner, so we are always turning the steering wheel during the stages, which makes it a very physical event. Precise pace notes are crucial for a good performance. I can't wait to get started!"
Toyota Gazoo WRT
Jari-Matti Latvala
"I have some good memories of Corsica from my win there in 2015. It is certainly an asphalt rally that I like. There's a reason they call it the Rally of 10,000 Corners: if you find any straight that is longer than 100 metres, you know you are on the wrong island! You cannot really cut the corners so much and there is not so much gravel on the road, which makes it really enjoyable as you can just focus on the corners and the lines. We had a very, very positive pre-event test. The feeling was extremely good and I am very confident with the car. All of the teams should be quick in Corsica, but I really hope we are up there fighting for the podium places."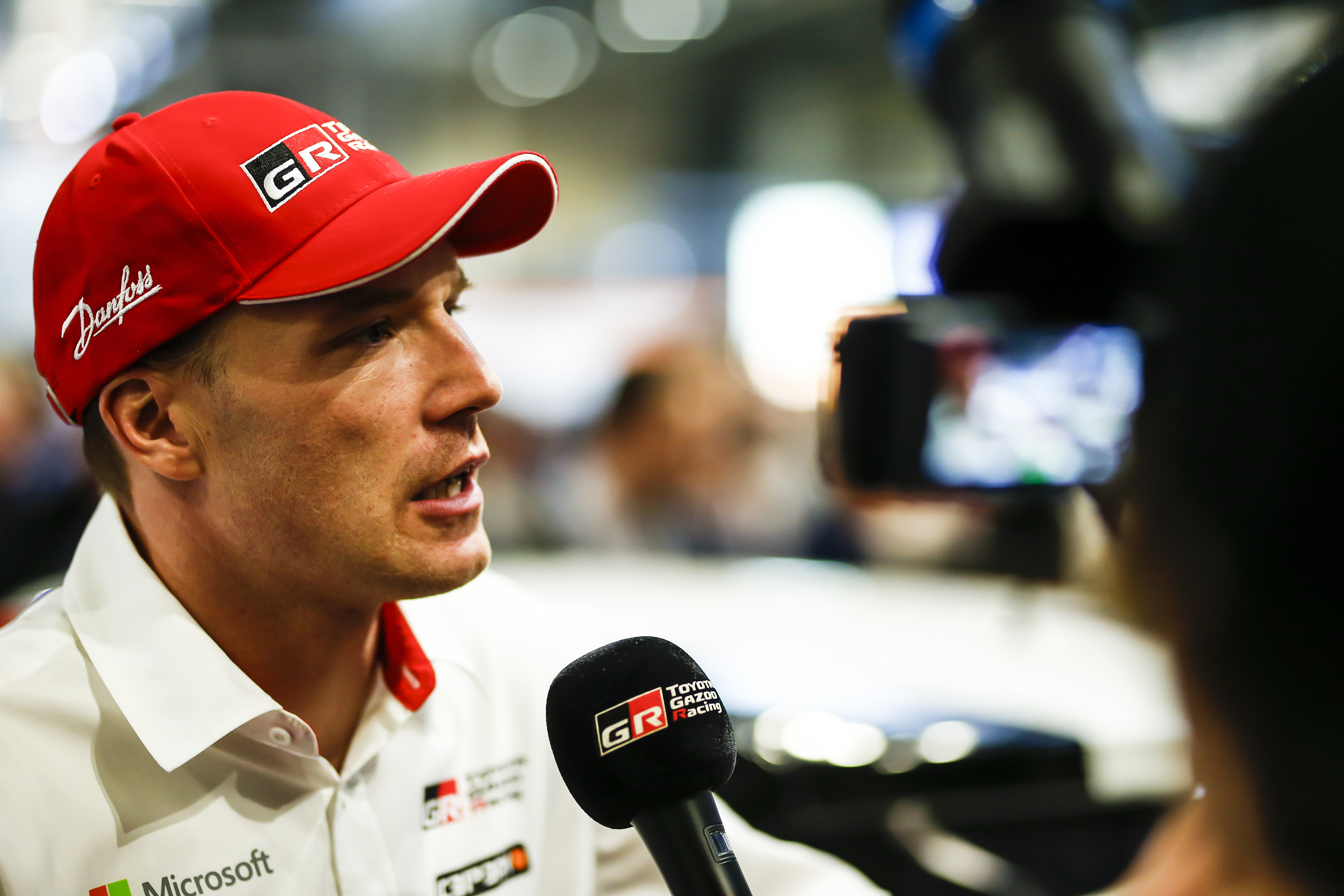 Ott Tänak
"We have been competitive on every surface so far this season. The team is working really hard to make sure that we can be reliable too. Now we just need to start taking some points back from our rivals. Last year my feeling in Corsica was quite good, so I want to have a strong result this time. The conditions on Rallye Monte-Carlo were very specific so it was difficult to take a lot, but we still went into our pre-Corsica test with some kind of idea which way we want to go. We had a proper two-day test and I think we went in the right direction: It feels like the car is performing well."
Esapekka Lappi
"I have done Corsica a couple of times in the past in other categories, and I would say that it is completely different to any other rally. It is just corner after corner, without many straights to give us a rest. The schedule is also unique as we don't have as many stages, but they are quite long. This will be my first time in Corsica in a World Rally Car, but I take confidence from the speed we showed in Monte Carlo. In fact, I am actually more confident this time because we managed to find a better set-up in the pre-event test. We tested in both damp and fully dry conditions so we should be ready whatever the weather."
Citroen Abu Dhabi WRT
Kris Meeke
"The Tour de Corse is one hell of a challenge, with many difficulties, but I've always enjoyed racing here. We were very competitive here last year, although we have seen since the start of the season that everyone has made progress, but I hope we can still get among the frontrunners. Our pre-event tests, held on a wide variety of roads, were very productive. I get the feeling that we have progressed further on the dirty and bumpy sections. In any case, I came away from my test sessions pleased with the work done and I can't wait now to get started!"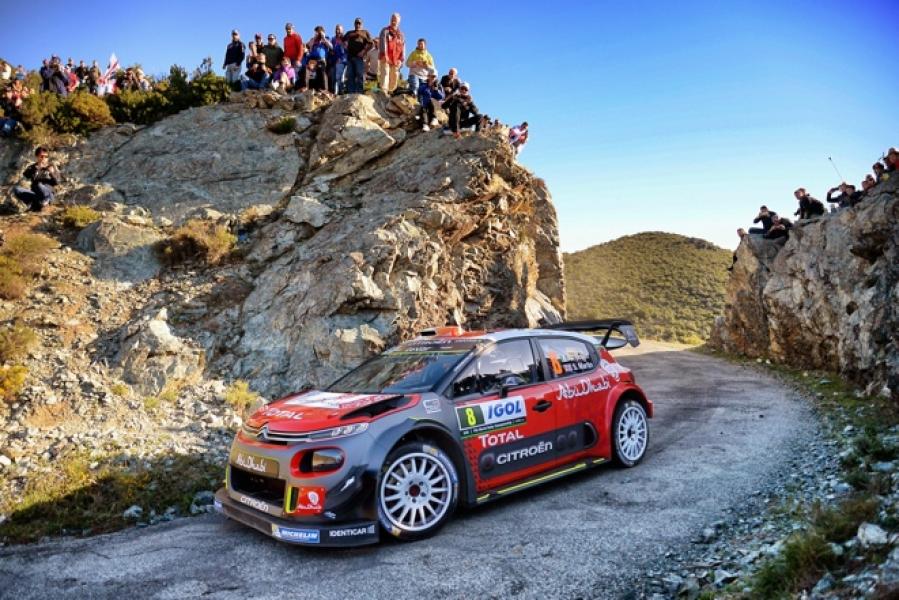 Sébastien Loeb
"Having recently driven the C3 WRC on gravel, I got my bearings very quickly during our tests in Corsica, even though the road surface was different. I started with Kris' basic set-up and settled upon something very close to his settings pretty quickly, but which suited me. The feeling was pretty good at the end of my testing days. We'll have to wait and see where we stand in relation to everyone else. After our performance in Mexico, I hope we will be on the pace again, especially as I've always been comfortable on tarmac, not least in Corsica. In any case, it's a place and an event that I have always enjoyed, even if it's certainly not the easiest rally. The roads are apparently faster than when I last competed here, although there are still plenty of narrow, technical and bumpy stages, but they are all going to be new for me so it won't be easy to make pace notes for the entire route."
As a nice tribute to Henry Hope-Frost, the M-Sport team will be running with the hashtag #Fever and also the names of his sons on their cars.
Just a few days now then to the start of this iconic event. Who will win this year? Enjoy!