Tom Oliphant is making his debut in the BTCC this season with Ciceley Motorsport and Aaron Irwin managed to catch up with him and ask him a few questions.
AI: So you're into the British Touring Car Championship! how do you feel?
TO: Really excited, I've been a support series driver for five years now and it's always nice to be in the show. I've been following it for a while, it's a premier UK race series and one of the most well known ones across Europe. To be a part of it with a great team like Ciceley Motorsport I'm over the moon.
You went through the usual route, Ginettas etc? You're in good company with Tom Ingram being an ex Ginetta champion, it must be a good route into it?
Yeah definitely! I started in GT's and my ambition was to become a GT factory driver and I quickly reaslised that that was probably a little harder to get to than touring cars.
I won the Ginetta Supercup just like 'Tingram' and Adam (Morgan, Olliphant's Ciceley team mate) and that set me up nicely for the Porsche's. I had two and a half years in Porsche's, it was competitive, we weren't quite at the front but was always there or thereabouts. It's a new challenge but I think it'll suit me.
The racing's closer here and not a bit of a parade. With the weight changes and the tyre changes too, you could be racing badly in one race, and could be great in the next. You've got to take the good with the bad, and it's all about being consistent.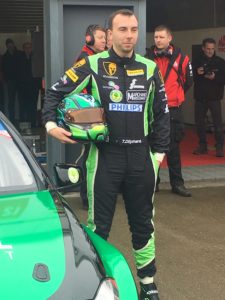 Have you had some running in the car?
I've had quite a bit of running in the car, three or four days. Mainly just getting used to how it feels, adapting from rear wheel drive to front wheel drive. But the team know what they're doing and we've been trying quite a few interesting things to develop the car.
I definitely think we've found some pace over last year. Me and Adam seem to be relatively close, so does Aiden. (Moffat, Olliphant's other team mate) I'm there or thereabouts already so when I get a little bit more comfortable I think we can crack on. The setup of the car feels good and I think the car will be able to win races this year definitely.
Is that the target then for this year? Aiden won races in 2017 and Adam finished on the podium a few times?
I think the overall target is to win the Jack Sears trophy, it's more competitive this year obviously, it's not just a rookie class anymore.
Obviously Dan Cammish followed me here from Porsche's, so he's probably going to be the favourite for that now especially with the works Honda team. But this is a very different beast, my main focus is to get as high up in that as possible, to get as high up in the Independents as possible, and yeah hopefully a podium or two over the course of the season when everything is right and everything aligns. It'd be good if I could get a win but podiums are a terrific start.
Have you done most of the circuits on the calendar before?
I've raced all of them, being in the support series, the tracks are nothing new to me, the only thing is from rear wheel to front wheel drive, that's the only new thing for me.
Thanks to Tom for the interview and best of luck to him and Ciceley Motorsport for the 2018 season.