It's safe to say that Gosia Rdest had a pretty good start to her 2018 season, winning her class at the 24 Hours of Dubai in early January behind the wheel of an Audi GT4 entered by Phoenix Racing. Then, she became one-half of the first ever all-female driver paring in the Continental Tire SportsCar Challenge when she raced an Audi R8 LMS GT4 alongside Ashley Freiberg at Daytona.
As part of our series of interviews for International Women's Day here at ThePitCrewOnline, Gosia was kind enough to speak to us about her career, and also about how she sees the state of women's motorsport at the moment.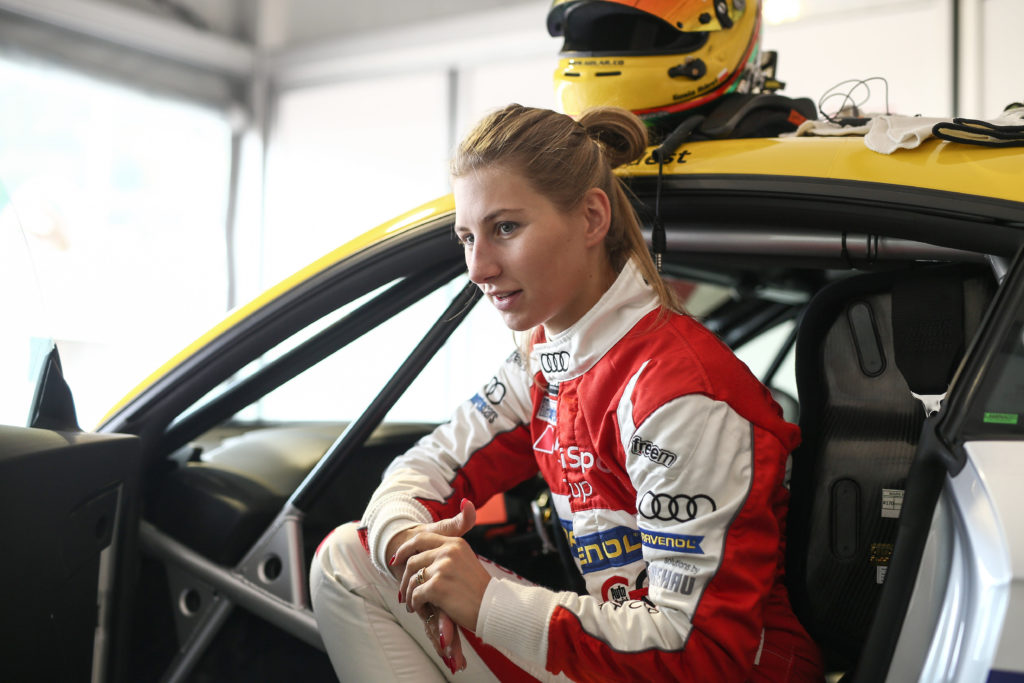 Jenny Rowan: How did you become interested in motorsport when you were younger and what made you want to become a racing driver?
Gosia Rdest: It was a love from the first lap. Once when I was 12 my father took me to indoor karting and it was it. But I remember to also be so angry on that day – because my dad turned out to be faster than me. I wanted to beat him. Later on we made a bet – if I stand on a podium in an amateur karting tournament, he would buy a kart for me to train. And I won.
It's common for future racing drivers to have parents or somebody else from family dedicated to motorsport who helps them have their first steps into that world. Not in my case. Nobody in my family has ever had anything to do with motorsport so I didn't have that backgroud. I had to figure things out myself. That passion went out straight from me.
JR: In 2014 you made the jump from single-seaters to touring cars – what made you make the switch and what is your ultimate goal?
GR: Let's be honest – motorsport is expensive and single seaters are super expensive. I couldn't afford that. In lower single-seater series, Formula 4 or 3, it's harder to gain sponsorship than in touring cars cups. Of course I still wanted to race so I switched to touring cars which turned out to be also great. The competition level is very high. My dream and my long-term goal is to drive in DTM. But also to stay in motorsport as long as I can because racing is simply the love of my life. When I will be finished with racing (which I hope will happen as late as possible), I would like to work with young drivers.
JR: How would you look back at your 2017 season?
GR: It was a year of many ups and downs. Two podiums in Hockenheim in Audi Sport TT Cup, 1st place in KIA Lotos Race in Hungaroring, signing a contract with Phoenix Racing, one of the most successful German teams, to race in GT4 European Series in 2018 – theese were definitely the bright moments to enjoy.
It was a year of being extremely busy as I entered two racing series – Audi Sport TT Cup and 5 rounds of ADAC TCR Germany. Meanwhile I managed to gain my Masters Degree in journalism and management in social media. I also became a project manager of my new business concept which is One Day Tour, offering unique tours around Poland.
Finally it was a year of struggle as I faced my worst injury so far – I broke a foot bone during qualifying in Zandvoort. The track was slippery after the rain and I hit a barrier. It was a bad luck. I had no idea it was that serious so I continued the racing weekend and was 4th in the race. On Monday a doctor put my leg in a plaster. I went through an extra-fast recovery process and didn't miss any race. Maybe sounds crazy but that's how I am. I never back down. Oh, and I gained a new skill – braking with my right leg.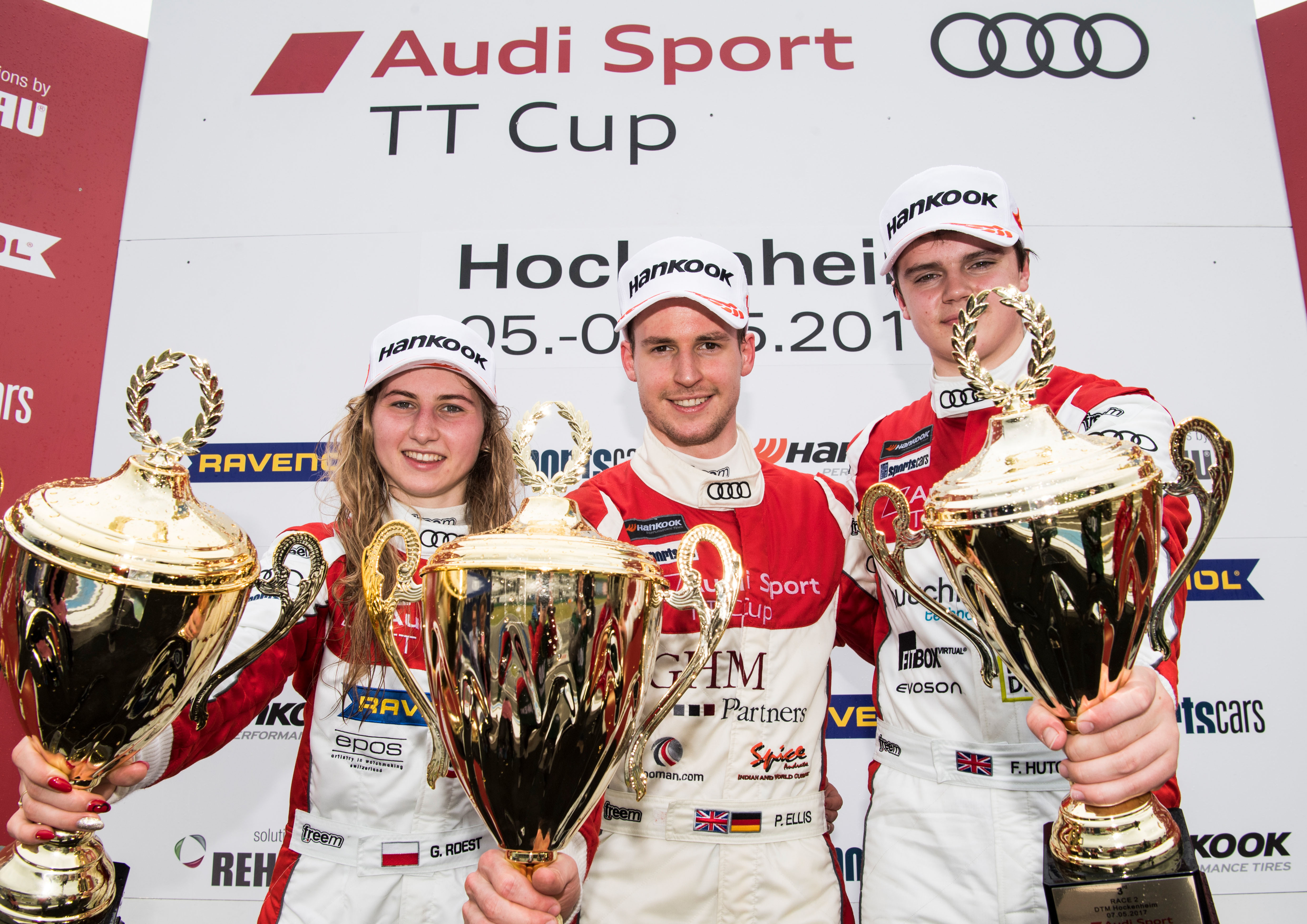 JR: Huge congratulations on getting your Masters Degree last year! How was it balancing the studying with your racing?
GR: Well, with my tense schedule it was not easy. Some drivers decide to stop their studies because of racing and I completely understand that decision. It was a big struggle to make that all work and I must admit I also managed thanks to my understanding teachers. Well, I had to do tons of additional work to recompense the time when I missed lectures and activities but I'm grateful they let me do this.
JR: You got your first taste of your 2018 car in Dubai in the last few days – how did it feel and what are your hopes for the rest of the year?
GR: Simply amazing. I couldn't wish for a better start into the new season and a new car. First, I was very stressed, because I didn't know how would I find myself in a stronger and rear-wheel drive car but after my first practice session I already knew we are going to become best frineds with my Audi R8 LMS GT4. The car is dynamic, fast, aggressive and oh-so enjoyable to drive. And it looks so sexy!
As for my hopes for the upcoming season it is to be fast, competitive and show better and better performance each round. I want to learn as much as I can. I think I stepped onto the right path with joining Phoenix Racing Junior Programme. We have planned together a development path for me, I'm going to test GT3 car later this year. And what's also very important, the feeling between the team and me is very good. I can feel that strong support and it means a lot for a driver to find herself (or himself) confident and comfortable with the team.
JR: In October you appeared on stage at the Warsaw Moro Show as part of the FIA's European Young Women Programme – what was that like to be a part of?
GR: I was not exactly a part of that FIA programme. I'm invited year by year to Warsaw Moto Show. It's one of the biggest motorsport events in Poland. But I strongly support any initiative which encourages girls to step into the world of motorsport. I'm always willing to involve in any action. Lately I was invited by Audi America to team up with Ashley Freiberg in one car in the IMSA Continental Sports Car Challenge at Daytona as a part of #DriveProgress campaign. The aim is to promote women in motorsport. I was proud to take part.
JR: How would you sum up the state of women's motorsport? There's lots of female talent around at the moment, including yourself, so do you think things are improving?
GR: I believe in equality at any field and I'm so happy that nowadays girls get more opportunities. Racing is still and will long be a sport dominated by men and that's why I think it's especially important for a young girl to get that helpful hand from inside and get the message "you are welcome here". Not the message "you don't suit here, go back to girlish stuff" what I personally faced many times, mostly when I was starting my career, not even from drivers but from their dads.
There's still a lot to be done. Last year I had a little unpleasant episode. We were at the drivers briefing before a race, forty men, two women in a room, discussing the incidents from the last race showed on a screen. There were quite a few and no one commented but when it came to my incident some old driver said in irreverent tone "ah but it's a girl". Like it was obvious I'm a girl so I can't drive. Maybe it was supposed to be funny but I felt like everybody was laughing at me. Of course it was just a silly unpleasant episode but it's really not OK if you hear such things too often. I mean, yes I'm a girl, but still manage to compete with everybody in the room on the equal rules. I know racing is a tough game and I'm totally OK with that but I'm not OK with disrespectful comments.
But you cannot let such small things go to your head and mess up with your confidence. I know it but I also know that being a girl in a men's world can be sometimes hard. That's why I'm always willing to share that message with any girl who wants to race – "you are welcome here".
But answering your question, generally yes I think things are improving. Society mindset is changing for the better. I'm very happy to see more and more lady racers. I was used to be the only female diver on the grid but in Audi Sport TT Cup 2017 I had two female competitors. The changing room got a little bit crowdy but it was great.
And I'm still waiting for a grid boy.
JR: Do you have any advice for young girls trying to pursue a career in motorsport?
GR: Do not let anyone talk you out of your passion. If you really feel it, if you love it, do it. When you're fast, you'll leave bad talkers behind. But be prepared for a hard work because that's what any professional sport is – a hard work indeed. And motorsport is a really tough sport so be prepared to it and don't expect any special treatment. I think when drivers put helmets on, the sex doesn't really matter. You have to show you're a fighter there but also show a strong character out of the track.
Ah, and don't forget to have fun!