This is a name you may not be familiar with but Ana Carrasco is a woman who should be celebrated in motorsport. Born in Spain in 1997, Ana started riding motorcycles when she was 3 years old. It was clear there was passion there and it appears Carrasco embraced that. Why wouldn't she?
The Spaniard raced in Moto3 which is normally used as a route to MotoGP. She raced in the series for three years. Regardless of gender, she was just another signed racer. She proved this at Malaysia in 2013 by becoming the first woman to score points in Moto3 World Championship and the first in any class. She did this all being the tender age of 16.
Sian Williams: How old were you when you started racing?
Ana Carrasco: I started when I was 3 years old becuase my family were always relationship with this world, my father is mechanic and he was working on racing in the past and I did my first race with 4 years old.
SW: What drew you to motorcycles as a child?
AC: When I started riding a motorbike was just like a hobby for weekends and free days, I enjoyed a lot so I never wanted to stop doing this.
SW: Did you feel much pressure entering the Moto3 world championship as a female at the age of 16?
AC: Was difficult becuase everything was new, I had ti addapt myself to every situation and was no easy because I was really young. I feel some preasure becuase everybody were looking yo me and the first races were not easy.
SW:Do you feel you were treated differently by people in the paddock because of your gender?
AC: No, I always feel good and confortable inside the paddock.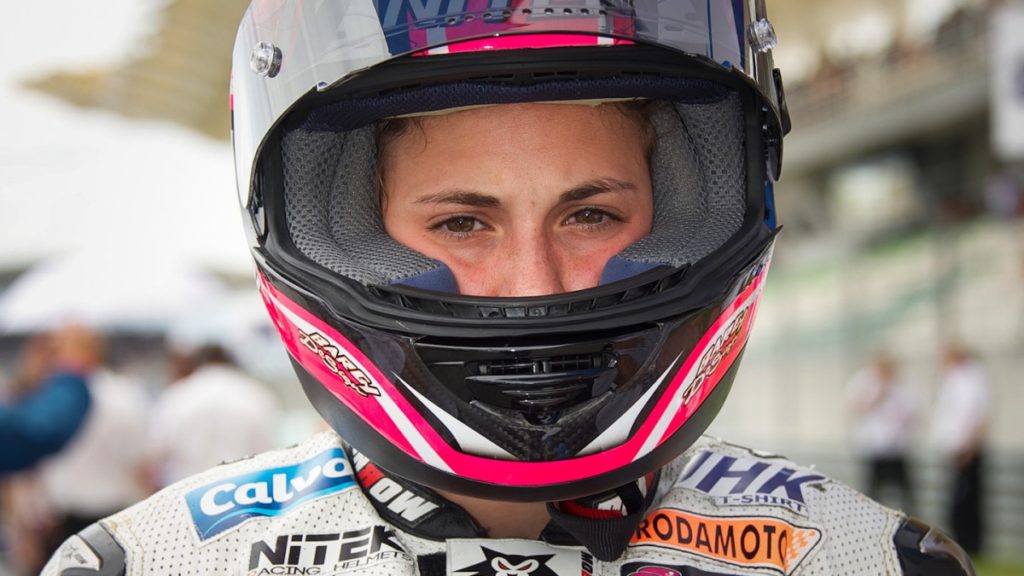 SW: How did it feel to win in Portugal last year for the first time in dramatic fashion and making history at the same time?
AC: Was incredible for me, was the present of all the hard work se did in the last few years. The races was really really funny so I enjoyed a lot and finished with a victory was unbelieveble.
SW:You're only 20, what is the plan for 2018 and beyond?
AC: The plan formativo 2018 is fight for the tittle un World Superbike Championship in Supersport 300 class, this is the goal. And looking yo the future I want to be able to to race in MotoGP in some years.
SW: What more do you think/want to achieve?
AC: I try to look always on the seasson that is is starting. When it finish I focus on the next one. Step by step.
SW: Did anyone ever say you couldn't race because of your gender? And if they did, do you use those comments as extra motivation?
AC: I think some people think is possible and others not but I don't care so much about this. I'm focus to work with the people I have around and achive our goals.
SW: What advice would you give young girls dreaming or racing motorcycles?
AC: The advice is that is important to enjoy and do what we love so if they like motorbikes just try to do the best they and enjoy always.