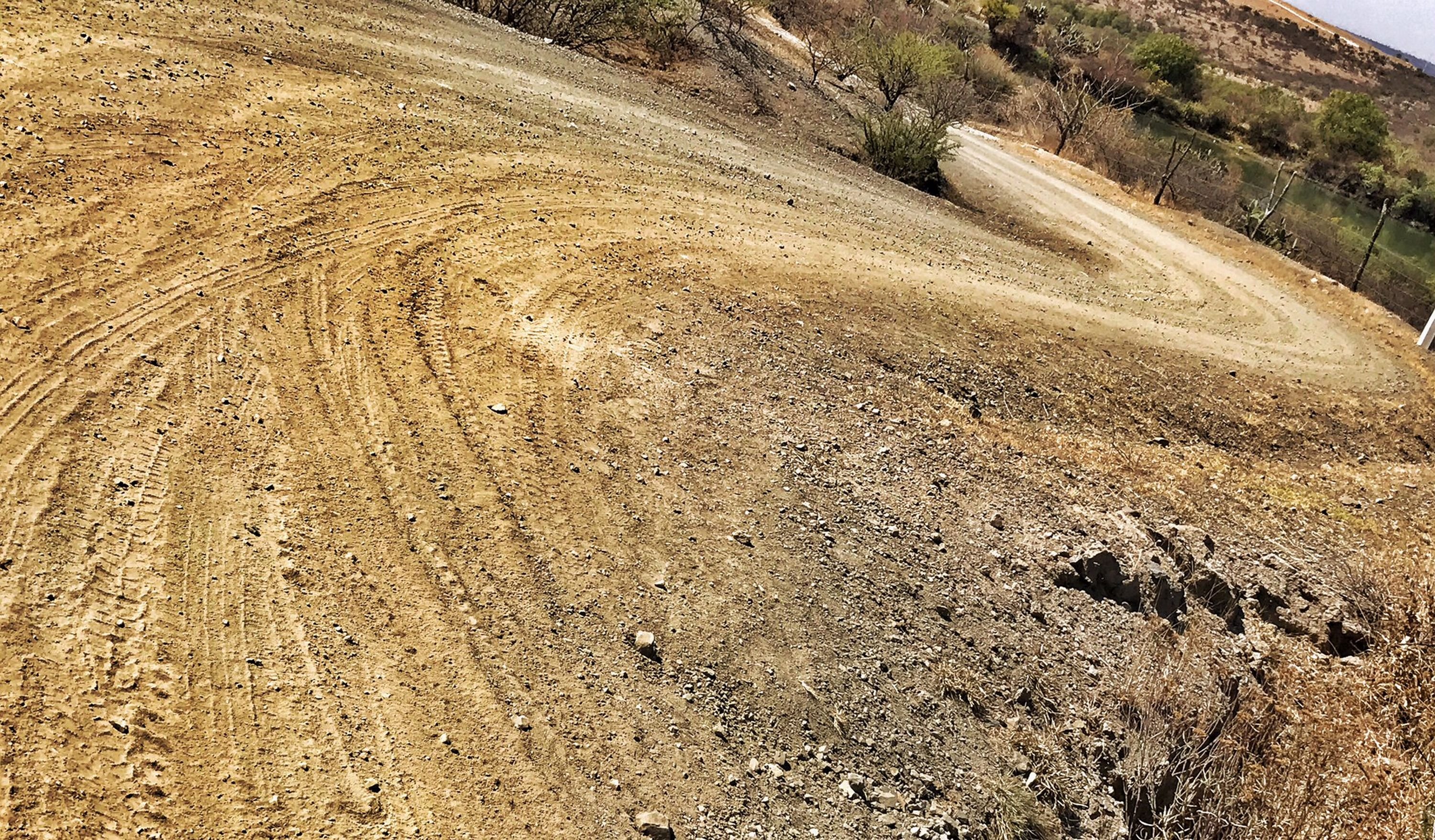 The WRC heads for much warmer climes in Mexico after the snow and ice of Monte and Sweden! Thierry Neuville leads the championship after a brilliant drive last month. Seb will want to fight back on the classic stages that make this incredible event. Its held at over 2,200 metres, and this has a very big effect on engine performance, with every 1000 metres leading to a 10% loss of engine power.
Big news is that a certain nine-time World Champion will be making his return with Citroen in Mexico, but this does mean that Craig Breen will not be competing, and that is a shame considering his drive to second in Sweden. Last year, Kris Meeke won this rally and he'll be hoping he can do the same again to get his season going. Certainly, the car will go a lot better this year with the handling problems sorted.
Toyota suffered last year as well, but with a whole event completed and a year to work on their car will almost certainly feature near the front with the combined talents of Jari-Matti, Ott and Esapekka.
Here's the details then of the stages that await them!
| Stage | local time (mexico) | gmt |
| --- | --- | --- |
| Thursday 8th March | | |
| shakedown (Llano Grande) | 9:00 | 15:00 |
| Start day 1 (Leon) | 18:15 | 0:15 |
| SS 1 – Monster Street Stage GTO (2,53 km | 20:08 | 2:08 |
| End of day 1 | 21:38 | 3:38 |
| | | |
| Friday 9th March | | |
| Start day 2 and Service A (Leon – 15 min) | 9:30 | 15:30 |
| SS 2 – Duarte – Derramadero 1 (26,05 km) | 10:33 | 16:33 |
| SS 3 – El Chocolate 1 (31,44 km) | 11:21 | 17:21 |
| SS 4 – Ortega 1 (17,23 km) | 12:41 | 18:41 |
| SS 5 – Street Stage Leon 1 (1,11 km) | 14:02 | 20:02 |
| Service B (Leon – 30 min) | 14:42 | 20:42 |
| SS 6 – Duarte – Derramadero 2 (26,05 km) | 16:00 | 22:00 |
| SS 7 – El Chocolate 2 (31,44 km) | 16:48 | 22:48 |
| SS 8 – Ortega 2 (17,23 km) | 17:41 | 23:41 |
| SS 9 – Autodromo de Leon 1 (2,30 km) | 20:06 | 2:06 |
| SS 10 - Autodromo de Leon 2 (2,30 km) | 20:11 | 2:11 |
| Flexi Service C (Leon – 45 min) | 21:26 | 3:26 |
| | | |
| Saturday 10th March | | |
| Start day 3 and Service D (Leon – 15 min) | 7:30 | 13:30 |
| SS 11 – Guanajuatito 1 (30,97 km) | 8:33 | 14:33 |
| SS 12 – Otates 1 (26,37 km) | 10:11 | 16:11 |
| SS 13 – El Brinco 1 (9,98 km) | 11:08 | 17:08 |
| Service E (Leon – 30 min) | 12:48 | 18:48 |
| SS 14 – Guanajuatito 2 (30,97 km) | 14:21 | 20:21 |
| SS 15 – Otates 2 (26,37 km) | 15:34 | 21:34 |
| SS 16 – El Brinco 2 (9,98 km) | 16:48 | 22:48 |
| SS 17 – Autodromo de Leon 3 (2,30 km) | 17:38 | 23:38 |
| SS 18 – Autodromo de Leon 4 (2,30 km) | 17:43 | 23:43 |
| Flexi Service F (Leon – 45 min) | 18:33 | 0:33 |
| SS 19 – Street Stage Leon 2 (1,11 km) | 20:26 | 2:26 |
| | | |
| Sunday 11th March | | |
| Start day 3 and Service D (Leon – 15 min) | 7:30 | 13:30 |
| SS 11 – Guanajuatito 1 (30,97 km) | 8:33 | 14:33 |
| SS 12 – Otates 1 (26,37 km) | 10:11 | 16:11 |
| SS 13 – El Brinco 1 (9,98 km) | 11:08 | 17:08 |
| Service E (Leon – 30 min) | 12:48 | 18:48 |
| SS 14 – Guanajuatito 2 (30,97 km) | 14:21 | 20:21 |
| SS 15 – Otates 2 (26,37 km) | 15:54 | 21:54 |
| SS 16 – El Brinco 2 (9,98 km) | 16:38 | 22:38 |
| SS 17 – Autodromo de Leon 3 (2,30 km) | 17:38 | 23:38 |
| SS 18 – Autodromo de Leon 4 (2,30 km) | 17:43 | 23:43 |
| Flexi Service F (Leon – 45 min) | 18:27 | 0:27 |
| SS 19 – Street Stage Leon 2 (1,11 km) | 20:26 | 2:26 |
Let's hear from the drivers then!
Hyundai Motorsport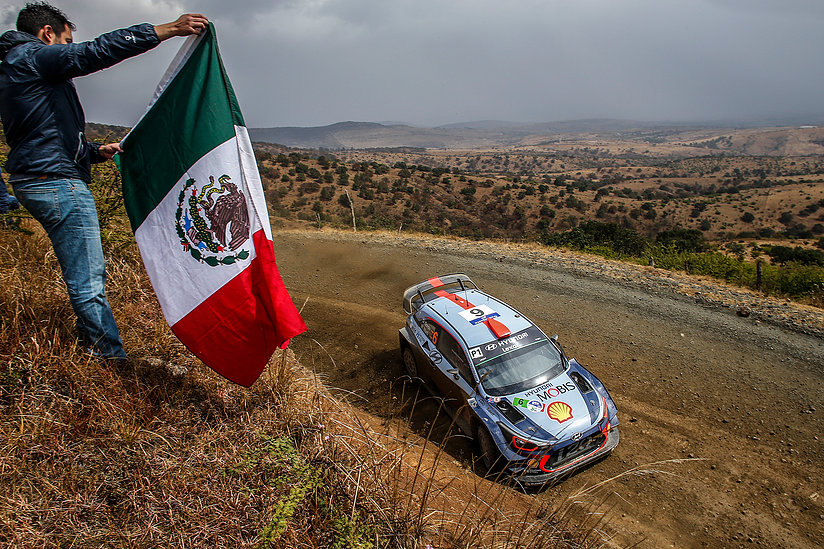 Thierry Neuville
"We head to Mexico on the back of our fantastic win in Sweden, so our motivation and morale could not be higher. Mexico is a nice event and one that brings back good memories. I got my first podium there in 2013, and then scored Hyundai Motorsport's first ever podium just one year later. The rally has a more relaxed atmosphere, and it's generally a lot calmer for the drivers. We arrive a bit earlier than normal in order to acclimatise and adjust to the time difference. It is the first event of the year with higher temperatures – and altitude – making it a unique and enjoyable challenge."
Andreas Mikkelsen
"Rally Mexico is an event I've done three times in the past. It's a beautiful rally with stages that are similar from one season to the next, so we know them well. It is always a warm event, so we have to take extra care of the brakes. It is also quite a rough rally, which means it very easy to make a mistake. There is typically a lot of road cleaning, and with stages being held at altitude the engine is down on power, so it requires a slight change of driving style. After finishing on the podium in Sweden, our first one with Hyundai Motorsport, I'm ready to fight for another strong result."
Dani Sordo
"I was pleased to see the team score its first win of the season in Sweden, and I am happy to be returning to the line-up for Rally Mexico. I have always enjoyed driving on the Mexican stages, which are lined with many passionate rally fans, who cheer and support us throughout the weekend. Road cleaning in Mexico can create a big difference between those first on the road and those behind. I hope we can benefit a bit from our position and compete near the front to help the team defend our manufacturers' championship lead."
Toyota Gazoo Racing WRT
Jari-Matti Latvala
"I always like going to Mexico and enjoying the warmth and the sun for the first time after the winter. The stages have sections that are very fast and sections that are very slow, and there are a lot of loose rocks off the line so you have to be precise with your driving. If we can finish on the podium that would be really good for the championship. It's clear that the performance is there in the car. We had a good gravel test in Spain last week: of course, in Mexico it is going to be warmer but it is the best you can do in Europe at this time of the year. We had some updates to the suspension and I could feel that the traction and the grip under braking are better than what we had at the end of last year."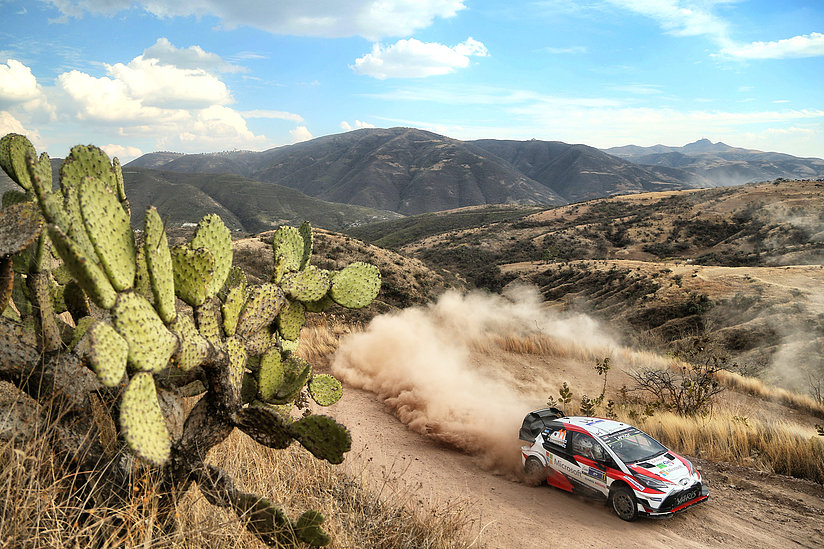 Ott Tänak
"Rally Mexico will be my first event on gravel in the Yaris WRC. I have many new things to learn, but we had two days of testing in Spain last week which were very useful. We tried as many different things as possible, just to understand how the car reacted. The early feeling with the car on gravel is quite good: there are still some things to get used to and some things that we can develop. In Mexico we will have a better road position, starting fifth. The road sweeping has a big effect there, so this should help us. I have quite a bit of experience in Mexico now, so I feel comfortable going there and I think we have a good chance to fight for the top positions."
Esapekka Lappi
"This will be the first time that I have competed in Mexico, although I did do the recce last year so I have some idea of what to expect. The surface is similar to the gravel roads in Spain, where everybody has done their pre-event testing, but I think the stages will be much rougher on the second pass. The altitude will also make a big difference: I have never driven those kinds of conditions where the air is really thin. It means there is less power from the engine, so you may have to drive in a slightly different way. I am quite happy with how my season has started and hopefully we can continue that in Mexico. The main target for me though has to be to do every stage and gain that experience for the future."
Citroen Abu Dhabi WRT
Kris Meeke
"Mexico is a bit like Catalonia, one of the gravel rallies where we were pretty competitive last year. Since then, we have made further improvements to the C3 WRC, so I have high hopes that we can get among the frontrunners. Of course, a lot of our rivals had reliability issues related to the altitude last year and are bound to be a lot better prepared this time around. It's definitely an event that I like: as the full power of the cars is not available, you have to be as clean as possible in your driving. I'm also pretty pleased with our recent tests. We seem to have made more progress, especially on the dampers in conjunction with Öhlins. That was Sébastien's impression too. In any case, I'm really looking forward to it. We need to make the most of running seventh on the road on day one – that will be key in getting a good result."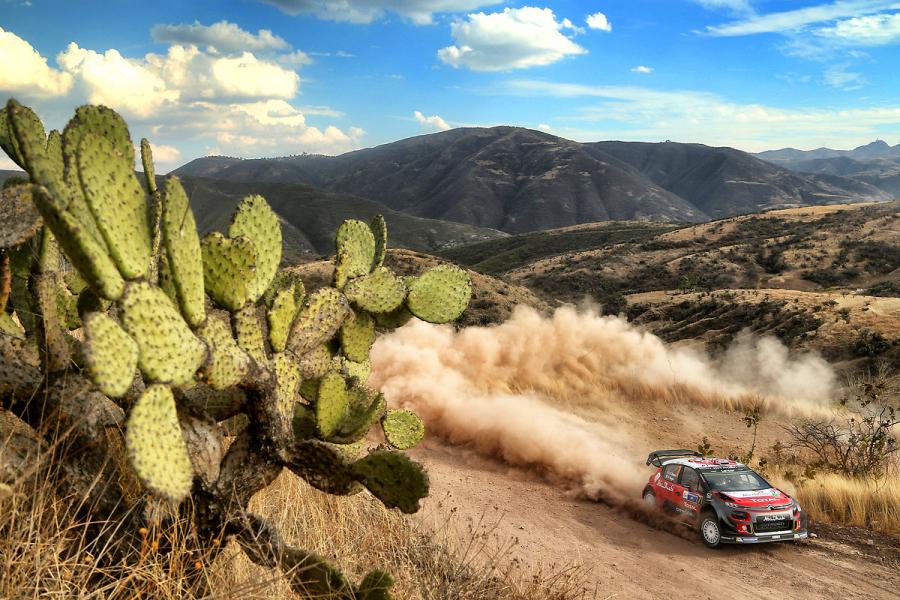 Sébastien Loeb
"This is a rally that I have always loved, so I have high hopes I will enjoy these stages in the C3 WRC, which is an exciting car to drive. Other than that, I have the same uncertainties as everyone else: although I hope to be more or less on the pace, I have no idea where I stand in relation to the other drivers, so I can't wait to get started! You have to bear in mind that this is still the world championship! The other drivers haven't stood still over the last few years… In any case, I'm pleased with the testing we did. I covered almost 500 kilometres in two days. I found the C3 WRC well balanced and I felt that it had improved again since my last test outing at the end of 2017. I have tried to give myself every chance by spending some time in a DS3 WRC beforehand to get the feeling and my reflexes back, and by watching some onboard video footage from previous rallies. 28% of the course is going to be new to me, compared with just 4% for the others, but that's pretty positive because it is one of the events I still know best. However, my memories of the 72% that I have driven before go back six years, so I've done a little bit of work so that I don't feel completely disorientated. I hope my position in Friday's running order (11th) will help me to get my bearings because with the current regulations, you really need to have a good first day, otherwise your rally suffers."
M-Sport Ford WRT
Sébastien Ogier
There's always a special feeling when we return to Rally Mexico – because it's where everything started for me 10 years ago! It was our first event in the world championship, and the story started with victory in the Junior WRC.
"Since then we added a couple of podiums and victories at the highest level which means that I obviously have Rally Mexico in my heart! We'll for sure do our best to continue this love story with another strong result and are looking forward to the great Mexican atmosphere!
"This might be the first gravel event of the year, but it has its own unique character which sets it apart from the more traditional gravel rallies. The altitude is higher than anything else we experience throughout the year and the thinner air means a lot less power than we're used to.
"Those conditions – linked with the pretty high temperatures – are practically impossible to reproduce in Europe which means we are counting even more than usual on the job done by our engineers in the climatic chamber to get the maximum performance.
"The loose gravel can also pose something of a challenge for the early runners and, even though we won't be the first car on the road next week, there will still be a lot of fast drivers behind us. We need to try and stay as close as we can on Friday morning. Then, we can see where we are and push for the best possible result."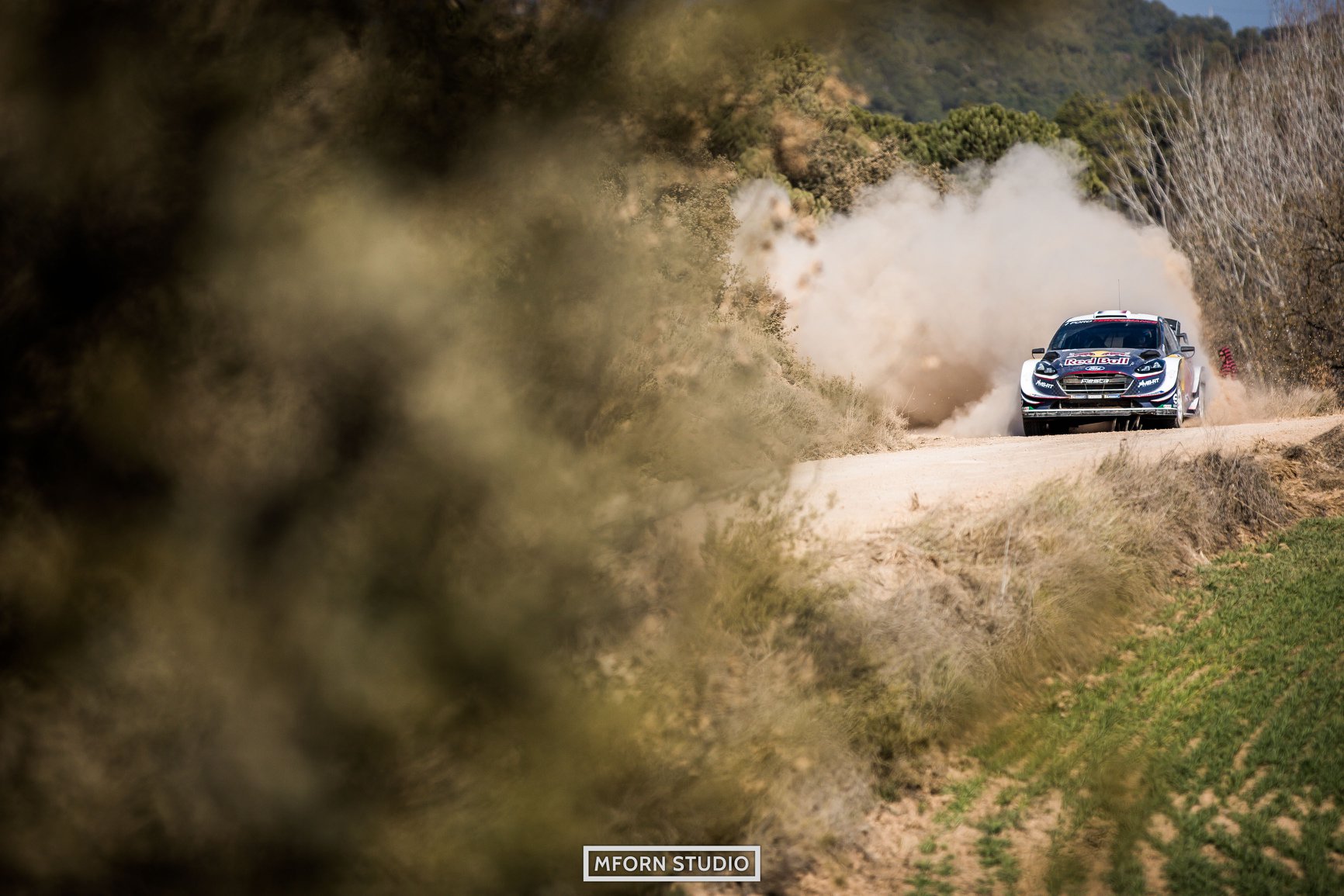 Elfyn Evans
"Rally Mexico is an event that I really enjoy. It's such a colourful rally with a great atmosphere and we've done well there in the past. It's one of those events where a clever run can deliver the results. You need to get the balance between speed and risk just right, and that's exactly what we'll be aiming for next week.
"When you think about this event two things come to mind – the heat and the altitude. We've got to get quickly acclimatised to the environment – both in terms of our physical fitness and our driving style. The thinner air can see the power reduced by as much as 20 percent so you've got to be tidy and keep the momentum through the corners.
"We'll have a good road position, but that's not without its challenges as there's an added risk of rocks being pulled onto the racing line. We'll need to stay focused and hopefully we can deliver a strong result to kick-start our 2018 campaign."
Teemu Suninen
"Mexico is one of the special events on the calendar where we face some really extreme conditions. The weather is always warm, and the high altitude means that we feel the lack of oxygen. It has an effect on the drivers, but also on the cars with 20 percent less power than the more traditional gravel events.
"It's a shame that the winter weather prevented us from testing, but that's the way it goes sometimes and we will have to make good use of the Shakedown to get accustomed to the feeling of driving here in Mexico.
"It's difficult to estimate our chances next week. I won the WRC 2 class here a few years ago, but this year will be completely different and I expect the competition to be really tough. I'll try to concentrate on my own driving and then we will see where we are."
After two rounds and two different winners, who could win this event? Road position will have a big impact on the kind of pace that the drivers will able to produce on the stages. Then there's the thin air…. All the teams have done a lot of work to minimize the effects of this on these unique stages!
Enjoy!