Well, what a day! At the start of the day, we saw more snowfall, which would lead to lots of problems for championship leader Seb in his Fiesta WRC as he acted as a snow plough.
Overnight leader Ott increased his lead by winning the first stage of the day, Hof-Finnskog, 21km of really tricky snow-covered stages, whilst Latvala, who started the day in second place would drop down into fifth place.       Those to benefit were Mads, Andreas (who lost his rear bumper in the stage) and Thierry. Just ten seconds covered the top six positions.
The following stage, Svullrya, was won by Thierry and this moved him from fourth into first place with Lappi also jumping ahead to third overall.
Röjden, the final stage of the morning loop saw some drama for Kris and Elfyn. They both hit something at the edge of the stage and suffered damage to wheels, with Kris getting a broken wheel and Elfyn suffering a puncture. Andreas won the stage and moved into second overall, whilst Citroen duo, Mads and Craig both moved up as well. Tanak dropped right back to seventh place after a disastrous stage. He was pretty angry about it.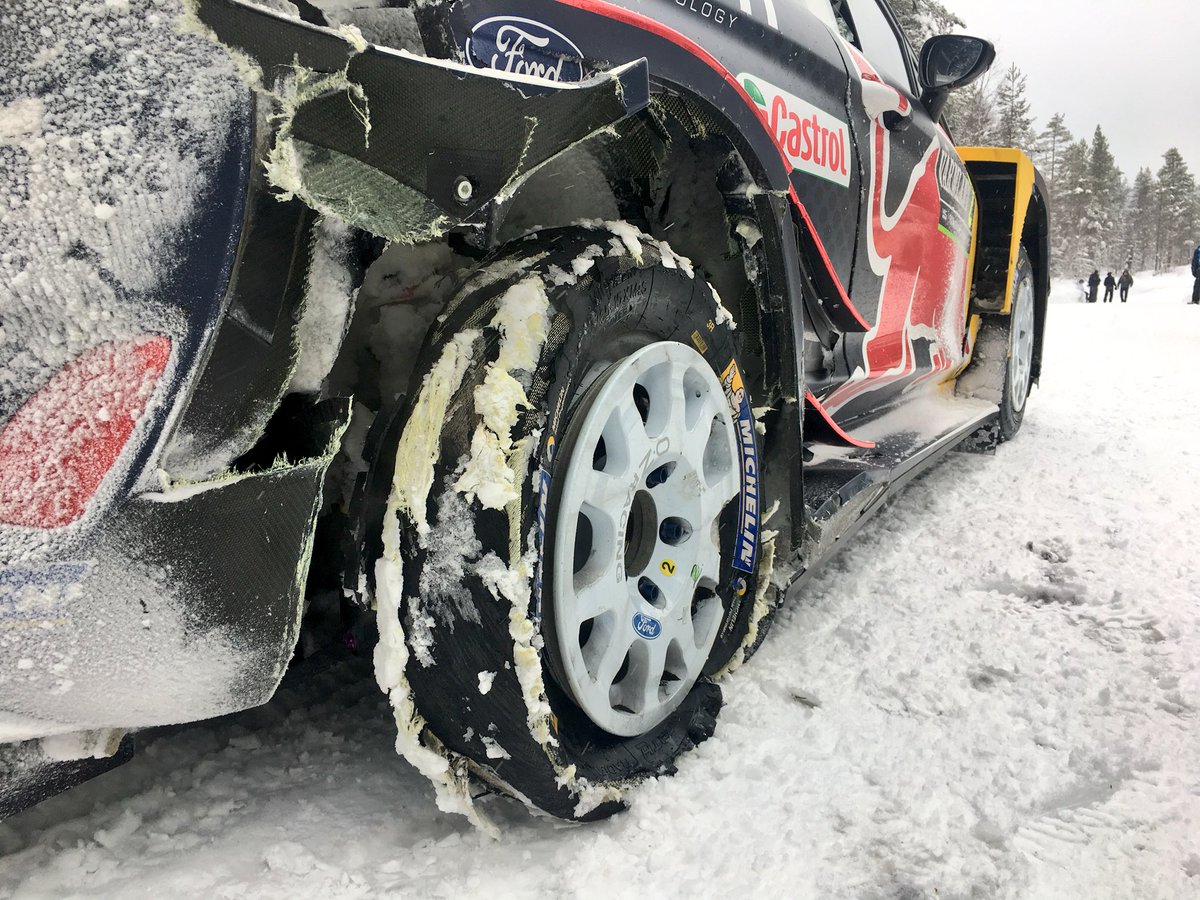 The crews headed back to service for the midday break, with Seb and Elfyn looking to get some settings that would make the cars handle better.
The afternoon stages got underway with Hof-Finnskog just before 2pm and Hayden won it, with Craig second and Lappi in the Toyota third, which meant that the young Finn displaced Andreas from second overall. Also, with such a good time in the stage, Hayden lifted himself into sixth and was now just twelve seconds from the lead currently held by Thierry.
The following stage, Röjden was won by Craig who said it wasn't a perfect run, but clearly good enough not only to win the stage, but also to move into third overall at the expense of Mads in the other Citroen.
Last stage then, Torsby, and Hayden flew though setting such a good time that it meant he and Seb jumped into third overall ahead of Craig and Mads, and we now had a Hyundai one-two-three!
So, what a day! Two different leaders and multiple changes in the top positions as well, Friday had it all.
Here's the comments from the drivers.
Hyundai Motorsport
Thierry Neuville
"What a day! We have just tried to stay focused on the job and doing what we can from our middle road position. We set ourselves the goal being consistent and fast, not making any mistakes. The car has felt good, the settings were spot on and I have felt comfortable. The cars at the front have suffered a bit in the snowy conditions. Every time I pushed I felt that I was creating faster lines for the guys behind to follow, so it was a tricky balance. To have finished the day with all three Hyundai i20 Coupe WRCs in the top-three is a good morale boost, but we know there is a long way to go. We are trying to fight for victory here, but we'll have to see what we can do tomorrow."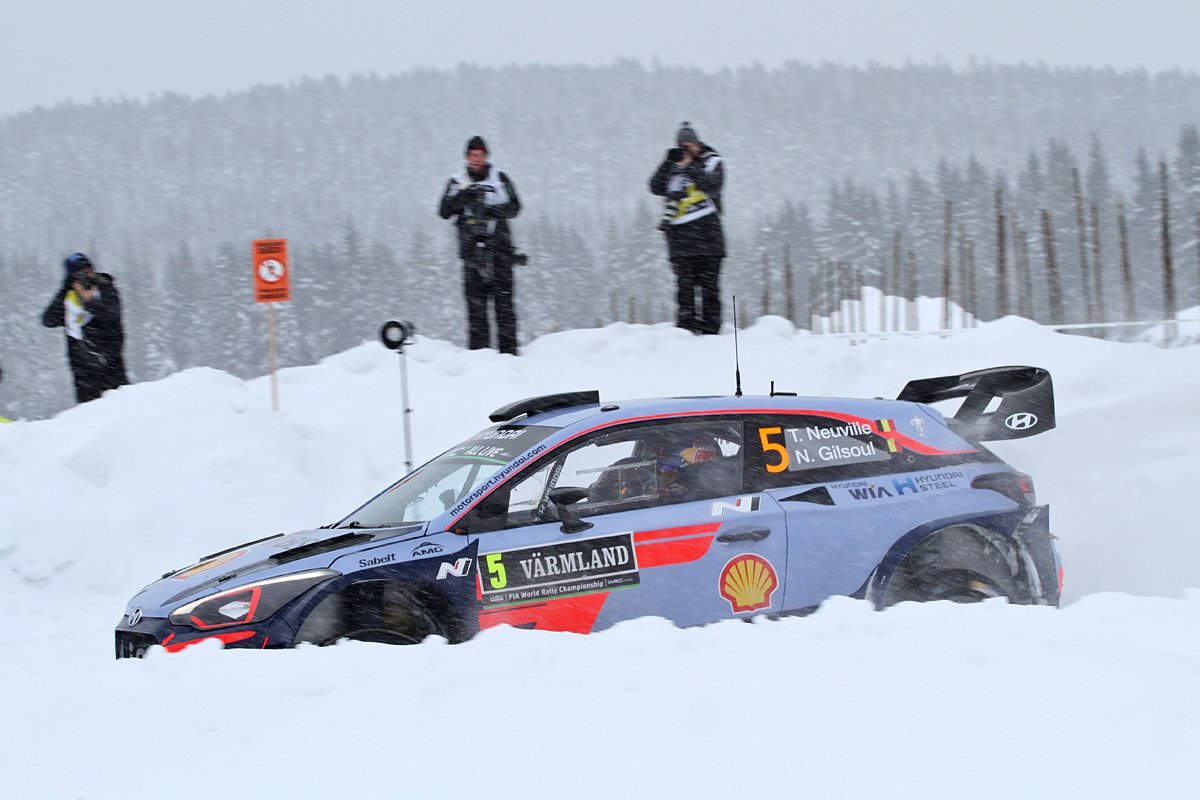 Andreas Mikkelsen
"We have made a good start and for sure it's great to see all three Hyundai Motorsport crews in the top-three at the end of Friday. We used the morning loop to build our confidence and rhythm. We were able to get better stage-by-stage, culminating in a stage win before lunchtime service. I have been really pleased with our progression. Of course, there is no question that the guys first on the road have a disadvantage, but it's still tricky even for us running later. We took things a bit carefully in places. We have one notch in reserve if we need it, but that brings its own risks. I've thoroughly enjoyed driving at home with the stages in Norway today, and I hope that support can see us to a good result come Sunday afternoon."
Hayden Paddon
"It is great to be back for our first WRC event of 2018. Our objective today was to get the rhythm back. The conditions were not easy. We had to be conscious of keeping the car in the lines, and adapting both the car and my driving to suit the stages. The ruts became really pronounced in the afternoon loop. If you go outside of the lines, you become a passenger in your own car, so we had to pull back a bit at times. The road position has helped but we wanted to have a sensible approach to the day, and a clean run, which we have had. There is room for improvement, but the positions are encouraging and there'll be more to give tomorrow."
Citroen Abu Dhabi WRT
Kris Meeke
"It was a very difficult day for us, but we made it to the end. We weren't very far off the pace of Tänak and Latvala, but I wasn't comfortable enough nor prepared to risk everything, so I didn't try to overcompensate. We won't have a great road position tomorrow either, but we'll try and adopt a sensible approach and keep any eye on what happens ahead of us. We'll be ready to take advantage, if an opportunity to move up the leaderboard presents itself."
Craig Breen
"I knew that I had a good road position today, but I'm really pleased that it went so well for me. My C3 WRC worked really well. Tomorrow will be an interesting day! We'll have to see what happens with the weather, because there was already quite a lot of gravel showing through the ice this afternoon. When we did recce, tomorrow's stages were in poorer condition than those we did today, so the conditions may be more difficult on the second pass."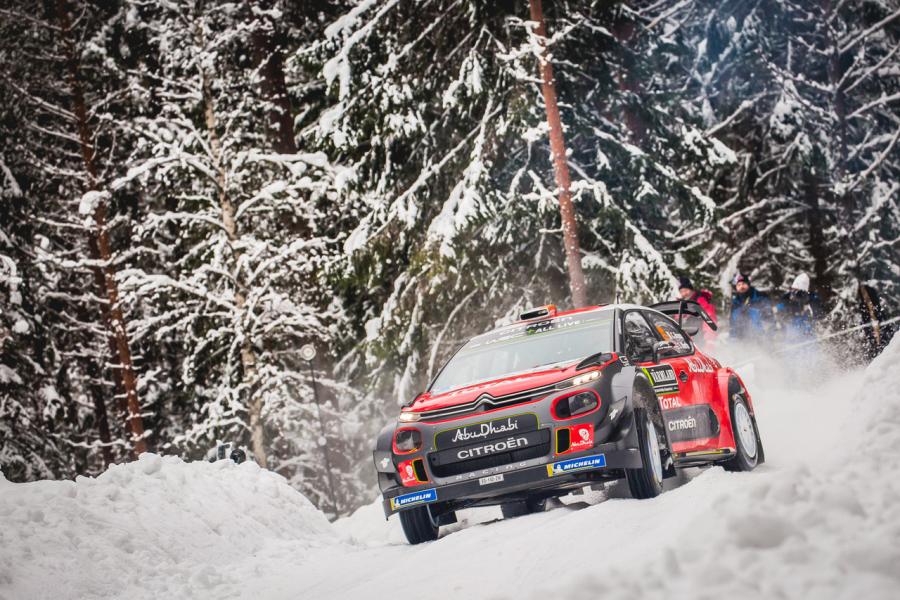 Mads Østberg
"It wasn't an easy day, but I'm very happy. When we got here, I didn't expect to be on the pace so quickly. This afternoon, the road conditions were really different to those we had in testing, and my set-up wasn't ideal. But I fought hard and I also learned a lot about the C3 WRC. I have high hopes that this will help me to be more competitive for the rest of the rally. Especially as I have always been more comfortable on the Swedish stages than the ones in Norway, so I can't wait to get back out there tomorrow!"
M-Sport Ford WRT
Teemu Suninen
"I've been quite happy with our performance today. There are still some things that we need to improve for tomorrow as we're still not on the pace to fight with the leading cars. It's been okay, and I need to get the experience, but I would still like to show an improvement and do a bit better tomorrow."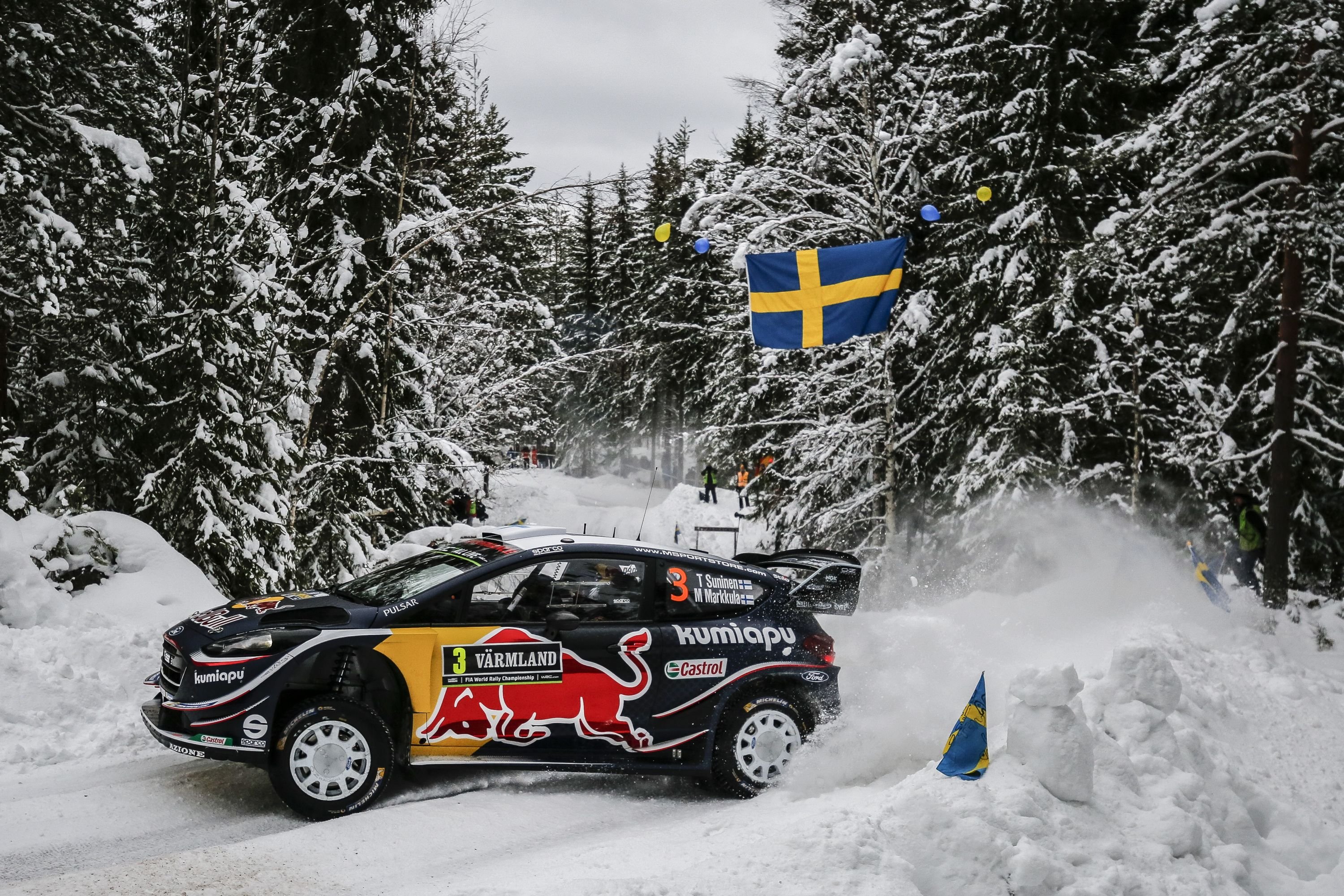 Elfyn Evans
"It's not been the best of days out there. I think it's fair to say that we were struggling for some pace this morning, but we were pretty unfortunate to pick up the puncture. Quite a few of the top cars hit the same stone, so it was just our bad luck. But to be honest, we were still struggling after that so we'll make some changes tonight and see what we can do tomorrow."
Sébastien Ogier
"It's been a difficult day, but one that we couldn't do anything about. Opening the road, we knew that the conditions would be a challenge – especially on the second pass – but it was worse than any of us had expected.
"We tried to push a couple of times, but in these conditions it's a fight just to stay on the road. And behind, everyone is taking the same line and it's getting faster and faster with every car.
"We know that the conditions will not be any easier tomorrow, but we're so far behind that there's nothing more to lose – we just have to go out there and see what happens."
Toyota Gazoo WRT
Jari-Matti Latvala
"It has been a really demanding day. Firstly, we had the fresh snow this morning and then on the second pass through the stages we had to follow the narrower lines of the historic cars and it was extremely slippery outside of those lines. I could not really push any more than I did, but that's the way it is. I have been quite happy with the car and tomorrow will hopefully be a more positive situation for us."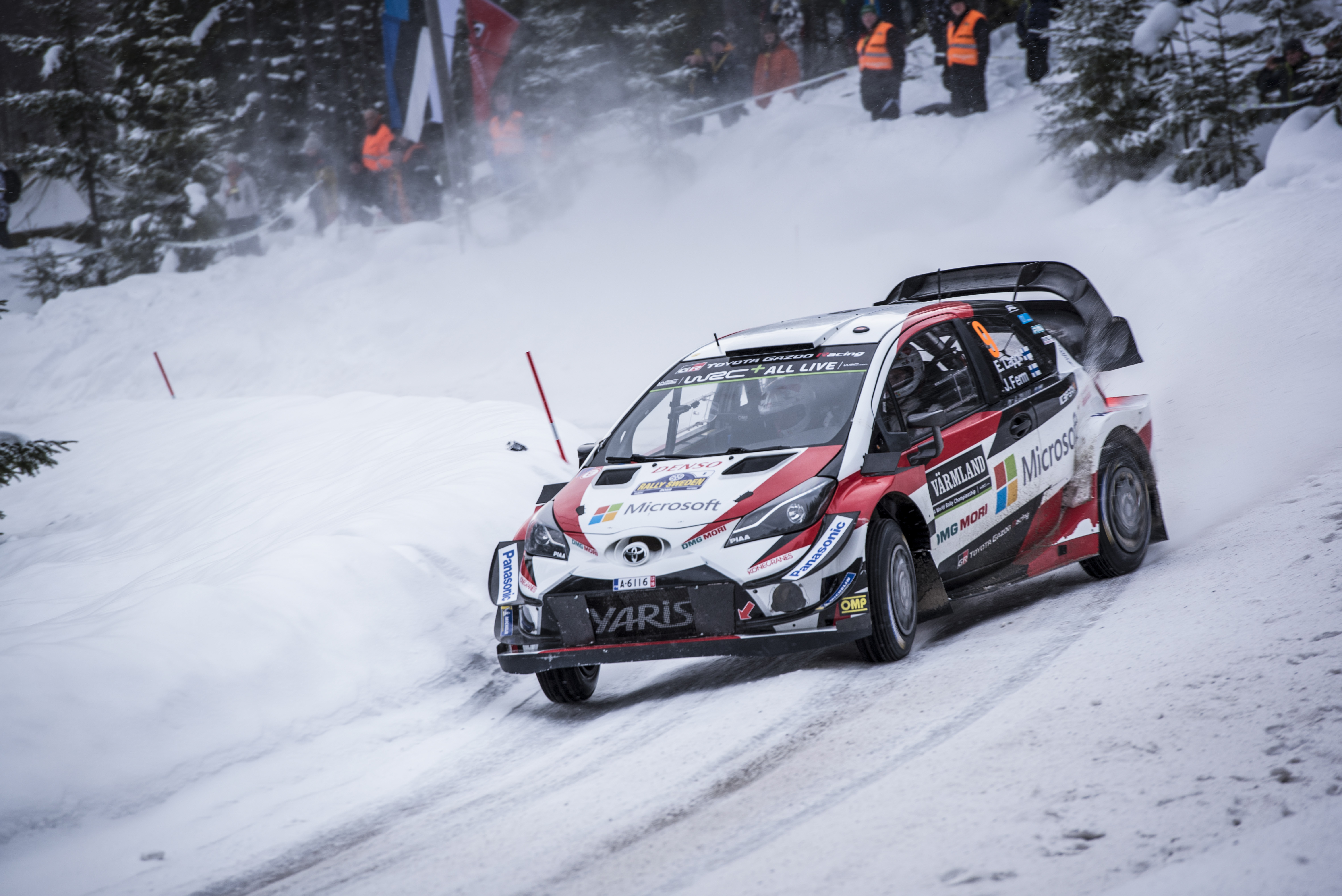 Ott Tänak
"Today has been really tough. There were some extremely difficult conditions, with a lot of snow. It looks nice from the outside but on the road it's quite a struggle and it is difficult to find any grip. It would be nice if we could be last on the road tomorrow but unfortunately the road position will be the same as today, so it will be a similarly hard job. I think in the end we need to survive and to collect as many points as possible. Let's do the best we can."
Esapekka Lappi
"The conditions were quite tricky. The second loop was even tougher than the first: it was very easy to make a mistake because the ruts were very deep and there was a lot of loose snow. I kissed a snow bank with the front of the car and got too much snow in the air filter, so I was lacking power in the last five kilometres and we lost half a minute. We are still in the game with two days to go though, and I think that there were also many positives today. I was a bit surprised with how good my speed was, so I just need to take that feeling with me for tomorrow and enjoy it."
Overall Classification- Friday
Thierry Neuville / Nicolas Gilsoul (Hyundai i20 Coupe WRC) 1:16:13.1
Andreas Mikkelsen / Anders Jaeger (Hyundai i20 Coupe WRC) +4.9
Hayden Paddon / Sebastian Marshall (Hyundai i20 Coupe WRC) +12.1
Craig Breen / Scott Martin (Citroen C3 WRC) +12.6
Mads Østberg / Torstein Eriksen (Citroen C3 WRC) +13.2
Teemu Suninen / Mikko Markkula (Ford Fiesta WRC) +29.6
Esapekka Lapp / Janne Ferme (Toyota Yaris WRC) +38.5
Jari-Matti Latvala / Miikka Anttila (Toyota Yaris WRC) +1:06.2
Ott Tänak / Martin Järveoja (Toyota Yaris WRC) +1:29.0
Kris Meeke / Paul Nagle (Citroen DS3 WRC) +1:43.6
Elfyn Evans / Daniel Barritt (Ford Fiesta WRC) +2:41.3
Sébastien Ogier / Julien Ingrassia (Ford Fiesta WRC) +2:48.8
Tomorrow sees eight stages and the amazing Colins Crest which is in Vargasen and someone will try I believe to beat the record distance, which is currently 45 metres!
Enjoy!