Saturday morning dawned cloudless and cold! Eight stages awaited the crews today including Vargasen which included Colins Crest and would be run twice. Three stages were run in the morning followed by service at 11:40 and then the remaining five in the afternoon and evening.
First stage of the day Torntorp was won by Tanak, which allowed him to close a little on Jari-Matti in the overall positions. The big surprise was the pace that Craig showed and he was just four seconds slower than Ott in the 19km stage and this pace lifted him into third deposing Hayden.
In the following stage, Hagfors, the two leading Hyundai drivers suffered spins and Craig was the chief beneficiary from this, moving ahead of Andreas and now the lead was just four seconds. Hayden also moved ahead of Andreas into third. Ott won the stage, making it two out of two.
Now it was time for the big stage of the day, the first run through Vargasen, and Thierry won the stage by just nine tenths of a second from Ott, with Ogier showing some pace at last in third. Mads was seventh fastest, but managed a huge 42 metre jump over Colins Crest! Craig ran a very good stage, fourth fastest keeping the gap to Thierry as close as he could, just 5.9 away from the Belgian.
After that stage, the crews headed for service.
The second run of Torntorp saw Craig take the stage victory, beating Thierry by 1.3 seconds and reducing the gap to the leader! Hayden lost third to Andreas and Ott closed the gap to Jari-Matti to just five tenths of a second in their battle
Into Hagfors for the second time and Thierry struck back with a great time beating Andreas by 6.6 seconds with Craig sticking a good time on the board and staying in second overall, but the gap was now just 14 seconds. He was managing the tyres, as there was gravel appearing through the snow and ice. Kris unfortunately retired from the stage and the rally after he went off into a snowbank which clogged up the front of his car with snow, seriously affecting the cooling of the engine. After he cleaned the snow out, he got going, but then Ott tried to pass him and there was contact, resulting in the Toyota driver going off. This meant that the battle between him and Jari-Matti was over.
The second run of Vargasen was won by Thierry who was 4 seconds faster that Craig, thus increasing his lead to 18 seconds over Craig. The Belgian also took a very interesting line and landed on two wheels, the car at a 45-degree angle in the air at one point!
Mads Ostberg took the biggest jump though this year over Colins Crest going 42 metres, living life on the edge!
The penultimate stage, back at Karlstad was won by Ott from Mads, with Latvala in third. Craig had also set a good time, consolidating second overall, ahead of the two Hyundai pilots, Andreas and Hayden.
Moving to the last stage of the day the Torsby Sprint stage, a short one to complete day two. Thierry won the stage and increased his lead to 22.7 seconds over Craig Breen. Hyundai duo Andreas and Hayden remain in third and fourth, although the young Kiwi lost time in the final stage, after getting stuck in a snowbank.
Overall Standings- End of Saturday
Neuville/Gilsoul (Hyundai i20 WRC) 2:23:23.8
Breen / Martin (Citroën C3 WRC) + 22.7
Mikkelsen/Jaeger (Hyundai i20 WRC) + 32.0
Paddon/Marshall (Hyundai i20 WRC) + 48.6
Ostberg/Eriksen (Citroën C3 WRC) + 56.8
Lappi / Ferm (Toyota Yaris WRC) + 1:05.8
Latvala / Anttila (Toyota Yaris WRC) + 2:03.3
Suninen/Markkula (Ford Fiesta WRC) + 2:20.5
Tänak/Jarveoja (Toyota Yaris WRC) + 3:41.3
 Ogier / Ingrassia (Ford Fiesta WRC) + 4:24.9
Let's hear then from the drivers.
Hyundai Motorsport
Thierry Neuville
"Things have gone pretty much to plan today and we can be pleased with our day overall. We had a bit of a stressful start this morning after a technical issue in the first stage and a spin in the second, which cost us some time. After that, though, we were able to increase the gap stage by stage. In the afternoon, we took six tyres compared to Craig's five so we knew we'd lose a bit initially with the extra weight, but we then had fresher tyres for later in the loop. We gave a big push through SS13 and SS14, as we're involved in a very close fight. We scored more stage wins, which was a nice reward for our efforts. I actually touched the inside bank of the Colin's Crest jump, which created some exciting images for the fans. I think Colin himself would have called that 'a little moment' but we were still able to register the fastest time. We took things a bit steadier in the final stages and we are now prepared to fight for victory on Sunday morning."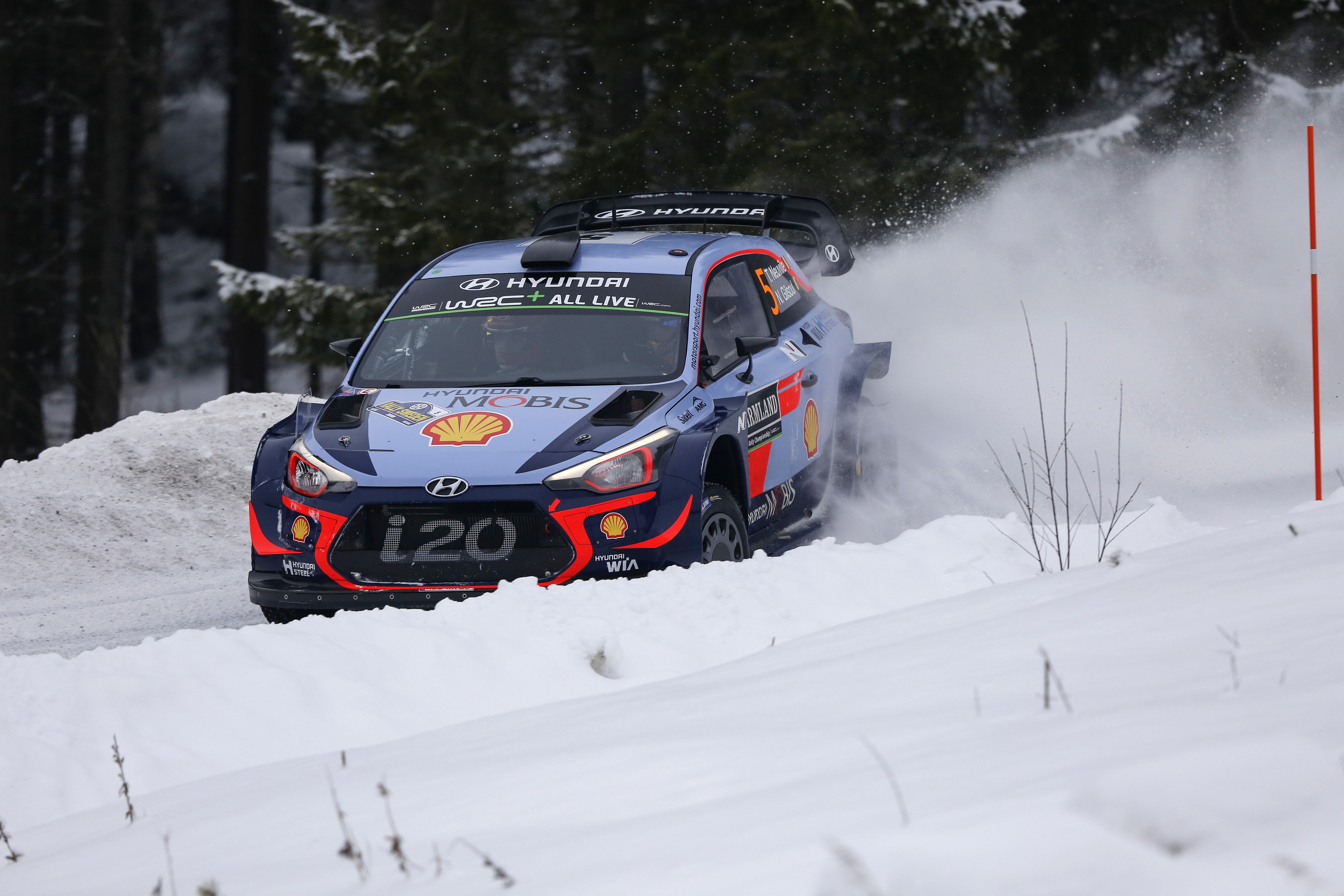 Andreas Mikkelsen
"It has been a day of two halves. The morning loop could have been better. We had a spin in SS10, the second stage of the day, and lost around 15 seconds. We touched a bank and had to reverse out, which was easier said than done, as it was a narrow section of road. We made some set-up adjustments at lunchtime service to find a similar feeling to yesterday, making the car less stiff in a bid to find more traction. The afternoon was a lot cleaner as a result with some improved times. Hayden has been pushing, so we have done the same to try and defend our third place. There is an almost ten-second time deficit to Craig, with three stages left on Sunday, but we'll give it a good go. It's not impossible."
Hayden Paddon
"Not quite the day we wanted but we are still enjoying ourselves and doing the best we can. We started the morning loop knowing that we would be playing a waiting game. The way that the car has been set up for my driving meant we had to find a compromise between my own confidence and the outright performance in those first stages. The wider lines on the roads in the afternoon played more to my strengths, so we had to be patient and wait for the stages to come to us. We were definitely more comfortable to push in the repeat loop. It was fantastic to see so many fans enjoying the stages, especially through Colin's Crest. Unfortunately, we lost a little time stuck in a snow bank on the final stage, but we are still in a good position to push on tomorrow."
Citroen Abu Dhabi WRT
Craig Breen
"I'm over the moon with my day and delighted with the pace we've shown. It's something new for me to be fighting at the front in the world championship but you quickly get a taste for it! The afternoon was incredible for us, even though I couldn't keep pace with Thierry right to the end. You can count on me to fight every step of the way to hold onto this second place."
Mads Østberg
"Given that I'm still working out how best to set up the C3 WRC, I have to be pleased with what we have done so far. Rather than attempting to change everything in the middle of the race, which is always risky, we kept to the basic set-up defined in testing. I'm now trying to improve in my handling of the car as we complete more stages."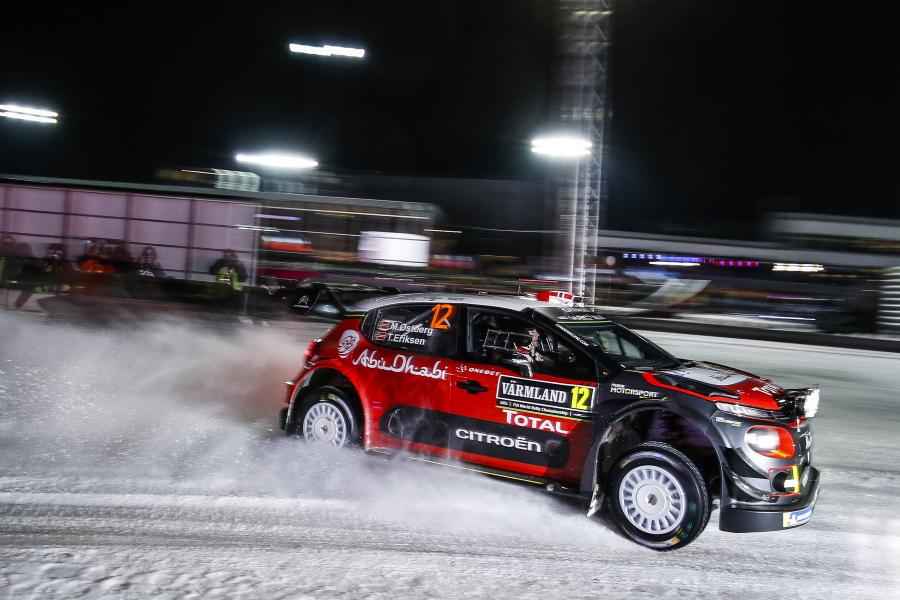 Kris Meeke
"Initially, I thought I was only going to lose about twenty seconds in this snow bank, but when I got going again, the car had no power. Snow had got into the engine and damaged the turbo. We had been focusing on getting tenth place up to that point and it seems like a heavy price to pay for such a minor mistake. Fresh snow forecast for tomorrow and we'll be opening the road, so unfortunately, we don't even have a realistic chance of getting any points on the Power Stage."
M-Sport Ford WRT
Teemu Suninen
"I tried to change my driving style a bit this morning but it didn't work out so well. The afternoon was better, but we still have some more to learn before we can be on the pace of the guys at the front. The main thing for us is to drive cleanly and get the experience, and there are still three more stages where we need to keep doing that tomorrow."
Sébastien Ogier
"We can be satisfied with what we've done in the car today as we've made no mistakes and driven pretty cleanly all day. I tried to be as fast as I could with the conditions I had, but that's all we could do from this position on the road.
"If you have a look at the top-three in the championship and where they are this weekend, it's clear that none of us had a chance. There's nothing wrong with the cars, it's just that in these conditions it is impossible to compensate as the disadvantage is too big."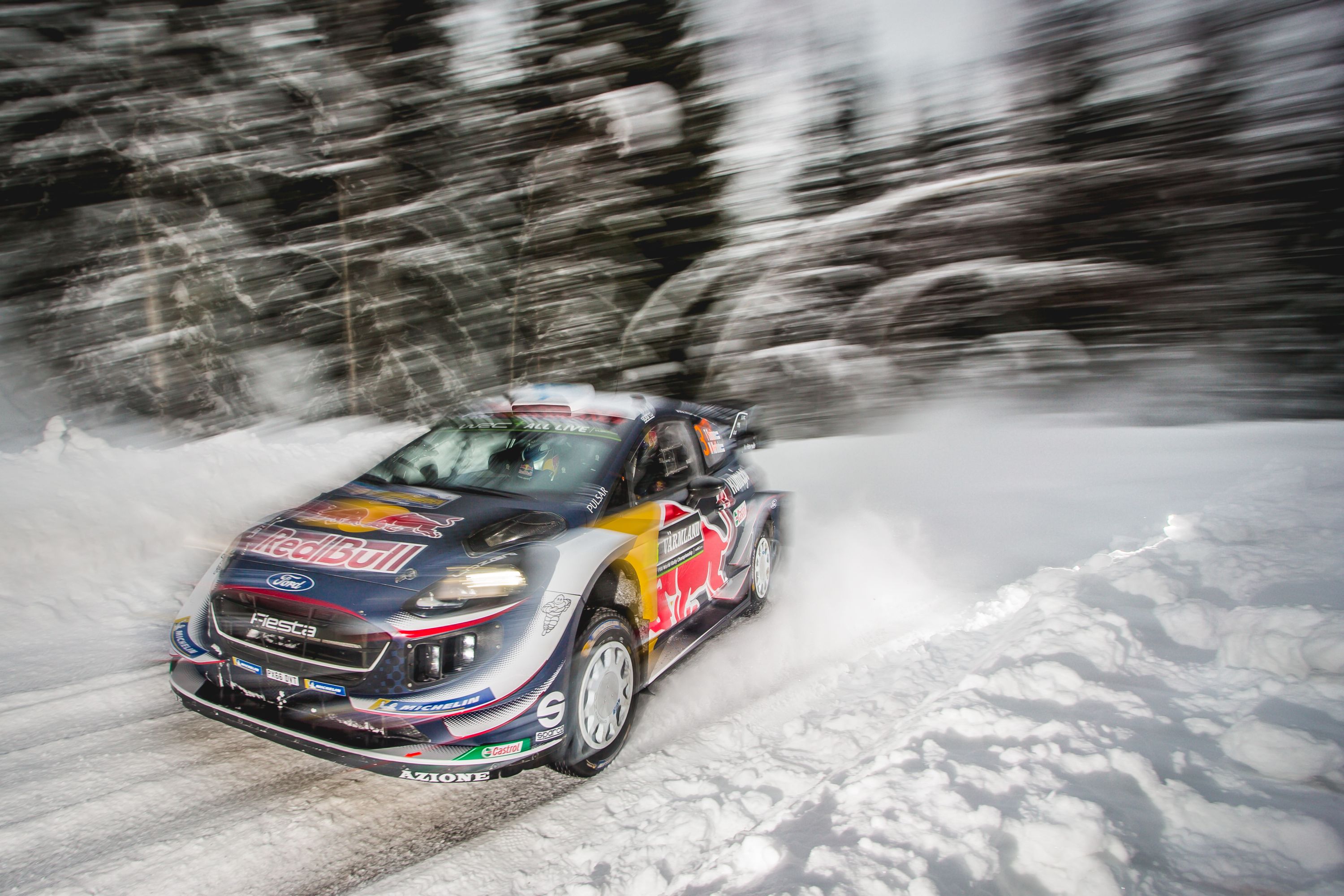 Elfyn Evans
"It's been a pretty tough weekend for us and it wouldn't go amiss to salvage some Power Stage points tomorrow. Our road position won't make it easy as the stages are getting faster and faster with every car, but we'll give it our best shot."
Toyota Gazoo WRT
Jari-Matti Latvala  
"This morning was going well: I felt good and was enjoying the driving. This afternoon however the car was not behaving well at all. The front differential was not working correctly and I was losing a lot of time, but we are changing the transmission in service so this should be sorted out for tomorrow. Then I'm sure the confidence will come, and if I am feeling good on the start line before the Power Stage then there's a chance we can score some points there."
Ott Tänak  
"Overall the pace was quite good today and it was quite a lot more enjoyable. This morning the grip was much more consistent: more like a rally should be. The car was working perfectly in these conditions and it felt good to drive. This afternoon it was as tricky as I expected: it was more or less the same as yesterday, but we had a few more cars ahead of us so a few more lines to follow. We will try to do our best tomorrow and see what is possible on the Power Stage."
Esapekka Lappi 
"It's been a good day. We continued the same pace as yesterday, managing to do top five times on almost every stage, which is quite good, and it has been pretty consistent. We made some small changes in service which made the car better for the rutted roads. I don't think I could have done better times because the road was getting cleaner car-by-car. We have a good fight going on with Östberg: for sure I want to pass him tomorrow."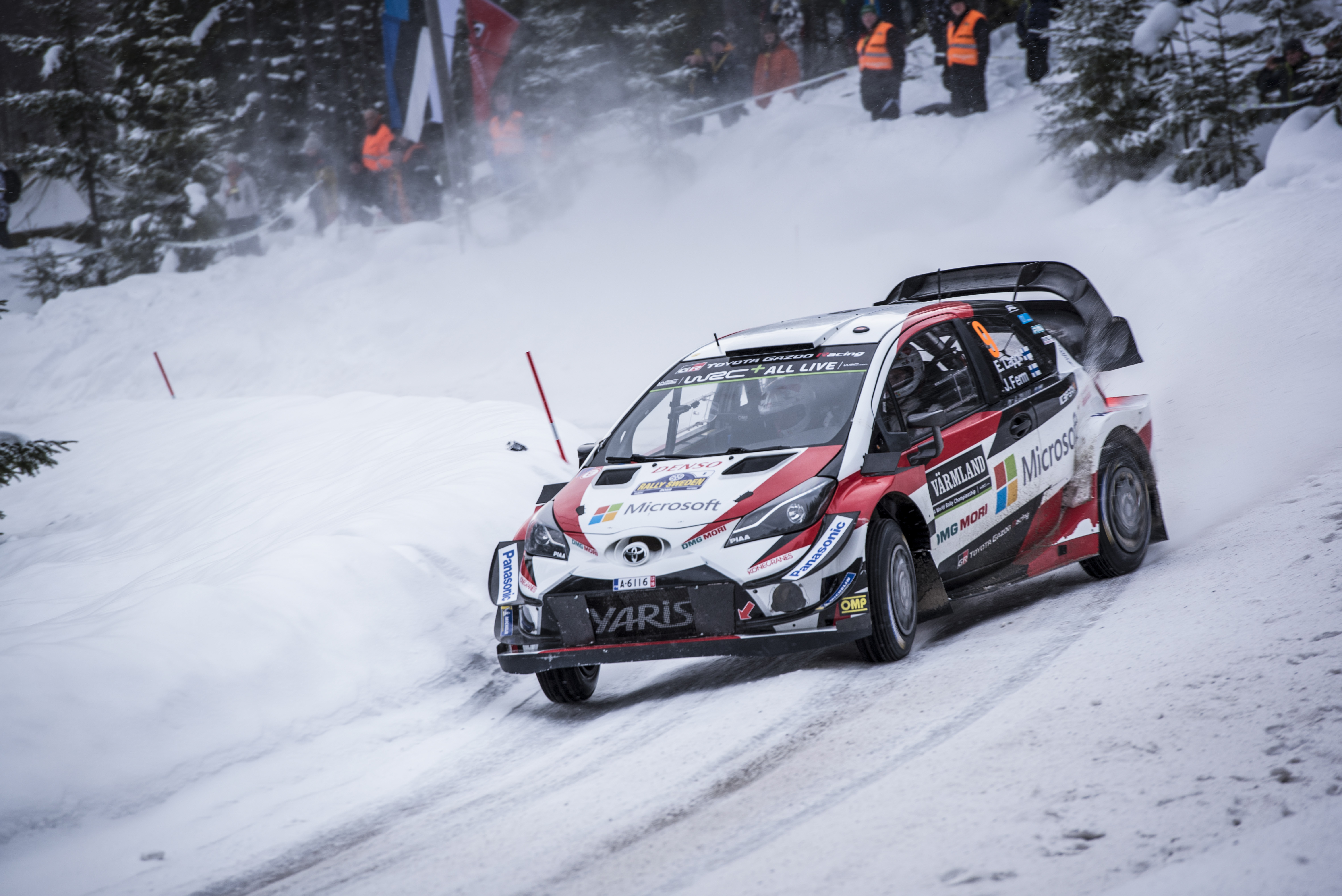 Well, tomorrow sees three stages and 51km of action. Can Thierry win? It's certainly his to lose. Craig has driven superbly all weekend, and which of the other Hyundai drivers will finish on the podium?