Tis the season for Formula One car launches, and while Haas were first past the post, Williams are the second team to break cover with their 2018 challenger, the FW41. The Grove based outfit were beaten by the American team, who revealed their VF18 racer yesterday.
The 2018 car has a much more aggressive look, as per the new regulations for this season. The livery is virtually unchanged with some suave looking tweaks to the driver number display, but the iconic Martini stripes with a white chassis remain. The halo, which comes into force this season, has been integrated well into the design, with a solid white finish.
The dark setting in the images could be so that designers can't steal any of Williams' ideas while the black on the livery adds a nice switch up from iterations past.
With Paddy Lowe coming in from Mercedes last year, this is the first car he's helped develop, so time will tell whether his tactical nous has transferred over.
After an average 2017, which saw Williams finish fifth in the constructor's standings, losing out to Force India for that coveted fourth spot, the team will be keen to press on and reclaim that place in 2018.
There was a high point last season though, with Lance Stroll taking a superb third place in the madcap Baku GP. He could have finished second if it wasn't for a resurgent Valtteri Bottas in the Mercedes pipping him to the line.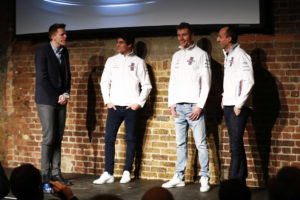 Stroll remains with the team, with Felipe Massa retiring for good this time. Russian Sergey Sirotkin comes in to partner the young Canadian. Sirotkin has impressed as a Renault test driver and throughout his time in GP2, and means Williams have one of the youngest and most exciting driver lineups on the grid.
There were talks of popular Pole Robert Kubica returning to the sport with Williams, but they have instead hired him as their reserve driver. This is still no mean feat considering the severity of his accident in 2011 which saw him effectively retire from Formula One.
The car is ready, but are Williams?