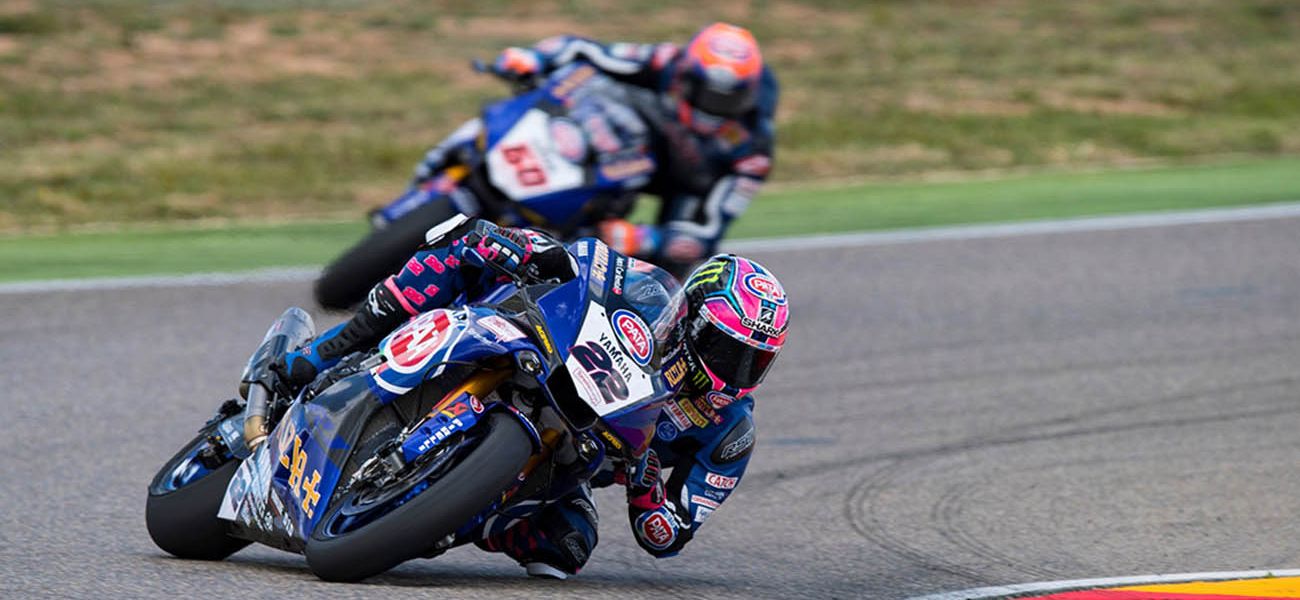 Winter pre-season testing concluded this week for the World Superbike competitors at the Autodromo do Algarve, Portugal. The two-day event presented the teams with one final chance to make sure their setups are optimised, ahead of the opening round next month in Australia.
One team who managed to fully capitalise their on-track running was the Pata Yamaha outfit. Whilst both riders had managed a solid return last week at Jerez, this week the team ramped up preparations for the season, with both riders completing multiple race and qualifying simulations. As one of the teams expected to close the gap to the Kawasaki Racing Team this season, this final test on the Algarve coast presented the factory supported outfit with a final chance to get everything with the bikes right before the season opener.
Testing can be extremely difficult to gauge the true form of a team. There are simply too many non-disclosed variables – such as tyre compound usage, amounts of fuel in the tank, what engine mode is being run etc – to give onlookers a true indication of who is actually in a strong position or not.
One thing from this test is clear however, Pata Yamaha are definitely looking like they are ready to hit the ground running when the races start. Having finished as the third best team last year (behind KRT and Aruba.it Ducati respectively), the team have targeted victories in the forthcoming season. Following the test in Portugal this week, both the team's riders will be very confident about their prospects in 2018. Michael van der Mark in particular had nothing but praise for his machine.     
VDM: We had some important things to test, we tried different settings and we found some really good solutions for a number of setups, plus we were really fast and consistent as well. I am really happy with my race rhythm, I did my fastest time on race tyres so, I am really pleased with that and even with used tyres, we were a lot faster here than we have been here before.
For fans, this will come as welcome words indeed for a team who have made no secret that they believe they can challenge KRT this season. Van der Mark's statements are firmly supported by the timesheets. During the Portuguese round last season, the best time for the flying Dutchman was 1:43.710 – in testing this week his best time was down to just 1:42.028. Even when fuel loads and tyre compounds are taken into account, it is still an astonishing time, and confirms that Yamaha have really made serious progress over the winter.
The progress that has evidently been made was not limited to just Van der Mark's side of the garage. Team-mate Alex Lowes, the 2013 British Superbike champion and double Suzuka 8 hours winner, also had reason to be delighted with how the test at Portimao unfolded. The 27 year-old from Lincoln chalked up 170 laps over the two days, confirming not just improved pace, but solid reliability as well.
AL: We have had a really strong test because we have managed to find solutions to all the issues I had here at the race, which means I have a lot of optimism heading to Phillip Island! I've tried to not push too hard and 'keep my powder dry', as they say, before the first race and I am ready to go! It really has been a good few days of testing, we have had some negative things as well, which is always good to get them out the way now instead of during the season and today we finished with a positive performance."
If both Lowes and Van der Mark were indeed keeping the powder dry, then we should expect the team to come out all guns blazing at Phillip Island next month. Perhaps the early predictions of complete Kawasaki domination this season might have been a little premature.
The 2018 World Superbike Championship begins at the Phillip Island circuit, Australia, 23rd-25th February.