Day One, Thursday evening
First stage of the event and there was lots of drama in the Thoard – Sisteron 36km opener! There was no snow and ice in the first 12km and then broken ice for a couple of km's.
Seb Ogier was first in, and spun in the stage! Ott stopped 11km into stage, but got going again and Thierry was another to stop, but got going again as well. Both had slid wide into snow banks. Another to spin was Jari-Matti and he managed to spin twice! Elfyn picked up a puncture at about 12km into the stage, so they had to change the tyre. The Citroen duo of Kris and Craig both spun as well, Kris losing a minute or so.
Esapekka completed the stage third fastest, with a good run though, whilst Andreas was the closest challenger to Ogier, just 7.7 seconds off the Fiesta WRC pilot!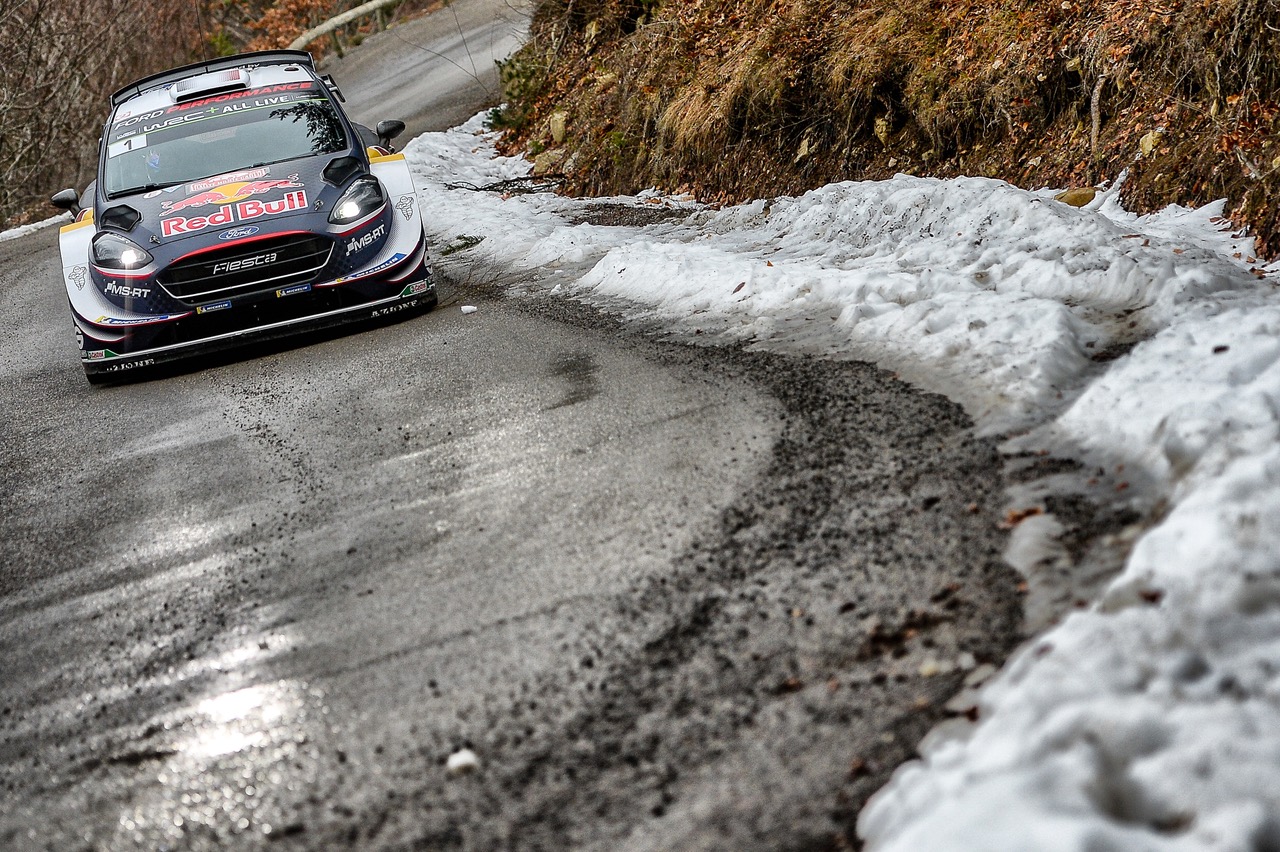 Stage two, Bayons – Breziers 25,49km stage which includes a rise of 1184 metres above sea-level to the summit of Col de Sagnes! Ogier won the stage with a very good clean run through with Thierry going second fastest and Ott third. There were a few changes in the leaderboard with Dani moving ahead of Esapekka and into third. Kris and Thierry are a long way off the lead sadly, over two minutes away for the Citroen pilot and over four for the Belgian. That's a big ask for them.
Classification after Day One
1              S. Ogier                 J. Ingrassia          Ford Fiesta WRC                            38:09.8
2              A. Mikkelsen      A. Jæger              Hyundai i20 Coupe WRC                 +17.3
3              D. Sordo               C. del Barrio        Hyundai i20 Coupe WRC                +25.6
4              E. Lappi                J. Ferm                   Toyota Yaris WRC                               +37.4
5              O. Tänak              M. Järveoja          Toyota Yaris WRC                                +42.4
6              J. M. Latvala        M. Anttila            Toyota Yaris WRC                                 55.4
7              C. Breen               S. Martin               Citroën C3 WRC                                +1:02.3
8              B. Bouffier          X. Panseri            Ford Fiesta WRC                                +1:51.0
9              K. Meeke            P. Nagle                  Citroën C3 WRC                                +2:12.7
10           E. Camilli              B. Veillas               Ford Fiesta R5                                     +2:42.2
17           T. Neuville           N. Gilsoul              Hyundai i20 Coupe WRC                +4:18.2
Day two, Friday
Well, what a day! Where to start my round up of Friday's six stages? Seb in his Fiesta was our leader all day, but there were different stage winners and the person leading to fight to the Frenchman changed as well.
Andreas Mikkelsen was the man who was closest at the start of the day, but after dropping behind Dani in stage three, he then retired in stage four with alternator failure. There was more pain for Thierry as well, who suffered another puncture in stage three.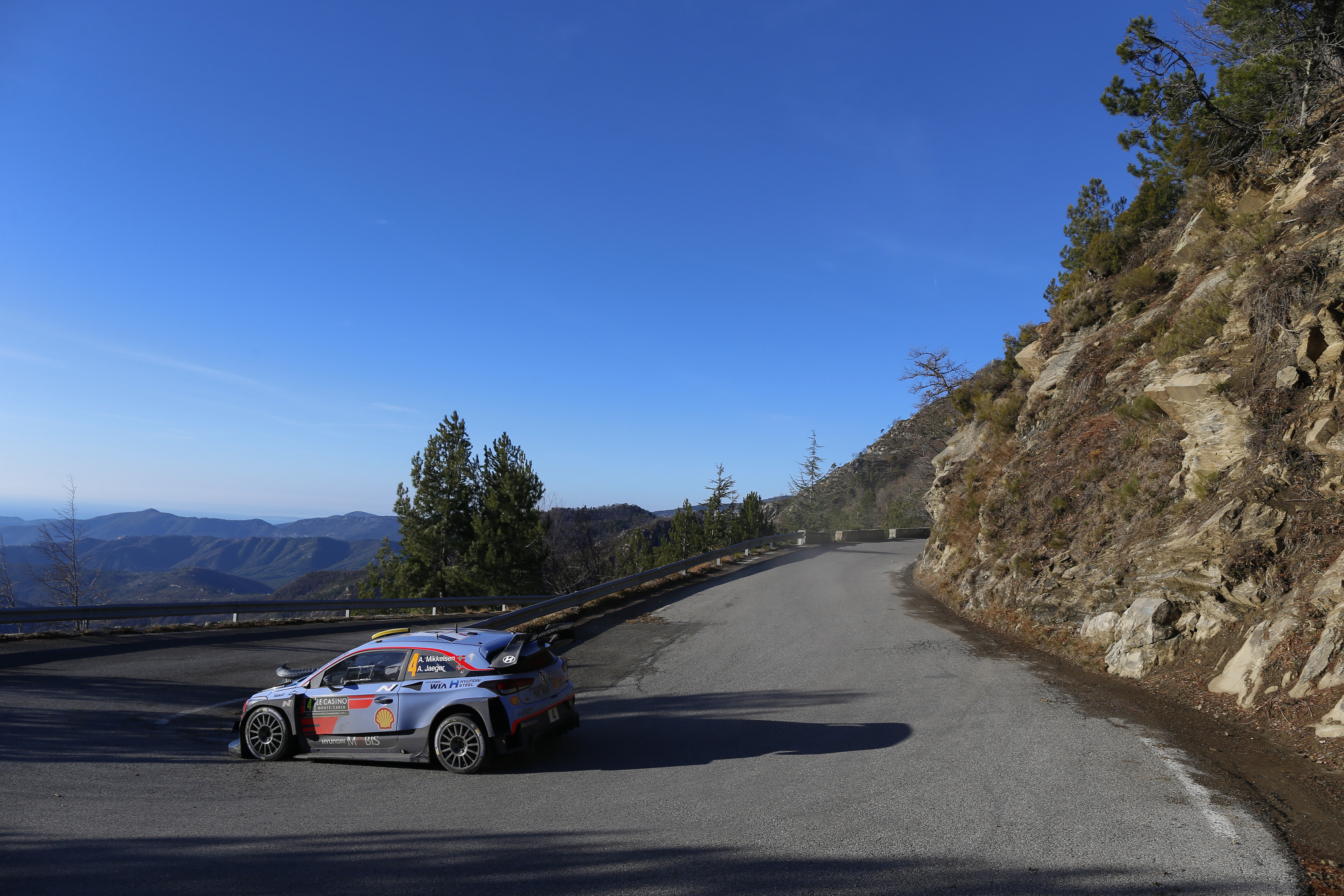 The lead grew in stage four, but Ott Tanak was feeling at home in his new car, moving up the leaderboard and closing the gap to second placed Dani. Meantime, Craig was having a nightmare in his Citroen, with a stone breaking part of the caliper and meaning he'd suffer from brake failure and he was not enjoying that one bit. The good news though was that after stage five, the cars headed for service and the problem was fixed.
The afternoon loop began with the 26km and Ott took the fight to Seb, winning the stage and taking six and a half seconds out of erstwhile leader Seb's lead. Craig was feeling a lot more comfortable now he had working brakes!
Elfyn Evans took the long stage seven when the heavens opened, but Seb lost 14 seconds to Ott and the lead was down to 19 seconds after a spin put the Fiesta into a ditch! Craig was increasingly comfortable, setting the fourth fastest time in the stage, whilst Dani, Esapekka and Jari-Matti continued their battle for third overall.
The final stage of the day fell to Thierry who after his puncture had been fighting back and closed the gap to Elfyn to just a little over three seconds.
Leaderboard at the end of Friday
1              S. Ogier                 J. Ingrassia          Ford Fiesta WRC                          2:07:15.4
2              O. Tänak               M. Järveoja        Toyota Yaris WRC                                  +14.9
3              D. Sordo               C. del Barrio        Hyundai i20 Coupe WRC                +59.7
4              E. Lappi                J. Ferm                   Toyota Yaris WRC                           +1:09.9
5              J. M. Latvala        M. Anttila            Toyota Yaris WRC                            +1:10.1
6              K. Meeke              P. Nagle                Citroën C3 WRC                            +2:45.5
7              B. Bouffier          X. Panseri            Ford Fiesta WRC                            +3:34.6
8              E. Evans                D. Barritt              Ford Fiesta WRC                            +4:01.7
9              T. Neuville           N. Gilsoul             Hyundai i20 Coupe WRC           +4:04.1
Day three, Saturday
The second full day of Rallye Monte Carlo started with snow falling, which we had been waiting for! Boy, did it come down!
Craig Breen was first into stage nine, the first of the day. At the end, he referred himself as a snowplow! Sadly, Dani went off the road and so one of the teams that we expected to see standing on the podium, now will be nowhere near it. The stage was won by Andreas, but clearly the team could do with some luck. Seb made a great start, increasing the gap to former M-Sport teammate, Ott by a full minute who now found himself in second and Jari-Matti a further 21 or so seconds in third. Elfyn Evans in the number 2 Fiesta WRC, gapped Thierry by 20 seconds in their battle for seventh overall.
Stage 10 saw Ott close down 15 seconds to Seb, with the French champions advantage a little over a minute at the end of the 16km stage. The Toyota's were running well, all three in the top four overall positions.
The following stage saw Esapekka Lappi pick up a puncture, so Kris Meeke picked up fourth place, despite sliding off into a field. Elfyn also picked up a position, moving ahead of Bryan Bouffier into sixth place. Ogier's lead was now down to 48 seconds.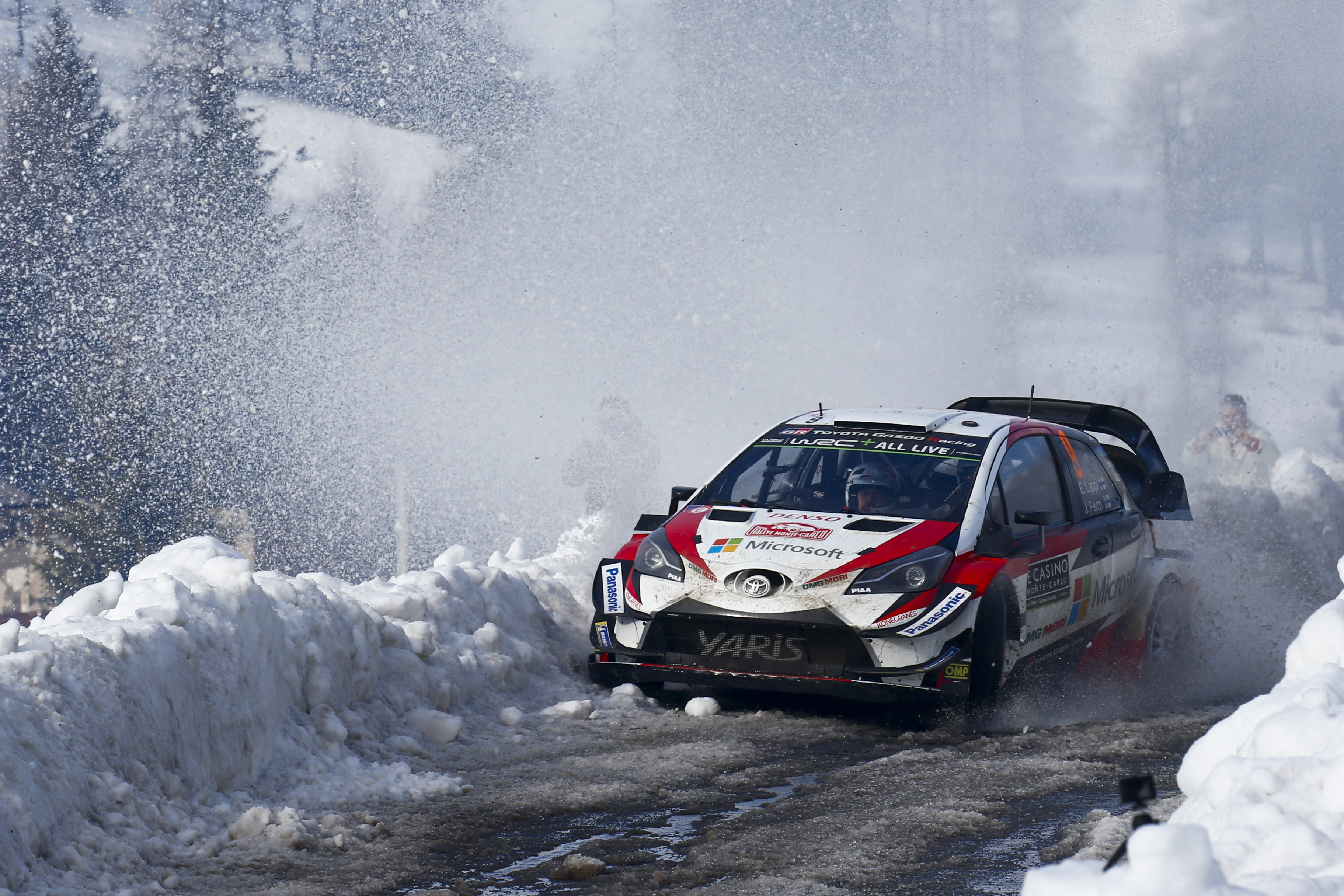 The next stage, number twelve, was won by Thierry, and this edged him a little closer to seventh placed Bouffier's Fiesta, the gap just 12 seconds! Kris also was just hanging onto fourth place, with Lappi in the Yaris setting the third quickest time.
The last stage of the day was won by Thierry and Elfyn was just two seconds slower than the Belgian keeping the gap between them above 30 seconds. Kris lost fourth place to young Finn, Esapekka Lappi after the Irishman spun in a hairpin, losing a couple of seconds.
Heading into the final day , Seb Ogier leads Ott by just a little over half a minute. Just four stages and a total of 64km. It's certainly possible for something to happen!
Leaderboard at the end of Saturday
| | | | | |
| --- | --- | --- | --- | --- |
| 1 | S. Ogier | J. Ingrassia | Ford Fiesta WRC | 3:30:30.9 |
| 2 | O. Tänak | M. Järveoja | Toyota Yaris WRC | +33.5 |
| 3 | J. M. Latvala | M. Anttila | Toyota Yaris WRC | +1:32.7 |
| 4 | E. Lappi | J. Ferm | Toyota Yaris WRC | +4:38.5 |
| 5 | K. Meeke | P. Nagle | Citroën C3 WRC | +4:40.1 |
| 6 | E. Evans | D. Barritt | Ford Fiesta WRC | +5:00.2 |
| 7 | T. Neuville | N. Gilsoul | Hyundai i20 Coupe WRC | +5:33.6 |
| 8 | B. Bouffier | X. Panseri | Ford Fiesta WRC | +5:43.4 |
| 9 | C. Breen | S. Martin | Citroën C3 WRC | +8:49.0 |
Day four, Sunday
Sunday morning was cold and a bit cloudy. We had four stages covering 64km before it was all decided! First up was stage 14 and it was won by Seb and the gap opened up between him and Ott by 11 seconds.
The next stage would be the power stage later and at 13km being quick from the off would be key.  Citroen drivers Craig and Kris were surprised how tricky it was, Kris commenting on how there was black ice on gravel! Thierry won the stage, but Seb's closest challenger, Ott set pretty much the same time and the gap to the front remained pretty static.
Stage 16, the penultimate stage was won by Thierry as he was targeting Elfyn who was just a few seconds up the road and holding sixth overall. However, the Welshman was just a second and a half slower meaning the gap was still seven seconds with just one stage to go.
The power stage beckoned and there were a could more twists to come…. Despite his surprise earlier in this stage with black ice on gravel, Kris flew through the stage and took all five points for winning it, ending up 2.3 seconds faster than Thierry. Further back there was more drama! Esapekka slid wide and lost a bundle of time which meant he would lose fourth and drop behind Thierry and Elfyn into seventh. Meanwhile, Elfyn would keep sixth place, despite losing out to Thierry who went from seventh to fifth and of course Kris would claim fourth overall! So much drama!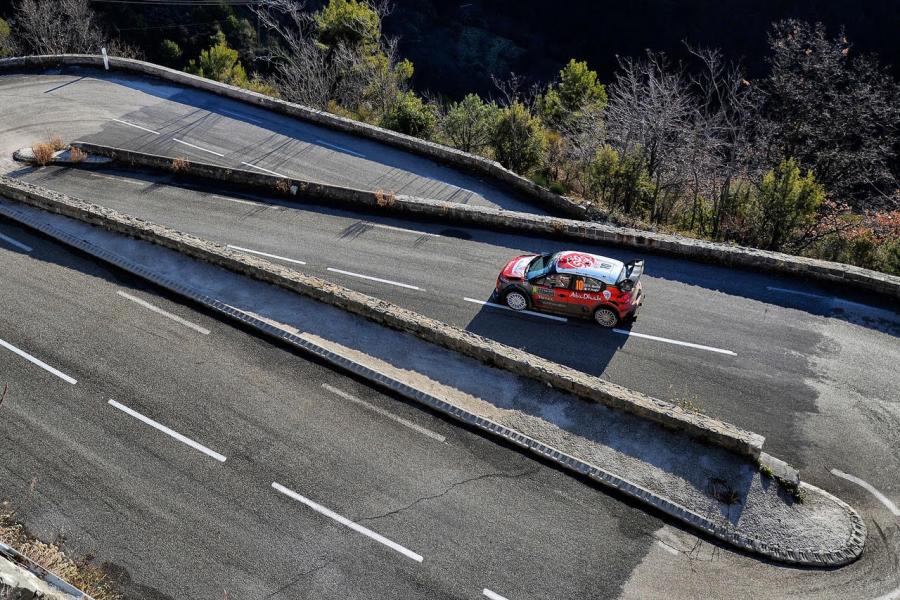 In the midst of all of that, Seb Ogier had taken his fifth Rallye Monte Carlo victory and the new Toyota driver, Ott would finish one better than last year in second place and in third, Jari-Matti.
M-Sport Ford WRT
Sébastien Ogier 
"We always face tough conditions at Rallye Monte-Carlo but this year they were really extreme. I don't think I've ever struggled so much with the tyre choices, so to have come out on top is fantastic.
"I think everyone made mistakes this weekend – myself included – but it was almost impossible to have the perfect drive. Luckily we only had some small mistakes and once we had a good gap it was just a case of trying to manage it – but that is never easy in these conditions either!
"It's the best way to start the season and I need to congratulate the team because everyone has worked really hard and I know that they will also be super happy with this result. The competition is going to be stronger than ever and we've made a strong start which is really important."
Elfyn Evans
"It's been a tough edition of the rally this year and we had an especially tough start losing so much time on the very first stage. Over the next few days I think we were there or there about's in terms of outright speed, but overall there were just too many little errors.
"When it came to making the smart choices at the right time, we weren't quite there and that's what cost us a really good result today. The comforting thing is that the speed is there, but we still need to be better."
Toyota Gazoo WRT
Jari-Matti Latvala
"Rallye Monte-Carlo is never easy. We had difficult conditions once again today, particularly with the ice on the Col du Turini that came since the recce. I'm really relieved to get to the finish and to be on the podium. The team has done an excellent job and the car is performing really well so I'm excited for the season ahead. It's going to be about staying cool and to think about the championship and about the points. This has been a good start."
Ott Tänak
"It's really nice to start the season like this. It looks like I have joined a very strong team! The car has been amazing and I've felt really comfortable in it since the start of the rally. It was an extremely tough rally with such difficult conditions, but we managed to get through without any serious problems. We were expecting easier conditions today, but it was still really icy. We were able to take it steady because we were in a strong position. I'm now really looking forward to the coming rallies."
Esapekka Lappi
"Today started really well with some good speed and the plan was to keep up the rhythm, including on the Power Stage. Unfortunately, I went wide on one corner and then I couldn't get reverse, so we lost a lot of time and three positions. At the moment I am quite disappointed but at least I completed every kilometre, gaining experience and learning many things, so there are also a lot of positives. It has been a good rally for the team and Sweden should suit me better."
Citroen Abu Dhabi WRT
Kris Meeke
"It was the hardest Monte-Carlo that I have ever experienced. We had everything: sheer ice on slick tyres on Thursday evening, rain on Friday, snow on Saturday and frost on the Col de Turini today. I'm surprised to finish the rally with seventeen points, but I'll certainly take them! We now have to stay humble and keep working hard to try and improve."
Craig Breen
"The weekend got off to a difficult start, with our mistake on Thursday evening. And then things went from bad to worse with the brake problems on Friday, which left us opening the road as something of a snow plough on Saturday. But we produced some good performances on a good few occasions, and did so again today on the dry tarmac. We now need to keep working in more changeable conditions, like those you typically get in Monte-Carlo."
Hyundai Motorsport
Thierry Neuville
"On balance, I think we have had a good rally, despite the various issues we have encountered along the way. Thursday was the biggest factor, when we lost over four minutes getting stuck through my own fault. We have fought back from those early problems, and a few others, and tried to regain as many positions as we could. The places we have made up today – right to the end of the Power Stage – show how important it is to push right to the finish. Without the puncture and tricky snow conditions yesterday, a podium would still have been possible. That's Monte-Carlo, though. I would like to say thanks to the team for doing an incredible job in hard circumstances this weekend, and together we look ahead to Sweden."
Andreas Mikkelsen
"Our rally was over on Friday when we stopped after SS3 with the alternator problem. The focus shifted to salvaging as many points as possible from the Power Stage, which was our aim for today. With no tyre zone or service, we adopted a compromised strategy taking five soft tyres for both loops. We knew that the run up to Col de Turini would be tough, so we took it carefully and accepted we would be slow. SS15 was a good practice for the Power Stage and it was nice for the team to take a 1-2. I was happy with my run, considering we were first on the road and it was still drying in places. It's my best drive feeling-wise so far with the car on dry tarmac, which is encouraging."
Final Overall Classification – Rallye Monte-Carlo
| | | | | |
| --- | --- | --- | --- | --- |
| 1 | S. Ogier | J. Ingrassia | Ford Fiesta WRC | 4:18:55.5 |
| 2 | O. Tänak | M. Järveoja | Toyota Yaris WRC | +58.3 |
| 3 | J. M. Latvala | M. Anttila | Toyota Yaris WRC | +1:52.0 |
| 4 | K. Meeke | P. Nagle | Citroën C3 WRC | +4:43.1 |
| 5 | T. Neuville | N. Gilsoul | Hyundai i20 Coupe WRC | +4:53.8 |
| 6 | E. Evans | D. Barritt | Ford Fiesta WRC | +4:54.8 |
| 7 | E. Lappi | J. Ferm | Toyota Yaris WRC | +4:57.5 |
| 8 | B. Bouffier | X. Panseri | Ford Fiesta WRC | +7:39.5 |
| 9 | C. Breen | S. Martin | Citroën C3 WRC | +9:06.7 |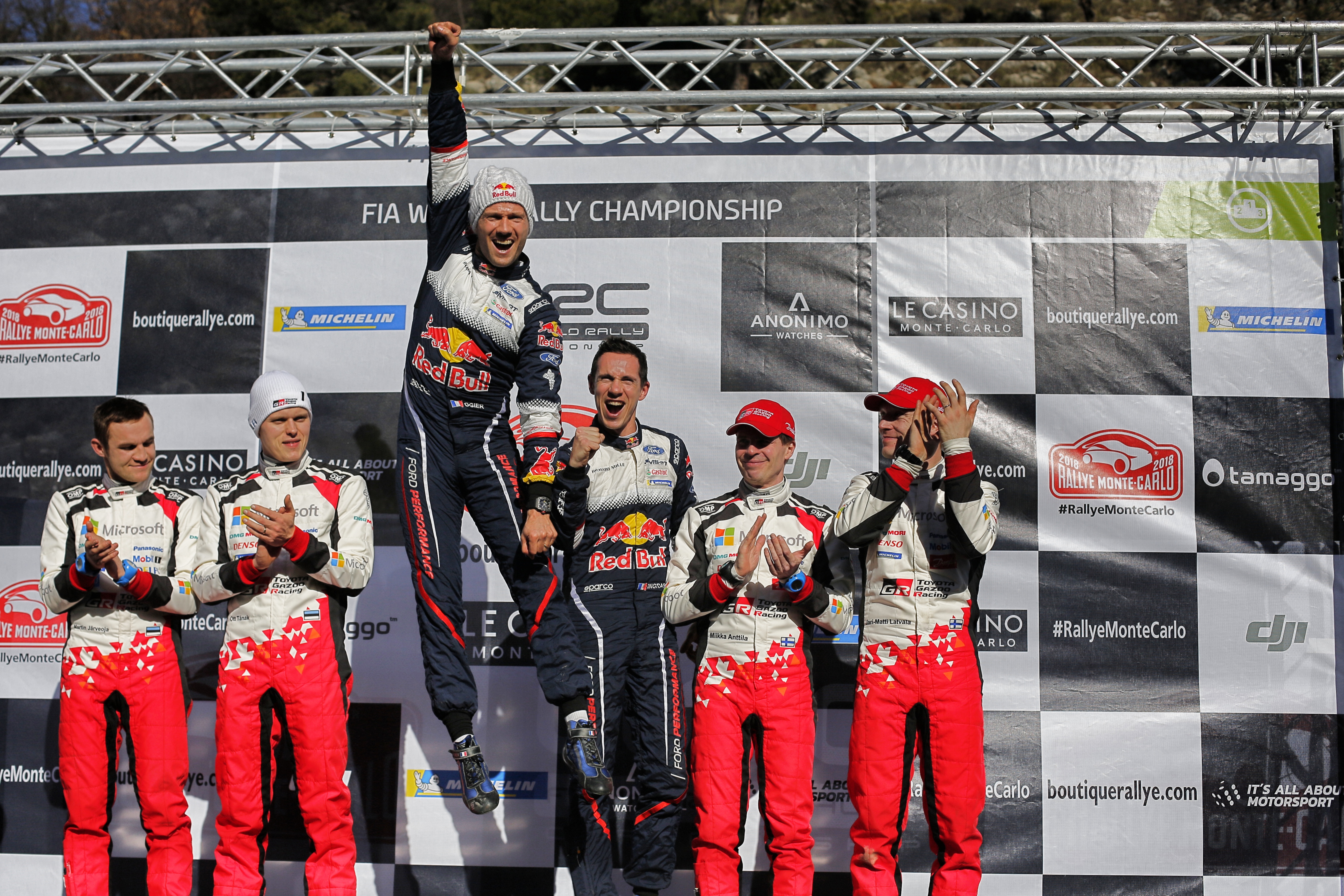 2018 FIA World Rally Championship for Manufacturers' Standings
After round 1
| | | |
| --- | --- | --- |
| 1 | M-Sport Ford World Rally Team | 33 |
| 3 | Toyota Gazoo Racing World Rally Team | 33 |
| 3 | Citroën Total Abu Dhabi World Rally Team | 18 |
| 4 | Hyundai Shell Mobis World Rally Team | 14 |