I got the opportunity to speak to the stars of the WRC during the launch day of the Championship.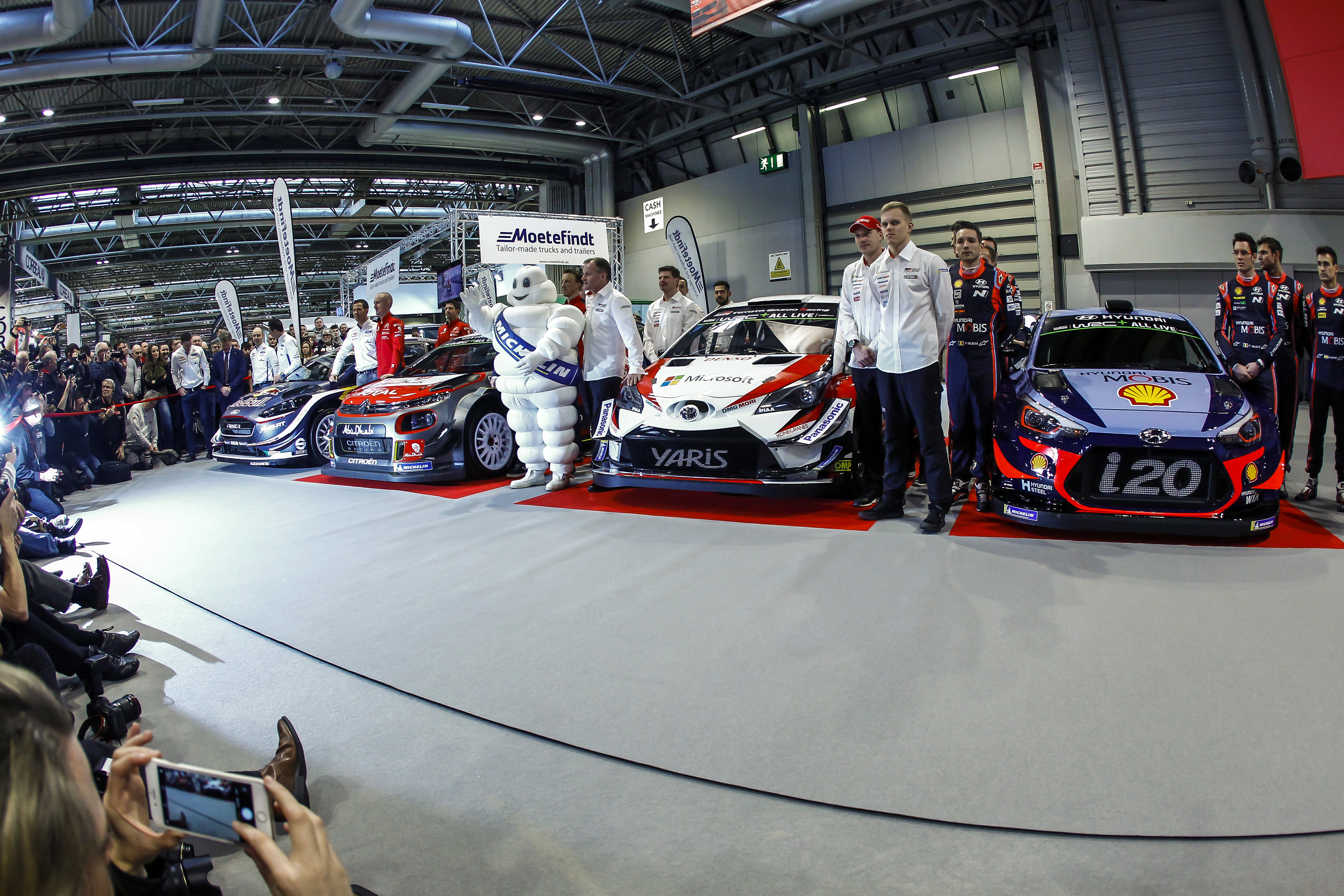 Here's what they had to say.
First of all, I asked Citroen driver Craig Breen to sum up his 2017 season. This is what he said.
"It was a good first season in the world championship, close to a full season. The car wasn't as good as we'd hoped, and we had to work hard on development in the middle of the year. Even still, it was a good year I'm quite happy, we showed some good speed and some rallies we were quite consistent finishing six times in fifth, so I was happy with that."
I then asked him about his stellar drive to fifth in Monte Carlo in a 2016 DS3, and of course driving a C3 WRC there this year.
"Yes, Monte was a surprise with the old car, it was nice to do it, to get familiar with the event. Yes, I'm really looking forward to it, first time out with the big car there, and really excited!"
I then asked him which events he was most looking forward to this season.
"Finland, we've done well in Finland in the past, bagging a podium with third place in 2016. Portugal as well, Germany too."
I then asked him if the team had got a good handle with the cars technical aspects.
"Yes, its definitely getting better and better with every test session and it's going in the right direction and the team have already tested for Monte Carlo and have another two-day test next week."
I spoke to Paul Nagle next, co-driver with Kris Meeke.
I started by asking him which events he was most looking forward to.
"Corsica was the first that he mentioned, saying we should have won that last year and the car gave up. Looking forward to going back to places that we won (Mexico and Portugal). It would be good to get a result in Monte and Sweden, solid results would be good, then Argentina as well (where they took their maiden victory).
I then asked him if he thought they had the pace in the car to challenge as last year was a mix, with a car that was hard to handle.
"We had the pace on tarmac, but the car was a handful. We improved as the year went on, getting more consistent results."
Finally, I asked him about Sebastian Loeb joining the team for three events.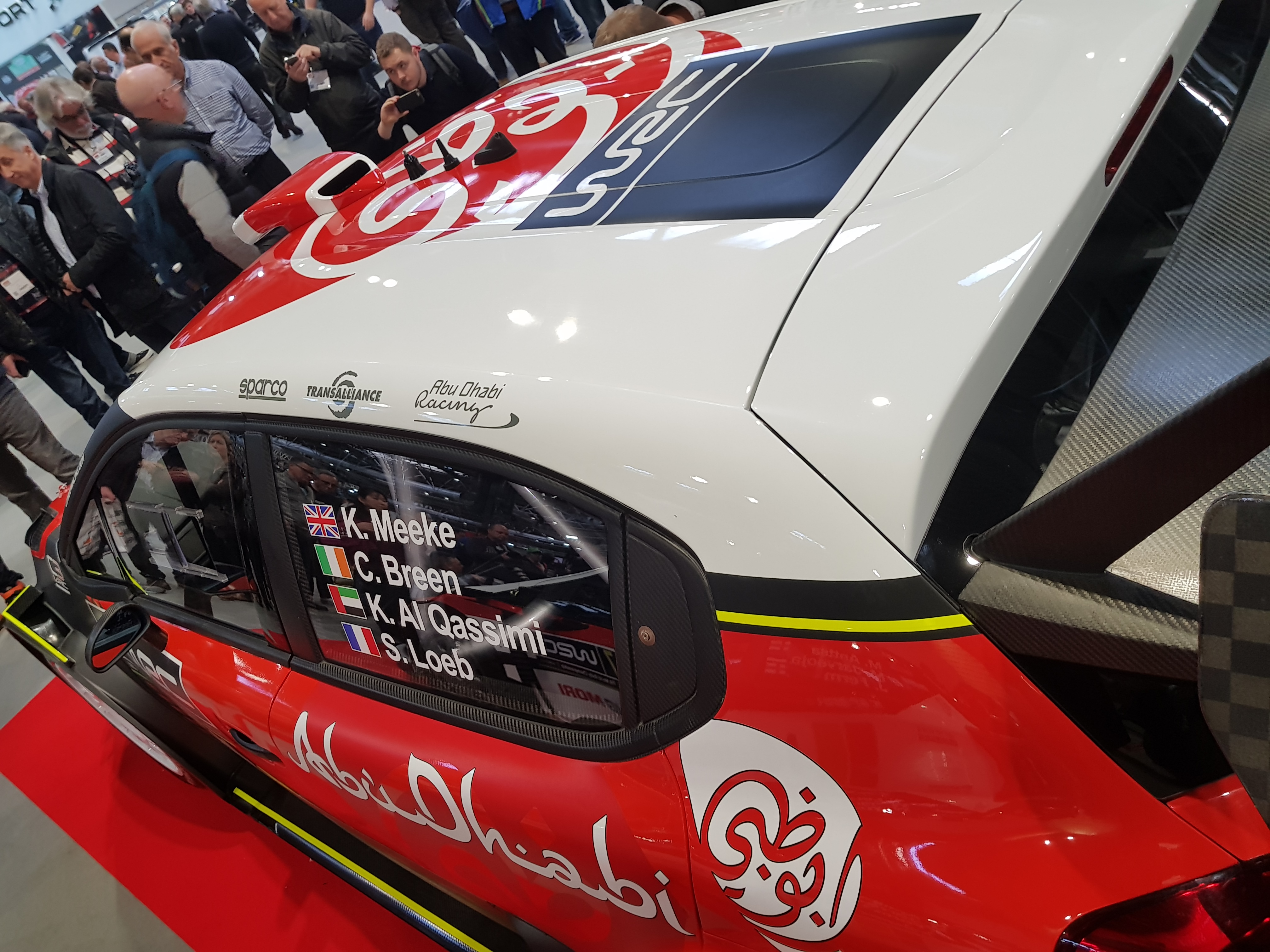 "It's a good thing, he's nine times world champion, brings a lot of experience, plus a lot of profile and support to the team and I'm looking forward to working with him."
Kris Meeke was next up. I said to him that Paul was really positive for the season.
He said, "Its nice to start with a clean slate, and 2017 wasn't the year we'd hoped for, yet we were able to take two victories. It could have been more with Corsica and Portugal. We certainly struggled in certain areas, I made a few mistakes, probably through my usual trait of trying too hard, when things aren't right. We identified things that where we were inconsistent and needed to improve, even looking to improve myself as well. We'll take each event as it comes and hopefully we can try to be in the mix for the title, and give it their best shot."
I then asked if they'd got a handle on the car.
"Yes, it turned around quite a bit, for sure the car was strong on tarmac, bar Monte Carlo, on gravel we certainly improved after we changed our suspension supplier to Ohlins, and that improved everything. However, there are still areas we have to work on, so we'll wait and see."
We then got the surprising news that Mads Ostberg had signed to drive in Rally Sweden for the team!
He said, "Well, for now its just for Rally Sweden, and that he's working with Yves Matton to drive more events. I'm motivated to work with Citroen, it was some of the best years of my career, it's a good mix and I'm happy to be back."  He continued, "I had eight or nine podiums whilst there.
He's yet to drive the car, but the amount of test time is already agreed.
Mads continued, "I'm happy with the programme that is ahead of me for Rally Sweden."
He had a real up and down Rally Sweden in the One Bet Fiesta WRC. I asked him for his memories of it.
"We were doing well and in the podium position, then we lost the wing, then we had the gearbox problem and then also had a puncture! I got the longest jump on Colins Crest as well!"
Now it was time to talk to the Hyundai team, and I started with Thierry Neuville's co-driver, Nicolas Gilsoul.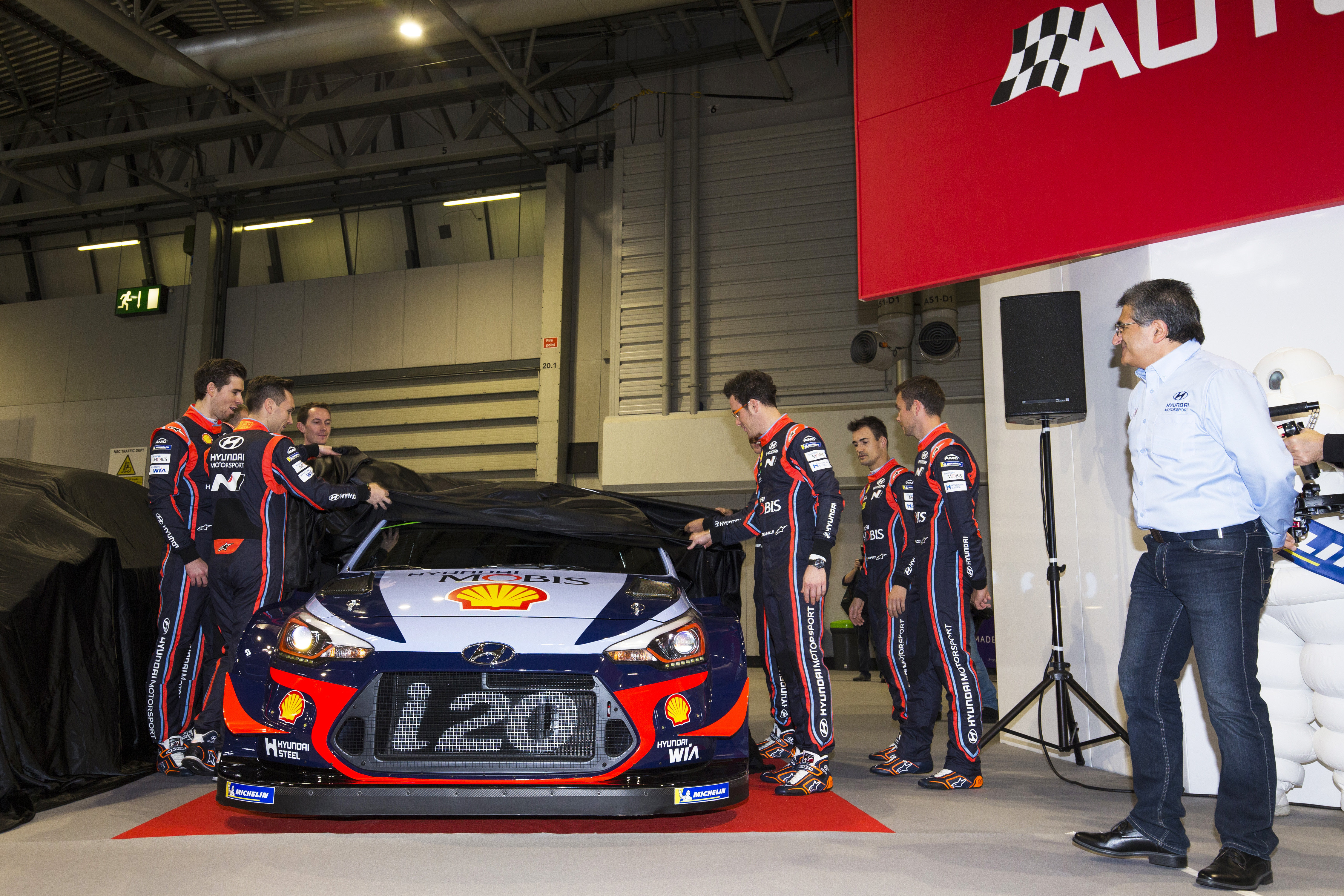 I asked him what his hopes were for the new season.
"I think it's quite clear. We missed the title last year, it's our main target this year. He said less focus on the wins and more on the title itself and look to get the optimum result each time."
Asking him if he was disappointed at all with the results, he said,
"No, not at all. A few had said that, and there is a little frustration, but that's completely gone now and actually its been a fantastic season. If you check the numbers, you can see we have a lot of stage wins, more than Ogier and Tanak together, and except mid-season on a few rallies we struggled, for example we had a mechanical problem in Sardinia, in Finland the car was not competitive, we lost a wheel in Germany, three rallies in a row where we were not competitive or suffered mechanical problems, so except for that it was a very good season. Thinking of the problem at the start of the season, for sure, it should not happen, but I never count the corners through the year but we need some jokers, it's close to impossible to drive at full speed to not do a mistake and sometimes its only a little mistake and its okay, and sometimes its not and you lose a wheel, or you break something and it's over."
I suggested that this is what he and Thierry wanted to do, to conquer these moments and overcome them.
"Yes, it's a combination of things, to be really strong together, we are winning together and losing together and it's the same for the team, for example three years ago when it was looking like we were not wanted by the teams we started to complain about the procedures, but it's not the right way. The most important is to analyse what's happened, to define what's happened, to try and win through and solve the problem."
Speaking about last season, he continued;
"I think last season, we didn't start with the right mindset, because we didn't expect it to be so competitive, and when we realised it, it was already too far through the season. Now this season we will start thinking of the championship. Now last year we mostly focused on rally wins."
I asked them how long they've driven together and he said;
"Since 2011" he said. "We are very strong together, we know each other very well, we like working together and it's easy and not boring at all, it's still exciting, it's good because now we are experienced and you are more confidant, because at the beginning you checking and double checking everything, and you are sometimes tired, and now it's not being lazy, you trust yourself and you its been done and you don't have to keep checking."
Next, I had a chat with Seb Marshall, who is Hayden Paddon's co-driver. He's been working with the Kiwi for a couple of years now, but this will mark a first time they start a season together.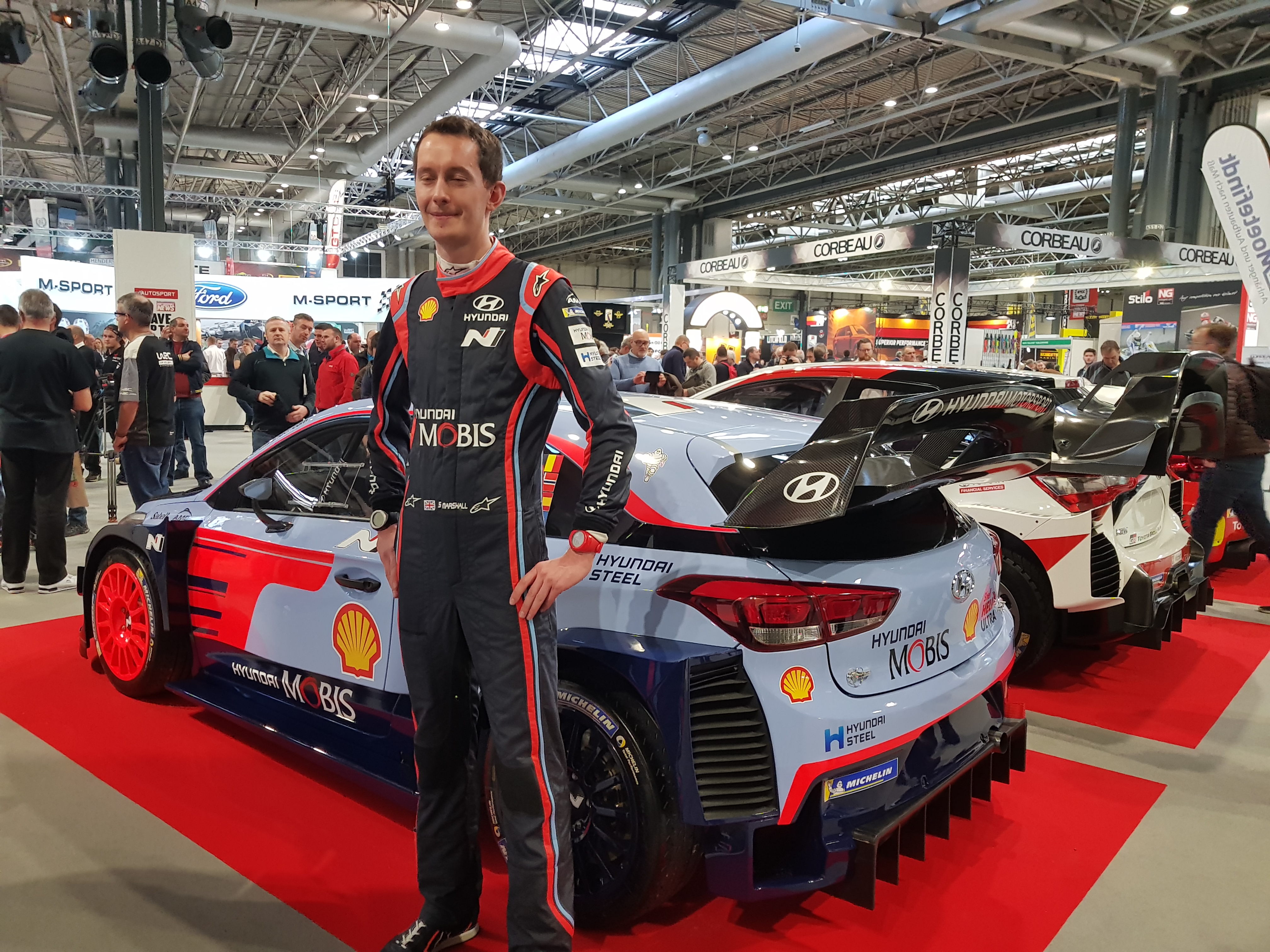 He said "Yes, it's nice to start a season together, and its confirmed that we have seven events this year, starting with Sweden, and gravel the rest of the year. Now the key objective is results wise with the drivers' title not a consideration for us one of the key objectives is helping the team win the manufacturers championship, so that means that we need to score well. Last year we scored a couple of podiums and the target is that we can repeat that, and also take advantage of our road position on some events and string things together and target a win. We'll take things as they come, take opportunities and see where we are at the end of the year."
I spoke next to Thierry. I said to him, that it got away from him, but that it was a positive year on the whole despite the odd slip up.
He said, "It was a very positive year, the speed was there, the car was very good, the best performance of the team, we can't complain. We just missed out on the objective, the most important, probably its not all about being world champion, but also enjoyable to do, I really enjoyed what we did we had a huge satisfaction, and I think a great preparation for the up-coming year as well, running in this position, we were one of the contenders for the title and at one point we were leading the championship, these are all things to experience and we have experienced it now we have to be constantly in this position. It won't be easy. Looking forward to it!"
Next up, I spoke to Jari-Matti and his co-driver Miikka from Toyota. The second year with the team run by Finnish legend, Tommi Makinen. I started by saying, its your second year at Toyota.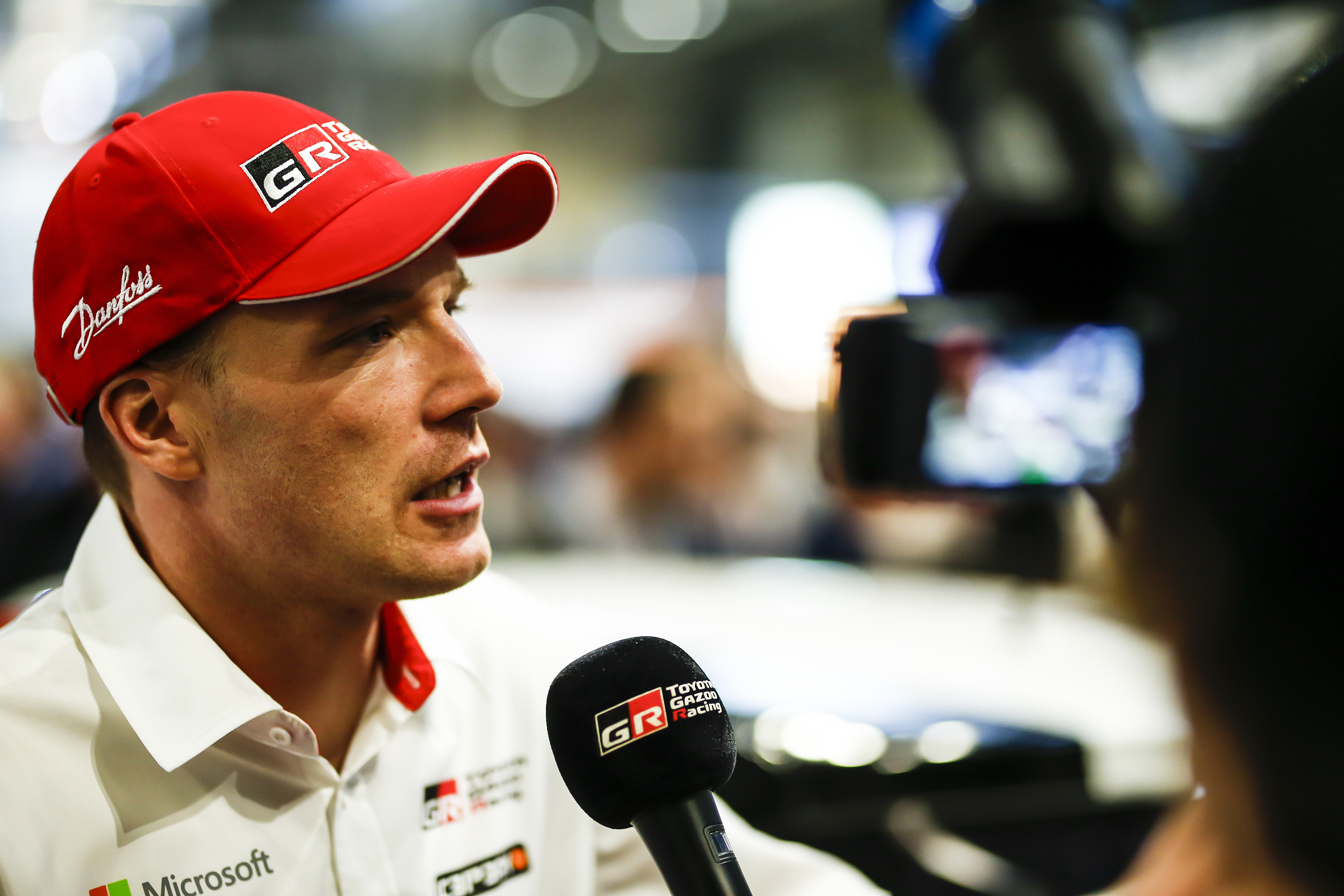 Jari-Matti said "Yes, it's going to be exciting, Easier to start the second year than the first year, but there is a little more pressure of course, but you know on the other hand that the car is competitive!"
Of course, we did see Jari-Matti lead the championship after Rally Sweden last year.
Jari-Matti continued, "The first half of the season was very well and the first two races were special, it was an amazing feeling to be leading after Sweden, I knew that it would be more demanding in the high altitude races coming up, Mexico, Argentina, yes we were suffering in those, then it was getting better and I thought that wouldn't face problems but we did mid-season, and of course it was disappointing to get them at the time when we could almost fight for the championship, but on the other hand it was the learning year and you know that they were coming, but still I prefer this way, that we had a good start to the season, it was really a bit great."
I asked him next what his hopes were for the new season and what they had worked on over the winter.
"We have the new front bumper, the new front aero, which will give help to the turnings, work done on the engine, gears and suspension and I feel the car is better than last year. The target is to try to fight for podiums in every race."
I then suggested that we saw a rebirth of him last year after leaving Volkswagen and asked him if that was fair to say.
He replied, "That yes that was fair to say, at Ford I was young and fast but made a lot of mistakes, then I went to Volkswagen and I was close and two times I finished second in the championship, but Ogier was always a step ahead with the consistency but then coming to the Toyota I thought start a new era just focus really for the consistency and it was going well and the target is to keep that this year as well."
I asked him next on his feelings about Rally Finland where he retired with a problem on the Saturday afternoon.
He said, "Ah, that was very, very, disappointing, I mean my best single day performance in the morning before the technical problems, but these things can happen."
I then asked him about the relationship between the drivers.
His reply was typically honest as you'd expect.
"In our team we are close and even with the little change with Ott Tanak coming in and Juho being test driver, to try and keep that spirit. All in all, in the rally world basically I would say all the drivers have a very good relationship, it's not like in the racing world."
Finally, I asked him which events he was most looking forward to this year, well, other than Rally Finland of course!
He said "For sure Sweden is important, I like Sardinia, Catalunya which I have really wanted to win for a long time."
Then I spent some time talking to Miikka Anttila. I asked him how many years he'd been in the car with Jari-Matti and also how he found the transition from Volkswagen to Toyota.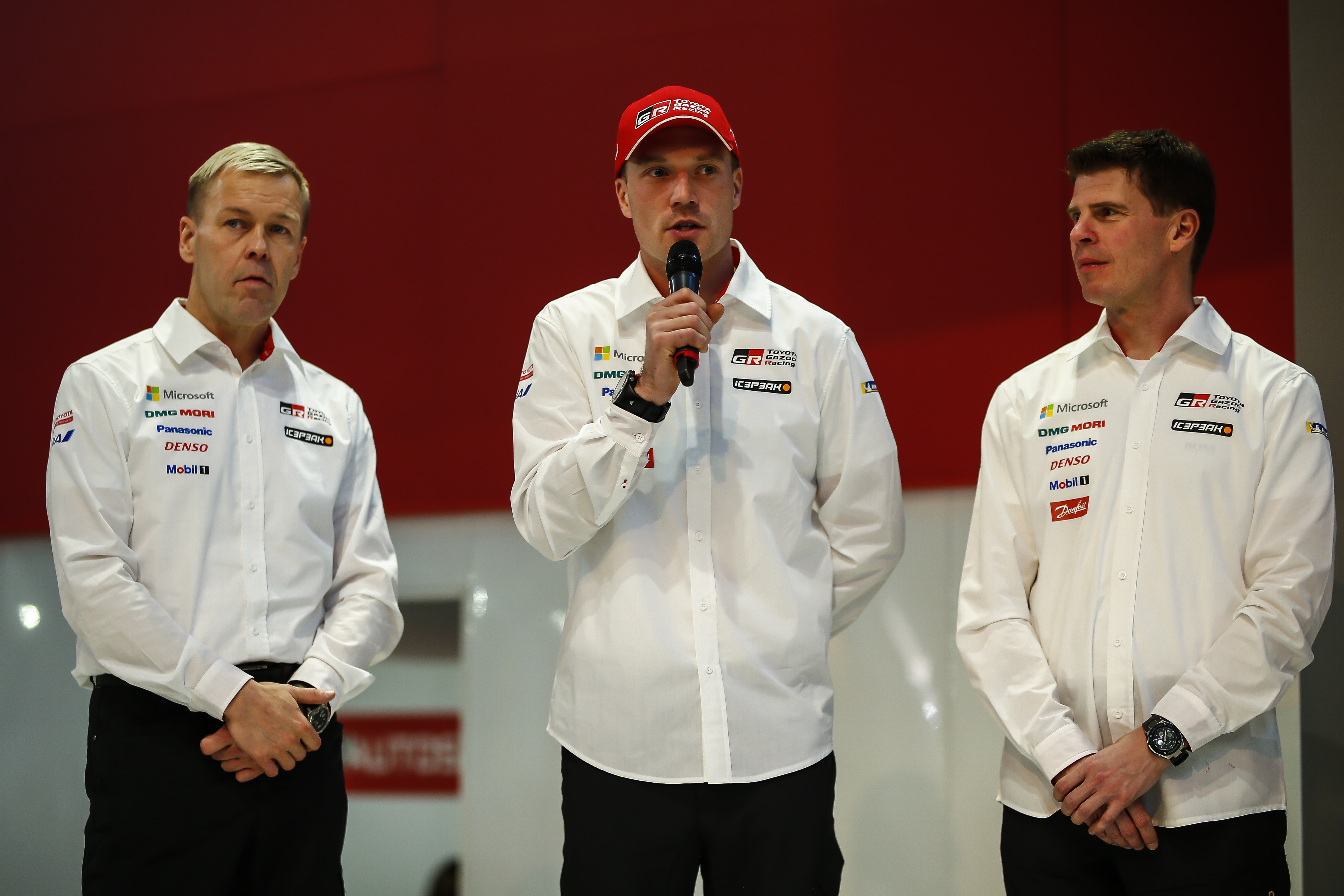 "Since 2003, I think it's the fifteenth year already, a long time. We have a very good working relationship. The biggest part is that the team is from Finland, working so much with the Finnish people, for sure makes it a much, much easier, I mean let's say if we went to Citroen, it wouldn't have been so easy, and then of course already in the team there were people we knew from the past, I mean not Finnish guys, but from M-Sport times, so all in all its been really easy. When we went there, we found it was a good boost for all the people in the team, that we came from Volkswagen who'd just scored the fourth title."
Asking him their goals for the year, I said that Jari-Matti had said lots of podiums were what they were hoping for.
"Yes, to fight for the championship, you don't have to win everything, but you do have to be in the points constantly, when you think the 2017 season there were so many different winners, it means the car needs to be on a good level. The other thing is that it's the second year of the team, now in this sport you cannot happen that go and win at the top level straight away. Okay, in a way, Volkswagen did that, they did enter the car 18 months before the first rally with the world rally car, they went there with the smaller car, and they faced all the conditions, whereas we faced all the conditions with the new car. If we'd joined with the old regulations, then probably the gap would have been a lot bigger, but now it was new for everybody."
I asked him next about the development of the Polo WRC and how it compared to the Yaris when they first drove it.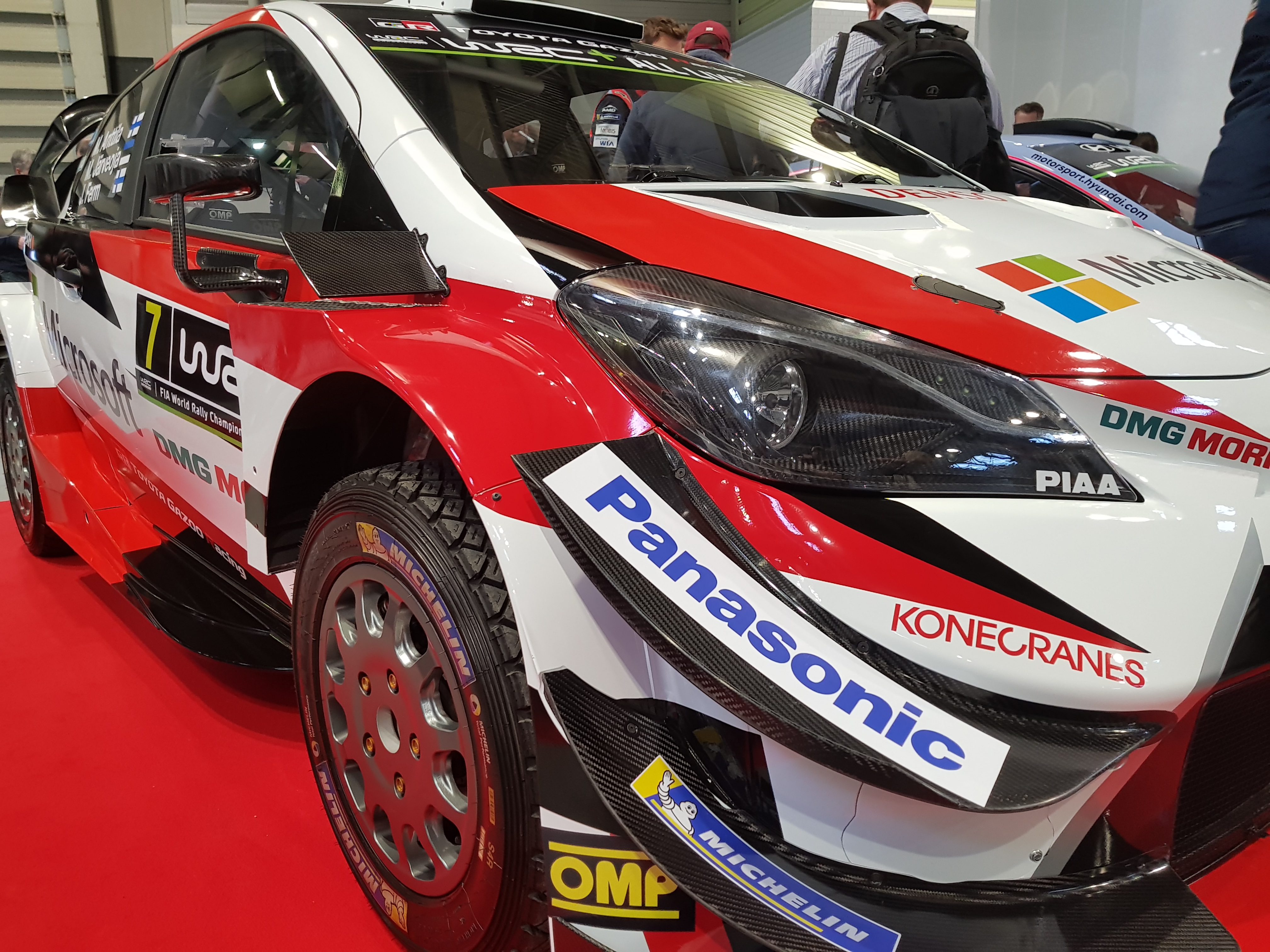 "We didn't drive the latest of the 2017 Polo, as it was October the last time we drove it, and there would have been improvements to come, but they didn't come and the car wasn't finalised when we did our final test. That's why it's a bit difficult to compare. For sure, our car was changed a lot between the first test and before Monte Carlo and there were new parts coming all the time which were decided before we joined the team, because it was already December when we joined the team."
Finally, I asked him about Seb, former teammate at Volkswagen and what he was like to work with.
"Let's say he was a proper competitor, in the way he is always thinking for the competition what he can improve, not always telling to others, a bit not giving all the secrets of what he has in his pocket."
Finally, I spoke to Elfyn and asked him what his hopes were for this new season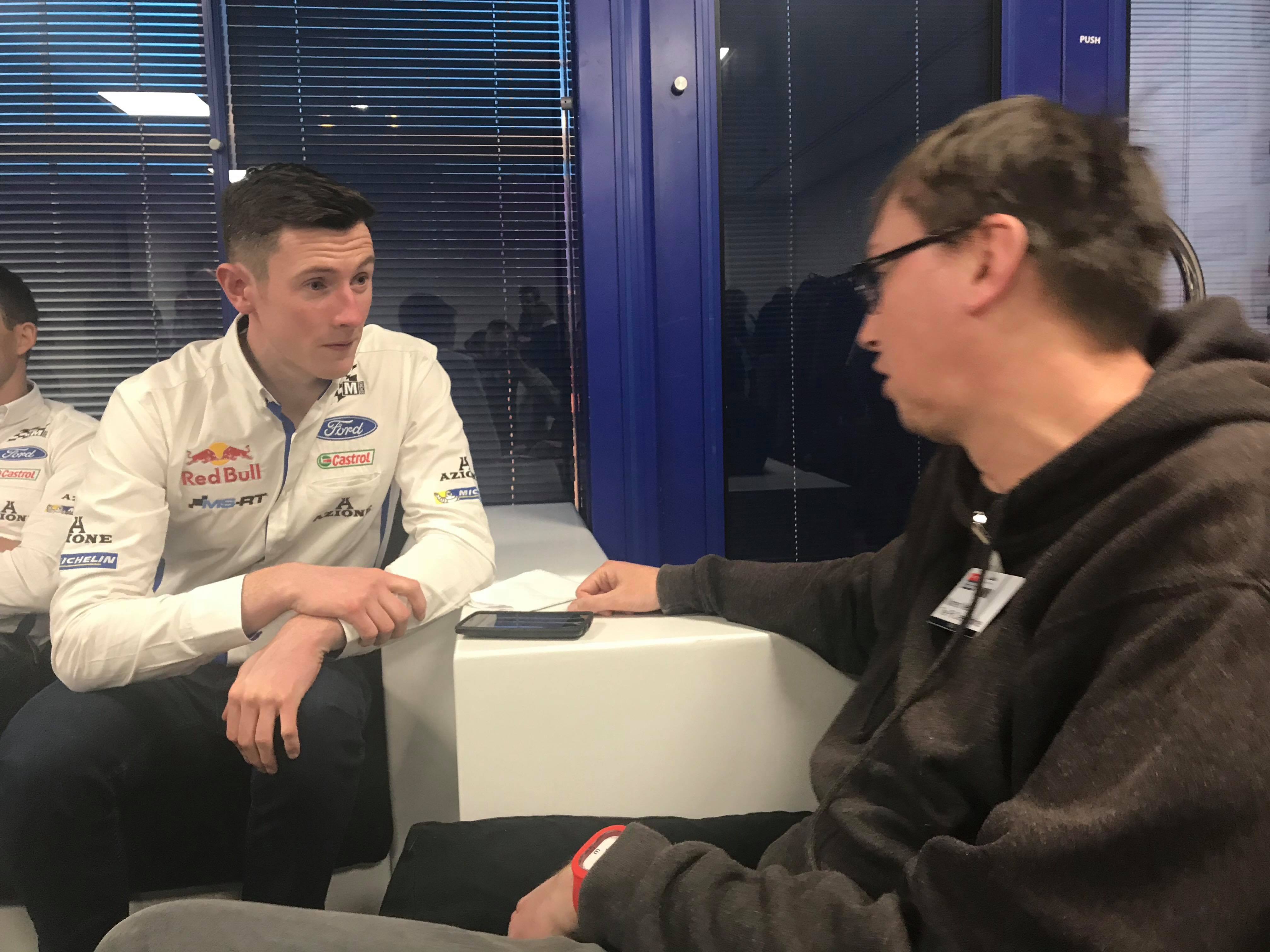 He said, "Yep, massively looking forward to it, there's a lot to do, a lot of expectations to live up to thanks to the success of the team last year, expectations are high but so are my own expectations, to be honest, I would really like to be consistently on the podium as often as we can, we're anticipating that its going to be even more competitive year, this year so we could find that a big challenge, looking forward to it!"
I then asked him about that win that got away in Argentina.
He said "After the rally it was a second-place finish, after a tough start in the first three or four rallies, although we were starting to show good speed, we'd not been able to bag a good result for different reasons so on reflection of the rally it wasn't such a bad result, finishing second. At the time, it was hurting pretty badly, I have to be honest after showing such good speed through the first day and fighting through problems on the second, to lose by such a fine margin was tough to accept, but like I say looking back now with everything that happened it is was it is and second at the time was a positive result"
I also asked him about #ElfynsCorner.
"Well, yes it was a surprise to be honest when it came up, I had no involvement in it what-so-ever, I still don't, its purely a fan base thing, we enjoyed massive support on the rally, both through ElfynsCorner and otherwise, just throughout the weekend, the amount of people supporting both on and off the stages was incredible, something I'd never experienced before, okay I'd always enjoyed great support in Wales before, but never to this extent."
I then explained that I'd been in touch with the individuals, before it all it all spiraled into what had happened. The reason they did it was because they wanted to raise your profile, they felt you weren't valued and wanted to show their support. I gave him the names of all the individuals who made it happen and he recognized them.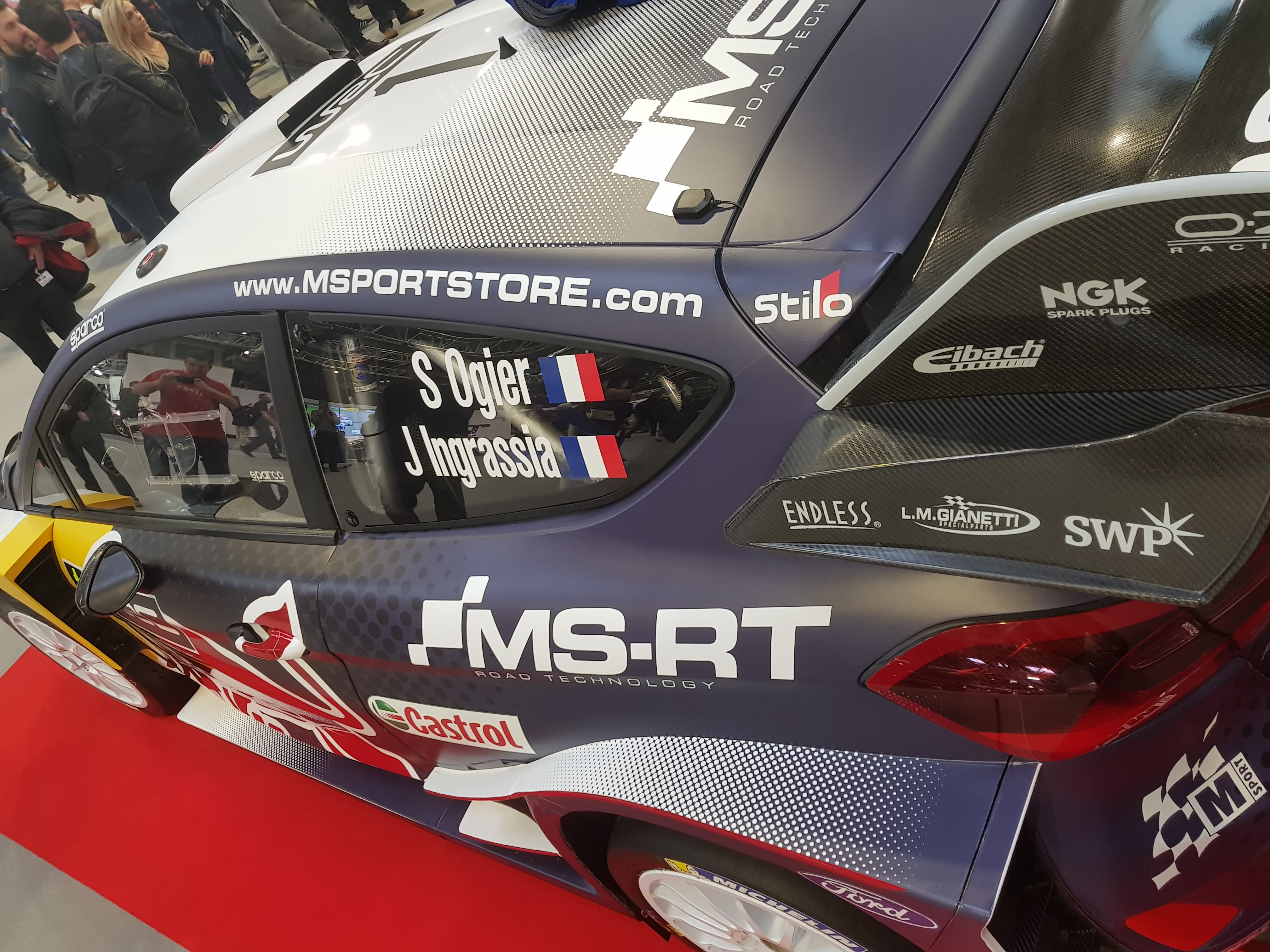 His response was interesting, "It especially hard in the UK, because we have so many successful, high level sports, it's very difficult to build a profile, especially through motorsport, so many high-profile tennis players, football players, football is massive, whereas let's say Ott, he's in the top three sportsmen in Estonia!"
Well, I hope you've enjoyed reading the thoughts of the teams. We are getting really close to the start of the season, with just twelve days to go!
Pop back soon, as I'll have my preview for round one very soon.