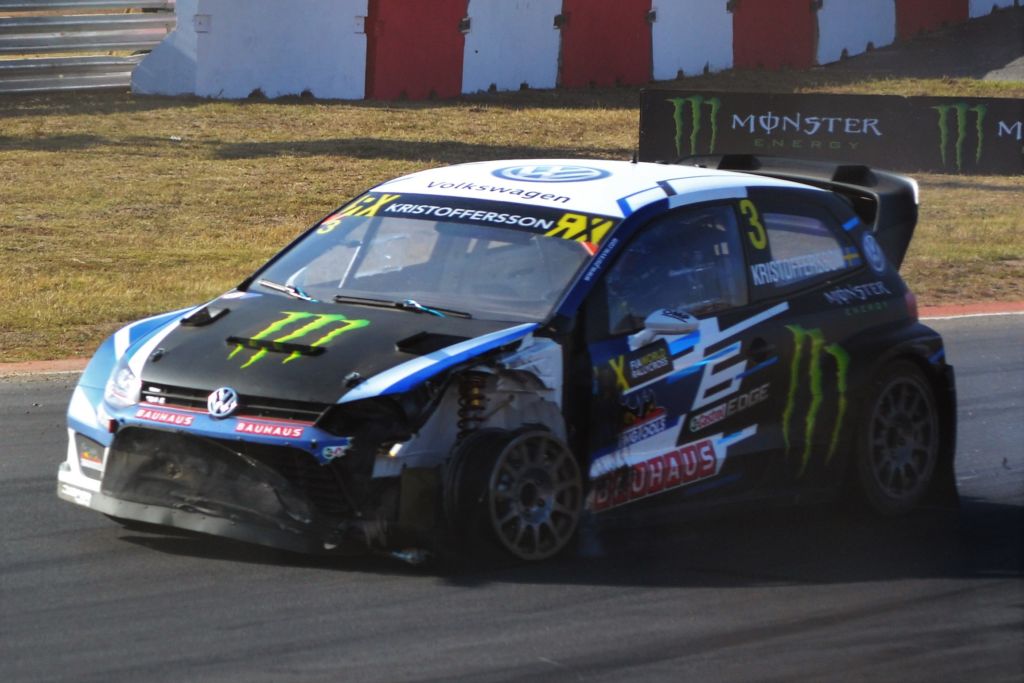 Sweden's Johan Kristoffersson entered the record books as the PSRX Volkswagen Sweden driver won the first ever World RX event staged in Africa.
Former World RX Champion Mattias Ekstrom finished third and consequently secured the runner-up spot in the 2017 championship after a season-long battle with Petter Solberg.  Team Peugeot-Hansen's Timmy Hansen claimed second at this weekend's Gumtree World RX of South Africa – the 12th and final round of this year's FIA World Rallycross Championship presented by Monster Energy.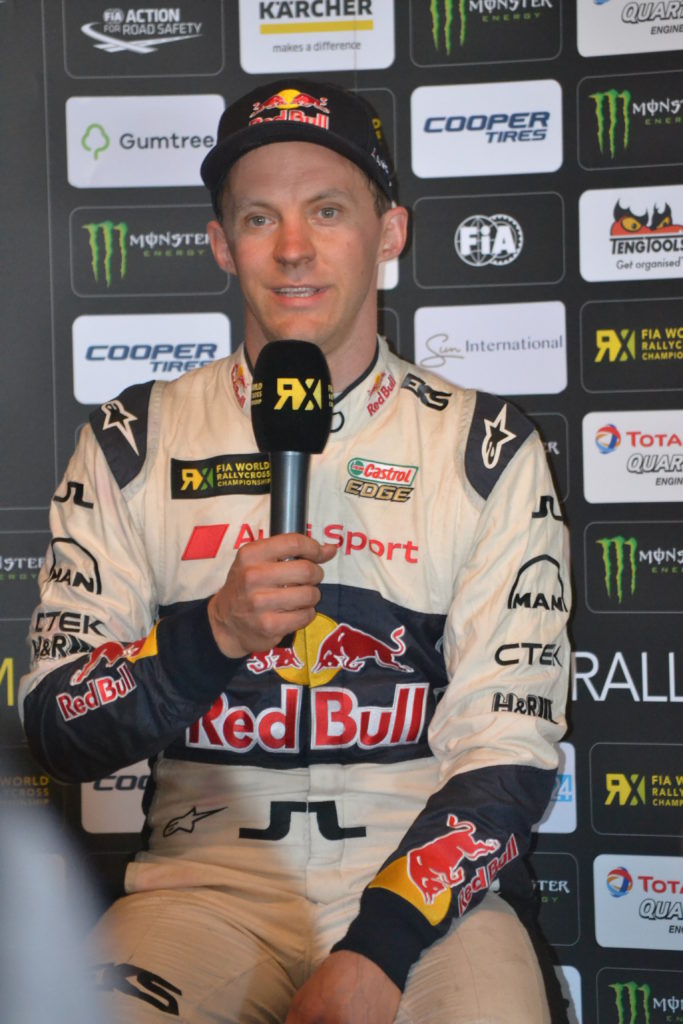 In the final round of the RX2 International Series presented by Cooper Tires  Frenchman Cyril Raymond rounded off a near-perfect season by taking his sixth win in the highly competitive seven-event feeder series.  Great Britain's Dan Rooke had a troubled final when he rolled his car on lap two, causing the race to be red-flagged.  Despite this mishap, Rooke secured second in the 2017 standings.  Sondre Evjen and Tanner Whitten finished second and third in Cape Town. Belgium's Guillaume De-Ridder claimed third in the end of year leaderboard.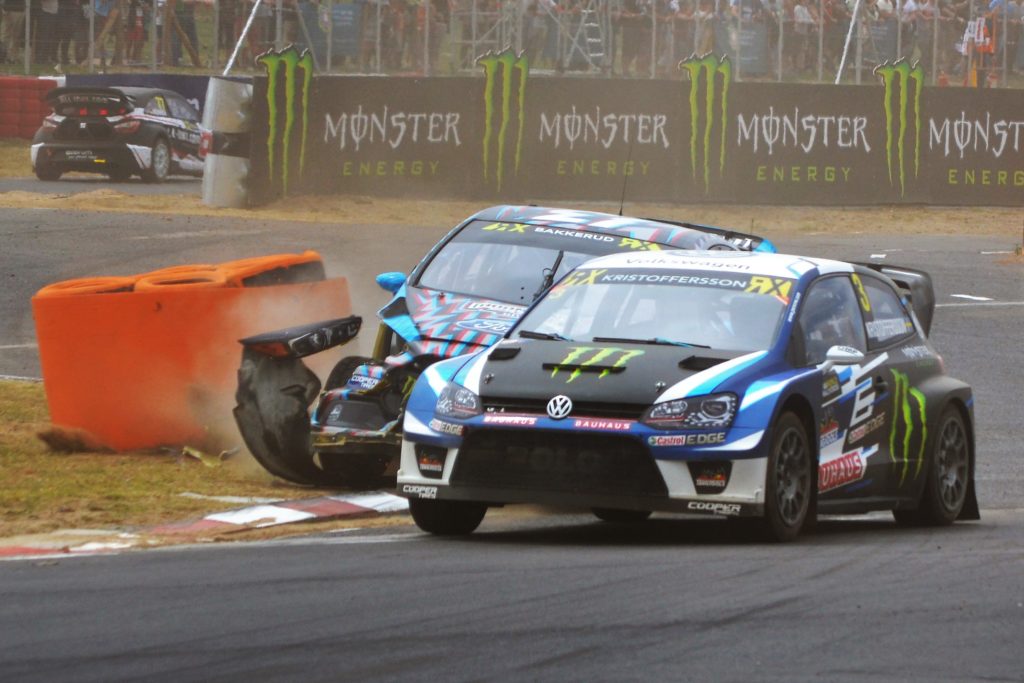 "It's fantastic to wrap up the teams' and drivers' championship and to also take the win at the final round of the season," grinned 2017 World RX Champion Kristoffersson who won a staggering seven out of 12 events this season.  "The team has worked so hard this year and ten podium results is credit to how fantastic everyone has been. Obviously to break records in World RX is an amazing feeling but to have won the World Championship is so unbelievably special. It was a good weekend all round – I had a slow puncture in the semi-final but I got a really good launch in the final and when I got clear space I was able to manage the gap back from Timmy and Mattias, as well as manage the tyres well.  Thanks to everyone for such a memorable season – I'm really looking forward to being back with VW in 2018."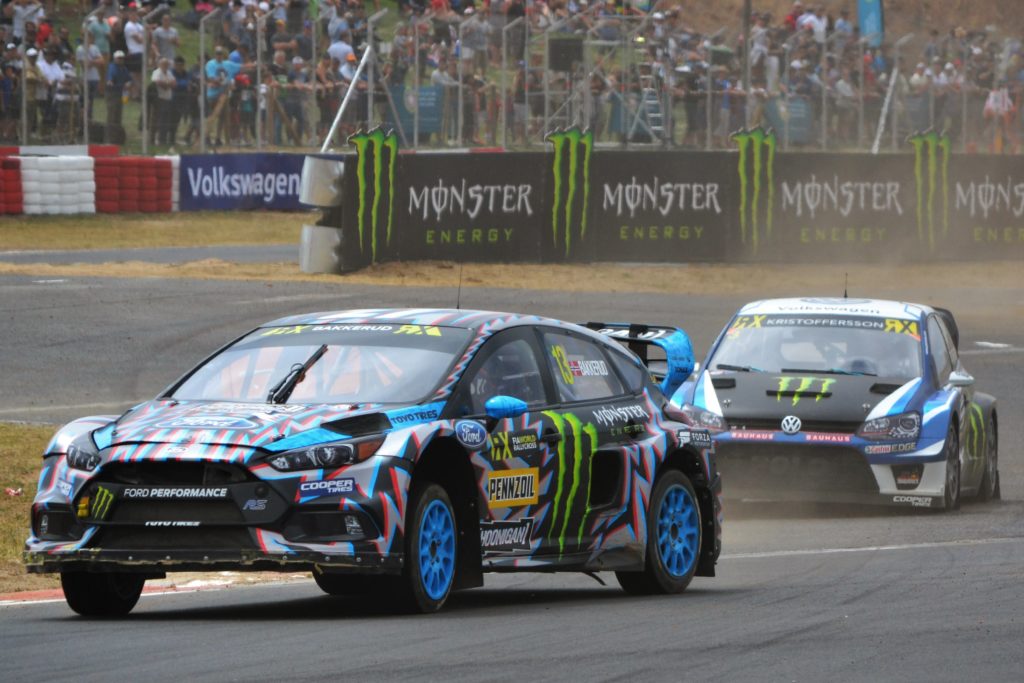 Runner-up Hansen added: "This has been one of the best weekends I've had this year and it's great to finish on a high including my two qualifying wins. I really wanted to take the victory for Peugeot and this weekend we were so close – I gave it everything I had in the final but I lost a little bit too much in the first lap to be able to get ahead of Johan. The 208 has been fantastic all year and it worked especially well at this track."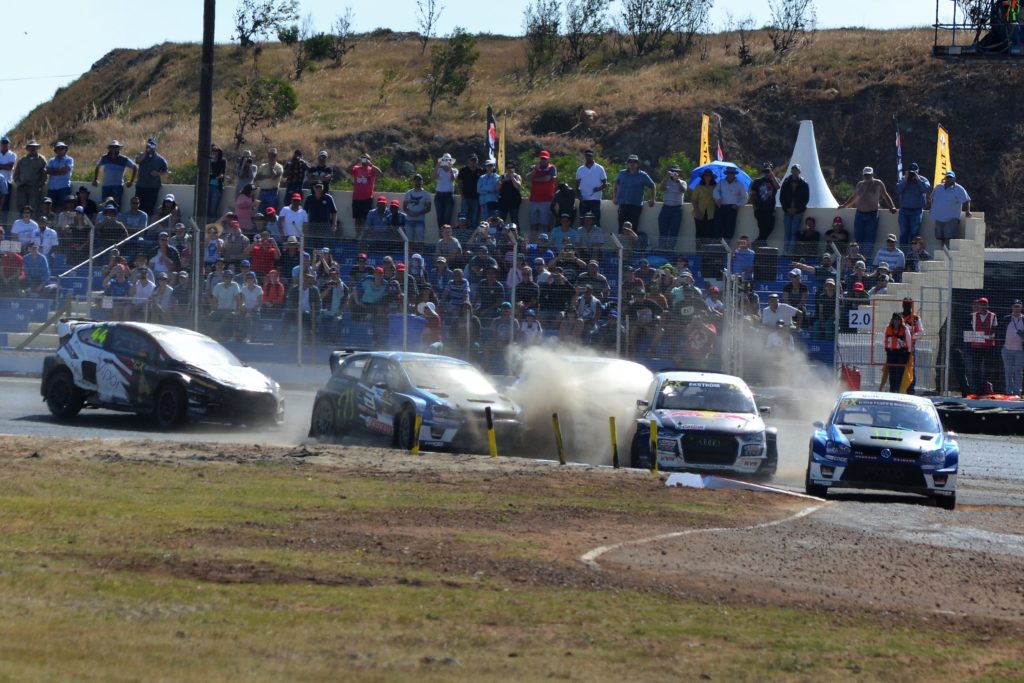 Ekstrom's reactions were fastest of today's six finalists, rewarding him with the final Monster Energy Super Charge Award of 2017.  Despite losing his World RX crown to Kristoffersson, Ekstrom praised the new World Champion. "Sometimes you're in front and sometime you're behind – that's just how it goes and Johan definitely deserves the win today and the World Championship too. Timmy was really fast this weekend too, but to be honest, everybody wants to win – World RX has now reached a level where everyone will battle for everything."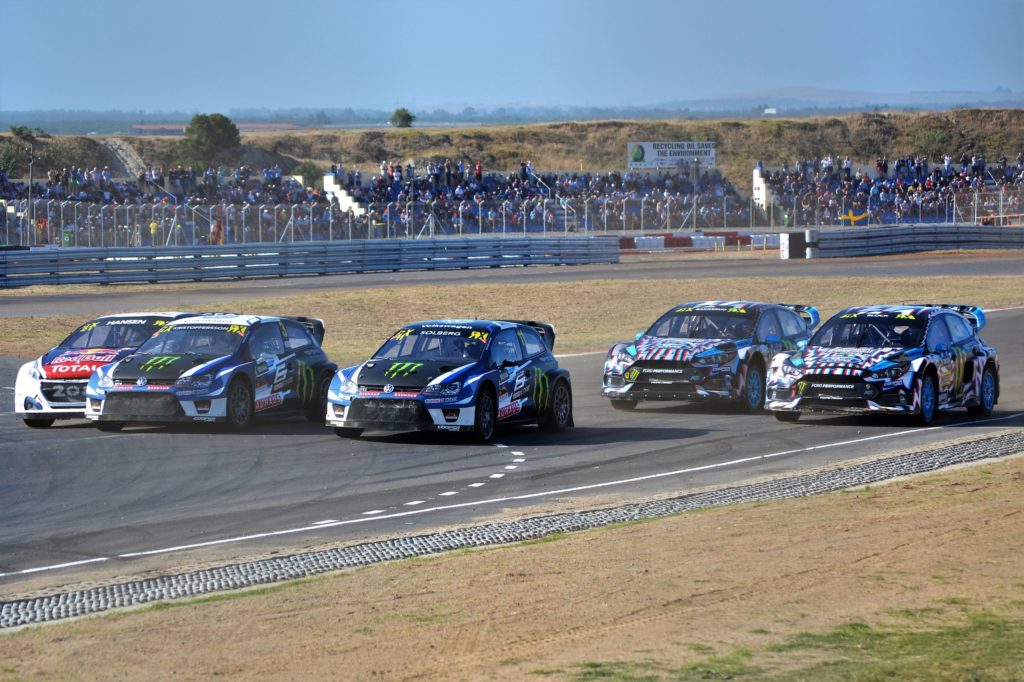 When asked about the new Cape Town RX event, Ekstrom praised the enthusiasm of the South African fans.  "The grandstands were full this weekend and the atmosphere and support from everyone here was amazing."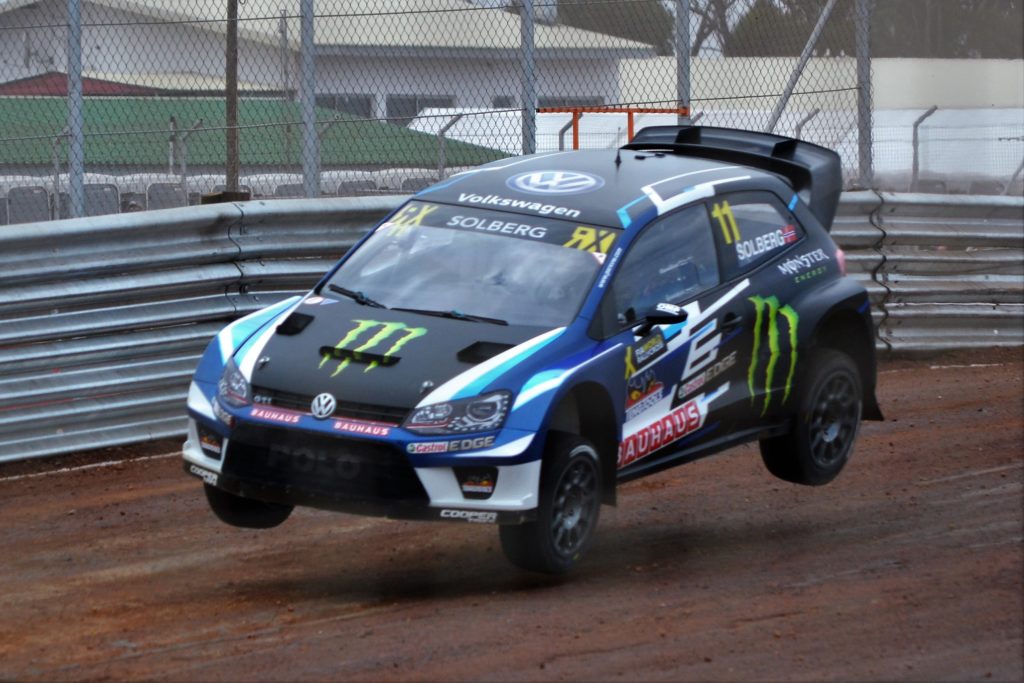 Solberg finished fourth in Cape Town and finished the season third in the driver standings – five points adrift of Ekstrom.   "Of course it's a little bit disappointing not to take the silver," admitted Solberg. "I am so proud of what we have done. Johan has broken so many records this year and the whole team, everybody in PSRX Volkswagen Sweden has worked and played so hard – this weekend and this year is because of them and I can't thank them all enough."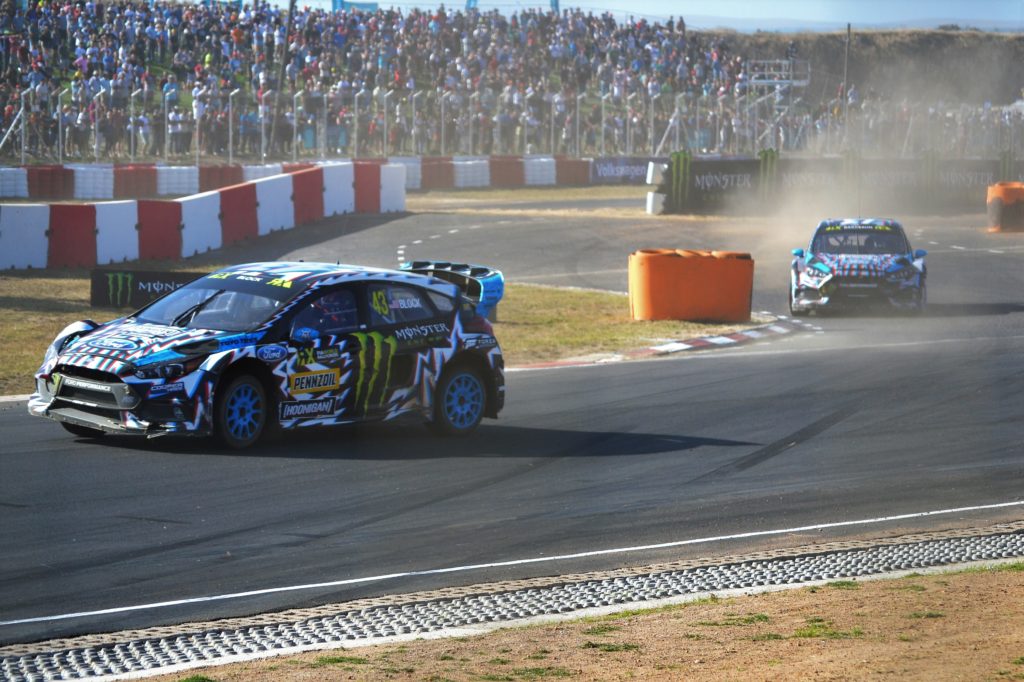 MJP Racing Team Austria's Timo Scheider's rounded out the top five in Cape Town after an impressive rookie season at the wheel of his Ford Fiesta.  Kevin Hansen finished sixth, the Swede having retired shortly after the start with transmission problems.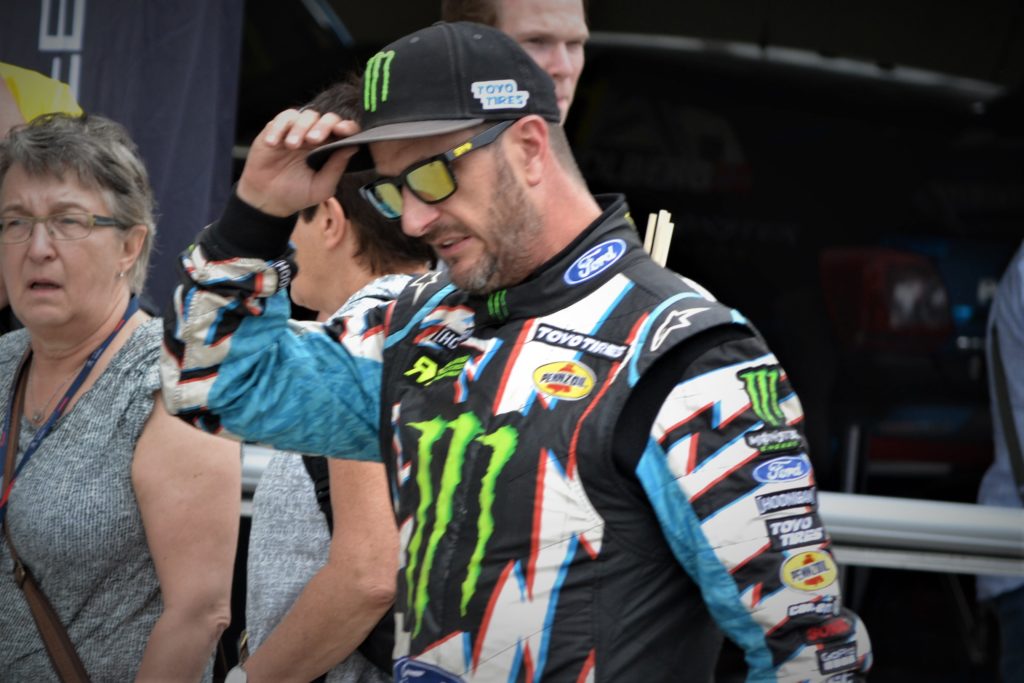 In what marked the final event for the Hoonigan Racing Division, America's Ken Block showed fantastic pace. He led the event overnight and finished second in semi-final one but was later disqualified as his car was found to be underweight.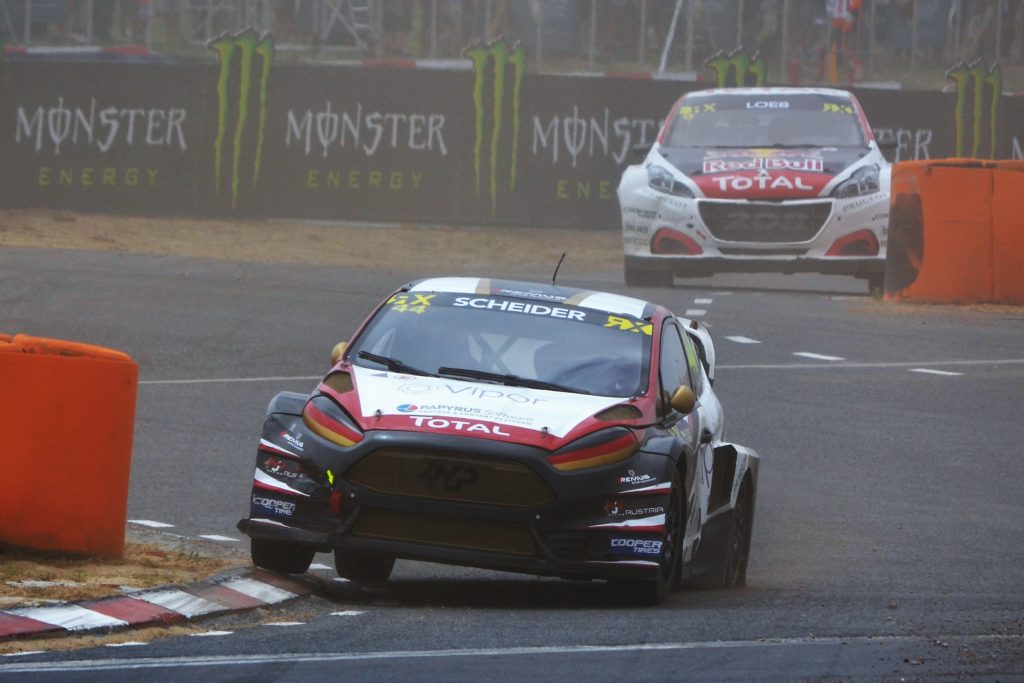 Nine-time WRC Champion Sebastien Loeb retired on the final lap of the second semi-final but rounded off the season fourth in the overall standings – 13 points ahead of his team-mate Hansen who ends the year in fifth place.
Home favourites Mark Cronje and Ashley Haigh-Smith received tremendous support on their World RX debuts but neither driver made the semi-finals.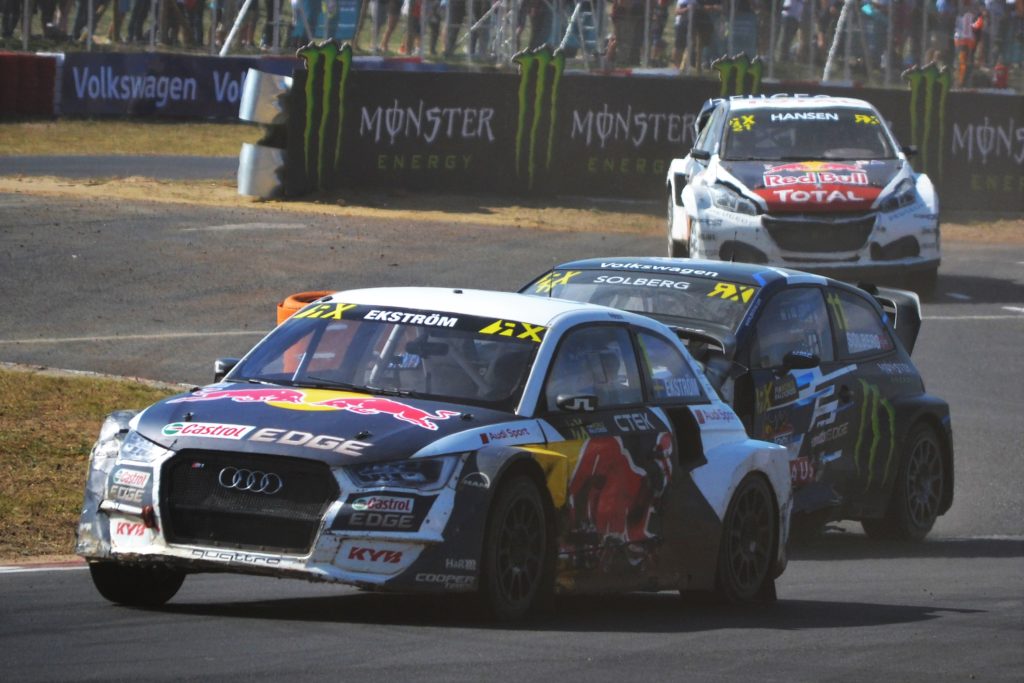 Paul Bellamy, World RX Managing Director for IMG, concluded: "Our first ever event in Cape Town was a resounding success – we've had over 27,000 people at Killarney this weekend and they were all treated to World Championship motorsport at its best. I think we've won over a lot of new support during our time in South Africa and the crowd really helped make this weekend a memorable event. Tickets for 2018 are on sale from tomorrow which will give people plenty of time to plan next year's rallycross weekend. I'd like to thank the organisers and volunteers for all their hard work in putting on a great event and also to the City of Cape Town for its support in making this happen. I'm also very thankful that our sponsors and other commercial partners shared our vision and were so supportive of the inaugural Gumtree World RX of South Africa. This weekend was just the start of what I hope is a long and fruitful relationship for World RX in South Africa.  We finish the season on a high and congratulations to Johan Kristoffersson and PSRX Volkswagen Sweden for their incredible season and to the rest of the teams for their continued support."
RX2 – ROUND-UP
Cyril Raymond completed a sensational season in the RX2 International Series presented by Cooper Tires with a hard-fought victory at Killarney International Raceway this weekend (11/12 November), as South Africa played host to a pulsating finale that served up lap after lap of spectacular high-octane action.
He might have been unquestionably the man to beat this year in the official FIA World Rallycross Championship feeder series, but Raymond found himself with a real fight on his hands in Cape Town and had to dig deep to overcome the challenge posed by JC Raceteknik rival Guillaume De Ridder, who dominated Saturday's Qualifying Races.
The Belgian looked to be on-course for a fourth straight runner-up finish, only for engine woes to dash his hopes in the final and elevate his team-mate Sondre Evjen into second place. Tanner Whitten joined the young Norwegian on the podium in third after surviving a wild spin when he was tagged on the opening lap of Q4.
Qualifying Races
Gumtree World RX of South Africa was very much a weekend of two halves as far as the Qualifying Races were concerned, with De Ridder proving to be peerless on Saturday as he impressively took a clean sweep of fastest times – meaning that for the first time since Mettet back in May, a different name topped the RX2 Intermediate Rankings at the close of day one.
After uncharacteristically jumping the start in Q1, Raymond was playing catch-up, but the Olsbergs MSE star really turned up the wick on Sunday and allied to a double dose of misfortune for De Ridder – with contact from behind in Q3 and minor wheel damage in Q4 – his results vaulted the Frenchman to his habitual position at the summit of the standings.
Behind the top two, Evjen produced a consistently strong run – including the second-fastest time in Q4 – to place third, ahead of the ever-improving Vasiliy Gryazin (Latvia), Britain's Dan Rooke and American ace Whitten. Swedes Simon Olofsson and Andreas Bäckman, Norway's Thomas Holmen, Swedish teenager William Nilsson, Anders Michalak (Sweden) and Norwegian Simon Syversen rounded out the semi-final line-up.
Semi-Finals
From pole position in Semi-Final 1, Raymond led into the first corner as a squabble behind gifted him a sizeable margin. It was Rooke that emerged from the mêlée in second, with Olofsson third and Evjen dropping to fourth. The Norwegian subsequently found himself having to fend off fast-starting compatriot Thomas Holmen over the opening lap before electing to take an early joker. It was a tactic that would pay off richly.
As Raymond raced clear to a runaway success, Evjen's eye-catching pace enabled him to leapfrog both Rooke and Olofsson when they jokered, the latter paying the price for getting his car up on two wheels as he pushed hard in an effort to stay in front. The Swede ultimately missed out on the final by less than two seconds, while behind, Holmen and Syversen waged their own entertaining duel over fifth, exchanging places twice on the last lap before the older of the two Norwegians eventually prevailed.
In Semi-Final 2, De Ridder held his ground at the start as Gryazin got the better of Whitten and Michalak for second and Bäckman and Nilsson disputed fifth. Whitten jumped Gryazin after both had served their jokers, following which he unleashed a scintillating turn-of-speed as he endeavoured to hunt down De Ridder, closing to within three-quarters-of-a-second by the time the chequered flag fell. Michalak got the best of a tooth-and-nail scrap with countrymen Nilsson and Bäckman for fourth.
Final
Raymond led away at lights-out, with De Ridder doing well to save a slide through Turn One after receiving a tap. The Belgian had to fight hard to fend off the attacking Whitten, but it all became academic when the red flags flew on lap two after Rooke's world turned upside-down – quite literally. The Briton clipped the tyres at the chicane, pitching him into a dramatic roll from which he thankfully emerged unscathed.
The recently-crowned champion got the jump again at the re-start, as De Ridder slotted in behind and Gryazin took advantage of Whitten and Evjen battling to sneak through to third. As dust clouds billowed all around the circuit, Raymond made good his escape and De Ridder similarly settled into second until he suddenly stopped on the penultimate lap with engine issues.
His loss was Evjen and Whitten's gain. The pair both used early jokers to get some clear air, and that paid dividends as they overhauled Gryazin to snare the remaining rostrum positions. All three podium-finishers stopped after the chequered flag to perform celebratory donuts, to the palpable delight of the enthusiastic crowds thronging the circuit grandstands.
Quote, Unquote
Cyril Raymond (1st): "It's been an amazing weekend to cap an amazing year – there's no better way to end a season than with a victory. It was fantastic to see so many people at Killarney and so much passion and support in the grandstands. It was an absolute pleasure to be here and everybody gave us an incredible welcome. With the title already won, I really wanted to finish the season in style with one last victory – as a competitor, that's always the goal – although things didn't begin too well when I jumped the start in Q1, which was a first for me in this category! After that, I had to battle my way back, but it wasn't easy because Guillaume [De Ridder] was driving perfectly; he has been a formidable rival all year, and if he returns in 2018, he will be a real threat. We were on the back foot at the end of the first day, but we remained confident because we knew we had the pace and we quickly rediscovered our rhythm in Q3. The boys at Olsbergs MSE worked really hard and provided me with the tools I needed to do the job like they have done all year, and my spotter 'Scooter' gave me perfect guidance throughout, so this result is for all of them – we win together. I've thoroughly enjoyed my experience in RX2; there has been a lot of respect between all the drivers all season both on the track and in the paddock, and it's been great to be a part of it. There seems to be a real buzz around the championship and even more interest for next year, so I can't wait to see how it develops."
Sondre Evjen (2nd): "It's been a fantastic experience to come and race in South Africa – a real highlight for me – and it feels great to finally finish on the podium in RX2! It's been a long time coming and it's the kind of result we've been chasing all year, so this is the perfect way to end the season. We've been quick at most circuits and made the semi-final five times before now but only once converted that into a final appearance, so I'm really happy that we were at last able to prove what we are capable of, as we showed with the second-fastest time after getting a clear run in Q4. We really had to fight for this result, and I must admit, I wasn't sorry to see the final red-flagged as I lost a lot of time when Dan [Rooke] rolled and thought any chance of the podium was gone. I'm also obviously very relieved he is ok. All credit to the team for giving me a great car all weekend – this podium is for them, my family and my sponsors, and it leaves us with a lot of motivation heading into 2018."
Tanner Whitten (3rd): "The weekend started out pretty well, and from there, we worked our way consistently up the timesheets. We set the car up to come on later in the semi-final, and I think that showed as we were particularly strong in the latter stages. That put us in a good position going into the final and I actually thought we had an opportunity to take second until the red flags came out, but ultimately, to finish on the podium is always a great result. I take my hat off to the organisers in Cape Town – they did a fantastic job to build a track that played to the strengths of a variety of different driving styles – and the fans gave us a phenomenal welcome. It was incredible to see so many people in the grandstands and at the autograph sessions – there was a huge turnout for the first edition, and I'm looking forward to seeing how the event grows. Overall for me, it's been a bit of a rollercoaster year, but to come away with four podiums is very positive and I'm looking forward now to taking this momentum into the off-season and hopefully 2018."
Andreas Eriksson, RX2 International Series presented by Cooper Tires CEO: "We promised the South African people excitement and drama, and I think it's safe to say our RX2 stars delivered every step of the way! Congratulations to Cyril, who produced a champion's drive even when he no longer had anything to prove. He is a class act and wherever he competes next year – be it RX2 or elsewhere – we wish him the very best. I was delighted, too, to see Sondre up on the podium, which was thoroughly well-deserved after a superb performance. It was a shame that his team-mate Guillame was forced out through no fault of his own, but he clearly demonstrated on Saturday that his time will come. Likewise for Tanner – both are part of the new generation of young rallycross talents looking to follow in Cyril's footsteps. Finally, what a wonderful place to conclude the season – South Africa has truly embraced our sport and gave us the very warmest of welcomes. We look forward to returning next year, as both the event and RX2 go from strength-to-strength."
Final Result
Cyril RAYMOND (FRA) Olsbergs MSE 6 laps
Sondre EVJEN (NOR) JC Raceteknik +5.668s
Tanner WHITTEN (USA) Olsbergs MSE +6.198s
Vasiliy GRYAZIN (LVA) Sports Racing Technologies +7.374s
Guillaume DE RIDDER (BEL) JC Raceteknik +2 laps
Dan ROOKE (GBR) Team Färén +6 laps
Final Championship Standings – RX2
Cyril Raymond (FRA) 198 points
Dan Rooke (GBR) 154 points
Guillaume De Ridder (BEL) 138 points
Tanner Whitten (USA) 105 points
William Nilsson (SWE) 98 points
Simon Olofsson (SWE) 98 points
Vasiliy Gryazin (LVA) 94 points
Sondre Evjen (NOR) 93 points
Glenn Haug (NOR) 76 points
Andreas Bäckman (SWE) 69 points
Penalties
World RX
Niclas Gronholm #68, loss of 10 Championship points for use of a seventh turbocharger in the season.
Mattias Ekstrom #1, five-second penalty in Q2 for causing an incident with car #44, pushing and overtaking.
Janis Baumanis #6, reprimand in Q2 for pushing.
Ken Block #43, disqualified from semi-final two after car was found to be underweight.
Mattias Ekstrom #1, relegated from second to third place in semi-final one for not respecting the priority of the driver on the standard lap at the Joker merge.
Timo Schedier #44, reprimand in semi final two for pushing.
RX2
William Nilsson #6, five-second penalty in Q3 for causing an incident with car #96.
WRX – TOP 20 FINAL STANDINGS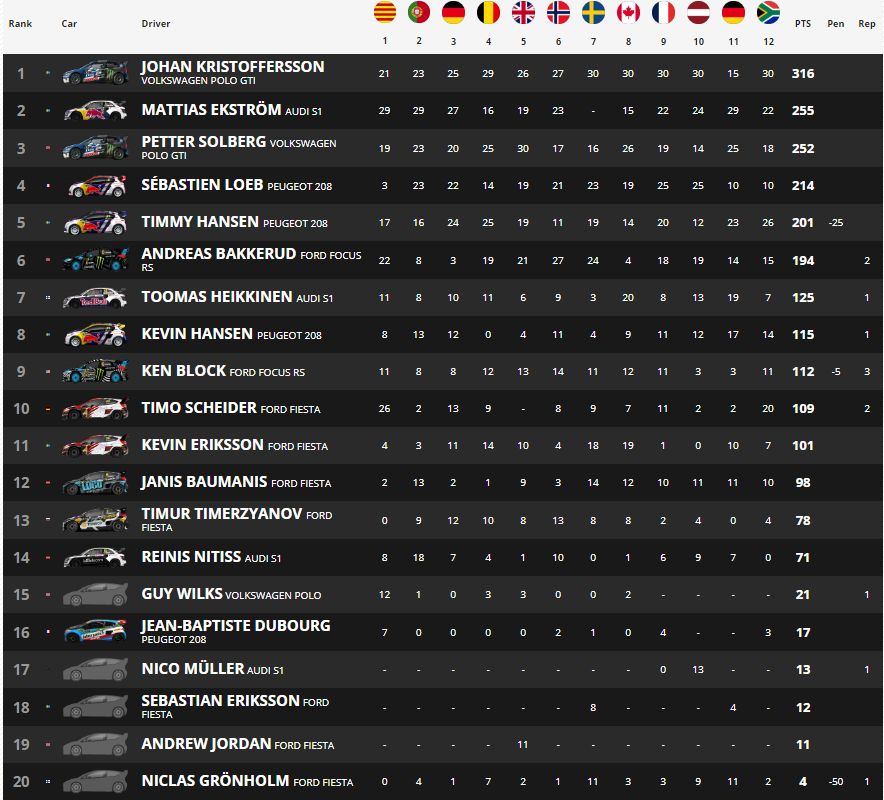 Neil Simmons
Twitter: @world_racing