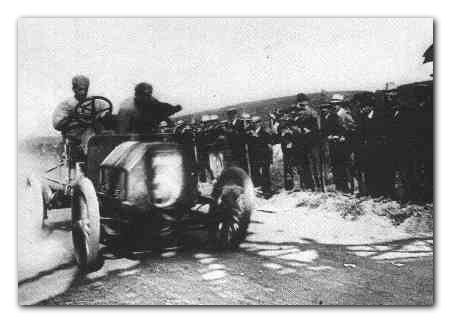 Cagno Wins The 1906 Targa Florio – (c) Pathe News
In my second Throwback Thursday feature article I look at the next race in the 1906 Grand Prix Season, the Targa Florio.
The Targa Florio was one of the very first and most challenging races. It was in 1906 when the inaugural race took place.
This race was the brainchild of a wealthy Italian businessman, Vincenzo Florio. He had made a vast fortune in Sicily and he was obsessed with cars. He initially approached a journalist in 1905 in a view to running the race but it wasn't until 6th May, 1906 when the first ever Targa Florio would take place.
It would be a three laps of a 92.4 mile circuit in Sicily, near Palermo. Each lap would be treacherous as the roads were not designed for cars. Drivers would encounter wild animals during the race and were also at the risk of being held up by bandits in the Madonie Mountains. Most of the route was made up of mule tracks and paths.
One of the main rules was that the entries had to be production cars, of which at that time only ten had been made. One of the entrants, Vincenzo Lancia, organised the betting which in those days was very common at motorsport events. Thirty cars had initially entered the race but due to a dock strike in Genoa travel plans were hampered and only ten drivers made it to the start line.
There were ten minute intervals between cars, Lancia was the first away in his Fiat but he retired due to mechanical failure. The next driver away was Jacques Le Blon driving a Hotchkiss, accompanied by his wife and mechanic Madame Le Blon. They would be the last of the six finishers to cross the line due to a number of punctures suffered over the course.
Maurice Fournier and his brother Achille entered two cars, both Clement-Bayard's but they would not see the end of the race due to failures, as too would the British entry George Pope driving an Itala.
The other five cars to finish ahead of Le Blon were made up of two Italians, two Frenchmen and a Belgian. Alessandro Cagno, an employee of Itala brought the car home in just over nine and half hours, averaging a speed of 29mph. He was followed by another Italian driving an Itala, Ettore Grazione. Paul Bablot driving a Berliet finished third and his fellow Frenchman Victor Rigal in an Itala was fourth. Finishing ahead of the Le Blon's in fifth place was the Belgian driver Pierre de Caters.
So much of a success was the Targa Florio that it is still run today, though not in a competitive form.
The next race in the 1906 Grand Prix season would be the Circuit de Ardennes in Belgium and from this race only Paul Bablot would enter.
Neil Simmons
Twitter: @world_racing