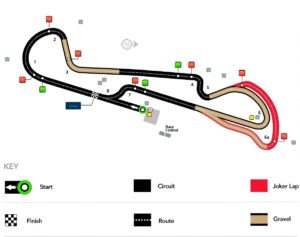 World Rallycross packs up its circus and travels to South Africa for the first time since its inception and the last round of the season.
Sweden's Johan Kristoffersson may have secured the WRX title (as predicted by yours truly at the beginning of the season) but there is still second place up for grabs with former champions Mattias Ekstrom and Petter Solberg separated by just the one point.
Joining the permanent rallycross drivers will be two South African drivers, set to compete in their home RX. Mark Cronje will take the drive for Albatec Racing in the Peugeot 208 with Ashley Haigh-Smith competing an Olsbergs MSE Ford Fiesta. They will be joined on the grid by other wildcards Oliver Eriksson from Sweden who will drive in a second Olsbergs and Belgian Gregoire Demoustier who will race the Peugeot 208 for DA Racing alongside Jean-Baptiste Dubourg.
The only driver on the grid who has fully experienced the Killarney International Raceway is Rene Muennich who drove at the event launch.
The Killarney International Raceway is 1.07km circuit with eight turns. It is 60% asphalt and 40% gravel. The joker comes after turn 5, a sweeping 'parabolica' style extra which curves round the outside of turn 6 and has its own right-hander (tagged Turn 6a) which flashes out onto the straight as the cars speed down towards turn 7 into a kinked turn 8 towards the start/finish straight.
The circuit itself has Table Mountain visible in the distance. It was upgraded at the end of the 1950s in line with FIA standard regulations and in 1960 hosted its first international Formula 1 race, be it that it was a non-championship affair. This race was won by Stirling Moss in a Porsche, winning a very closely contested drive by just two tenths from his fellow Porsche driver Jo Bonnier. Wolfgang von Trips completed the podium in his Team Lotus-Climax.
Although this is the first visit of WRX, Killarney also hosts other series such as single-seaters, GT's, motocross, karting, super motards, stock cars and drag racing.
The rallycross track itself looks fast and sweeping and is certain to host some closely contested racing.
With the recent news that Ford will not be developing a new Focus for WRX which in turn lead to the announcement by Hoonigan Racing Division that they will not be competing next season, this last season RX event could be the opportunity for new teams and/or new drivers to put their name in the market place for what is the most dynamic four-wheeled racing series on the planet.
Double WRX champion Petter Solberg had this to say about the event:
"I expect South Africa to become a fantastic event. What more would motorsport loving crowds want than a full World RX display of the roughest and fastest cars on the planet racing each other? I will for sure be there fighting for the season finale win!"
Neil Simmons
Twitter: @world_racing