The Asian leg of Ferrari's and Sebastian Vettel's title bid has seen their title challenge hit the buffers somewhat.
After a double-DNF in Singapore when Vettel and teammate Kimi Raikkonen sandwiched the Red Bull of Max Verstappen at the start, Raikkonen failed to make the grid at the Malaysian Grand Prix.
Vettel started last after engine problems in qualifying there and his pace through the race as he rose to fourth suggested all was not lost, despite a 34-
point gap to Lewis Hamilton going into the Japanese Grand Prix.
At Suzuka, a promising start to the weekend once again unravelled. Vettel's spark plug issues pre-race were solved for all of half a lap before they returned, and neither an out-of-position Raikkonen nor a hard-charging Verstappen could prevent Hamilton's third win in four races.
Vettel is now 59 points behind Hamilton with just four races, and 100 points, left this season.
This was the season that was meant to finally return silverware to Maranello after nine years without any kind of end-of-season honours for Ferrari.
While the car has shown ultimate pace, particularly around more technical circuits, Mercedes' knowhow and coolness appears to have seen off the challenge from Italy.
Vettel needs to put together a run not seen since his record-breaking nine-race winning streak in 2013 to have even half a chance of matching Juan Manuel Fangio's total of five World Championships this season.
Vettel may look to lost points in the British Grand Prix, where from third he lost four places and nine points due to a puncture, or strategy calls in China and Spain that didn't quite come off.
Quite simply, Mercedes have succeeded where on Hamilton's car they failed last year, with robotic consistency and bulletproof reliability.
Having a co-operative teammate this time around has certainly helped too.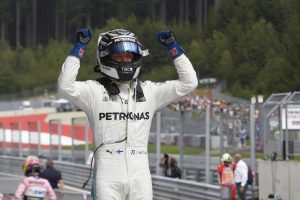 Where in 2016 Champion Nico Rosberg there was eventually a man willing to fight his own corner and scrap for every point over his teammate, Valtteri Bottas has certainly followed the rules.
It is that teamwork that has subtly won Hamilton points over the course of this season.
So, there we have it.
It might not be the last-race decider that everyone had predicted, and hoped for, but it has twisted, turned, thrilled and occasionally spilled.
While Mercedes have once again got it right, it is far from the end of the story for Ferrari.
Add Red Bull's improved form to the mix and 2018 could be something special.