Mark Webber made his debut at his home Grand Prix in 2002, driving for the now-defunct Minardi team. When the-then 26-year-old made his debut, no-one could've expected points but no-one would've thought that the unassuming Aussie would go on to be such a role-model and ambassador for F1. In this feature, I look back on Mark Webber's stint at Red Bull – a car he became synonymous with from 2007 right up to his retirement in 2013.
Webber made a bold decision to join Red Bull in 2007. The team at the time had only one podium, which was a lucky one at that – at the 2006 Monaco GP, following the retirement of Jarno Trulli's Toyota just a few laps from the end. Webber himself was also unproven, with just one podium to his name, at the same Grand Prix the year before.
The start to his Red Bull life was nothing spectacular. It took him until the United States Grand Prix to score points – the 7th race of the year. The next time he would score points would be at the European Grand Prix, hosted at the Nurburgring – which turned into be an iconic and memorable circuit for the effervescent Australian.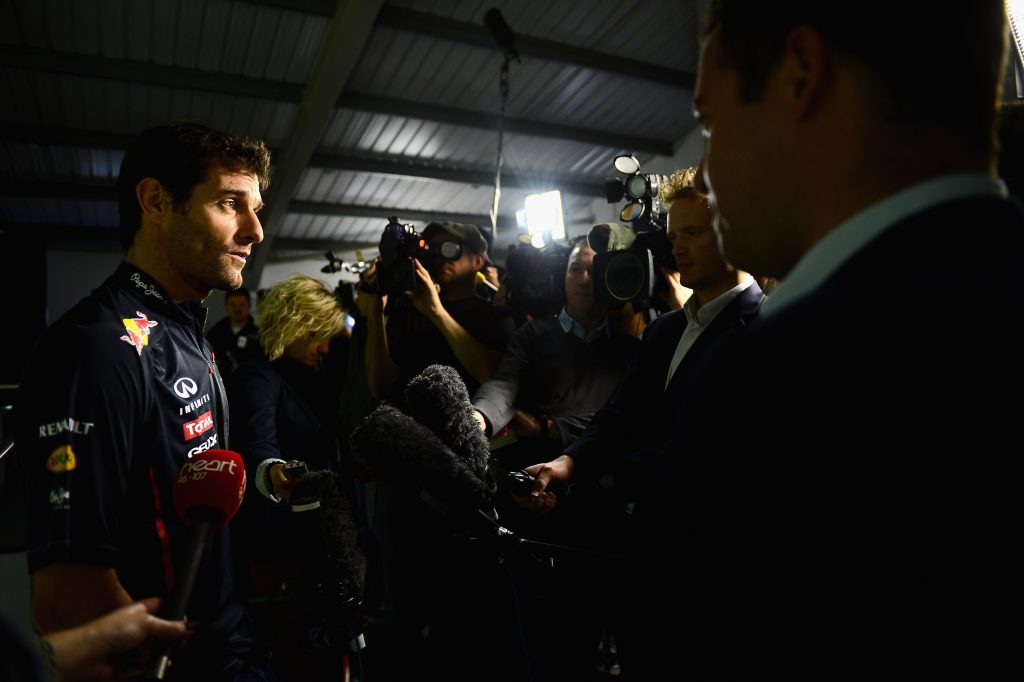 The race will be one that many of us remember for different reasons. For me, it was because, as an 8-year-old boy, I was listening to Murray Walker commentate for the first time in my life, on the radio in the UK. There was carnage at turn one, with a quarter of the field sliding off in the monsoon-like conditions – Webber was NOT one of them. Mark went on to finish a whole minute behind the winner but it was enough to secure him his first podium for Red Bull. There would be just one more points-finish in 2007, at the Belgian GP where he was 7th.
For 2008, he remained with Red Bull and finished eight races but this time, without a podium finish. His best result was 4th at the Monaco GP – a circuit that was quickly becoming one of his favourites. Just three retirements in the 2008 season also suggested that whilst Mark as a driver was becoming a more complete competitor, Red Bull as a team were making big steps forwards.
2009 beckoned and for once, the grid had been well and truly shaken up. McLaren-Mercedes and Ferrari were both struggling, whilst the likes of Brawn and Red Bull took over as the top-two teams. Webber was undoubtedly outshone by his young teammate and Red Bull new-kid, Sabastian Vettel. Webebr's first podium of the season came in China with 2nd – his best result ever at the time. This was followed by Spanish Grand Prix success and third place, two races later. From the Turkish GP to the Hungarian GP, Webber took four podiums – including his first ever victory, at the Nurburgring in Germany.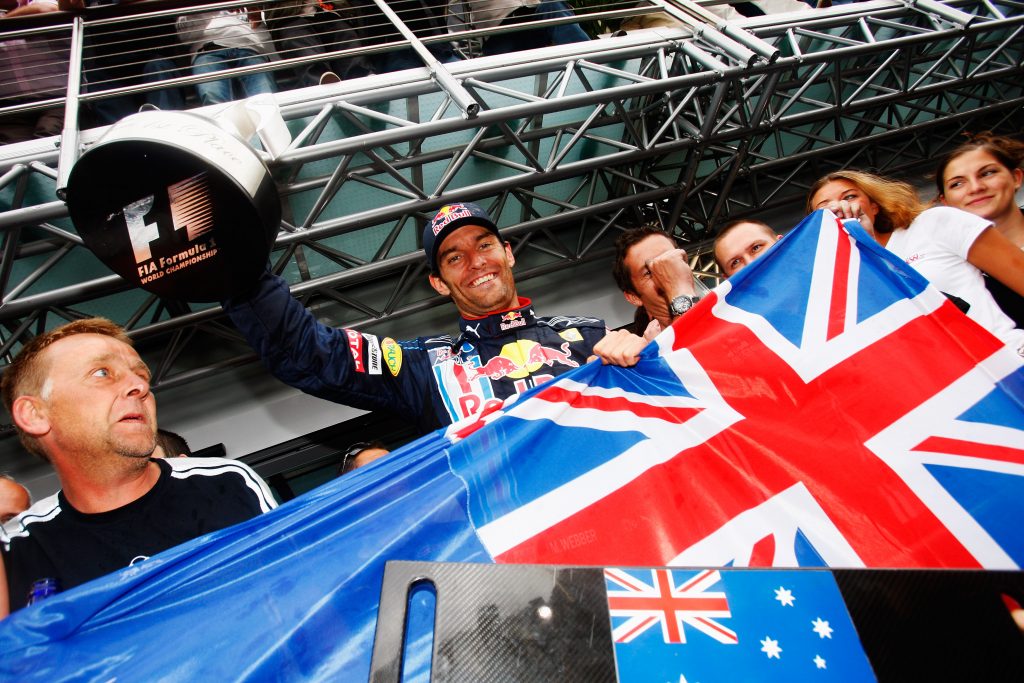 Years of doubt had plagued Webber. Journalists and TV pundits doubting him throughout his career.At the time, Australia was also coming good in other Motorsport areas. Casey Stoner was a regular race-winner in MotoGP whilst Troy Bayliss had become World Superbike champion for a third time in 2008. Josh Brookes was a revelation in British Superbikes and Cameron Donald was continuing to take the road racing scene and the Isle of Man TT by storm. Mark Webber had completed the set of Australia's Motorsport achievements towards the end of the naughties. He became the first Australian to win a race in F1 since Alan Jones at the Caesar Palace Grand Prix, way back in 1981. The drought of Australian F1 success was over and Webber was now on his way. After the Hungarian GP of that year however, it all went wrong. Just two more podiums came his way, with a win in Brazil and 2nd in the Abu Dhabi GP placing him 4th overall in the standings – his highest at the time. However, in the words of the man himself, "It was nothing to what 2010 had in store".
He was quite right too. 2010 was another stellar season. Wins came at the Spanish GP and Monaco GP before a controversial clash with teammate Sebastian Vettel in Turkey occurred. Brits adored him as one of their own and when he won at Silverstone, it was met with great delight. Once more, a win in Hungary proved that he had talent in a Formula 1 car and that he could be a regular threat.
Despite being his most successful season in F1, Mark would have to wait until the final race of the year to become a winner in 2011 – the Brazilian Grand Prix. He finished every race in the points with the exception of the Italian Grand Prix. A damaged front wing tucked under the car at the Parabolica, recording his and the team's first retirement of the year. Webber finished 3rd in the championship on 258 points.
2012 was disappointing. His first win came in Monaco and his next at Silverstone. However, that was to be his last win in F1. Webber had a poor mid-season and by the time the championship had concluded in Brazil, he was 6th in the championship – his worst championship position since 2008. However, the gritty Wonder from Down Under wasn't finished.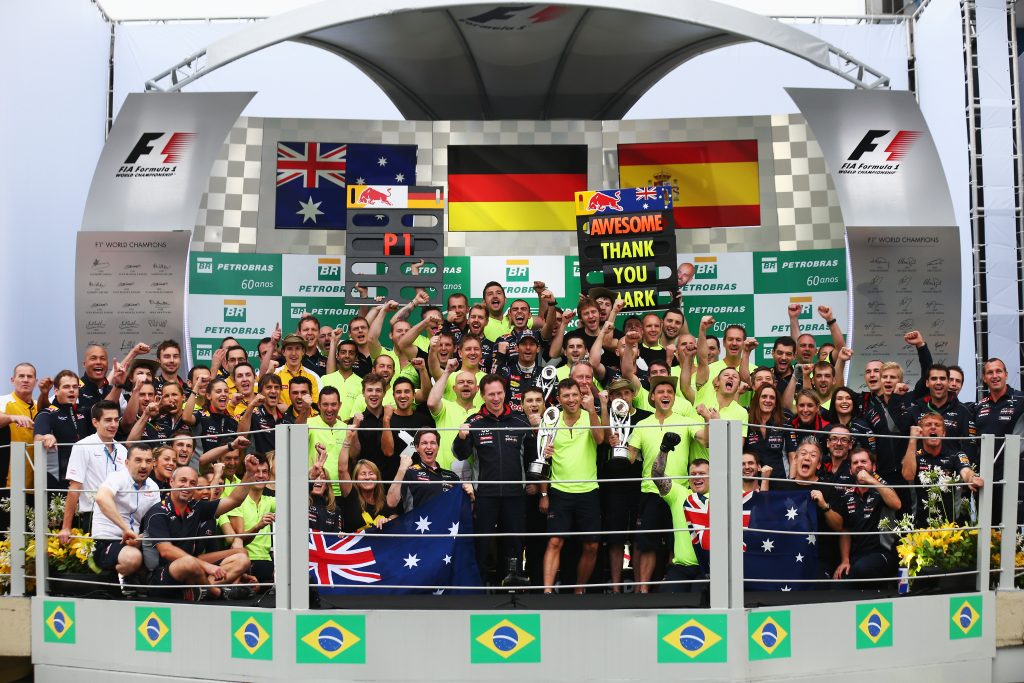 2013 would prove to be Webber's last in Formula 1. However, it wasn't a boring bow-out. He came to blows with teammate Vettel in the Malaysian Grand Prix, after the German ignored team orders and took the win away from Webber. In June, Mark Webber made the announcement that no-one wanted him to ever make. The humble Australian, who had gone from inconsistent driver to accomplished race winner in just a couple of seasons, was to leave the sport at the end of the season to pursue a new career in the World Endurance Series.
Webber finished his Formula One career with nine wins, forty-two podiums, thirteen pole positions and nineteen fastest laps from 215 race starts. An icon for Australians and an inspiration to any young driver. Webber's defiance to continue in his early years despite mediocre results earned him a reputation as being one of the most determined and most calculated drivers in the modern era of F1. Whilst the world and F1 paddock has gone PC and Red Tape mad, Webber pushed the boundaries and that is what gave him so many fans worldwide. F1 misses Webber but he will be remembered for his success at Red Bull. A fixture and fitting of the team and by no-means forgotten about.
Webber continues with media duties for Channel 4, with their F1 coverage and also interviews the drivers on the podium after the racing.