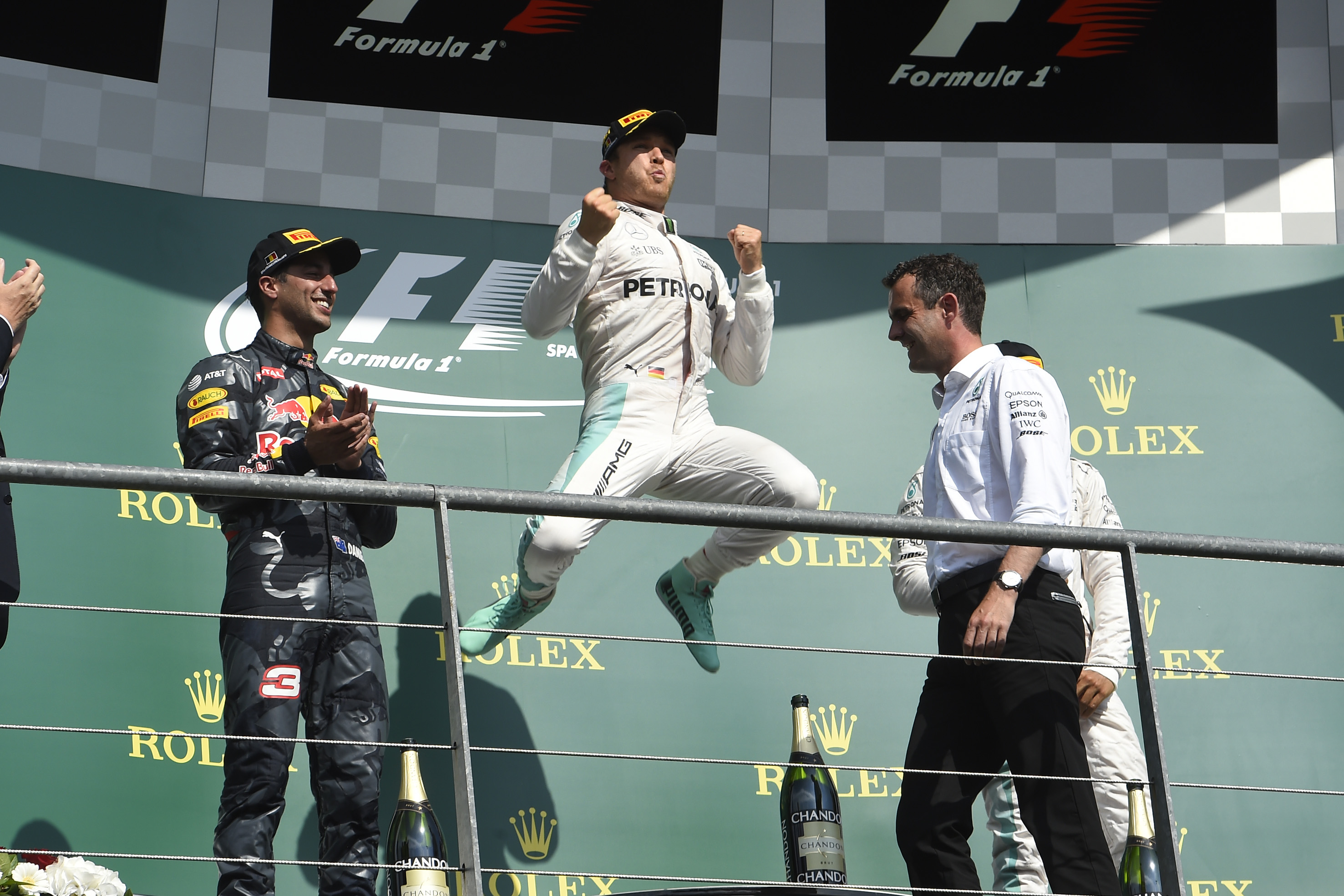 After a short break for the drivers and long for the fans, Formula One is back at our lives. The action returns to one of the most thrilling circuits on the calendar, at Spa in Belgium. Everyone is looking forward to watch a battle between Sebastian Vettel and Lewis Hamilton for the drivers' championship.
Ferrari is willing to keep their driver line-up same for the next year, they started with Raikkonen's contract. The Finn, extended his contract for one more season and he will remain with Scuderia Ferrari until 2018. Next on the schedule is Sebastian Vettel.
Mercedes will try to respond to Ferrari's 1-2 in Hungary. The Silver Arrows, are aiming to gain points in order to extend their lead in the constructors' championship which is currently at 40 points. Lewis Hamilton, has to win at least one of the two upcoming races (Spa, Monza) in order to stay close or even pass Sebastian Vettel. Valtteri Bottas looks confident and able to challenge the two contenders and win his first title in his Formula One career.
Toto Wolff – "The summer shutdown came at the perfect time for us to make a step back and take stock of our season so far. It has been a good one – and has shown a lot of the qualities of our team. On paper, people will assume that Spa should suit our car because it is a circuit where aerodynamic efficiency is extremely important. But assumptions are dangerous – we have seen too many times already this season that the form book can be rewritten from one weekend to the next. So we will be making no assumptions; we have to tick off the items on our work list and make sure we do the best job to maximise our potential points score. The motivation and determination in the factory are greater than ever. Hungary showed the strength of our team – and we intend to use the second half of this season to prove that strength."
CIRCUIT DE SPA-FRANCORCHAMPS
Laps: 44
Circuit Length: 7.004 km
Race Length: 308.052 km
Lap Record: 1:47.263 (Sebastian Vettel – 2009)
Tyre sets available: Soft (Yellow), Supersoft (Red), Ultrasoft (Purple)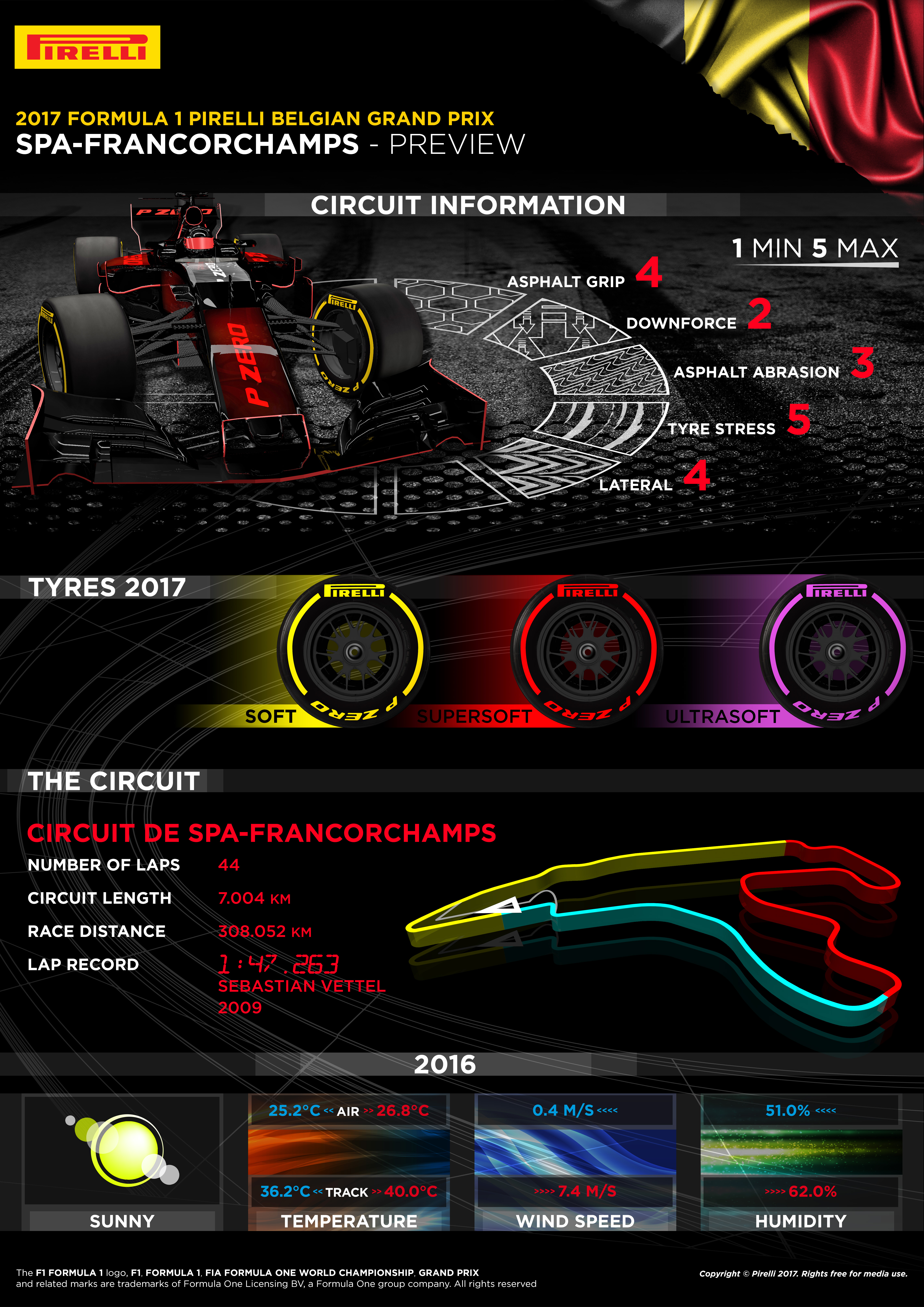 Spa-Francorchamps is one of the most historic circuits on the Formula One calendar, hosted a non-championship race in 1924. Spa it is also one of the longest circuits (7.004 km), it combines a mix of long straight and fast corners which makes it an attractive and challenging track for the drivers. The most famous corner is known as "Eau Rouge" and it is one of the most technically demanding corners, because of the evaluation change and the high speed.
Fernando Alonso – "I love the first race after the summer break! It's a great feeling to come back feeling rested, relaxed and recharged, and ready to go again for the second half of the season. I've enjoyed time away with family and friends, worked hard on my training and now I'm really looking forward to getting back in the car. Spa is incredible – for many of us it's one of our favourite tracks. It's got a legendary reputation and it's totally deserved. The feeling when you drive Eau Rouge is completely different to any other corner on the calendar. You're so low in the car and the gradient is so steep that as you go up it you can only see the sky – it's completely surreal. As the season goes on we're getting stronger and stronger, and I hope the second half of the year will bring us some more points-earning finishes. This race is a difficult challenge for the whole team – the engineers and the mechanics – as you're on the throttle for almost three-quarters of the lap, which makes it's a tough circuit for both the car and the driver. We know we'll have to work hard to get any kind of result there, but it's a long lap and there are plenty of overtaking opportunities, so we'll keep pushing to get everything we can from the weekend."
McLaren will try to repeat their success and score more points in Belgium, Fernando Alonso and Stoffel Vandoorne finished sixth and tenth respectively in Hungary.
I am expecting a close battle between Ferrari and Mercedes, but the Silver Arrows might have a small advantage at the Spa.
Don't miss our live race coverage on Sunday!
Twitter- @FP_Passion