For Mercedes, the hybrid era beginning in 2014 had meant unbridled success and Formula One domination which for three years had seen just eight non-Mercedes victories to the end of 2016.
For 2017, the aerodynamic regulations changed plenty about F1. The cars were lower, faster, wider. And Mercedes were no longer having it all their own way.
They've more than played their part in a season-long two-team battle with Ferrari that arguably rivals the McLaren-Ferrari duels of 1998-2000 and 2007-08.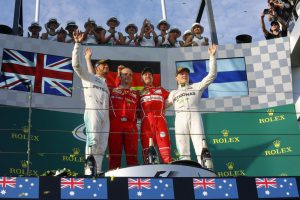 They were served notice at the Australian Grand Prix when Lewis Hamilton was edged out by Sebastian Vettel's Ferrari despite the Silver Arrows claiming a familiar pole position. New recruit Valtteri Bottas was a close third.
Hamilton's victory in China confirmed what the watching motorsport world hoped they knew: That 2017 was going to be a grand battle between two of Formula One's living greats. Vettel was second while Bottas managed sixth after a chaotic race.
It was a second 2-3 in three races as Hamilton headed Bottas in Bahrain, while in Sochi Bottas took his first Grand Prix win as Hamilton toiled with handling issues all weekend.
Hamilton restored order at Mercedes to win well in Spain ahead of Vettel after earlier falling behind the German as Bottas first collided with Raikkonen and Verstappen before retiring with an engine failure.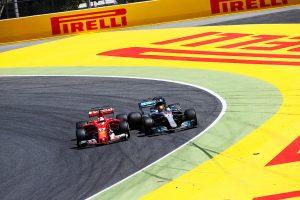 Vettel's consistency was a thorn in the Mercedes side, and at the Monaco Grand Prix he stretched his lead over Hamilton to 25 points. Bad luck in qualifying left Hamilton starting 13th and he did well to recover to seventh, while Bottas could manage only fourth behind the Ferraris and Red Bull's Daniel Ricciardo.
The Canadian Grand Prix was a throwback to the good old days of 2014-16. Lewis Hamilton swept all before him to handsomely head teammate Valtteri Bottas, who in turn was well clear of Ricciardo's Red Bull.
Bottas drover arguably his greatest race at the Azerbaijan Grand Prix, but his drive to second having been a lap down was overshadowed by a controversial incident involving Hamilton and Vettel. Infuriated at what he perceived to be brake-testing, Vettel rammed Hamilton under the Safety Car.
Vettel would finish fourth after a stop-go penalty, which would have seemed severe had Hamilton not had to pit to replace a loose headrest. He would finish fifth.
Bottas took his second career win at the Austrian Grand Prix, holding off Vettel by the slimmest of margins in an impressive rearguard action while Hamilton recovered from eighth on the grid following a gearbox penalty to finish fourth.
At the British Grand Prix, everything went right for Hamilton as it so often does. He took his fourth straight win at Silverstone to head the charging Bottas, who went from ninth to second. HE was helped by both Ferraris suffering tyre failures, with Raikkonen third and Vettel only seventh.
Ferrari were back on song at the Hungarian Grand Prix just before the summer break and secured a 1-2 finish, while Bottas and Hamilton were third and fourth. Bottas had allowed Hamilton through to attack the Ferraris on the condition that should he not pass them, the Finn regained third. Hamilton honoured this agreement at the very end.
Three-time World Champion Hamilton has not bowled the calm Bottas as many had predicted at the start of the season. Bottas has outraced Hamilton five times from eleven starts and sits just 19 points behind the Brit and 33 behind Championship leader Vettel.
Unlike Ferrari, Mercedes have both drivers in title contention at the halfway stage of the season. They might have a difficult decision in the coming weeks.