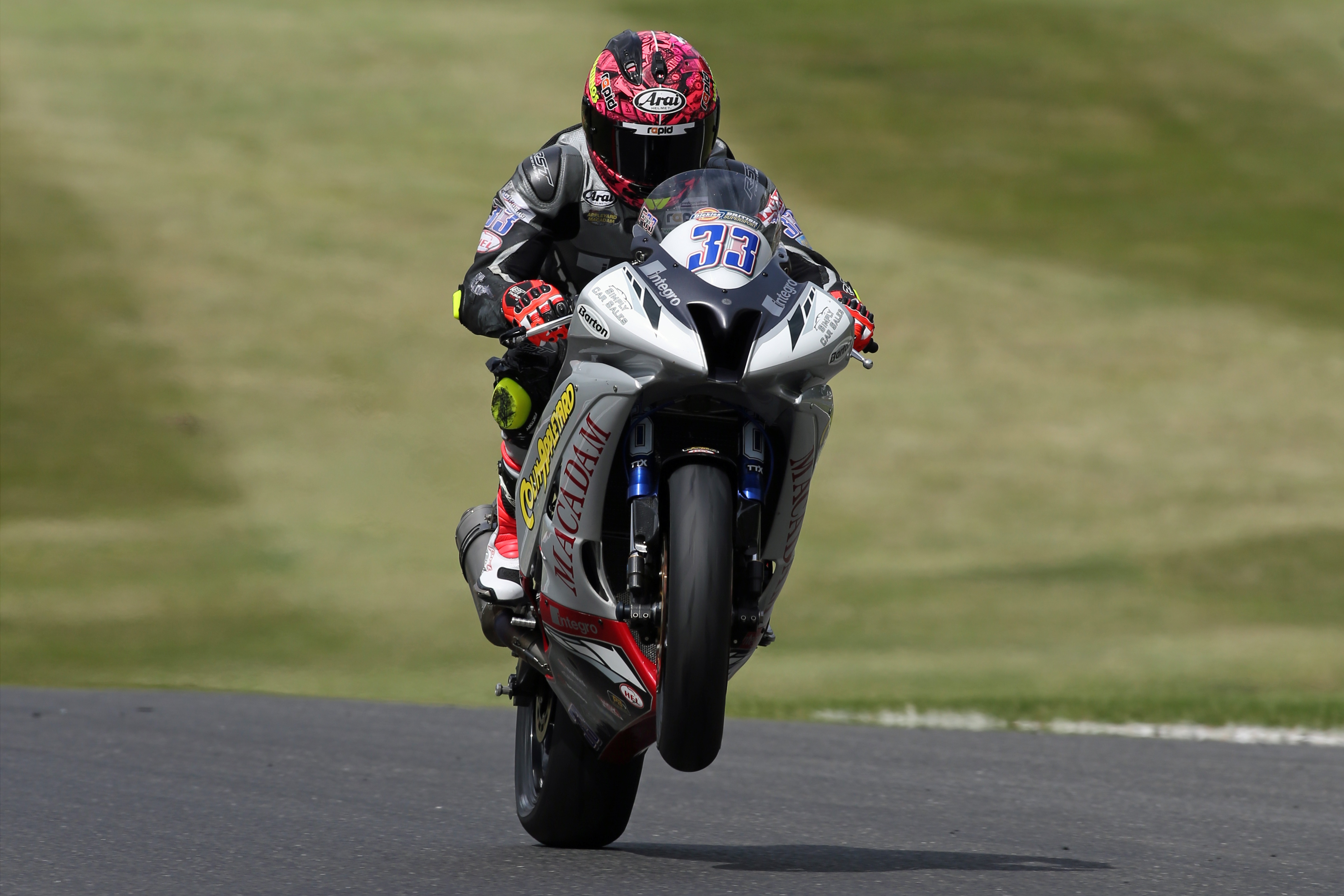 Keith Farmer spoke to me about all kinds of bike related things at Snetterton a few weeks back. In this exclusive interview, Farmer evaluates his sensational Supersport season, his rivals chances, the difference between a Supersport bike and Superstock 1000 bike and also, why he believes the Spirit Moto2 bikes shouldn't be in the Supersport class.
You started the season with no ride and now you're leading the championship. Long way round for you?
Yes, It's strange really. Luke Jones, the team's main rider, got injured and they needed a replacement because they didn't know how long he would be out for. They supported me and took me on board which was really nice for me and I really appreciate the team putting faith in me. To have nothing and now to be leading the championship is something a bit special.
What is the main difference between a Supersport bike and Superstock 1000 bike?
I've had to adapt my style quite a bit really. Had I been on a BMW or a Kawasaki then it might have been a little bit more difficult but because the Honda Superstock bike from last year required lots of corner speed, the change hasn't been so bad. It's been a bit of a shock to the system, with the Supersport. It turns so tight and the corner speed on a 600cc bike is out of this world compared to the bigger bikes. It took a while to adapt but now that we are in for the rest of the season and have adapted, we are looking good, especially now we have won a few races!
Does the Supersport bike suit your style more?
Yes, a little bit I think. Over the years, I have just matured and learnt how to ride a circuit bike in general. That has helped massively but on a whole, the Supersport bike suits my style and that is really working well for this year.
Do you feel that you haven't had a proper crack at the whip on a Superbike?
Yes, a little bit. When I went to the Superbike class, it was only my 3rd year riding on the short circuits. To jump on a Superbike is pressurising enough but to jump in the Paul Bird Motorsport Team too with Shane Byrne – who was winning races week in, week out – was mad. I put more pressure on myself than anything else. It was probably as much my fault than anyone else's for not having worked out the Superbike class. It would've been nice to have what Glenn Irwin had really. No expectations in the first year, just learn the bike and the team before having a proper bash in the 2nd year.
Do you think this Supersport championship needs more manufacturers, with one bike being mainly Yamaha?
Yes in a way. You have the Gearlink boys in there and the MV Agusta of Jack Kennedy but it would be nice to see Honda in there but I think in all honesty, I don't know what is best for this class. They're phasing Moto2s in and maybe there will be some development there. If they brought more manufacturers and allowed more work to be done with them, so then they could level with all the Yamahas and Kawasakis, it would be good.
Will Supersport become more Moto2?
I'm not sure really, I suppose it all comes down to cost. To go to Moto2, a prototype, it's a lot of work. Everyone says the Supersport class is dying out but I'm not sure it is because the first race at Snetterton was quicker than last year's. If we can have some tough battles and keep getting faster, then hopefully we can show that the Supersport is not a dying class.
I'd support the introduction of the class but at the same time, because the Moto2s are in with Supersport currently, for Seeley to interfere with other riders and maybe destroy someone else's race, it's a bit unfair. I'm a friend of Alastair's too and it is a very tough decision for Stuart Higgs to make. It is understandable why it is the way it is but my thoughts are that the Moto2 bike should be at the back of the Superbike grid. They shouldn't ride if they can't score points.
Do you think BSB needs to go to more of the older circuits? A return to Mallory Park maybe? 
I understand why they go to Oulton Park and Brands Hatch, because they are MSV owned circuits. However, it would be nice to get to Bishopscourt in Northern Ireland or Croft too. It would be nice to see more variation. What I don't agree with is going to circuits that are 46 second laps or around that time. Not so much Knockhill because it is there for the Scottish fans, but Brands Indy is way too short. It is a great track for spectators but from a rider's point of view, it doesn't get many positive comments. I'd support going to Snetterton twice instead of Brands Indy. The facilities at all MSV tracks are second to none and everyone else would agree.
Your plans for 2018?
There's been a few conversations here and there but nothing as yet. I would love to get back on a Superbike. Ideally, Supersport wasn't my plan but whatever I've thrown my leg over lately, I've been competitive with. The Superbike would be nice but if not, then the Superstock 1000. I'm not sure what bike would be my preference, it is hard to say. I don't see many getting on with the BMW – maybe it is a bit past itself chassis wise. When they have this new Suzuki sorted out, it will be bike to be on.
Can you win the championship this year?
Yes, without a doubt. I think we have a strong package and good chance. The team has been working so hard behind closed doors and as long as we all put 100% effort in then we can have some great success. I think David Allingham will be there, as well as Jack Kennedy, Andy Irwin and Joe Francis. They will all be there at different rounds, so our job is to put it on the box at every round. I think Tarran Mackenzie would struggle to beat us now. It would be great to see him back though! It is incredible to see what he is doing over there in Moto2.
Photo courtesy of Gareth Davies, of Full Factory Photography.