The Formula 2 race weekend at the Hungaroring in Budapest couldn't have started better for championship leader Charles Leclerc. On Friday he took his seventh consecutive pole of the season, beating Stoffel Vandoorne's previous record, and securing himself four additional points. However, by Saturday morning that pole position had gone to second placed Oliver Rowland of DAMS, along with those four points, and Leclerc was sent to the back of the grid after a technical infringement which disqualified him from the session. It was also a season's best qualifying for fellow championship contender, Russian Time's Artem Markelov, who started next to his nearest rival Rowland in second place.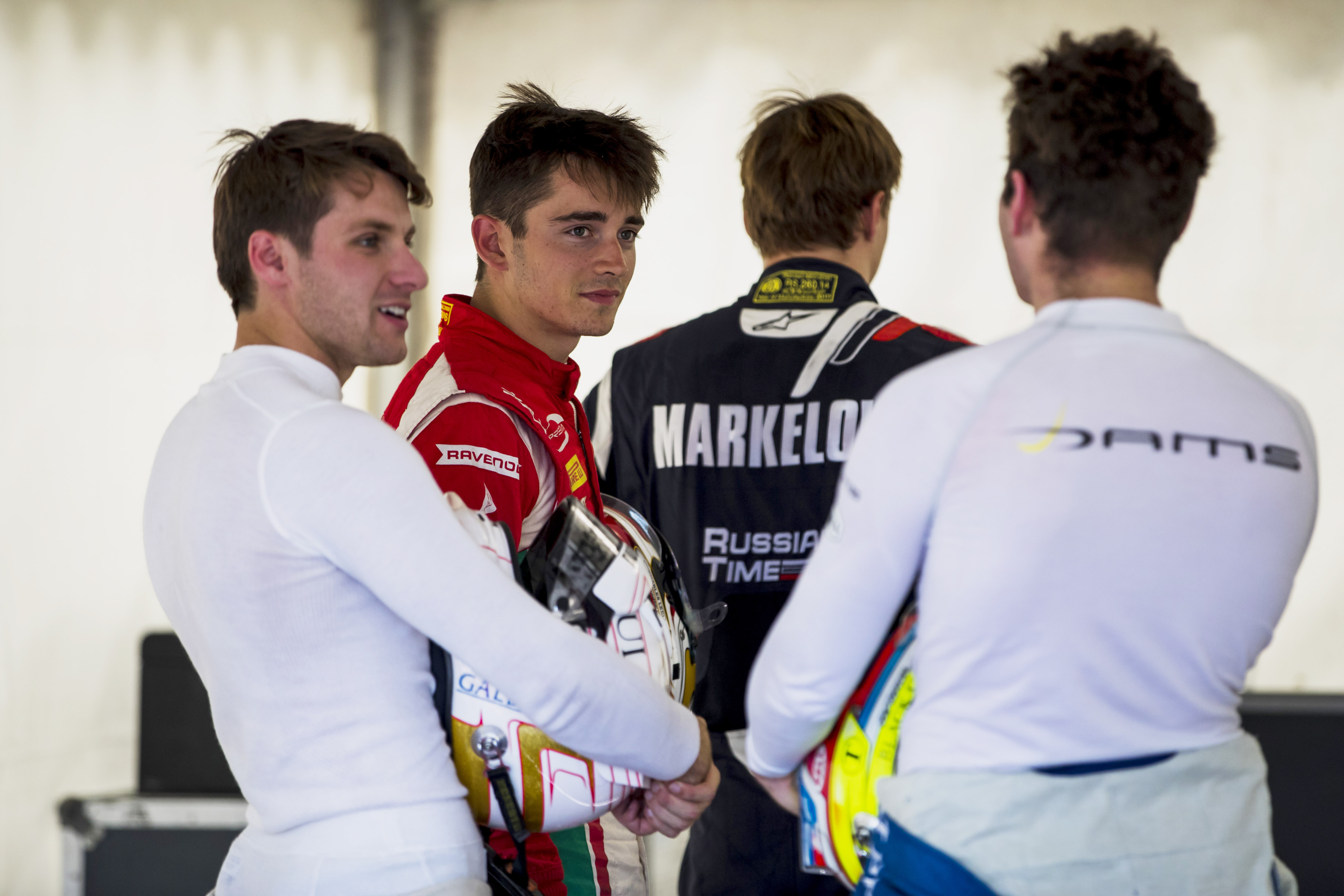 After an aborted start and an extra formation lap, it was a searing start for Markelov in Saturday's feature race. He snatched the lead away from Rowland almost immediately, despite ferocious attempts at regaining the place from the Yorkshireman. Rowland's teammate, the very much on form Nicholas Latifi also got a great start, moving up two places by the end of the first lap. But it was the championship leader Leclerc who gained the most ground, a rocketing start and some impressive moves round the first few corners meant he was up to eleventh with barely a minute of the race gone.
While most of the drivers started on the traditionally faster soft tyre, Leclerc, ART's Alexander Albon and a few of the other drivers who had started further down the order were attempting an alternate strategy; trying for a long first stint on the medium tyres with a view to come charging back through the field on fresher, faster tyres at the end of the race. However, the new surface laid at the Hungaroring meant teams were somewhat in the dark about how long each compound would last, and whether the alternate strategy would work at all.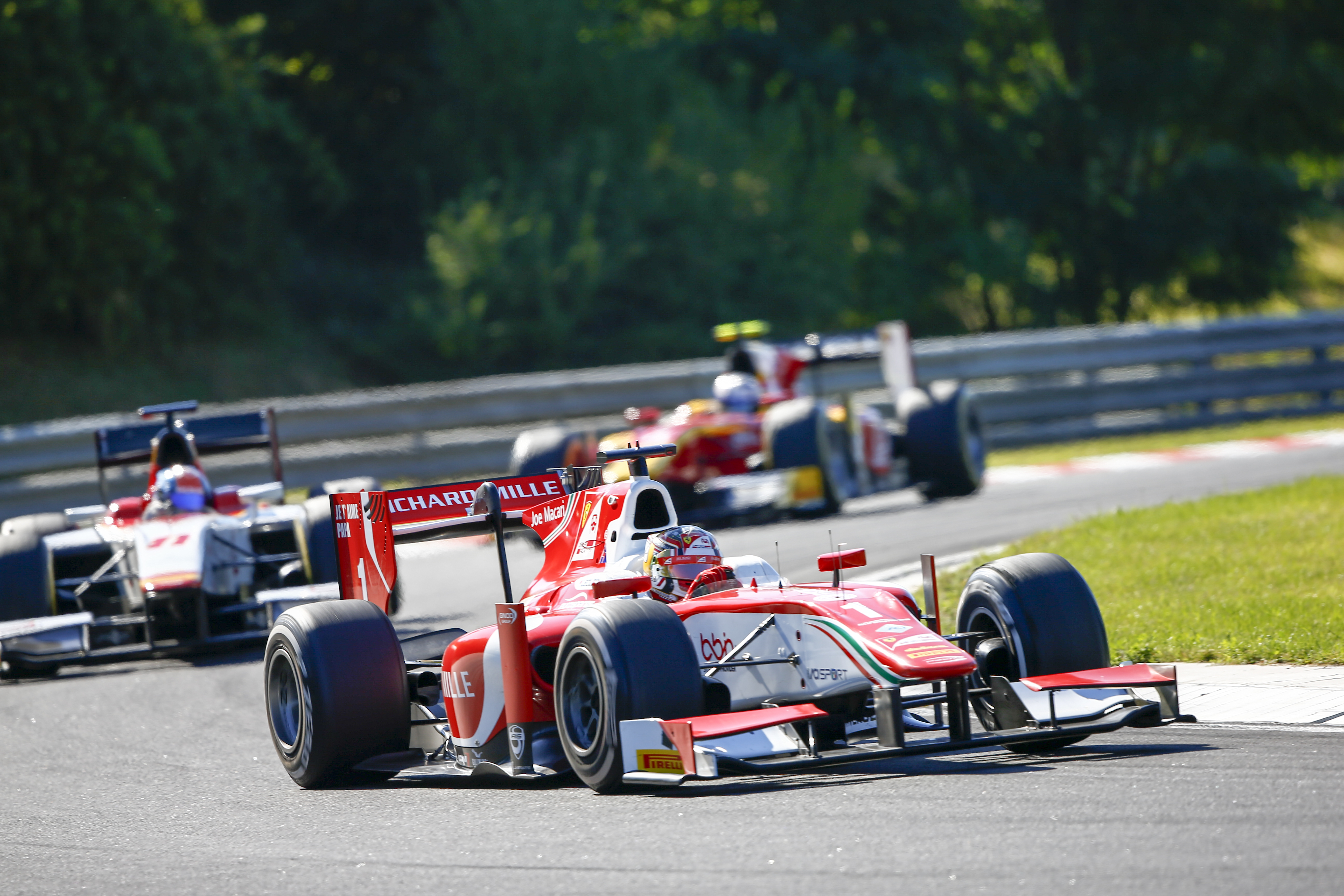 While the race leaders pitted, Leclerc and Albon were released to try put some distance between themselves and the early stoppers. What ensued was a great battle between the two ex-teammates, neither of them giving the other an inch until Leclerc finally managed to work his way past the Thai driver. Meanwhile, Rowland managed to take back the net race lead from Markelov as he hunted down Leclerc and the rest of the drivers on the medium tyres.
When Prema finally called Leclerc in for his stop he came back out in thirteenth place, and it became apparent that the alternate strategy was not going to do him any favours. But clumsy contact between Sergio Canamasas and Robert Visiou on lap 25 brought out the safety car and luck was back on the Monegasque driver's side again.
It was a frenetic restart when the safety car came in two laps later, one which saw Leclerc overtake three cars in a single corner, and Gustav Malja, who was on course to score some much needed points for the struggling Racing Engineering team floundered, plummeting to almost dead last.
In the closing laps of the race, it became apparent that race leader Rowland was struggling on his tyres and Markelov was closing in fast, being in the hunt very much suiting his driving style. With three laps to go he went for a move on the Englishman, but a combination of over eagerness on the Russian's part and on the limit defending from Rowland sent him wide, onto the grass and out of the race in a high speed crash, which he thankfully walked away from unscathed. Rapax's Nyck de Vries was promoted to the podium places, and Rowland led home a DAMS one-two as Latifi claimed second place in what has become a breakthrough season for the Canadian.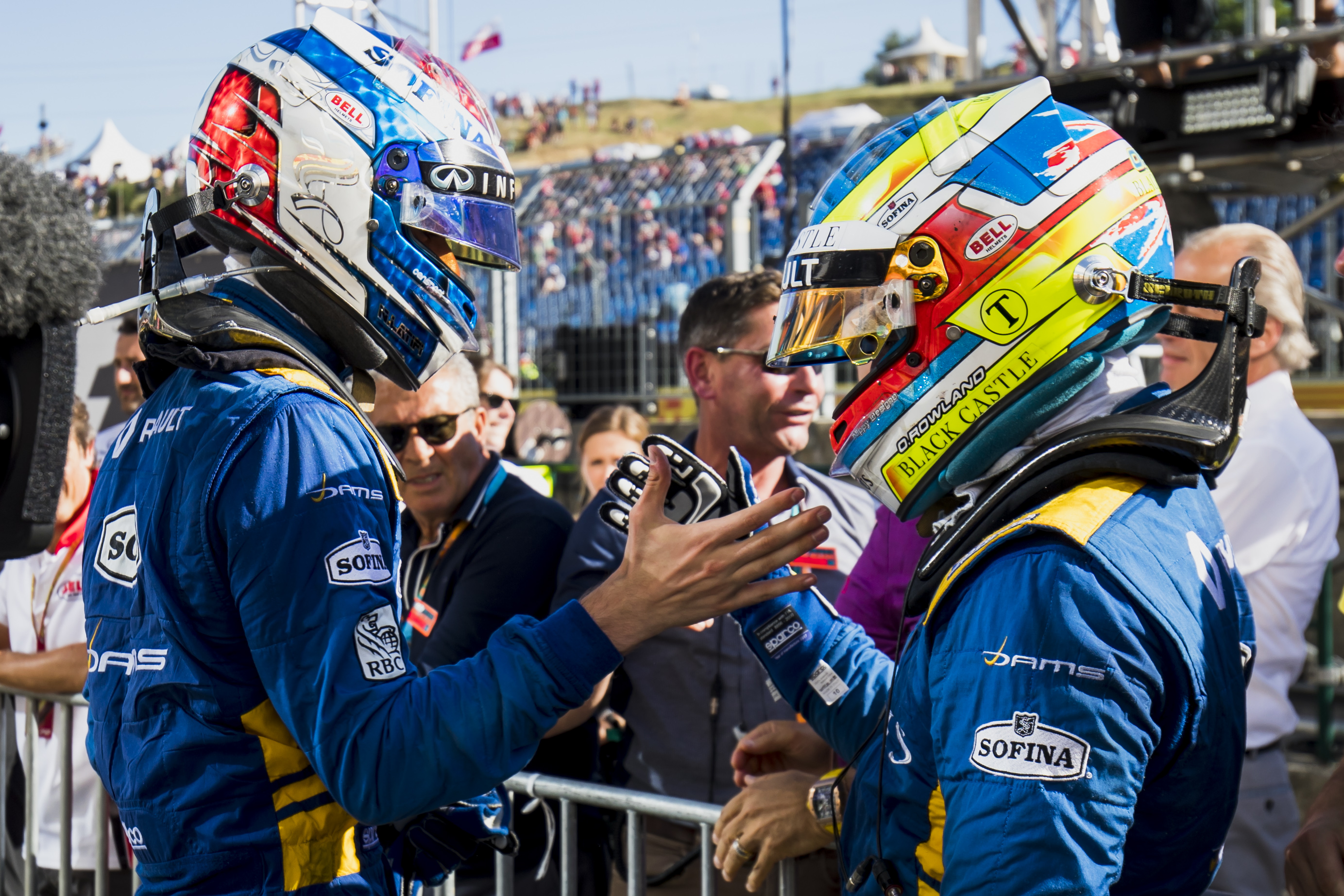 It was an excellent recovery drive from Leclerc to finish fourth, who came home ahead of Matsushita in fifth and Luca Ghiotto in sixth whose race pace continues to be far superior to his qualifying performances, after he started the race in thirteenth. It was originally a double points finish for Arden with Norman Nato in seventh and Sean Gelael in ninth with Albon sandwiched between them. But after the race Gelael was handed a ten second time penalty for premature use of DRS. That meant Trident's Santino Ferrucci, who has now made a permanent switch to Formula 2, finished a fantastic ninth on debut, and Louis Deletraz of Racing Engineering scored his first point of the season when he was promoted to tenth. It was well earned too for the Swiss driver who overtook a hatful of drivers after the safety car restart.
His eighth place in Saturday's feature race meant ART's Alexander Albon managed to bag himself reverse grid pole for the sprint race, with Norman Nato lining up beside him. Charles Leclerc, still leading the championship started in fifth place, three places ahead of his nearest rival; Oliver Rowland.
Misfortune struck debutante Santino Ferrucci before the cars had even lined up on the starting grid, technical issues sent him packing to the pit lane, a disappointing end to what had started out as a very promising weekend for the Haas development driver.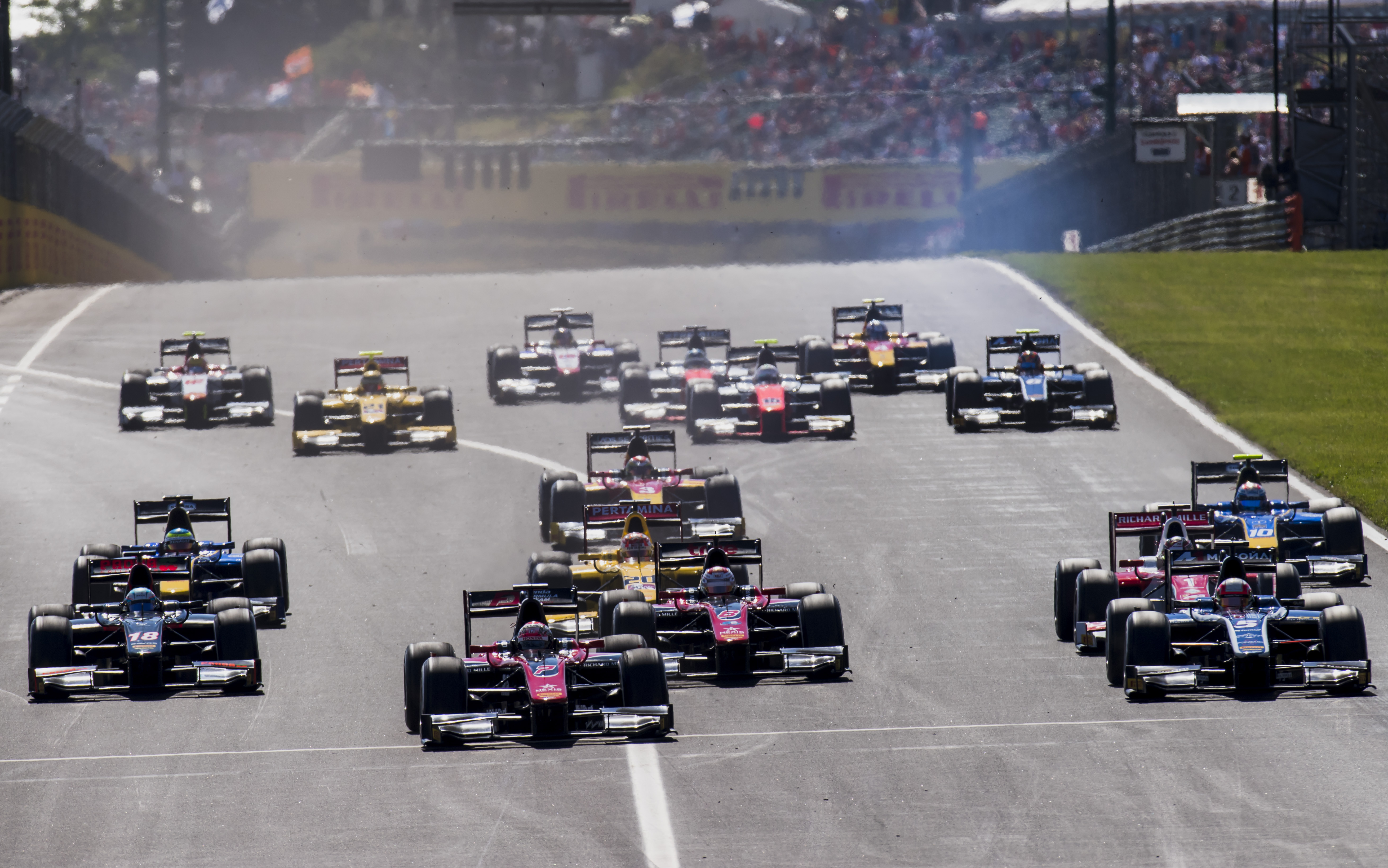 At lights out it was not the start Albon and Nato needed. The two drivers dropped way down the order, promoting the fast starting Nobuharu Matsushita to first and Luca Ghiotto to second, and set Nyck de Vries up to score a double podium as he was elevated to third place.
The start might have been even more disappointing for Ralph Boschung and Antonio Fuoco, who hit trouble no sooner as the race got started, and were forced to pit and  circulate a lap down for the remainder of the race. Not the way either driver would have wanted their Sunday to go after a fruitless Saturday for both of them as well.
His high speed crash in the feature race meant Artem Markelov started from seventeenth, but he was very quickly up to tenth and looking determined to make up lost points. But for the most part the order stabilised, with gaps opening up throughout the field as drivers settled into their rhythm. There was an air of caution surrounding tyre wear, as the medium compound they were running wears much faster than the hard tyres used in the sprint race in 2016.
ART's Matsushita looked unflinching as he led the race after his lightening fast start, controlling a commanding lead. At almost a third race distance most of the gaps had stayed consistent, and Nicholas Latifi was the only driver closing in on the car in front of him; Alexander Albon. Despite good work from Albon, always a strong defensive driver, Latifi bided his time and managed to move up to seventh place on lap 11.
As the race neared the half way mark the field began to bunch up and soon De Vries and Rowland were within DRS range of the cars in front of them. But with the Hungaroring being a notoriously difficult track to overtake on, it would take some laps of build up before they could move up the field. Further back, Markelov was making steady progress, playing it safe while taking ninth from Sean Gelael, clearly not wanting a repeat of his collision with Rowland.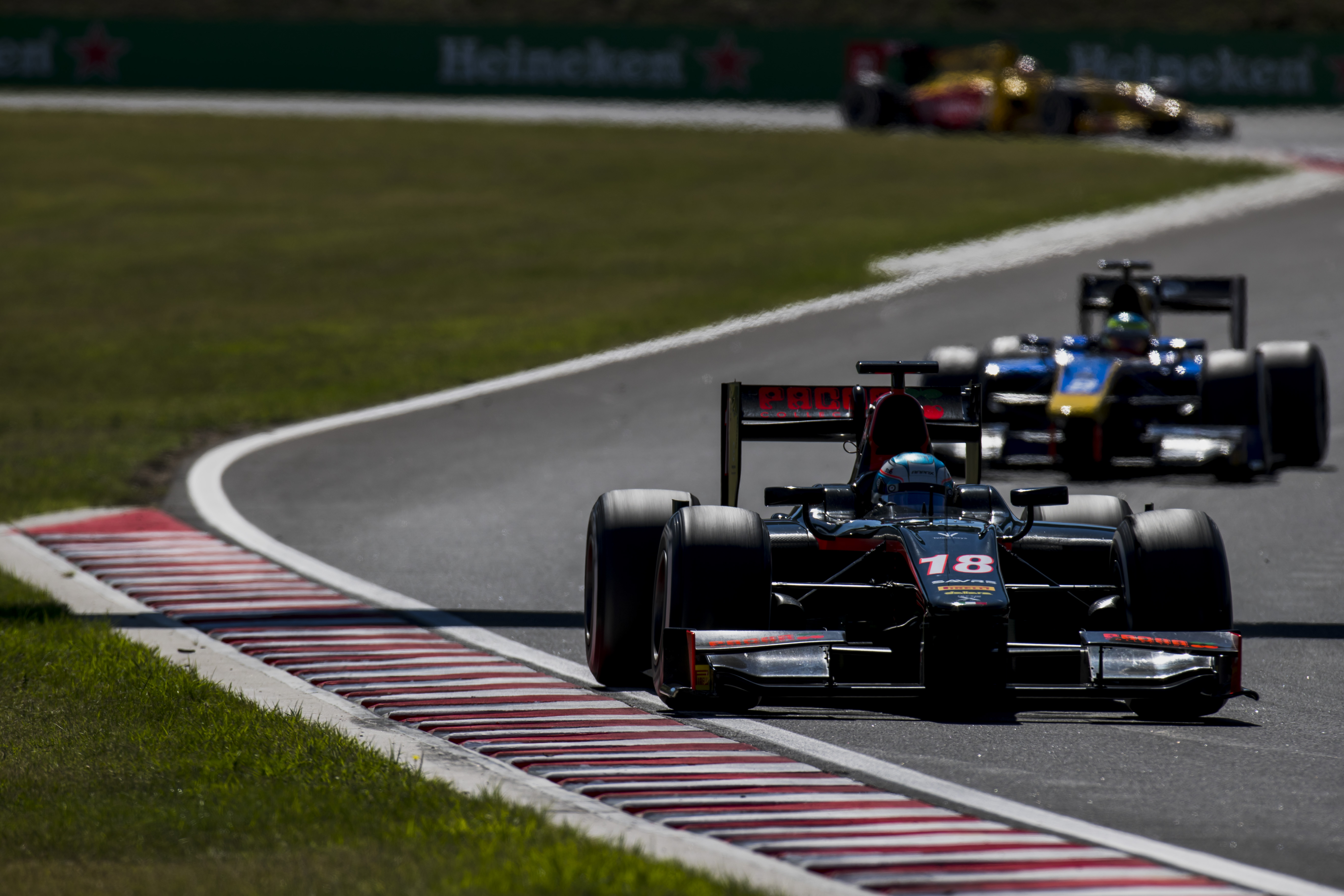 Nyck de Vries pulled off what has to be the move of the weekend overtaking Ghiotto to take second position. The Dutchman was followed by both Rowland and Leclerc, the Russian Time driver dropping to fifth place. But it was not to be a higher finishing position than fourth place for the championship leader Leclerc, who was struck by suspected gearbox and engine issues for the last ten laps of the race, and it was all he could do to hold onto the points he did have.
Despite such a good start for Ghiotto he finished his race in eighth ultimately, claiming the last point up for grabs. But it was a carefully controlled win for Matsushita, who has had an up and down season thus far. Oliver Rowland and Nyck de Vries both scored their second podiums of the weekend as they finished second and third respectively. Leclerc managed to hold onto fourth, ahead of Nato in fifth who held off a charging Nicholas Latifi, while Albon came home in a slightly disappointing seventh, given his starting position.
After a disappointing Silverstone, Rowland capitalised perfectly on the fortunate hand he was dealt to gain some much needed ground on Leclerc, and put some distance between himself and the now third placed Artem Markelov. For him and Nyck de Vries, who both scored double podiums, it was perhaps a point proven, as both of them were overlooked for the upcoming young driver test in Hungary – Rowland to his teammate Latifi no less. Still, it is evident that Rowland needs a few more weekends like this before he will be on terms with Leclerc in the championship fight.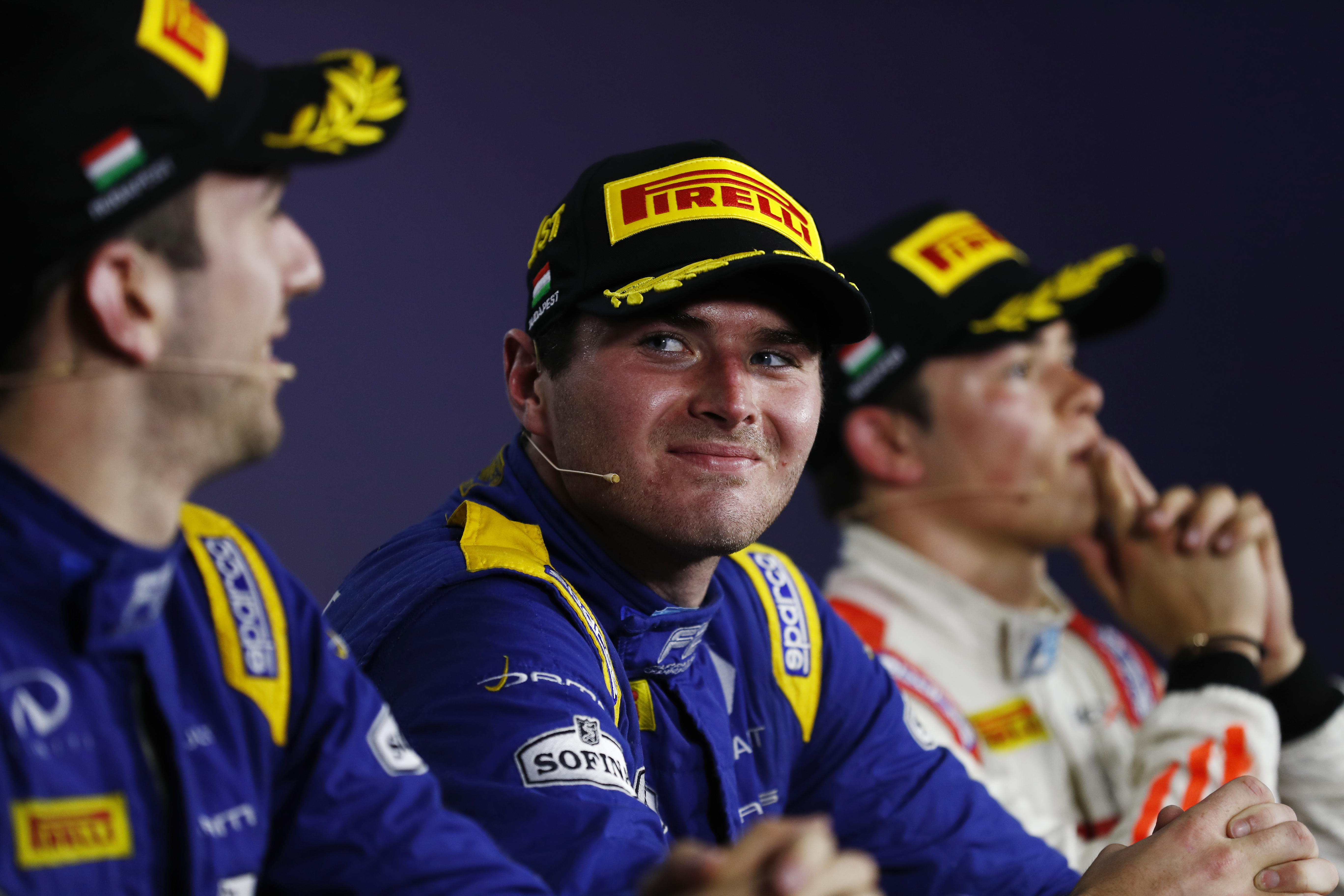 Compared to their recent form, Russian Time had an underwhelming weekend, with Markelov only scoring two points the whole weekend, and arguably slipping back into old habits with his desperate attempt to pass Rowland in the feature race, which lost him a potential win as well as valuable points. His teammate Ghiotto could be up there the rest of the championship contenders if he can learn to put together a solid qualifying lap, but for the moment he leaves himself far too much to do in the races, and that elusive race win out of reach. The Russian team have now slipped below Prema in the team standings.
Losing out due to circumstances beyond his control, Leclerc showed maturity in making the best of a bad lot, and he still holds a healthy fifty-point lead over Rowland. He can rest easy knowing that after the summer break when racing resumes in Spa in a month's time his campaign is very much on track.