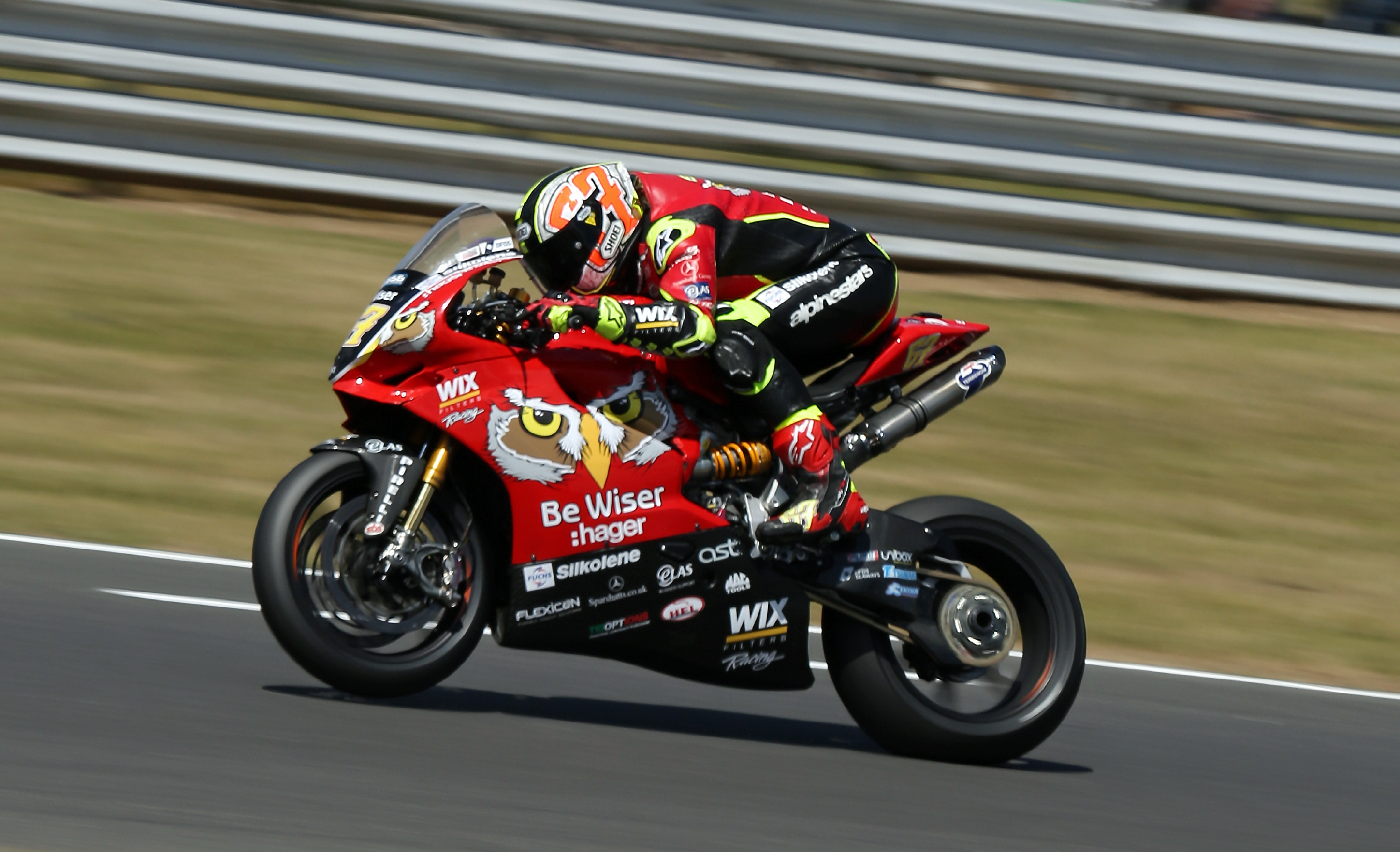 I felt privileged to chat to an icon of British Superbikes. Five time champion and the series' defending champion Shane 'Shakey' Byrne gave me a great insight into what it's like at the top of British Superbike whilst also enduring a tricky start to the 2017 season. This is what he had to say in answer to some questions I put to him, way back at Snetterton.
2017 in your words…
The first part of the year has been really difficult. BSB is BSB and as much as some people dislike The Showdown, sometimes it can work for you. I think that as it turns out, even without The Showdown scenario, we're slowly but surely clawing our way back to the top. We've got our difficult tracks out the way now so I'm very hopeful and here (Snetterton) is the start of a run of circuits that I really enjoy and the bike works very well at.
Whilst it hasn't been the strongest of starts to the year, it's not because we haven't had the speed or because of problems. It's because I got really unlucky at Donington Park and lost the front on a cold tyre, keeping me out of both races. Then at Brands, I really wanted to win and without question I was going to win race two, then, I lost the front on the bumps and down I went. That's racing. I've been around a really long time and you learn to roll with the lows and enjoy the highs when they come.
Are you surprised at how competitive Glenn Irwin has been this year?
Not at all, why would I be surprised? He's got exactly the same bike as I have. Glenn has come from a very fast family. His dad was a very quick racer. One of his brothers is leading the British Motocross Championship, his younger brother is doing well here in Supersport and you'd be mad to think that Glenn wouldn't be there too. He's had a relatively short circuit racing career but at the same time, he's come through very quick. He's had a season and a bit on the bike now and there has to be a point where you say, 'time to do a job now'. As it stands, he's got unlucky with an accident at Knockhill and all he needs to do now is get himself back and back strong again. The problem with these bikes is that they are so hard to ride. If you comeback injured, you might not be able to do a proper job. Then your confidence starts to go down and it's spirals from there.
Do you think he will be in The Showdown?
I certainly think so. He's a very strong and determined rider and if there's anything I can do to help him secure a top six place then obviously, I will. However, first things first, I need to secure my own placing! I need to get myself up there in the podium points standings. He should be fine when he gets back at Brands Hatch.
Since joining the paddock in 1999, what has been the standout moment for you, excluding your 5 titles?
I don't know really. I've seen lots of people come and lots of people go. I've seen lots of fuss made of some people and not so much of others. I've seen people where you think, 'if you had a good bike, you'd do really well' and others on good bikes where you think, 'you're not that good at all'! That's not me being harsh, it's the facts.
At Knockhill, I was 7th in the standings and well down on podium credits. I left Knockhill 3rd in the championship and with two podiums. In some ways, you could say 'job done'. The problem is that it's not enough. It's only enough when you come away with two wins. I think the minute that I start accepting third place is worrying.
It's not what I am here for. I have to push and your continuously looking for that extra something.
Talk about rider preparation in a top BSB team.
I've started doing something at this round in my personal preparation. I've never done it in my whole career! You may not find half a second in one change on the bike, but three changes on the bike and you might find 0.1 here, 0.5 there. Suddenly, you've found a second. It's the same with your personal preparation. Everything you do and the way you go about doing it has to be in the manner of 'chipping away'. You're at the top of a very professional championship and sometimes, I might be the benchmark of the championship, so other riders will be taking chunks out of you. Therefore, you have to find ways to be faster, stronger etc. It's good and I enjoy the challenge of that. People say to me "how much longer are you going to be around?" etc, but I've got some pretty big numbers I want to hit in the championship. The 100 victories is obviously a target. On average, since coming back in 2011, I win 8-12 races per year. The 100 victories is one of my little missions.
Do you feel that you never got a proper chance at World level?
I'd give up all five BSB titles for one WSBK championship. That's my dream: to be a world champion. The day you stop dreaming of being world champion is the day to hang your leathers up. I still dream of it but the problem is I'm not in the WSBK series!
Could you return to WSBK in the future?
I don't know. Listen, people look at me now, at 40 years old and think, 'when are you going to retire?', 'do you think you can do this, do you think you can do that?' and I feel like saying 'f*** **f', I'm here to race and win – which I am doing. When you can put on a performance like I have this weekend and show everyone that you can still do it, then why not carry on?
Who was your standout teammate throughout your career?
Carlos Checa was great as a teammate. Jeremy McWilliams was a lot of fun! Ryuichi Kiyonari is the standout one though. I had, and still have, so much respect for that guy. I'm gutted that he left because even when I was his teammate on the exact same bike, when things were going good for me and not so good him, you could never, ever discount him. There was enough mutual respect between us that we never discounted each other. Lots of things have to be right for Ryuichi but his speed is unquestionable. He's doing the Suzuka 8hr this year, chances are he will win. He's undoubtedly one of the fastest guys I've ever raced.
Image by Gareth Davies of Full Factory Photography.
Story by Kiko Giles
@MotoGPKiko