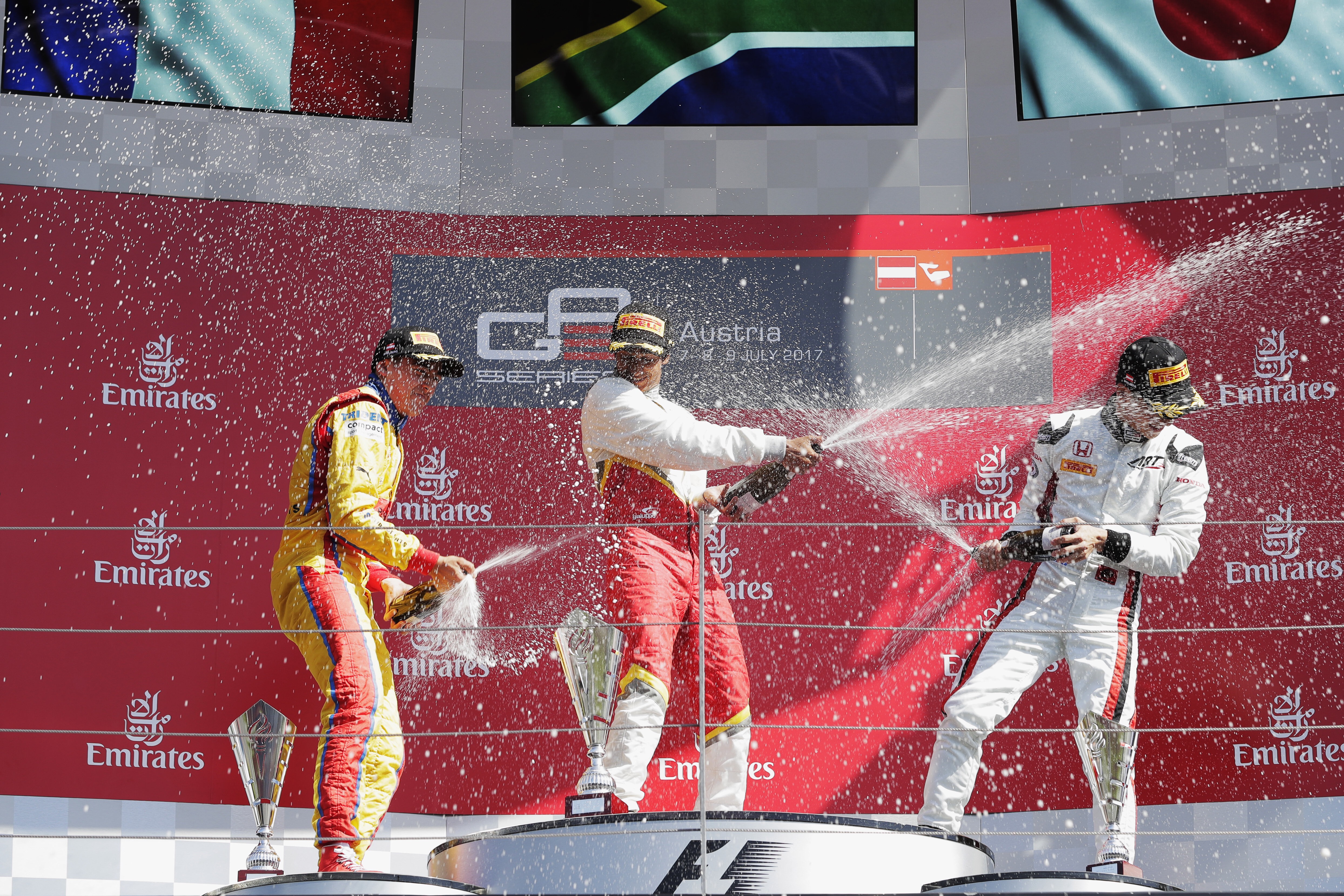 After such a long break since Bahrain, the GP3 series returns to the the Red Bull Ring in Austria, to support  the Formula 1 and Formula 2 series'. The conditions were dry, but high humidity in the mountains, which could of seen rain fall at anytime. Just like Formula 2 we have two races on the Saturday and the Sunday.
Qualifying
A very hectic session took place on the Friday in Austria, the French run ART Grand Prix managed to secure the front row for the feature race on the Saturday. George Russell piped his team mate Jack Aitken by 7 hundredths of a second. He carries on his impressive form from being fastest in the test at Budapest. The field was very tight, the whole field was covered by 8 tenths of a second which laid the marker down for a fantastic weekend of racing ahead. All the cars using identical chassis, aerodynamics and engine, it is all down to driver skill in this series. Race one winner in Bahrain Fukuzimi struggled unlike his ART team mates, who will be starting down in 10th place, just like his counter part Maini who won Race 2 at Bahrain qualifying in 12th. The Britain's in first and second in qualifying look promising for a home winner at Silverstone next weekend.
Race One
Jack Aitken got off the line very well from P2 on the grid, he had a slightly better reaction but George Russell managed to get the power down, and had the better line into turn 1. He cheekily squeezed his team mate, to prevent any attack from him. Boccolacci had a very bad start and fell back, opening a gap for the inside of turn 2, going 3 wide. Hubert very optimistic but the gap disappeared. Leonardo Pulcini was in the middle of the sandwich, he hit Arden teammate Schothorst, who got some air as a result. Pulcini pulled over with terminal damage, and a virtual safety car was deployed to clear his car.
It was almost instantaneous, but by the end of lap 2 the race was back live thanks to great work by the marshalls at turn 2. Virtual safety car can end anytime, and Russell controlled the restart, he left team mates Aitken and Hubert. Fukuzumi was caught napping and just managed to keep hold of his 5th place, albeit up from 10th, so fantastic start. Schothorst had to stop by the side of the track due to a damaged car, retiring after being hit in the turn 2 incident. Fukuzumi in the period was now up to 4th.
Aitken was piling the pressure on Russell on lap 4, whilst Fukuzumi set the fastest lap, it was a ART Grand Prix 1,2,3,4 at the current time. Hubert was then under investigation for the turn 2 incident, he was blatantly at fault for the situation. He was handed a 10 second time penalty for causing a collision. ART Grand Prix cars were pulling away from the rest of the field from the front but the fastest laps were being spread across the field. Red Bull supported driver Nico Kari spun and as a result struggling down in 14th.
Unlike Formula 2 in GP3 there are no pit stops in the race on Saturday, so tires were something to be control of, the nature of the Red Bull Ring with long sweeping corners made tyre temperatures rocket up. Aitken was still within a second of Russell albeit on lap 9 and lap 10 setting the fastest laps, very fine margins, no quicker than a tenth within the first half of the race from his team mate Russell. Fukuzimi was pulling away from 5th placed Trident driver Tveter, showing the control ART have in this series. Nico Kari had a race to forget on lap 15 he pulled aside at Turn 1, resulting in 3 Arden cars being out of the race just over half of the race to go.
The action settled down, and the limited use of DRS prevented much action, but when it was used it was great racing. Places 5th to 12th were all in the same shot going down the main straight. Lorandi held on to 7th place ahead of Hyman, continously seeing the gearbox of the Italian. Hyman had used all 6 uses of his DRS to overtake on lap 19, so would be behind Lorandi but didn't have DRS at his disposal for the last 5 laps. DAMS drivers were both awarded 5 second penalties for overtaking under yellow flags earlier on in the race. Boccolacci tried to go for broke on Alesi, he managed to pass on him on lap 22, but on the penultimate lap, but he ran wide, dropping multiple places to 10th from 6th.
Russell eventually dropped Aitken, and finished 2 seconds in front of his team mate Aitken. Lights to flag for the Britain. Hubert finished 3rd, but as a result of his penalty and ART dominance, he only fell to 4th behind Fukuzumi. Tveter beat his team mate Alesi, Alesi just like Aitken was behind his team mate Tveter for the whole race. Lorandi secured 7th, with South African Hyman finishing 8th securing pole for the race on Sunday. Penalties for DAMS drivers Calderon and Baptista dropped them out the points, allowing Maini moved up to the points position. Maini having a very quiet race after winning the sprint race in Bahrain.
Race Two
Clean start for Hyman, a great get away for him, Lorandi who started 2nd had an awful start, dropping to 7th as a result, the ART cars started well moving up the field except for Hubert who ran wide at turn 1. Hyman lead Alesi, Tveter ahead of the ART drivers Fukuzumi, Aitken and Russell. Lorandi, Hubert and Maini being the biggest losers from start whilst Nico Kari being the biggest gainer, moving up 4 places. Hyman was the fastest driver on the track, setting fastest laps back to back, giving Hyman a considerable gap making the DRS less effective if Alesi managed to get in the 1 second zone.
Lorandi and Boccolacci were having a great fight, trying to dive down in to turn 3, but Lorandi got the switch back over the straight keeping his position. Hyman and Alesi were in a league of their own in this race, the pair pulling away from the rest of the field. Alesi managed to catch back up to Hyman, which allowed him to use his DRS, in the Sunday race, they had 4 attempts to use it successfully, albeit down to no avail as Hyman still managed to hold the lead.
Fukuzumi in 4th as now putting the pressure on American Tveter, Aitken began to put the pressure on his team mate so Tveter had two ART's in his mirrors. It seems from the races thus far Fukuzumi has the knack of keeping his tyres in the sweet spot for longer allowing him to push for a longer. Nico Kari having horrible luck, another race for the Finnish driver without points with another mechanical issue. He is sponsored by Red Bull and not scoring points, at their home wasn't great. Kari managed to get back going, as Arden fixed the issue.
Hyman's rear right began to have serious wear, blisters down the middle of the rubber, Alesi had 1 use of DRS remaining, managing to gain on him, had 3 laps to go. Alesi used his last DRS and once more it was to no avail. Tveter was still holding on to 3rd place, it looked like he was on for his maiden podium position. Aitken was trying to keep up with the pair at ran wide, losing time on them. Fukuzumi on the same lap used DRS well, passing Tveter. Tveter dropped from Fukuzumi so he was under no threat for his next podium.
Boccolacci looked to attack Lorandi after following him all race long at the end of the second DRS Zone, the pair came together and the Frenchman Boccolacci went airborne before landing in the gravel, resulting in multiple rolls. He landed on his wheels the right way up, and he walked away. Lorandi managed finish in 8th with the damage, Hubert took full advantage going from 9th to 7th as a result. South African Hyman held on for victory, with Alesi in 2nd place, Hyman much like Russell converted his pole position into victory. Fukuzumi pipped Tveter and his team mates for the podium as a result he gained the championship lead.
If Hyman continues this good form and moves up the open wheeled ladder to Formula 1 could we see a return to South Africa for the first time since 1993? Too early to tell, but a very confident and controlled drive from him.
Standings
Fukuzumi who now leads the Drivers' Championship on 54 points, 1 ahead of teammate Russell with the third ART driver Hubert on 38. Lorandi was the first non-ART driver in his Jenzer car with 32, Aitken on 28. Hyman with his victory moved up to 25 points. In the Teams' Championship ART Grand Prix have built a big lead showing their dominance. Currently on a score of 159 points. Trident and Jenzer were very close, with Trident on 60, Jenzer on 54. Not a lot of time to prepare for Silverstone next weekend for the British Grand Prix, as practice will be taking place next Thursday, very competitive, and with two Brit's in the thick of it, could we see a British winner at the British event?
Chris Lord