Susie Wolff said that she has had a warm welcome into the Formula E paddock, stating that it 'already feels like a family'. Speaking to the new Venturi team principal at Formula E testing in October, she discussed the process she went through in order to prepare for her new role.
"I made the decision to work for Gildo [Pastor, Venturi's CEO and founder] quite early and was in a couple of races undercover as a fan which gave me the chance to see it from the outside. In New York, I was part of the team and observing them in action to give me the perfect springboard to get ready for season 5. It's great to be here, I've had a nice welcome. It's a big challenge with the new Gen 2 cars.  It's been fantastic so far and I feel very much at home and the challenge is one I am ready for."
As with many individuals involved in other motorsports, Wolff admitted that she was cynical of the sport initially but has grown to understand what Formula E truly promotes.
"I have to be completely honest that I was a cynic early on. I'm coming in now when it's all up and running and I really admire what the sport has been able to achieve. You only need to walk up the pitlane to see the number of manufacturers that they have here and it's a real testament to what Formula E has achieved. It's great to be a part of this exciting platform that has so much potential."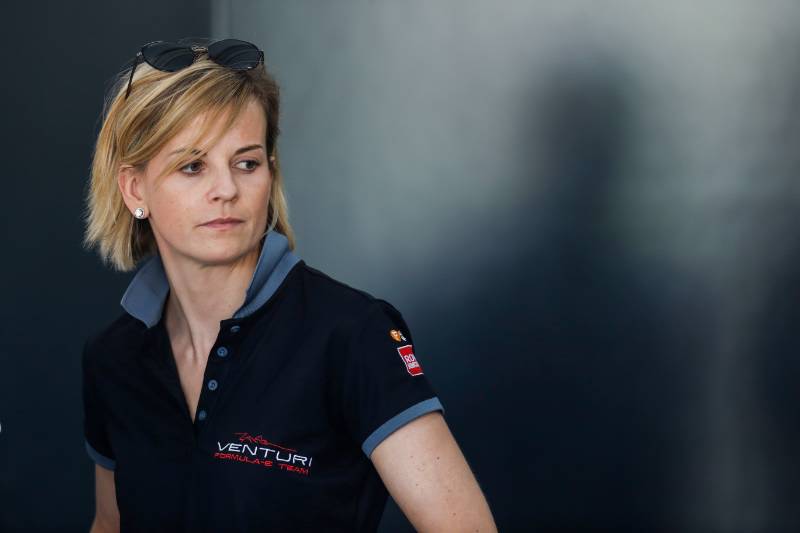 Formula E has had a number of female drivers fill their seats in its infancy, but over the past two seasons, the female contingent has certainly dwindled. When asked about her position as the first female principal in Formula E, Wolff said that she hoped to use the opportunity to promote further involvement of women in the sport.
"There were a couple of female drivers in this championship who I rate very highly and I am a great believer that I am here to do a job. I am not here because I am a woman and my gender doesn't impact the way I can do the job. I think one thing that can always be seen as a positive is that if other women see me in this position, it will aspire them to realise that there is opportunities in this sport. I feel I can make a difference at Venturi. As women, there's enough of us out there who are talented enough to make a difference and it's about making sure we get those opportunities."
 Wolff commented on the driver line up of Edoardo Mortara and Felipe Massa as a major strength in this season's campaign.
"We're in a lucky position at Venturi that we have one of the strongest line ups in the paddock. Edo is a driver I've rated highly. His character alongside Felipe, I knew would be a good fit, I knew those two together would be a strong pairing that would be able to drive this team forward. The combination of the two is exactly what this team needed to move forward."

She also discussed the team's aspirations ahead of the new season. 

"I have a three year plan envisioned for the team. We can't turn over a performance overnight but in season 5, we want to be fighting for points and I would love to get some podiums. I would like to be consistently fighting at the front of the grid."