Friday
The first full day of action would encompass 130km's over six stages. The startlist looked like this – Rovanperä, Tänak, Neuville, Evans, Katsuta, Ogier, Breen, Sordo, Greensmith.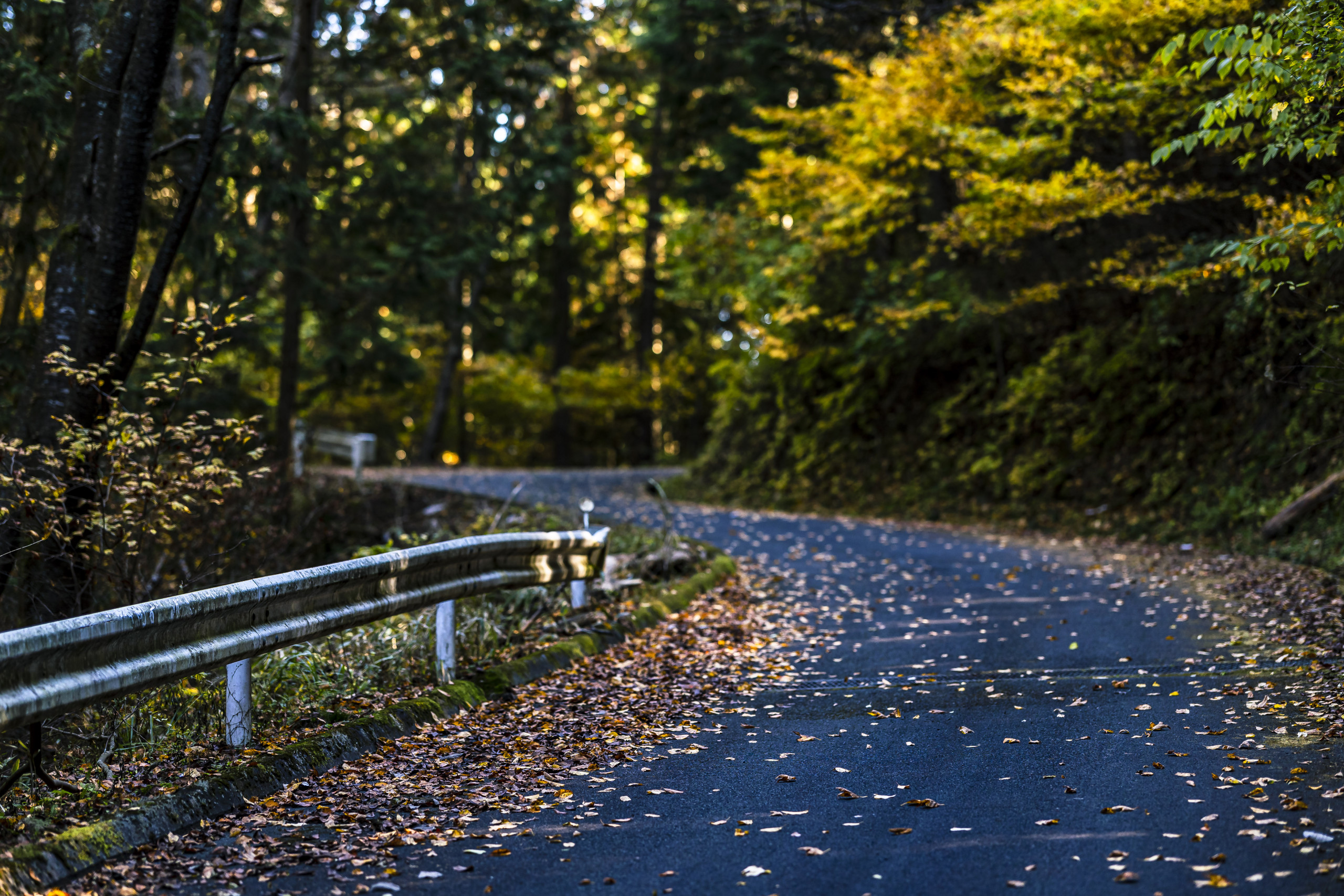 The first morning stage then and the second of the rally, SS2 Isegami's Tunnel 1 – 23.29 km was won by Kalle with Thierry and Elfyn second and third fastest. All three of them jumped up into the top three overall positions. Those to fall down the order were Ott, Craig and overnight leader Seb, who suffered a puncture in this one. He did not know where he picked this up and sounded very unhappy already. In the WRC2 category, Kajetan crashed out at the exit of the tunnel and his hopes of this year's category title were gone, as his Skoda had very heavy damage. Emil Lindholm was now leading the category. It was far worse though for Dani Sordo. Just after the section with the tunnel, he stopped as there was smoke in his car. He and Candida found that the car was on fire, and whilst attempting to put this out, Gus arrived at the scene, but unfortunately despite their best attempts, they could not put it out. The stage would then be red flagged.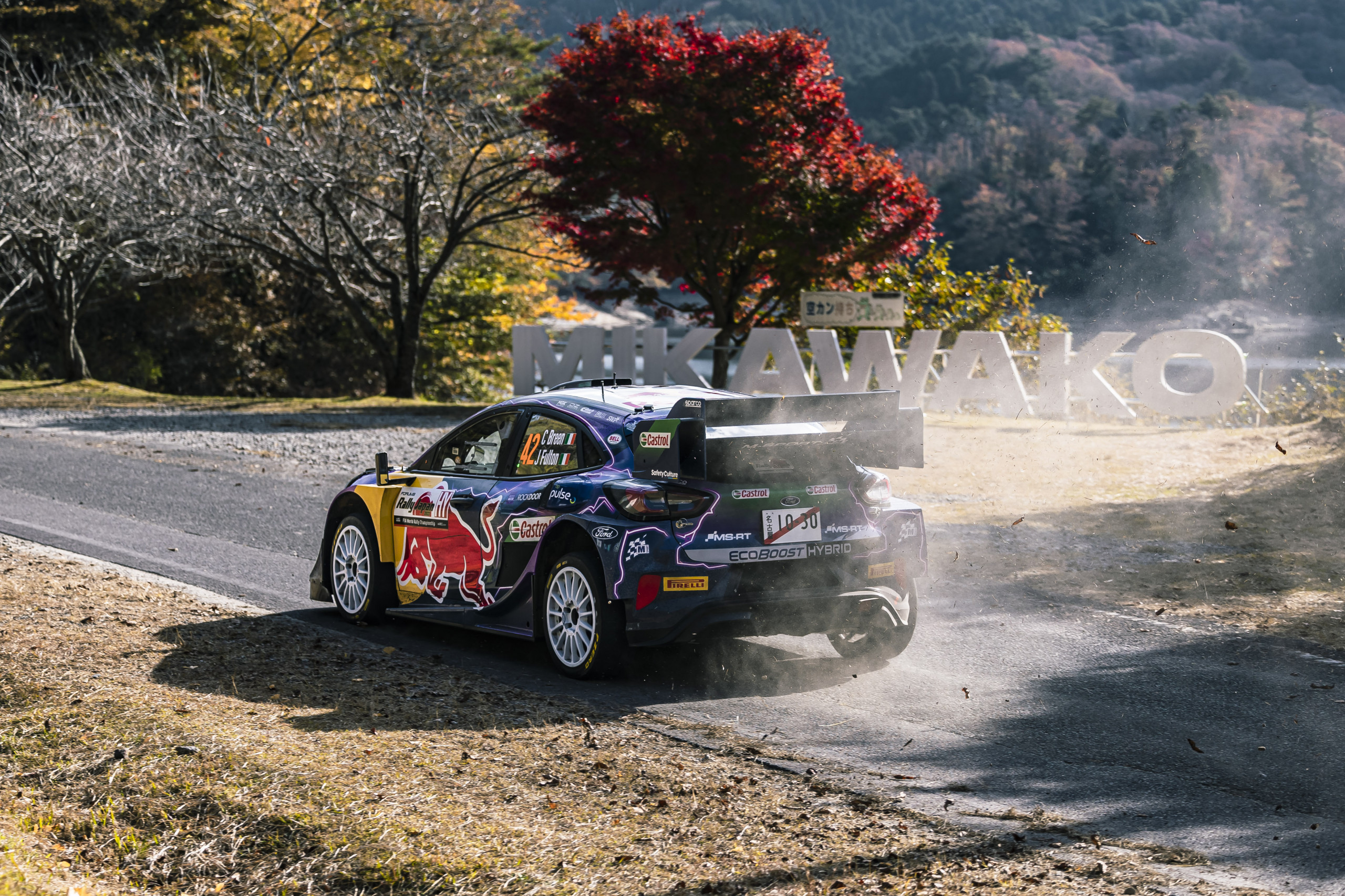 The next stage SS3 Inabu Dam 1 – 19.38 km which was cancelled, as the cars were all not able to make it to the start line.
Next up then was SS4 Shitara Town R 1 – 22.44 km and Elfyn was fastest from Seb and Thierry. Former leader Kalle could only manage sixth fastest and fell to third overall. Elfyn and Thierry held the lead, having so far set the same overall time after these stages. Sadly, the day was over for Craig and his new co-driver James. They hit a barrier and damaged their Puma, putting them out for the rest of the day. All was not well with their teammate, Gus and Jonas either. They were suffering with a broken driveshaft, a problem that they'd been dealing with all morning, but at least they could get back to the service and get the car fixed.
After service, SS5 Isegami's Tunnel 2 – 14.33 km, massively shortened due to the fire in Dani's car (it finished at the tunnel entrance) was won by Elfyn with Thierry second fastest and Seb third. The Welshman took the lead by 1.1 seconds over Thierry. With his driveshaft replaced, Gus moved back into sixth overall, moving ahead of Emil and Reeta who were still leading the WRC2 category.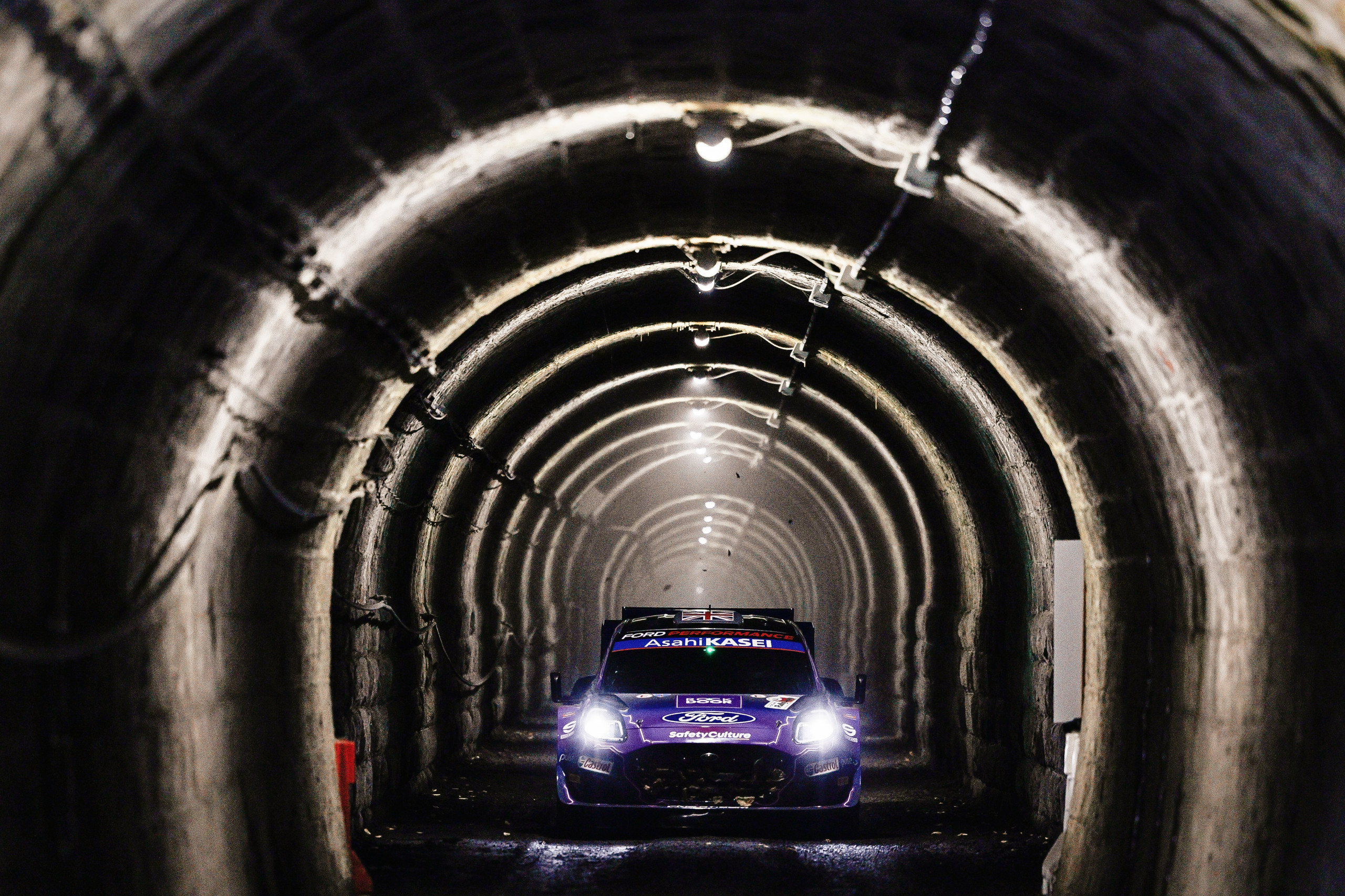 The following stage, SS6 Inabu Dam 2 – 19.38 km, was taken by Kalle, from Elfyn and Ott and now Elfyn's lead over Thierry was three seconds. Things were going well for the Toyota crew. There were changes in the WRC2 leaderboard though, with Teemu going fastest from Sami and Heikki Kovalainen (yes, the former McLaren F1 driver). Sami now assumed the lead of the category, from Teemu and Emil was now in third.
The final stage of the day SS7 Shitara Town R 2 – 22.44 km was cancelled, due the damage sustained to the barrier following Craig's incident.
Let's take a look at the standings and hear from the drivers.
Classification after Day One
| | | | | |
| --- | --- | --- | --- | --- |
| 1 | E. Evans | S. Martin | Toyota GR Yaris Rally1 |  57:18.8 |
| 2 | T. Neuville | M. Wydaeghe | Hyundai i20 N Rally1 | +3.0 |
| 3 | K. Rovanperä | J. Halttunen | Toyota GR Yaris Rally1 | +5.1 |
| 4 | O. Tänak | M. Järveoja | Hyundai i20 N Rally1 | +13.9 |
| 5 | T. Katsuta | A. Johnston | Toyota GR Yaris Rally1 | +20.6 |
| 6 | G. Greensmith | J. Andersson | Ford Puma Rally1 | +2:00.4 |
Toyota Gazoo Racing WRT
Elfyn Evans (1st)
"It's always nice to be leading at the end of the day but there's still a long way to go, so it doesn't mean too much just yet. The morning's first stage was very demanding and a proper wake-up call. We lost a bit of time in there but then we had a good run through the second stage that we did, and we've followed that up with a decent afternoon as well. It's still been pretty difficult, very twisty and very technical, and the grip levels have been changing all the time. The character changes within stages so we need a car that works well in many different scenarios. Again, there will be a bit of everything tomorrow but we'll give it our best as always."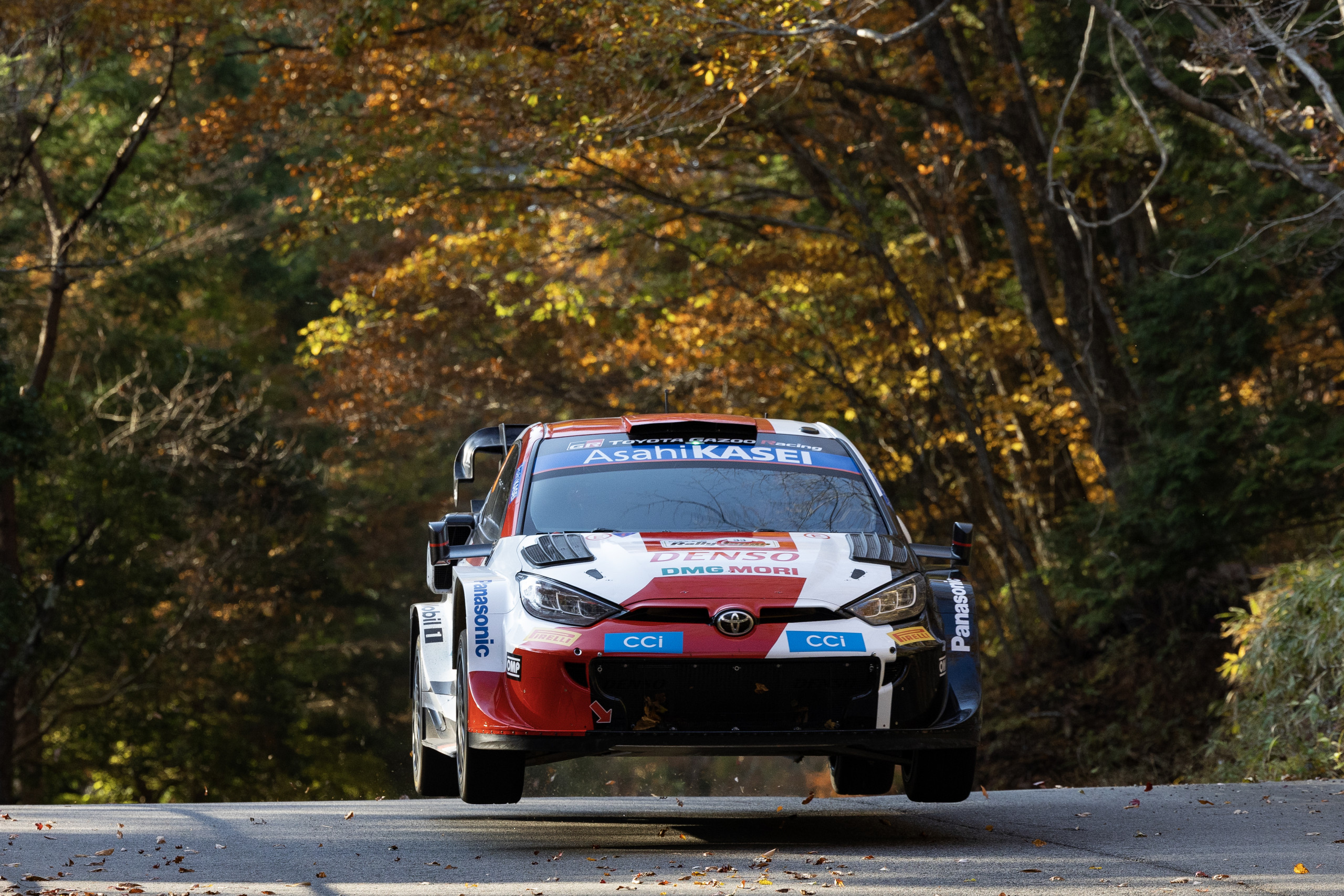 Kalle Rovanperä (3rd)
"It's has been not too bad today and it's still fairly close, so we can be somewhat happy. It definitely wasn't easy driving these stages, with a lot of corners all the time. Without testing and going onto fully new roads, it's not easy to have everything feeling 100 per cent straightaway – especially on these types of roads, as I like to have the balance a bit different to the others. We made some changes at lunch and it was better this afternoon. If we can find a bit more precision with the car, I will be able to push harder tomorrow."
Sébastien Ogier (10th)
"Unfortunately for us the hope of a top result here ended very early this morning with this puncture in the first stage. It's very frustrating of course, and we're not sure why it happened but we had to stop to change the wheel and lost over two-and-a-half minutes to the lead. Now the excitement is not quite the same when you're no longer fighting for victory, but of course we'll try to keep pushing and to keep enjoying these stages. It's also an opportunity to work with my new co-driver Vincent who is doing a very good job so far, and also to work with the setup of the car. These roads are very unique and the feeling is not yet at the optimum like we had in Spain on roads we knew very well."
Hyundai Motorsport
Thierry Neuville (2nd)
"Despite a shorter day than we expected, it was still a tough challenge out there; a lot of hard work for the drivers and the co-drivers. We managed our day quite well, I think. It was a bit up and down because of the characteristics of the road, and some changing conditions. It's difficult coming to a brand-new rally because we have to start from zero; you have to go through different options and settings. We prepared as well as we could, but we didn't expect so many grip changes. We need to find the right compromise and we're fighting with that a bit at the moment. At the end, we've done a good job, and we're near the front and with some good times. We will do our best to continue in this way."
Ott Tänak (4th)
"We managed two stages in the morning; the first one was very demanding with many grip changes and overall, it wasn't easy to drive. On the following one it was almost the opposite, with high grip but tricky with the visibility and we also had some issues with our diffs. The afternoon felt a bit better, gaining in some places and losing out in others; but altogether it was an improvement. It's been hard to find a confident feeling on tarmac, but we are there or thereabouts. It's challenging, of course, but if the grip levels are higher then it's OK. Tomorrow's stages are more or less the same as today, the first one quite slow and twisty, but the other ones a bit more 'racey'. We are still in the fight; there is a long way to go, so let's see what the rally looks like at the end."
Dani Sordo (DNF)
"At some point during SS2 we started to have a lot of smoke in the car, and it all happened really fast. I stopped, and we used the small extinguisher to try and put out the fire. Unfortunately, we couldn't do more; I was trying all that I could, but it was impossible. I'm so sorry to the team to lose the car. I have never seen anything like this before. It is definitely something we all have to look into and learn from."
Saturday
The second day would see 80km's over seven stages. The startlist would now be the reversed top ten, with Craig opening the stages and Elfyn being the final car through.
The Welshman would make a very good start to the day, winning SS8 Nukata Forest 1 – 20.56 km from Thierry and Seb third. Elfyn's lead was now up to 5.9 seconds over the Belgian crew, whilst Kalle went wide on a corner and suffered a puncture, the result being that the new world champions dropped three places falling to sixth overall. The fight continued for the WRC2 win, with Emil moving back ahead of Teemu.
Seb took SS9 Lake Mikawako 1 – 14.74 km from Thierry and Elfyn. The gap narrowed a little between the top two overall crews, but Elfyn remained in the lead by 4.7 seconds. Seb's pace had now brought him ahead of Kalle, who was now down in seventh overall. Emil remained the leader of WRC2 and was holding eighth overall as well.
Ott took his first stage win, in SS10 Shinshiro City – 7.08 km from Seb and Takamoto. Meanwhile, Elfyn, who was fourth fastest increased his lead over Thierry who was sixth fastest. Kalle took a penalty of a minute due to being six minutes late to the time control. The Finn fell down to 12th overall.
After lunch time service, Seb won SS11 Nukata Forest 2 – 20.56 km from Thierry and Elfyn. The Frenchman's pace took him ahead of Gus and into fifth overall. The Brit was suffering with an intermittent powersteering problem and this was really affecting his ability to push hard on these twisty stages. Emil and Reeta remained in control of WRC2 with a lead of 46 seconds over Sami and Enni.
Into SS12 Lake Mikawako 2 – 14.74 km and Seb took another stage win from Thierry, with Elfyn third fastest. Elfyn lost the lead to Thierry and was now two seconds behind the Belgian. Top three in WRC2 was Emil, Sami and Gregoire.
SS13 Okazaki City SSS 1 – 1.40 km was cancelled due to delays getting it underway.
The final stage then, SS14 Okazaki City SSS 2 – 1.40 km and Thierry showed that as always, he's the super special stage specialist, winning the stage from Ott and Seb. Elfyn was only sixth fastest, setting the same time as Teemu.
Let's take a look at the standings and hear from the drivers.
Classification after Day Two
| | | | | |
| --- | --- | --- | --- | --- |
| 1 | T. Neuville | M. Wydaeghe | Hyundai i20 N Rally1 | 1:51:28.3 |
| 2 | E. Evans | S. Martin | Toyota GR Yaris Rally1 | +4.0 |
| 3 | O. Tänak | M. Järveoja | Hyundai i20 N Rally1 | +39.9 |
| 4 | T. Katsuta | A. Johnston | Toyota GR Yaris Rally1 | +1:04.5 |
| 5 | S. Ogier | V. Landais | Toyota GR Yaris Rally1 | +2:46.7 |
| 6 | G. Greensmith | J. Andersson | Ford Puma Rally1 | +3:25.4 |
Toyota Gazoo Racing WRT
Elfyn Evans (2nd)
"We got off to a good start this morning. Everything was working well in the car and we managed to extend our lead. Then this afternoon we were not performing as well as we would like. I was still trying but I was struggling to find the same feeling and deliver the stage times. We'll need to have a look tonight and try to understand why that was. It's unfortunate to be in this position now after the strong morning we had. But it's still pretty tight – like it has been for the whole rally – and there are plenty of kilometres left in which to fight back, and if the rain comes as expected then it could be a complicated day."
Sébastien Ogier (5th)
"It's been a positive day for us. To be fastest over the day is always good and it's been enjoyable in the car with a good rhythm. We've been working on the setup, trying to make the most of this opportunity and we now have a better idea on how we should set-up the car for conditions like these. It's also working well with Vincent, who is doing a great job. Unfortunately, we're not fighting for so much anymore in terms of positions, but we managed to get into the top five which was the maximum we could do on speed. But tomorrow will be a long day with rain expected and many things can still happen."
Kalle Rovanperä (11th)
"Things got a bit tricky for us straightaway in the opening stage this morning. I got caught out in a slippery braking area which I didn't have in the pacenotes and we went a bit wide and broke the wheel. We had to stop and change it, so basically, we lost the chance to fight for the podium right there. This afternoon was more positive, not necessarily in terms of pace but we were trying some new things on the car and learning a bit about the setup. There is nothing for us to fight for now so it's just trying to manage everything. Let's see how the rain is tomorrow but it seems like it will be a big challenge."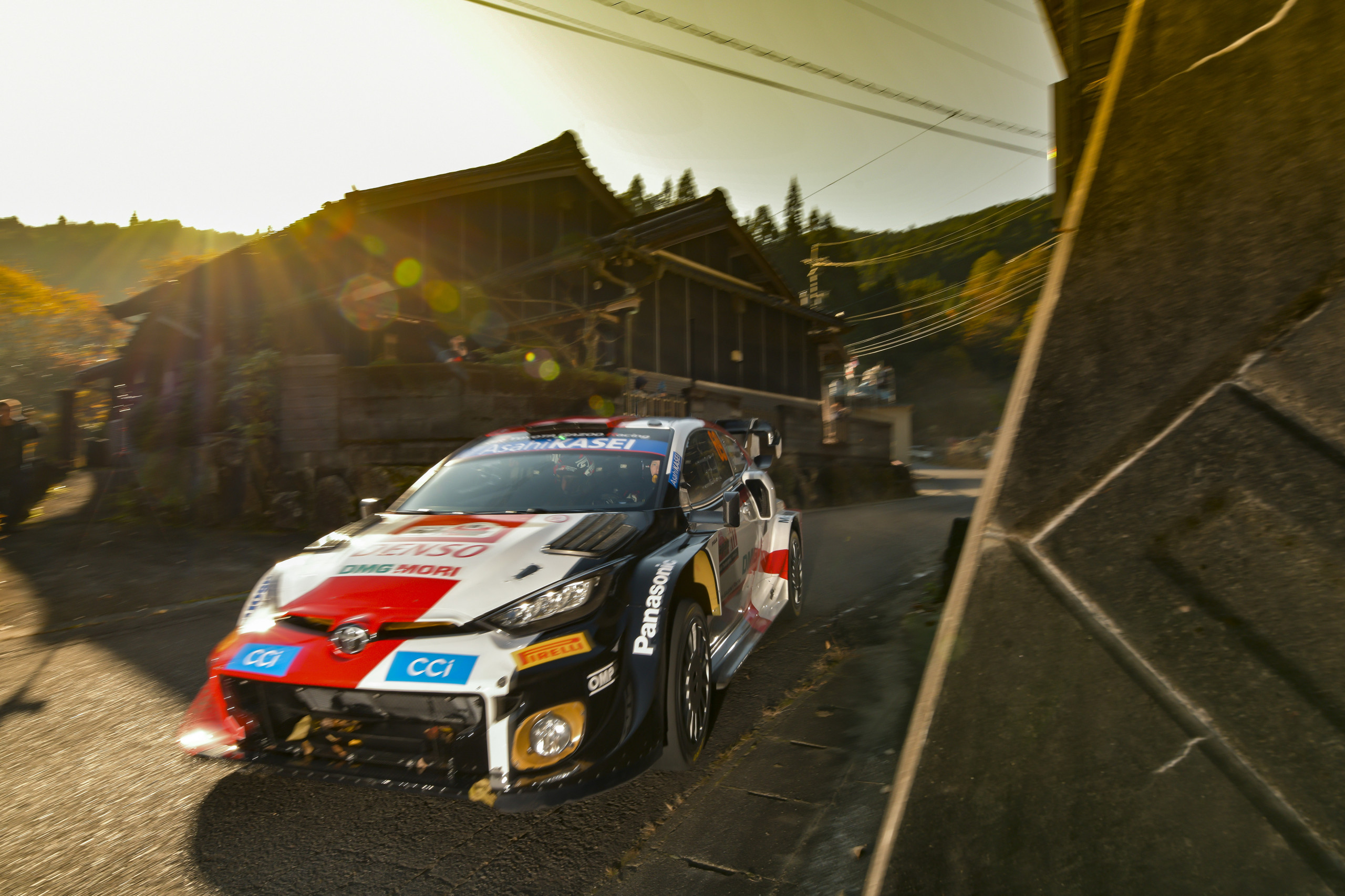 Hyundai Motorsport
Thierry Neuville (1st)
"The target at the start of the day was to stay close to Elfyn and to keep the gap behind. He had a great morning loop, and we were generally looking for a better balance with our car. We just drove to our rhythm and pushed when we could. We got it right for the afternoon with a good tyre choice, and a soft for the final stage, which allowed us to take and increase the lead. Tomorrow is going to be another difficult day, just as it's been all event, and with extra excitement. To finish the season with a victory would be great."
Ott Tänak (3rd)
"It's good to end the day in the provisional podium positions but it's not over yet. We had a generally clean day, with no trouble; everything worked well. We weren't far off the pace but the cars at the front were able to find a bit more and go faster than us. Stage 10 was a bit different, and we could set the fastest time. It was a very "racey" stage, so we stiffened the car a bit and it was a big improvement. Tomorrow looks set to be trickier with more challenging stages. Let's see what it brings; we'll do all we can to bring home a good result for the team."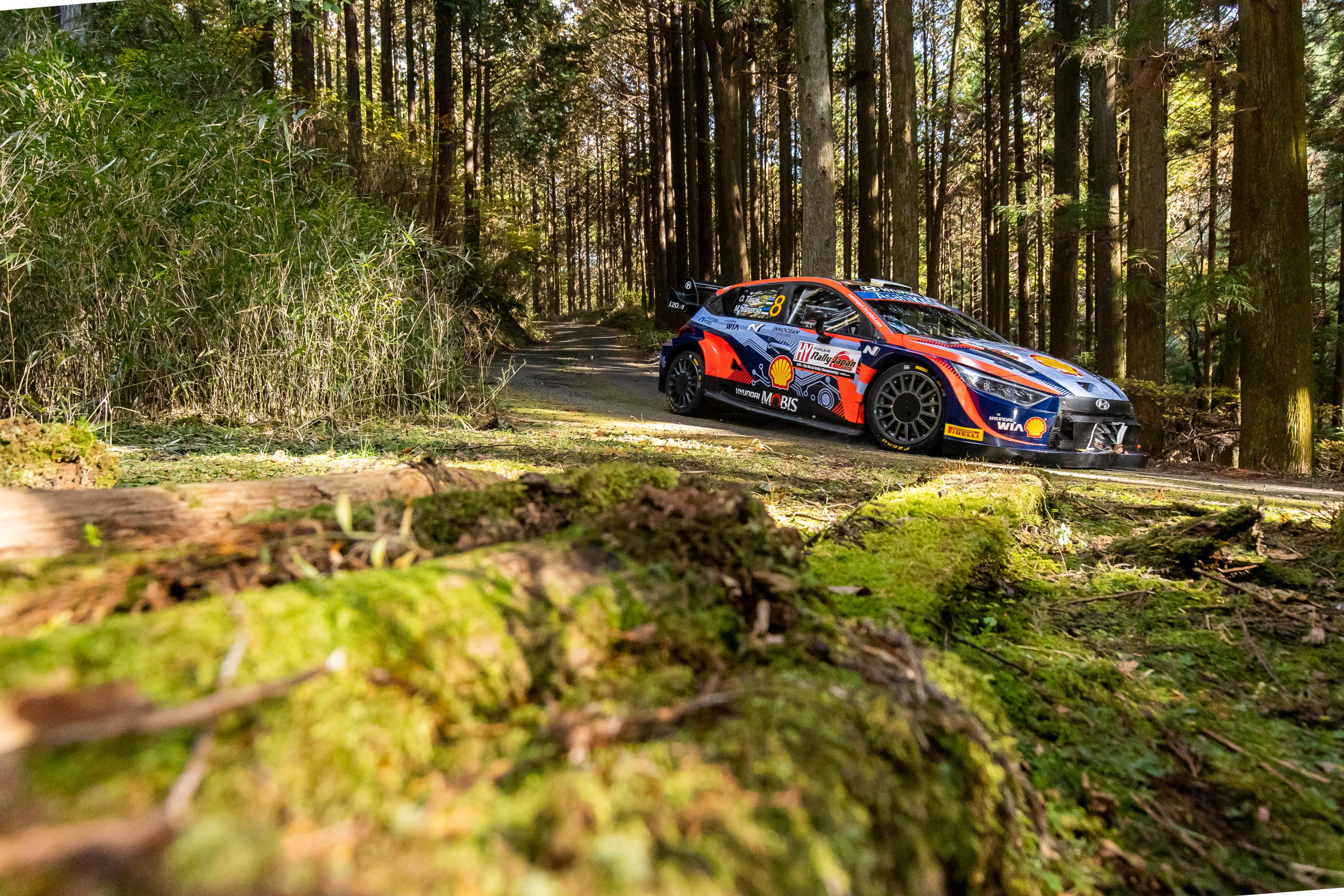 Sunday
The final day of the rally and whole season had arrived and there would be 69km's over five stages. There was also the predicted rain that was due to arrive at any time throughout the day. Once again Craig opened the road and Thierry would be last to complete the stages.
Into SS15 Asahi Kougen 1 – 7.52 km and Elfyn was fastest from Seb, with Thierry third fastest and 3.4 seconds slower than the Welshman. It was game on for the lead between the top two. Meanwhile, Emil remained on course for the WRC2 title holding the lead from Sami.
The longest stage of the day, SS16 Ena City 1 – 21.59 km was taken by Thierry, from Seb and Ott. It was disaster for Elfyn though. He went wide in a corner and picked up a puncture. He stopped around 9.9 km's into the stage and dropped a minute 30 with the tyre change and with it any hopes of victory. He fell to fourth overall, now one minute 47 seconds from Thierry. Takamoto was now holding third overall and Ott moved into second place.
Into the single run SS17 Nenoue Plateau – 11.60 km and Seb was fastest from Elfyn and Takamoto. It was a case of what might have been, as Elfyn may have been able to retake the lead, as the Belgian was three and a half seconds slower than the Welshman. Meanwhile, Craig was just cruising through the stages, waiting for the rain and saving his wet weather tyres for this.
The rain arrived for the second running of SS18 Ena City 2 – 21.59 km and Craig showed he's kept his tyres in very good shape, winning the stage from Seb and Gus. Thierry was faster than Elfyn by a huge margin, just because he'd had some wet weather tyres, whereas, Elfyn only had hard and soft tyres. If the battle had continued, it's likely that Thierry would have pulled away, but we'll never really know now. There was a change around in the WRC2 category though! Gregoire took the lead- and long-time leader Emil was now in second and Sami was holding third.
The final stage then SS19 Asahi Kougen 2[Power Stage] – 7.52 km and the early pacesetter in his Skoda, Maurio Miele's time was not beaten by a number of top-class crews, until Craig came through and went 11 seconds faster. The WRC2 master ended up with the second fastest time in the stage, Teemu was third fastest Thierry fourth and Fabrizio, another WRC2 category driver fifth fastest, all taking home powerstage points. The reason that there were only two top class crews in the top five, was because the weather was moving around and therefore the conditions were constantly changing. If you've not seen the stage, I would recommend watching it if you have WRC Live. We also had a new WRC2 champion crew, with Emil Lindholm and Reeta Hamalainen taking the crown! So good to see a female co-driver taking a championship. They completely deserve this success.
Let's take a look at the final standings and hear from the drivers
Final Overall Classification –Rally Japan
| | | | | |
| --- | --- | --- | --- | --- |
| 1 | T. Neuville | M. Wydaeghe | Hyundai i20 N Rally1 | 2:43:52.3 |
| 2 | O. Tänak | M. Järveoja | Hyundai i20 N Rally1 | +1:11.1 |
| 3 | T. Katsuta | A. Johnston | Toyota GR Yaris Rally1 | +2:11.3 |
| 4 | S. Ogier | V. Landais | Toyota GR Yaris Rally1 | +2:23.6 |
| 5 | E. Evans | S. Martin | Toyota GR Yaris Rally1 | +4:05.1 |
| 6 | G. Greensmith | J. Andersson | Ford Puma Rally1 | +4:07.4 |
| 7 | G. Munster | L. Louka | Hyundai i20 N Rally2 | +7:50.8 |
| 8 | T. Suninen | M. Marrkula | Hyundai i20 N Rally2 | +8:12.4 |
| 9 | E. Lindholm | R. Hämäläinen | Škoda Fabia Evo | +8:25.6 |
| 10 | H. Kovalainen | S. Kitagawa | Škoda Fabia | +8:59.8 |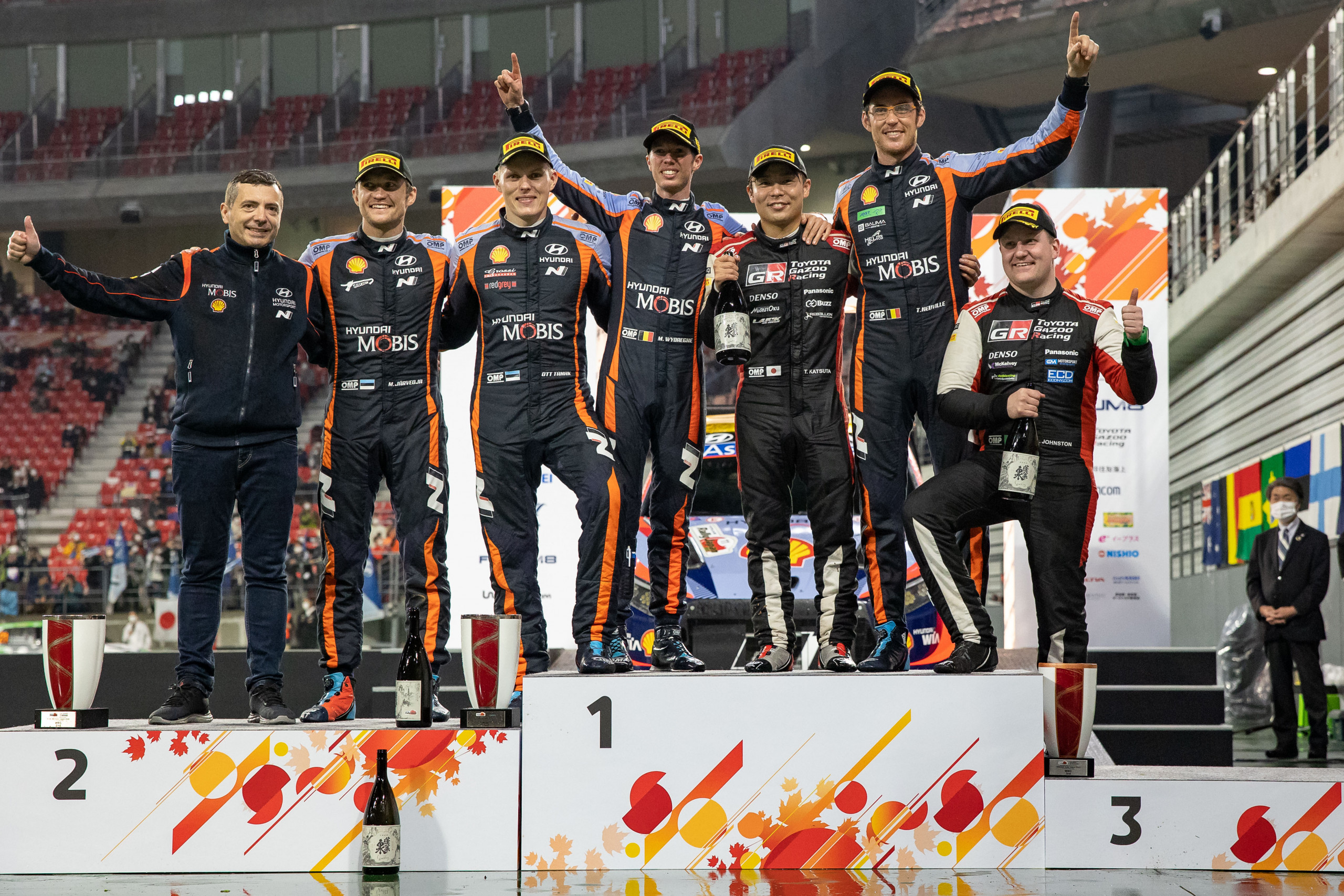 Hyundai Motorsport
Thierry Neuville (1st)
"This victory feels fantastic! It wasn't an easy weekend, or indeed season, but to end with this result is incredible and shows that the performance is there. Thanks to our weather guy for a great job. We knew that the title chase was over, but the target was to come here to Japan to win and we've achieved that with a 1-2. It has been a challenging season; we've shown a turnaround but there is still plenty of work left to do. Results like this give a special boost to the whole team. We know the areas where we need to improve; I keep believing in this team and I will keep pushing also. Next season will be a different challenge. Monte is less than two months away and we have to be ready for that."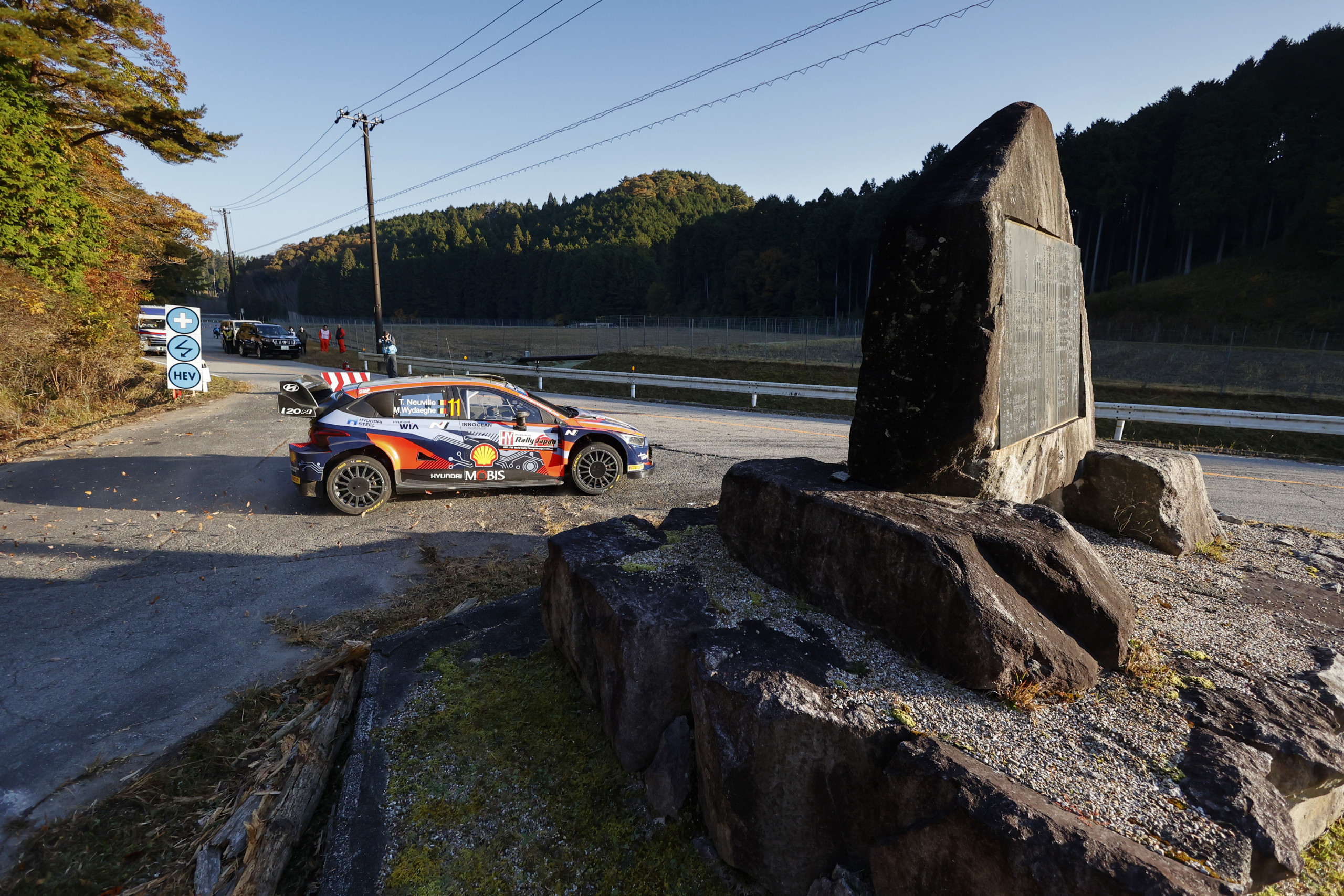 Ott Tänak (2nd)
"It is good to finish the season on the podium. These were extremely tricky conditions at the end, and it's been a demanding rally overall. For the past couple of events on tarmac, we've been lacking some speed to be where we should be. Still, we took the result that we could this weekend and there's been nothing much left. We came to Hyundai Motorsport to fight for another championship title; obviously we have never delivered enough to achieve that, but it's been an incredible experience. We've met another bunch of people and probably made some friends for life, so it's been worth every year."
Toyota Gazoo Racing WRT
Takamoto Katsuta (3rd)
"It is a very special feeling to be on the podium in my home country. I need to say a huge thanks to the team and to the many fans who were supporting us and cheering for us everywhere – on the stages and also on the road sections. It was a really tough weekend with very tricky stages, and the grip level was changing a lot. At first, I was struggling a bit with the feeling but on Friday lunchtime we changed the setup with the team and it went in a very good direction, so I had a more comfortable feeling and the times were pretty good. We had some very difficult conditions at the end of the rally especially, but we were able to survive. Thank you to Aaron and also to our gravel crew, Juho Hänninen and Craig Parry, who did a great job supporting us with information for the pacenotes."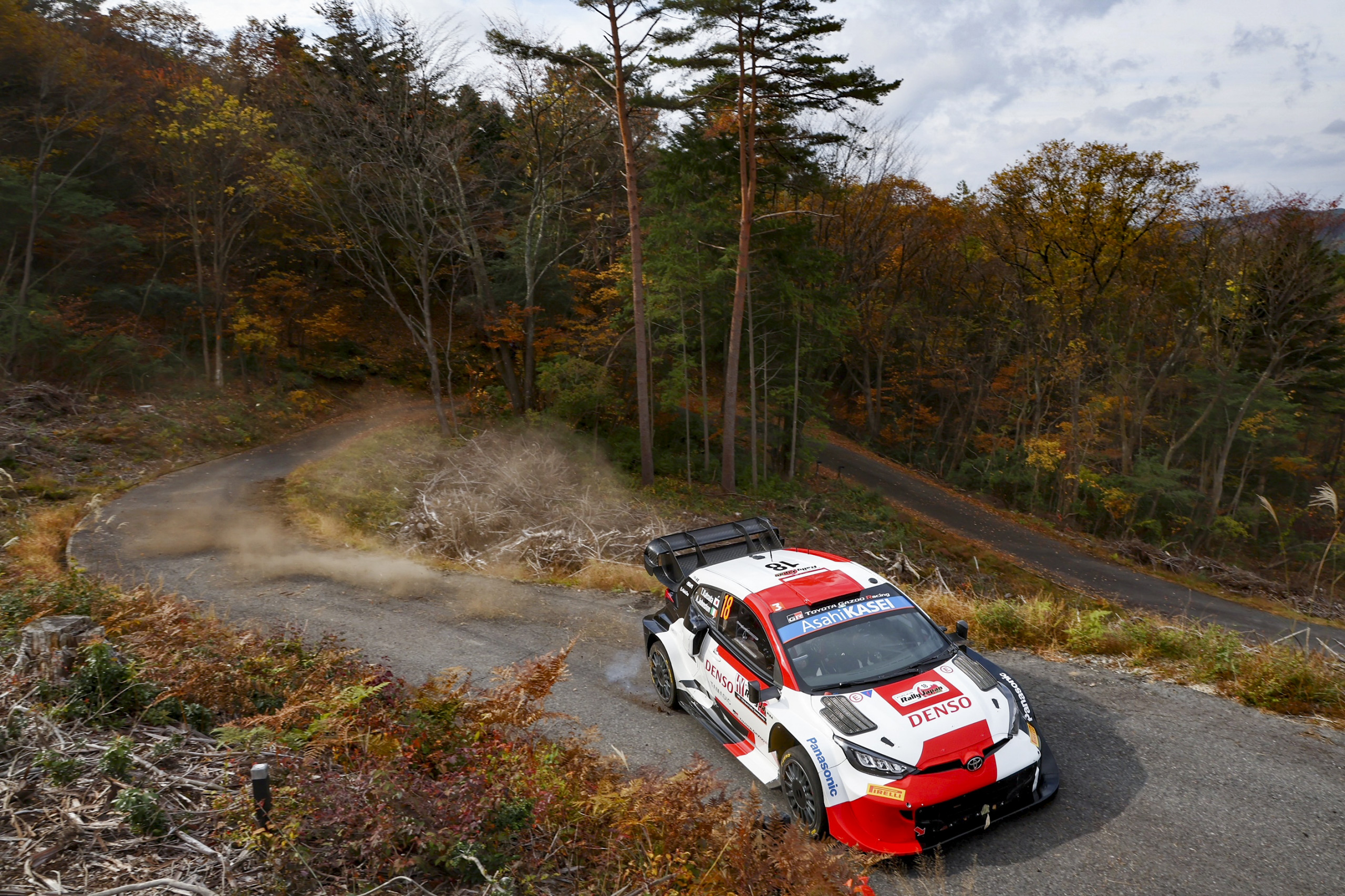 Sébastien Ogier (4th)
"It was a challenging end to the rally today with the rain which we knew was coming. It was a tough tyre choice this morning with some stages to be driven in the dry and some in the wet so we had to go with a compromise. I think we had the correct choice overall as we were fastest again over the day. It's been a good weekend in terms of the performance and speed we showed again this weekend, and the first time with Vincent who has done a perfect job. Of course, it would have been even better if we were rewarded with the result that I think we deserved, but some bad luck hit us again this weekend. We are all happy to see Taka on the podium at home and it's been great to have so much support here in Japan."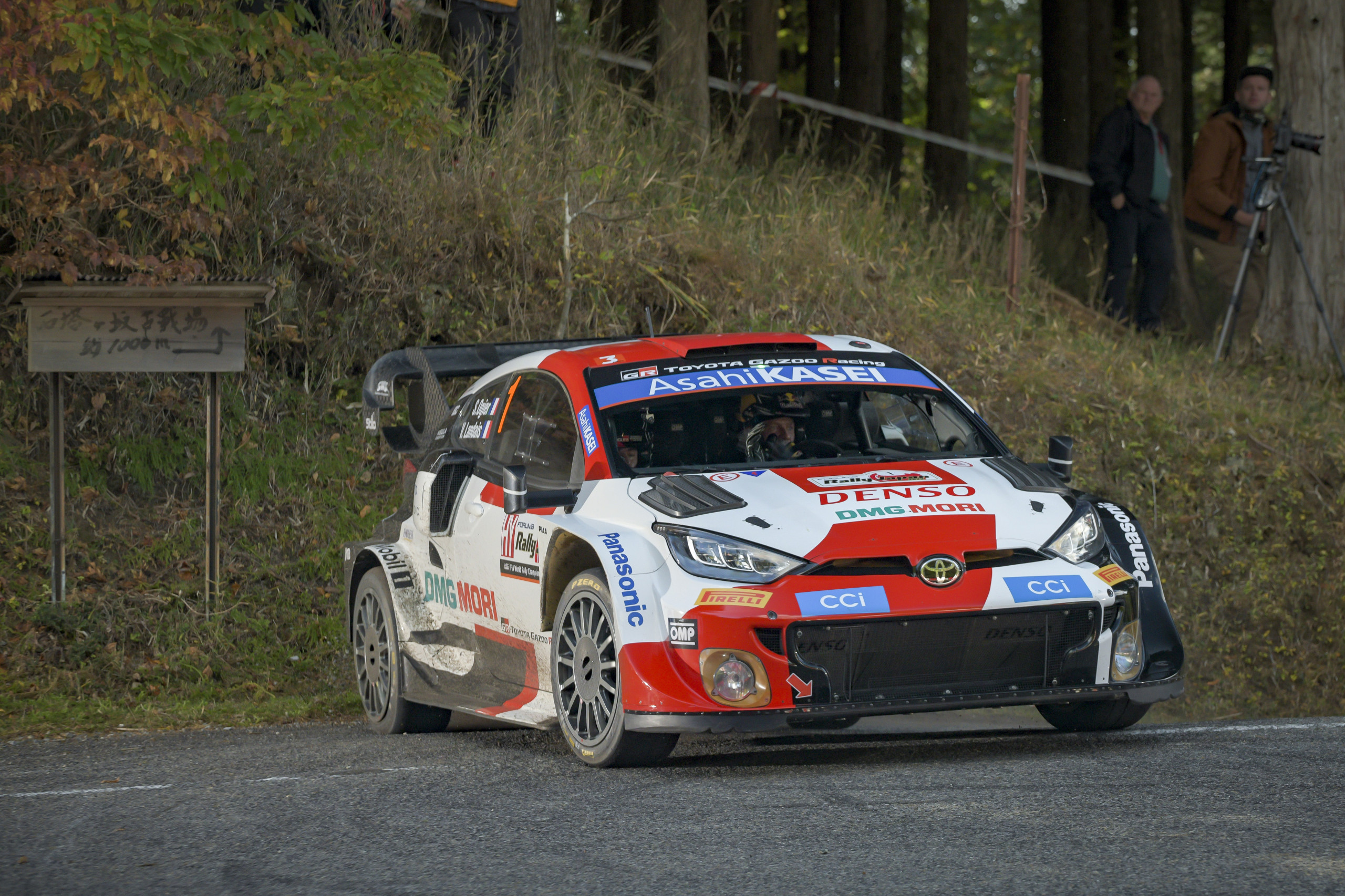 Elfyn Evans (5th)
"Naturally I'm massively disappointed about today. It's been a tough season personally and we had a chance here and threw everything at it. Today started really well, we had a good rhythm in the car and things were working well. But on the second stage we ran marginally wide and damaged the tyre. It was a big penalty for a small error but that's the nature of the game. It's really busy on the stages here so it was easily done. After that the battle for the win was over and then the rain came and the tyres, we had left were not optimal for that. I'm really happy for Taka to be on the podium at his home event: He's worked hard all year and really deserves it."
Kalle Rovanperä (12th)
"This has been a tough rally and a challenging one just as we expected. It didn't go our way this weekend but sometimes it's like this. The main thing is we got to the end of the rally and learned some things for the future. Again, we were using today as a test day and we wanted to keep the balance with the tyres consistent for the dry stages so that we could try some more things with the setup. I think we made a positive step and found some things which were nice to drive and at least we know the direction for the future. Overall, we've had a really good season so we can be very happy with that and thanks to the team and everybody who made it possible."
2022 FIA World Rally Championship for Drivers' Standings
After round 13
| | | |
| --- | --- | --- |
| 1 | K. Rovanperä | 255 |
| 2 | O. Tänak | 205 |
| 3 | T. Neuville | 193 |
| 4 | E. Evans | 134 |
| 5 | T. Katsuta | 122 |
| 6 | S. Ogier | 97 |
| 7 | C. Breen | 84 |
| 8 | D. Sordo | 59 |
| 9 | E. Lappi | 58 |
| 10 | G. Greensmith | 44 |
2022 FIA World Rally Championship for Manufacturers' Standings
After round 13
| | | |
| --- | --- | --- |
| 1 | Toyota Gazoo Racing World Rally Team | 525 |
| 2 | Hyundai Shell Mobis World Rally Team | 455 |
| 3 | M-Sport Ford World Rally Team | 257 |
| 4 | Toyota Gazoo Racing World Rally Team NG | 138 |
Summary
Well, what an amazing final round of the championship. Two Finnish crews walk away with both titles, and Takamoto takes an amazing third place at his home rally.
There were the issues throughout the weekend, with punctures, mechanical problems, and even a road car getting onto a stage (that was number 4) leading to it being cancelled, when the WRC2 crews were going through.
I'll be reviewing the season, team by team. Look out for these coming soon.