A press release on the 18th January 2019 from Formula 1 Media announced that the TV and Digital audience has grown for the second consecutive year. With a reach of 490.2 million unique viewers throughout the 2018 season, the figures re-enforce Formula 1's position as a powerhouse in motorsport.
The press release documents Formula 1's increased popularity in Brazil, Germany and Italy which is hardly surprising given that the competition between Mercedes and Ferrari has become even tighter in the past few seasons. It also acknowledges a growth in social media platforms, increasing by a whopping 53.7% since 2017, which must come as excellent news to Formula 1's owners Liberty Media, who put themselves in the driving seat in 2017.
News of an increase in viewing figures comes as a surprise to some, and indeed some journalists have been quick to fill in what F1 have been careful to omit. Reuters Formula 1 correspondent Alan Baldwin took to Twitter to discuss these findings, putting the growing figures to a change of measurement. According to Baldwin, F1 took the decision to change the duration of viewing time, lowering it from 15 consecutive minutes to the industry 'standard' of 3 minutes, which many believe could have potentially over inflated TV viewing figures.
The reported increase is almost a direct juxtaposition to the opinions of commentators, ex-drivers and fans who have frequently suggested the formula is no longer as appealing as it once was, expressing a desire to see more exciting racing and greater competition among the teams.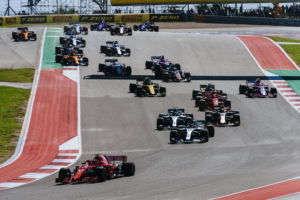 In a recent interview, ex-driver and Sky F1 commentator Martin Brundle expressed his own concerns about whether F1 was really doing enough to encourage competition and further interest in the sport: 'We're on a little Formula One island spending a lot of money to run 20 cars, and the drawbridge is up and I don't see anybody waiting on the other side to come on'.
So why is there a disconnect between fans and commentators, and F1 bosses, and what could be done to bring down that metaphorical drawbridge?
The biggest issue for fans is the lack of real variety and competition in the sport. Upon hearing the news of a change in measurement, fans joked that it only took three minutes from the start of the race to figure out who was likely to win. If you're a fan of Lewis Hamilton, it has been an excellent few years for you. However, others have grown tired of a very similar looking line-up each week, and are looking for change.
Some are of the belief that Formula 1 should take inspiration from their American cousins in the NTT IndyCar series, providing each team with a uniform car to develop each year as opposed to allowing teams to spend exorbitant amounts on existing cars. Teams such as Toro Rosso, Sauber and Force India are often seen running old technology in their cars, immediately putting them on the back foot when attempting to compete with teams like Mercedes and Ferrari. If IndyCar is anything to go by, giving each team the same car should create much more variety on the podium, and healthy and fair competition between the drivers.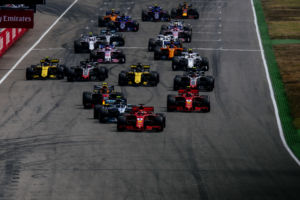 Budget is also a huge issue in Formula 1. In the past ten years, fans have waved goodbye to a total of six teams who have failed to keep their cars on the grid due to a lack of results and racking up debts that cannot be settled without closure or repossession. Formula 1 favours the teams who can afford to invest large sums, and punishes those who cannot, so should this too be subject to a change?
Capping the amount a team can spend on their cars could give the smaller teams a greater opportunity to 'catch-up' not only on the grid, but in terms of the changes they can make on the car. Investing endless sums of money into finding a winning formula is bound to result in success at some point, take Mercedes as an example, but it also automatically relegates the smaller teams to the back of the grid, instead of challenging the big names and keeping the racing exciting.
In reality, getting the bigger more influential teams such as Ferrari, Mercedes, Red Bull and McLaren to agree to these changes would be like having the turkeys vote in favour of Christmas. Indeed, if the F1 viewing figures continue to grow as they seem to be, Formula 1 bosses will probably argue there is no need to make such drastic reformations. Only time will tell.
Featured image – 2018 Abu Dhabi Grand Prix, Sunday / Steve Etherington