On Sunday, Thierry and Nicolas had a good gap and just three stages to clear before they could take their first Swedish victory. The gap to Craig stood at just under 23 seconds and that meant he'd be able to just manage his pace.
The first stage of the day, Likenäs, saw another stage victory for Ott Tanak, with Lappi second fastest and Jari-Matti third. This allowed Lappi to take fifth place from Mads. Meantime, Craig closed a few seconds down on the leader and the gap was now 14 seconds. Rejoining after his troubles after yesterday, Kris spun again after clipping the inside of a snowbank.
The same stage was run later and this time Lappi took the stage victory, with Thierry second fastest and Craig, having made some changes to his notes with Scott was third, and with that increasing the gap over Andreas on the overall leaderboard a further three seconds to almost fifteen seconds. After setting such a good time, Lappi had now closed to just three seconds of Hayden! Could he snatch fourth on the last stage?
We had a bit of a wait for the last stage, which was set to run just after midday. The re-run of Torsby as the power stage saw Lappi once more at the top, with Seb, Andreas, Thierry and Ott completing the top five in the stage and taking the points for those positions.
Well, we had or top three overall and taking his and Hyundai's first Swedish victory was Thierry, with Craig Breen finishing second after a superb drive to second, his best result yet! Andreas made it a Hyundai 1-3 double podium! Not only that, but Thierry took the lead in the driver's championship and Hyundai also now lead the manufacturers championship for the first time ever.
Overall Classification- Rally Sweden
Thierry Neuville / Nicolas Gilsoul (Hyundai i20 Coupe WRC) 2:52:13.1
Craig Breen / Scott Martin (Citroen C3 WRC) +19.8
Andreas Mikkelsen / Anders Jaeger (Hyundai i20 Coupe WRC) +28.3
Esapekka Lapp / Janne Ferme (Toyota Yaris WRC) +45.8
Hayden Paddon / Sebastian Marshall (Hyundai i20 Coupe WRC) +54.4
Mads Østberg / Torstein Eriksen (Citroen C3 WRC) +1:15.3
Jari-Matti Latvala / Miikka Anttila (Toyota Yaris WRC) +2:04.9
Teemu Suninen / Mikko Markkula (Ford Fiesta WRC) +2:52.2
Ott Tänak / Martin Järveoja (Toyota Yaris WRC) +3:44.4
Sébastien Ogier / Julien Ingrassia (Ford Fiesta WRC) +8:45.4
Let's hear from the drivers starting with the top three.
Thierry Neuville
"An incredible result! We had a disappointing start to the season in Monte-Carlo, but we didn't let that get us down. We kept focused and targeted a strong result here in Sweden. We knew the competition would be tough for the win but we came here with the objective to bounce back, and we did that perfectly. We didn't expect to take the lead so early in the weekend, so we have had to be clever to defend the gap at times, and then increase it when we could. I felt we deserved the win last year, but perhaps even more so this weekend. I was never going to push in the Power Stage because the victory meant too much to risk, so to come away with two extra points is great. We're now leading the championship, so our 2018 campaign is back on track. Thanks to everyone in the team. We have many people working tirelessly every day behind the scenes to give us a competitive car, one with which we can fight for victories like this. This win is for all of them; it's been a fantastic weekend for us."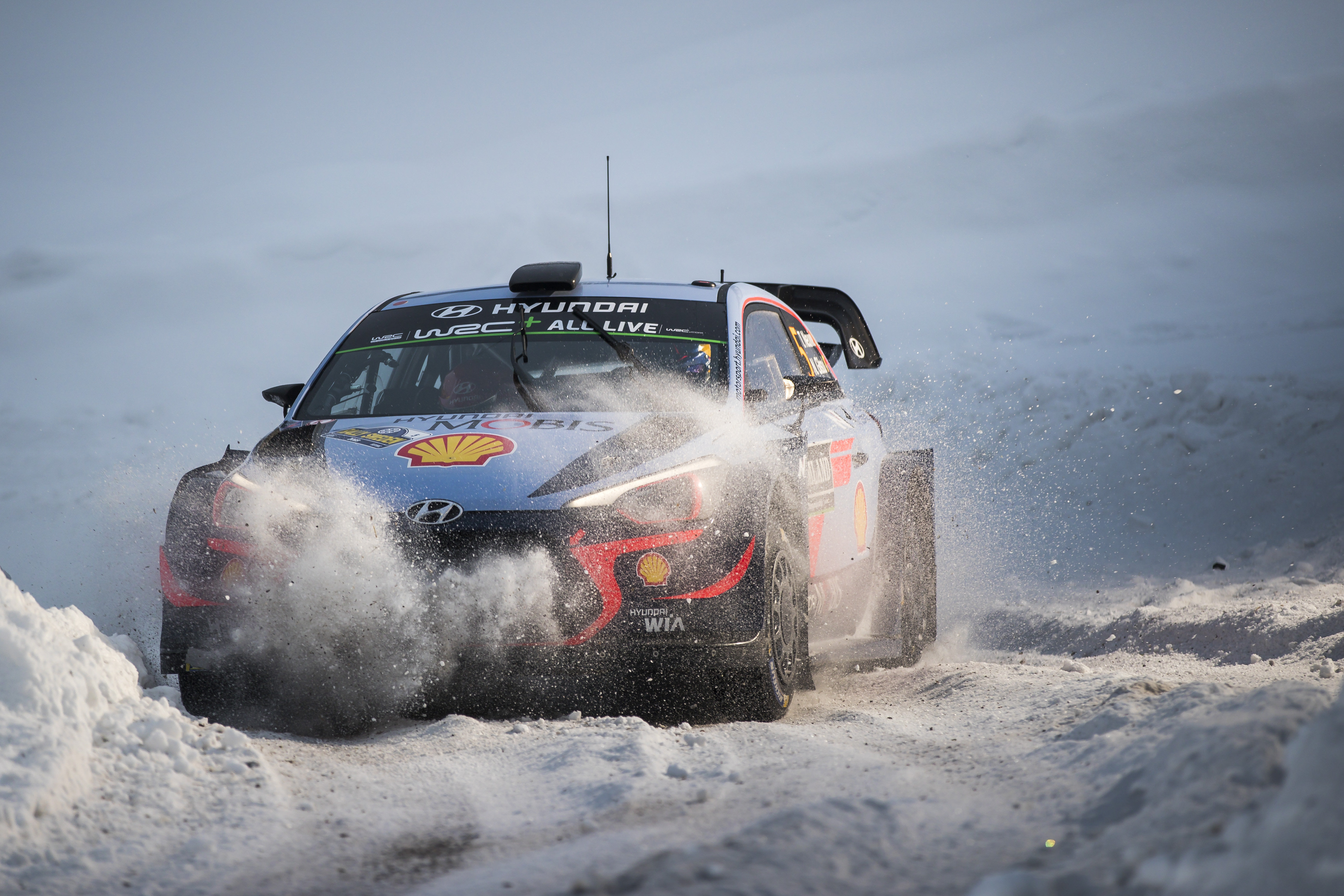 Craig Breen
"I'm absolutely on top of the world! It has been an incredible weekend. I have always really enjoyed this rally in the past, but I have to say that I surprised myself this weekend in that I was able to fight at the front throughout the race, without making any mistakes. I used to think that quick rallies weren't suited to me, but that doesn't seem to be the case anymore. In any event, my C3 WRC was perfect here and it's great to secure this result for the team – the guys have worked really hard for this."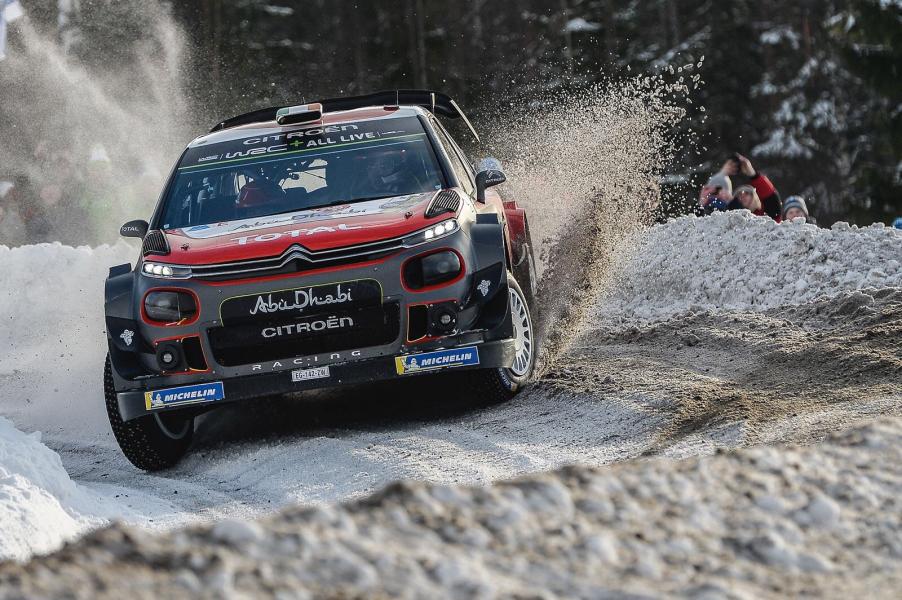 Andreas Mikkelsen
"It is a fantastic feeling to be standing on the podium for the first time with Hyundai Motorsport. We have had a pretty solid weekend and enjoyed a clean final morning. I wanted to give a push in the Power Stage but it's always a fine line as we definitely didn't want to risk our podium. In the end, we took three points and third place overall, which is very encouraging. More than that, it has been an excellent weekend for the team as a whole, and our congratulations go to Thierry and Nicolas on a tremendous result.  It's wonderful to be able to share in this success, and to see the team at the top of the championship, even at this early stage in the season."
Here's the rest of the drivers.
Toyota Gazoo WRT
Jari-Matti Latvala
"It has been a very hard weekend for me. We just lost so much time on the first day with our high starting position in the fresh snow and the heavy ruts. We changed the transmission for the final day and this improved the feeling compared to yesterday. The team did a very good job and the car was handling very well. It is both quick and reliable and that is important."
Ott Tänak
"This has been a tough weekend. On Friday we faced some bad conditions and couldn't have done much more. On Saturday our road position was slightly better, the pace was better as a result and we could win quite a few stages. Then today when the conditions were in our favour we could do some more good times. This was my first rally in the Toyota Yaris WRC with a gravel-style setup and we have learned a lot of things."
Esapekka Lappi
"To get the Power Stage win and gain two places today has been very good. I'm really happy for the team as well: at least we got some kind of good result from this weekend. It means I'm not so disappointed anymore about what happened to me on Friday. It's so easy to make a mistake here. Overall the whole rally was quite strong. I wasn't expecting this kind of speed from my side, so I'm really looking forward to coming back here next year."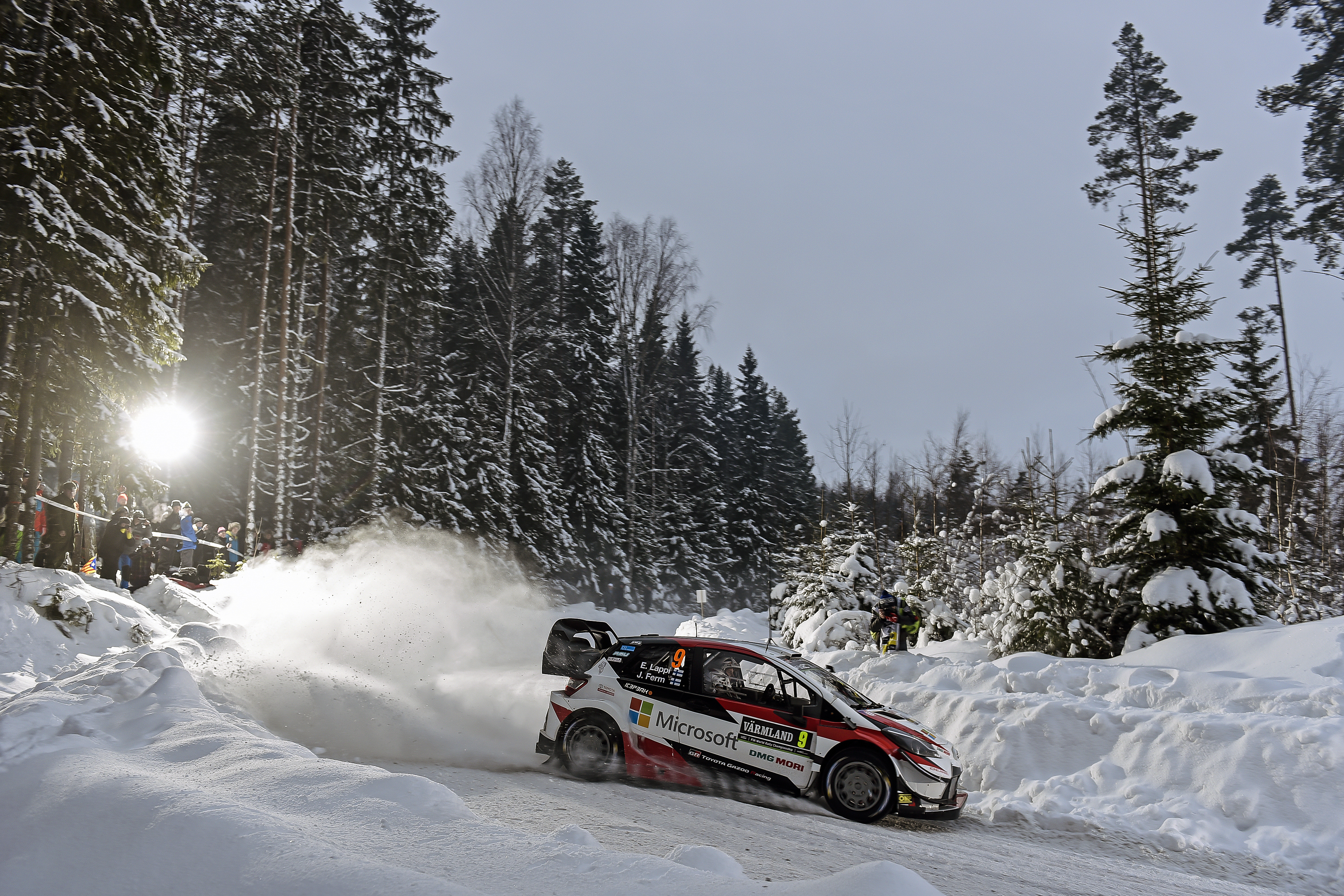 Hyundai Motorsport
Hayden Paddon
"An annoying end to what had been a generally positive weekend for us. It was just a small mistake in the Power Stage, which stalled the car and lost us too much time to defend our fourth place. It is what it is. We're not in the championship hunt this season so whether it's fourth or fifth doesn't really matter greatly. We have plenty of positives to take away from the event and I am looking forward to continuing this trend in my next WRC event in Portugal. I'm happy to have been part of this competitive rally for the team and I can't wait to get back behind the wheel."
Citroen Abu Dhabi WRT
Mads Østberg
"I'm delighted with my return to the team. I wasn't expecting to be able to fight for such a good position with the limited amount of miles we covered in testing. I hope that the team is pleased with what we have done with this first experience together. I know that with more time in the car, I can be even more competitive with the C3 WRC. In any case, I would love to drive it again soon!"
Kris Meeke
"It was a difficult rally for us. With our less than ideal position in the running order on Friday, I had trouble finding any confidence, which meant that we ended up being one of the first on the road on Saturday. I was nonetheless working hard to secure the point for tenth place when we nosed into a snow bank at low speed and damaged the turbo. It was really unlucky. I'm determined to bounce back, starting in Mexico. Out of the next four rallies, I have already won three of them and I was leading in Corsica last year as well."
M-Sport Ford WRT
Teemu Suninen
"It's been a difficult rally, but we've been improving a lot and learning a lot about how to drive these cars on this surface – because it's quite different from the R5 cars. The target before the rally was to be somewhere between fifth and eighth, and we're eighth so it's okay. But of course, I was hoping for a bit more. We just need to improve the driving and learn more about how to be fast in these conditions."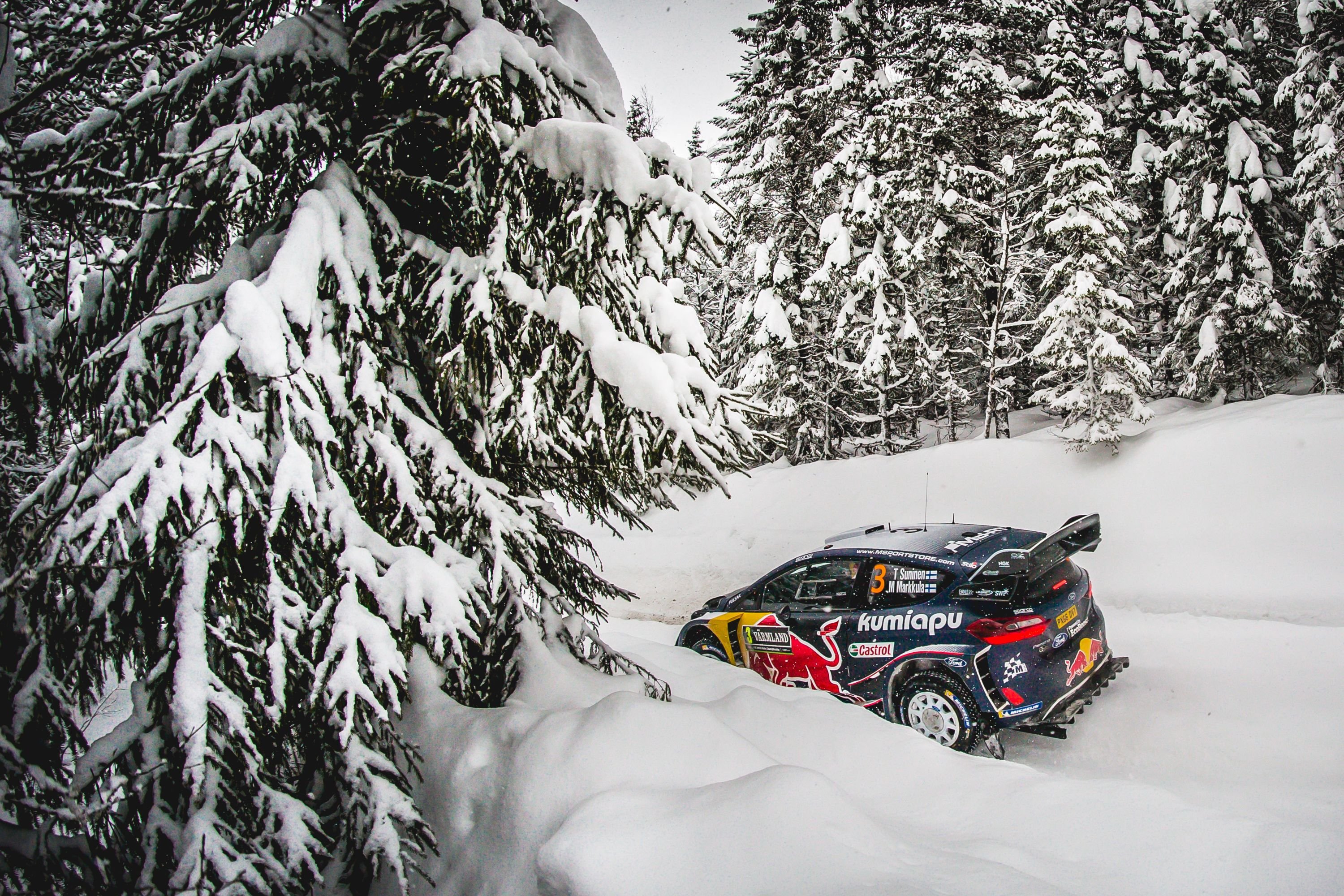 Sébastien Ogier
"For years now, I have been fighting for different rules regarding the starting order. In the end, this is a World Championship and everyone tries to do their best and take every chance that there is to win points.
"At least on this stage [the Power Stage] we had the chance to score some points. I would have preferred to have come here with a realistic chance of fighting for the win or even a podium, but that was not possible from the beginning of this weekend."
Elfyn Evans
"It's not been the easiest of weekends. It's probably fair to say that we were struggling for some pace through the early stages, but then when the puncture set us back we didn't have any chance with the road position. It's certainly not the weekend we wanted, so we just need to put it behind us and look forward to Mexico."
Conclusion.
Well, what an amazing rally we were treated to! A maiden victory for Thierry and Hyundai in Sweden, plus Craig Breen's best ever result with second place. Also, Esapekka making up for his slip in Monte's last stage with a very good drive to fourth!  It was great to see Hayden out there for the first time this year.
We've now got a break with Rally Mexico on the first weekend of March where Thierry and Seb will continue to battle. Will it just be them, or can Kris produce a drive like last year and bring himself into a title fight?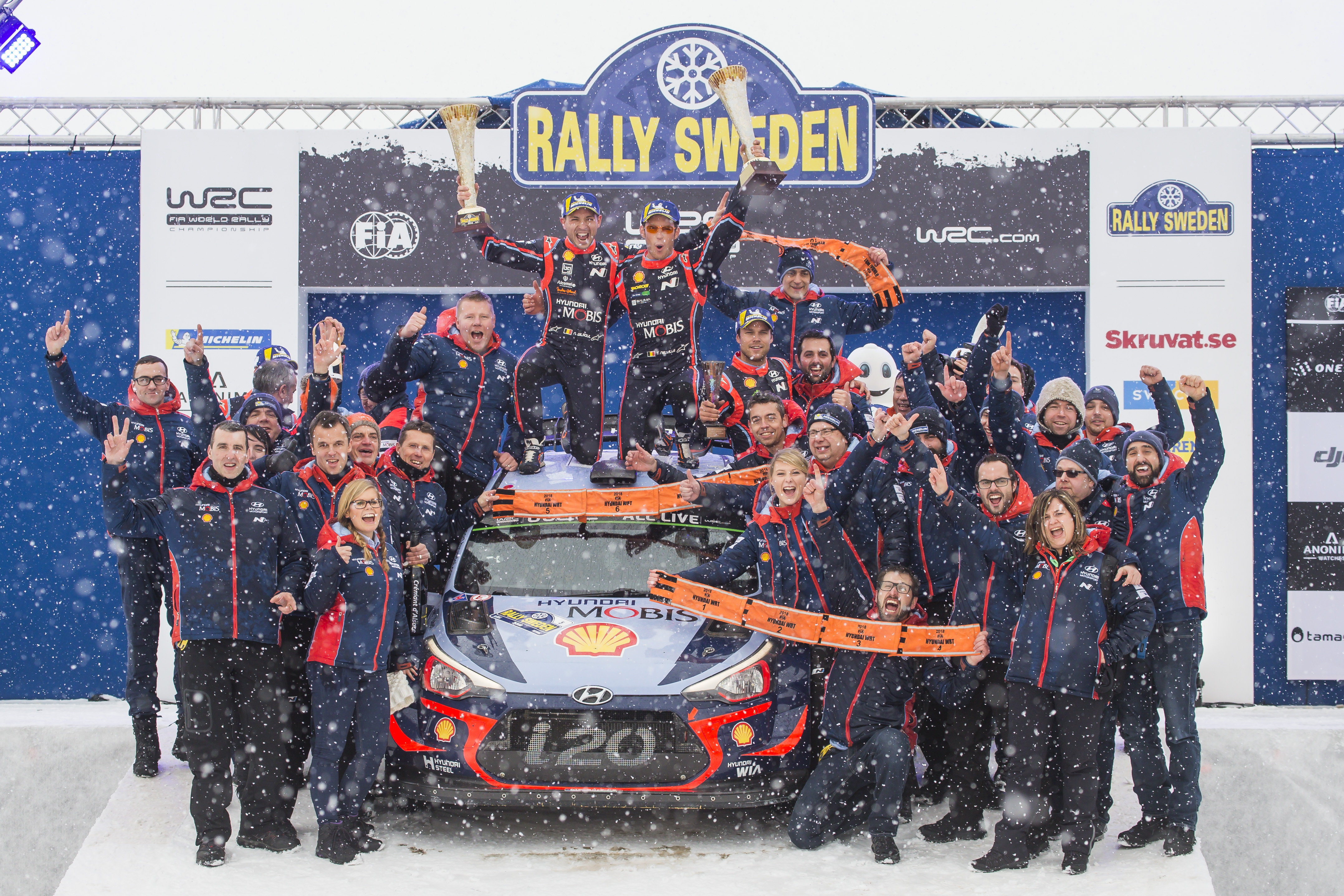 Drivers Championship Standings
Thierry Neuville – 41
Sébastien Ogier – 31
Jari-Matti Latvala – 23
Esapekka Lapp – 23
Ott Tänak – 21
Andreas Mikkelsen – 21
Craig Breen – 20
Kris Meeke – 17
Hayden Paddon – 10
Elfyn Evans – 8
Manufacturers Championship Standings
Hyundai Motorsport – 54
Toyota Gazoo Racing WRC – 53
Citroen Total Abu Dhabi World Rally Team – 46
M-Sport Ford World Rally Team – 43