Qualifying:
An impeccable time was done by Francesco Bagnaia/ Pecco (Ducati) on Saturday during the qualifying, securing him pole position and an all-time new lap record with 1:30.450, from team-mate Jack Miller and Aprilia rider – Aleix Espargaro rounding off the front row.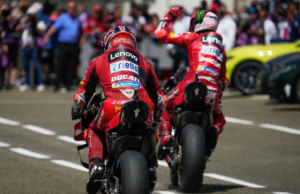 However, eyes were on Suzuki this weekend following on from the breaking news that they are going to resign from Moto GP at the end of the year, leaving riders Alex Rins and Joan Mir with no ride (as of yet). With this news, how would they fair this race?
France was also looking at home-hero's Fabio Quartararo (Yamaha) and Johann Zarco (Ducati) to produce something magical during the race, as a French rider has never won at Le Mans in the Premier Class.
The excitement was building:
Race:
As the riders lined up on the grid many teams were choosing to change their tyre choice minutes before lights out, due to the temperature heating up. But, which team was going to decide correctly?
It was a great start from Bastianini (Ducati), who shot into 2nd place behind Miller. Bagnaia went down two places to 3rd. Three Ducati's led the two Suzuki's in 4th and 5th.
Bastianini made an early mistake which put him down to 4th place, while Takaaki Nakagami (Honda) fought Yamaha-man Quartararo. But seizing an opportunity during their tussle, Marc Marquez (Honda) took full advantage and surprised everyone, by passing both riders to take 7th place.
By lap 3; Miller led Bagnaia, Rins and Mir. But it wasn't going to stay that way for long:
Rins suddenly crashed out, ending his race early on turn 4. He managed to rejoin the race after having to go through the gravel, but unfortunately didn't finish.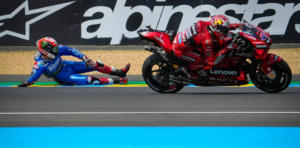 Miller then led Bagnaia and Bastianini, with 24 laps still to go.
The next lap and it was Miller's turn to make a mistake, causing him to go wide leaving Bagnaia to take the lead. On the same lap Remy Gardner (KTM) took a tumble out of the race.
Fastest lap swiftly went to Pecco. Was he about to check out?
Hopeful to put on a show for the French fans on lap 6, Fabio tried to overtake the Aprilia for 5th place but to no avail.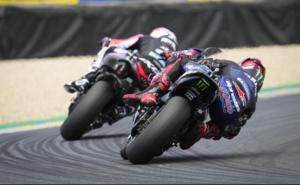 Lap 7 saw Raul Fernandez (KTM) crash out on turn 6, leaving his team-mate to pick up any points.
Back in 3rd place Bastianini seemed to have more pace than the leading Factory Ducati's. It soon became apparent this was the case as with no warning, he snuck up underneath Miller and claimed 2nd.
Lap 15, turn 14 and it was Mir's turn to end his race early, cutting Suzuki's weekend short. With Mir now out, A. Espargaro was bumped up to 4th position and Fabio into 5th.
Only 13 laps until the chequered flag Bagnaia couldn't seem to shake Bastianini. Was it just a waiting game for The Beast?
Running a good race, Jorge Martin (Ducati) crashed out on turn 9, lap 18. This would be his third time in a row this season.
On lap 21 Bastianini took the plunge and passed Bagnaia to take 1st place but Bagnaia wasn't having any of it and passed right back again. Then everything happened so quickly: Bagnaia went wide on the next corner giving Bastianini the lead back again. Only moments after that Bagnia crashed out from 2nd on turn 14. Bastianini then had a 2.371 second lead ahead of Miller and A. Espargaro, with the two Frenchmen in 4th and 5th.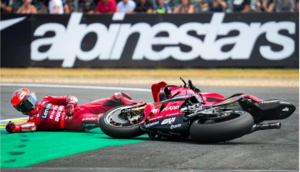 With only 3 laps until the end, number 88 – Miguel Oliveira (KTM) also crashed out.
Last lap time and Bastianini was leading, putting in consistent lap times and a very strong performance – still leading Miller and A. Espargaro. Fabio tried to make a move on Aleix for 3rd but couldn't quite find the right way to do it. Brilliant riding from Bastianini saw him cruise over the finish line, claiming his 3rd win this season for the Gresini Racing team, with Miller taking some fantastic points in 2nd and holding onto 3rd place, A. Espargaro continued his theme of making history for Aprilia with the first ever 3 consecutive podiums in the Premier Class.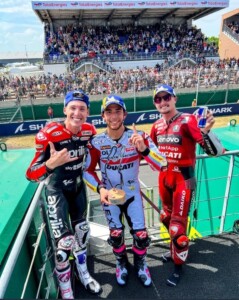 Top Ten Race Finishers:
| | |
| --- | --- |
| 1st | E. Bastianini |
| 2nd | J. Miller |
| 3rd | A. Espargaro |
| 4th | F. Quartararo |
| 5th | J. Zarco |
| 6th | M. Marquez |
| 7th | T. Nakagami |
| 8th | B. Binder |
| 9th | L. Marini |
| 10th | M. Vinales |
It's still super close at the top for the 2022 championship. 
Top Four championship riders:
| | | |
| --- | --- | --- |
| 1st | F. Quartararo | 102 points |
| 2nd | A. Espargaro | 98 points |
| 3rd | E. Bastianini | 94 points |
| 4th | A. Rins | 69 points |
This season is so unpredictable, we can only guess what is going to happen next round in Italy. 
Featured image: "Podium Traditions". Courtesy of: Moto GP Twitter Page.