Qualifying:
Conditions were cold and cloudy at Silverstone during qualifying, which didn't help with tyres. One man though seemed to revel in the weather and made pole for the first time in his Moto GP career – Pol Espargaro (Honda)!
It looked like it was going to be Jorge Martin (Ducati) who was going to ruin the celebrations as he put in the fastest lap with few seconds to spare, but the lap was removed as he exceeded track limits – he qualified 4th on the grid.
Pol lead Francesco Bagnaia (Ducati) and Fabio Quartararo (Yamaha) on the front row.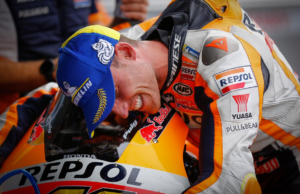 Race:
The cloudy conditions remained in place for Sunday, with highest temperatures of just 22 degrees.
There was a sell-out crowd for round 12 at Silverstone, with many of the fans gathering to witness Valentino Rossi's (Yamaha) final race at the iconic British track. They also cheered for Cal Crutchlow, who again came back from retirement to race at his home-track, this time on the factory Yamaha alongside Fabio. Team-mate to Rossi on the Petronas Yamaha, Jake Dixon made his debut at Silverstone.
Due to Covid restrictions last year, Moto GP did not attend Silverstone so audiences were hyped up to witness something special. In the last six years there had been six different winners, could there be a seventh in seven?
Tyres seemed to be an issue at the track and whilst waiting for the warm-up lap the top three riders in the championship all changed their tyre combination to a mixture of soft and medium.
Pol Espargaro got a great start from pole and was soon leading the race from Quartararo and Aleix Espargaro (Aprilia). Bagnaia quickly made it through to second place but it was taken back by Aleix.
A shocking move from Marc Marquez (Honda) on lap one meant that he took out Austria's (race one) winner Jorge Martin (Ducati). Neither one of the riders were able to get their bikes properly started to rejoin the race.
But disappointment for two riders went to elation for two others. Both Espargaro brothers were first and second from Bagnaia in third.
Weighing up his options, Aleix tried to pass Pol for first on lap three, but to no avail.
With 18 laps to go, Fabio took 3rd place from Pecco and soon had his eyes set on the two brothers ahead. Fabio had the fastest lap and quickly took second place from Aleix. Pecco seized an opportunity to also gain a place from Aleix but the Aprilia rider was having none of it and regained 3rd back within quick succession.
Lap 5 of 20 saw Quartararo take the lead and the gap just slowly kept getting larger and larger. There was nothing the rest of the pack could do to catch him. With 15 laps until the end, the gap was already 1.007 seconds.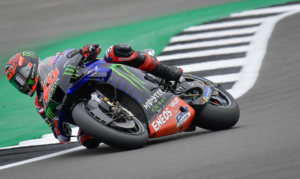 But what could Austria's second race winner – Brad Binder (KTM) pull out of the bag this weekend? He was in 13th place with 14 laps to go.
Quartararo was in his element, finding his groove and setting better and better lap times. He soon was 2.031 seconds ahead of P. Espargaro, A. Espargaro, the two Suzuki riders in 4th and 5th and the factory Ducati's in 6th and 7th.
Tyres became a factor for many of the riders during the race and two names that felt this the most were Valentino Rossi and Francesco Bagnaia. By lap 8, Rossi had been overtaken by Alex Marquez (Honda) in 8th place and Bagnaia had gone into 7th position, having been overtaken by Jack Miller (Ducati). P. Espargaro had also been caught and overtaken by Alex Rins (Suzuki), for 3rd.
Extending his lead, Fabio was 2.617 seconds ahead of A. Espargaro, Rins, P. Espargaro and current Moto GP Champion – Joan Mir (Suzuki).
The British crowds roared loudly for their fellow riders – Cal Crutchlow and Jake Dixon, but for all their efforts they were unfortunately in 17th and 19th place. This didn't dampen the fans though because they were both riding well.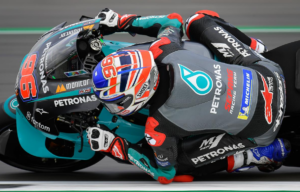 Meanwhile Rins, who had propelled himself from 10th on the grid had taken 2nd place from A. Espargaro, who made a small mistake and went wide, with 9 laps to go until the chequered flag.
Lap 13 saw A. Marquez take 7th place from Bagnaia, who passed him with relative ease, as the Ducati's tyres had worn out.
The race leader however, was managing his tyres extremely well and had extended his lead even further to 3.458 seconds. Rins was trying everything to get the gap down between himself and the Frenchman, but he just couldn't break away from Aleix.
Unlike, Miller who was quickly closing the gap down between himself and Pol. Pol made an unfortunate mistake on lap 15, which meant Miller breezed past him to take 4th.
With three laps to go, things went from bad to worse for Bagnaia, who had gone from 9th to 12th place within a few laps and finished the race in 14th, gathering only 2 championship points. Sitting in second in the championship prior to the race, he has plummeted down to 4th.
The last lap was Miller's last attempt to get onto the podium. He managed to pass A. Espargaro for 3rd but Aleix passed him right back for a last lap battle. It was Aleix's time to step up onto the podium for the first time in Moto GP and for his Aprilia team.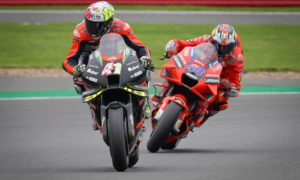 Fabio's lead was too great and he took his 5th race win this season with a massive gap of 3.467 seconds ahead of Rins and A. Espargaro.
Despite his mammoth efforts, Binder finished a respectful 6th in the race.
Finally, for his last race on British soil, the eight-time World Champion, Valentino Rossi finished 18th, but still celebrated for the crowd.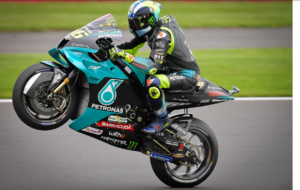 The pattern continued with a seventh winner at Silverstone in seven races and for the first time ever in Moto GP history, the top six finishers were all different manufacturers.
Top Ten Race Finishers:
| | |
| --- | --- |
| 1 | F. Quartararo (Yamaha) |
| 2 | A. Rins (Suzuki) |
| 3 | A. Espargaro (Aprilia) |
| 4 | J. Miller (Ducati) |
| 5 | P. Espargaro (Honda) |
| 6 | B. Binder (KTM) |
| 7 | I. Lecuona (Ducati) |
| 8 | A. Marquez (Honda) |
| 9 | J. Mir (Suzuki) |
| 10 | D. Petrucci (Ducati) |
Championship Results:
| | | |
| --- | --- | --- |
| 1 | F. Quartararo | 206 points |
| 2 | J. Mir | 141 points |
| 3 | J. Zarco | 137 points |
| 4 | F. Bagnaia | 136 points |
The 22 year old Frenchman dominated the field once more and took valuable championship points in the race. But the current champion now sits in second place, could we see a swing in the title-run and see Mir defend his number one spot?
Featured image: Podium finishers. Courtesy of: Moto GP Twitter page.