Ai Ogura and his Honda Team Asia machine have taken a home win at the Japanese GP. He took the lead at the half-way point in the race and never looked back. Joining him on the podium was championship leader, Augusto Fernandez and early race leader Alonso Lopez.
The tears were flowing in the Honda Team Asia garage today as Ai Ogura took a stunning home victory at the Japanese Grand Prix. He is the first rider to do so since 2006 and was greeted like a hero in parc ferme.
Whilst his win felt dominant, it was hard fought as he made his way through the pack from 13th on the grid. He made a brilliant start, leaping up to 6th in the first few corners, and never looked back.
Our championship leader faced a similarly brilliant day, coming home in 2nd despite starting in 11th. However, Augusto Fernandez will be disappointed to have not been able to catch Ogura today. He certainly had the pace to do so, evidenced on his journey up through the field.
The final podium spot was taken by Alonso Lopez who enjoyed spending much of the first half of the race in 1st. The Spanish rider enjoyed a strong race today but his performance dropped off a little too much in the final laps for him to improve on 3rd.
It was a difficult day for both Aron Canet and Fermin Aldeguer who qualified in 1st and 2nd respectively. Firstly, Aldeguer crashed out on lap 3, with Canet facing a similar fate just one lap later. Both were visibly frustrated but today felt like Canet's race to lose. He was enjoying a comfortable lead with 1.8s of clear track behind him when he hit the gravel.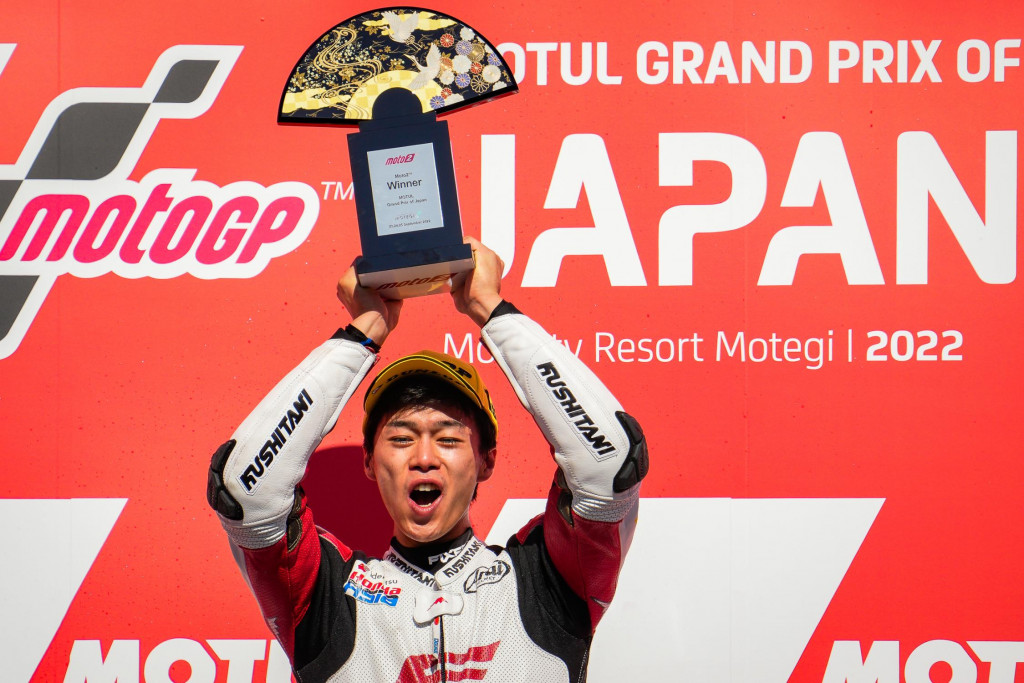 AS IT HAPPENED
As the lights went out, it was Aldeguer who flew off the line and quickly took the lead away from pole-sitter Canet, coming out on top as they existed turn 1. Just behind them, Somkiat Chantra overtook Jake Dixon for 3rd. However, Chantra faced a moment in the early corners and this put plenty of clear air between himself and the two leading riders and the rest of the pack. By the end of the first lap this gap was up to 0.9s, giving Canet and Aldeguer a comfortable lead.
Other strong starts were enjoyed by Cameron Beaubier as he leapt from 8th to 4th, Ogura who flew from 13th to 6th and Acosta who jumped from 18th to 13th. Sadly, after losing 3rd to Chantra, Dixon was then swallowed even further by the grid and eventually ended up in 9th, having started in 3rd.
By the end of the first lap, Ogura continued to climb and was battling hard with Beaubier for 6th. As Ogura rose up the ranks, his title contender Fernandez was still stuck down in 12th and unable to make waves in the early laps.
As Chantra struggles to close up to the leading pair, Ogura overtakes Tony Arbolino to take 4th. In doing so, he also sets the fastest lap of the race so far.
At turn 5 of lap 3, Aldeguer crashes out of the race from 2nd place. The front wheel slides from under him and he is left clearly heartbroken, dejectedly leaning on the tire wall as the marshals remove his bike from the gravel. With Aldeguer out of the race, he gifts a 1.8s lead to Canet who goes on to set the fastest lap of the race so far.
As Canet continues to push, possibly pushing too hard, he then goes down himself and crashes at turn 9 of lap 4. He is able to rejoin the field but is way down at the back of the grid before eventually retiring after a second crash on lap 16.
As the riders complete the fourth lap of the race, Chantra is leading from Arbolino in 2nd and Lopez in 3rd. Arbolino seems to struggle on lap 5 as he loses 2nd place to Lopez and, a matter of corners later, then loses 3rd place to Ogura.
Fernandez, knowing his championship contender had made his way up to the podium places, was finally starting to make waves and manages to get himself up to 6th in response. He then tries a move on Dixon for 5th but the Brit rider aggressively fights back and firmly shuts the door on him.
On lap 7, whilst leading the race, Chantra has a moment and goes wide at turn 5. This allows Lopez and Ogura to overtake him and take 1st and 2nd respectively. As he recovers from the mistake, Chantra then loses 3rd to Arbolino, leaving him stuck down in 4th having lead the race just moments earlier.
Celestino Vietti, who led the Moto2 championship for much of the first half of the season, has struggled all weekend. He qualified in 18th and then crashes out of the race on lap 8. He tries to rejoin the field but retires two laps later.
At half distance, things seemed to have settled down a little with gaps forming in the leading group. Lopez was still leading, ahead of Ogura in 2nd, Arbolino in 3rd, Chantra in 4th, Fernandez in 5th and Dixon in 6th. On lap 11, Lopez seems to start to lose some pace and Ogura is quickly hot on his tail. The gap, which had been 0.4s on the previous lap, quickly reduced down to 0.1s.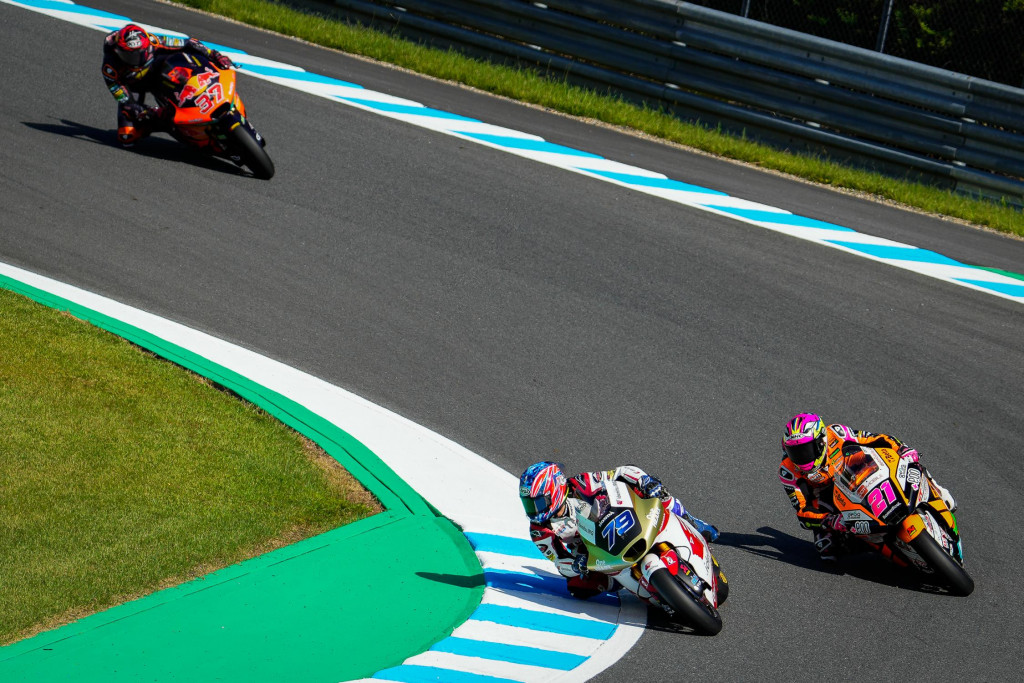 The top two riders spend the next two laps battling for 1st and, eventually, on turn 11 of lap 13, Ogura snatches and retains the lead. At the same time, his title rival, Fernandez is fighting with Arbolino for 3rd and eventually comes out on top, besting the Italian rider.
On all 14, the gap begins to grow between Ogura and Lopez, causing Lopez to fall into the clutches of chasing Fernandez. The two Spanish riders remain close for all of lap 15 and are almost side-by-side as they cross the line to start lap 16. This pressure then causes Lopez to go wide at the start of lap 16, which finally allows Fernandez through. They continue to battle for the following few laps which allows Dixon, in 4th, to catch up to them.
Everything calms down again by lap 17 as Ogura pulls out a 1.8s lead over Fernandez. After their hot battle, Lopez in third drops back to 1.1s behind Fernandez and remains 0.9s ahead of Dixon in 4th. A further 2.6s behind him is Chantra, Arbolino and Acosta.
Aware that his title rival is just one place ahead of him, Fernandez now sets the fastest lap of the race. On the following lap, in reaction to this, Ogura shaves 0.4s off his lap time. Similarly, in response to Dixon's chasing, Lopez cuts 0.6s off his lap time. With no one able to significantly close any gaps, the riders all keep their heads and cross the checkered flag in this same order.
CHAMPIONSHIP STANDINGS
With just four races left of the 2022 season, everything is still to place for in the championship and a single error could be the difference between hero and zero.
After righting his way up to 2nd place today, Fernandez remains at the top of the standings. However, today's race win has allowed Ogura to close to the gap to just two points!
After a DNF today, both Canet and Vietti's title fights appear to be over. Canet is 57 points behind Fernandez and Vietti is an enormous 72 points away.