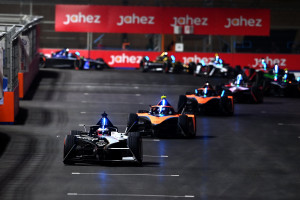 Qualifying
This session started with Jake Hughes, Sebastian Buemi, Stoffel Vandoorne and Jake Dennis getting through from Group A. Both Nio cars of Dan Ticktum and Sergio Sette Camara got knocked out which came as a shock given their past history of qualifying. Pascal Wehrlein, Rene Rast, Eduardo Mortara and Mitch Evans went through from Group B.
Vandoorne and Buemi went head to head for the first quarter final with the reigning world champion being knocked out of the duels by Buemi.
It was Jake Hughes VS Jake Dennis for the second quarter final of the day with Hughes having the advantage over Dennis to win the battle.
Wehrlein and Rast went against each other for the third quarter final which saw Rast take a surprise victory over the German.
Mortara and Evans lined up for the final quarter final of the weekend with Evans just taking victory.
Buemi and Hughes had deja vu as they went head to head for the second time this weekend. However, Hughes got his revenge from yesterday with him getting victory over the world champion.
Evans and Rast went head to head for the final semi final of the weekend with Evans catching Rast after an early lead from the McLaren driver. Evans went through to the finals.
It was Hughes vs Evans for the final duel of the weekend with Hughes taking victory and taking his first pole in his third race of his Formula E career.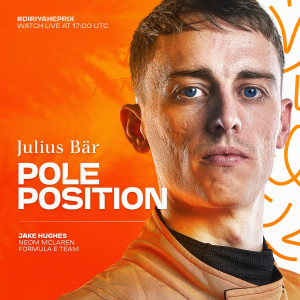 Race
We went racing in Diriyah and Evans made the most of the situation. He overtook Hughes into turn 1 and maintained the lead throughout the early laps. By lap 9, Evans went for an early 3 minute attack mode. Hughes responded to this by taking attack mode on the next lap but only for 2 minutes. This risk did not pay off early on, however, as he came out behind Evans. Rast then goes for the attack and manages to stay ahead. Wehrlein went on a charge after starting P5 and got up to P3 by lap 12 with 3% more energy than his counterparts in the grid.  It only took him until the next lap to get Evans for P2.
Further down the field, on lap 21, Dennis got Mortara as he also made a charge through the field. Things went from bad to worse for Mortara as Bird also got him. Within the next few laps, Dennis continued his charge as by lap 24, he gets up to P2 with him wanting to charge down Wehrlein. On lap 27, Muller hit the wall in the chicane and that brought out the safety car. It neutralised the race which helped the top few drivers. By lap 31, the safety car came in and the top 3 were pushing from that moment on. Lap 33 saw Dennis, Bird and Evans all go for attack mode but the McLarens got in between them. Bird was going to attack Rast but he went wide into turn 18 and Rast managed to keep P3. On the last lap, Evans and Hughes were both fighting but Hughes ran out of energy on the line. However, Evans pushed him and Buemi managed to overtake Evans due to Hughes holding him up.
Wehrlein took the win in Diriyah to make it a double header, double win. Dennis made it 2 for 2 for P2 in Saudi Arabia with Rast taking McLaren's first podium in Formula E.  Bird finished P4 ahead of Hughes and Buemi in P5 and P6. Evans finished P7 with Fenestraz taking their first points in Formula E. Mortara picked up Maserati's first points of the season in P9 and Ticktum picked up the final points paying position in P10.