The short Oulton Park Stage (3,58 km) on Thursday evening got the rally underway, with Kris Meeke winning it from Thierry Neuville and incredibly Petter Solberg in his Polo R5 just 3.3 seconds from the lead in third! The Norwegian had started his last ever Wales Rally GB in spectacular style.
Friday
With 116km over nine stages, with the first stage at 7:18am, it would be a tough day. The startlist looked like this – Tänak, Ogier, Neuville, Mikkelsen, Meeke, Latvala, Suninen, Lappi, Evans, Tidemand, Breen.
Well, it was like they'd never been away, with Elfyn and Scott getting their bid for the podium off to a great start, with the M-Sport pairing winning SS 2 – Elsi 1 (11,65 km) and jumping up to sixth place. Further down, both Andreas and Esapekka dropped down the leaderboard to ninth and tenth. Still leading though was Kris, who had an almost seven second lead over Thierry. Incredibly, just five seconds covered fourth to tenth place.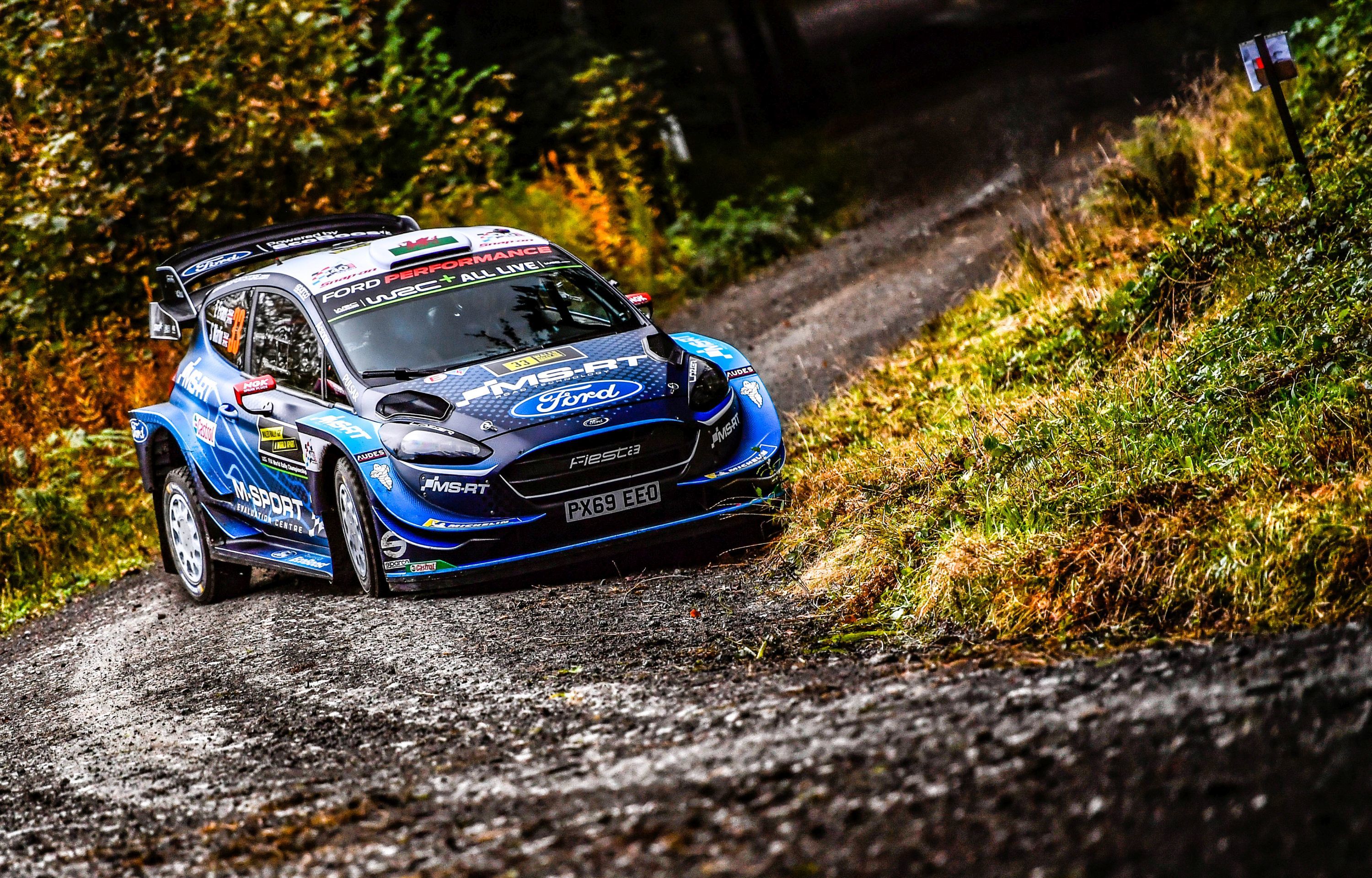 Well, into the longer SS 3 – Penmachno 1 (16,19 km), and it unravelled for Elfyn and Scott in this one. They dropped half a minute, believing they had some suspension damage after cutting a fast right-hander. It was business as usual, with Ott picking up his first stage win of the weekend and jumping into third place overall. Impressive as usual from the Estonian crew.
The longer SS 4 – Dyfnant 1 (19,36 km), saw Ott at the top again, moving ahead of Seb in the process and into second place overall, with just Kris Meeke ahead now. Elfyn was quick too, just seven tenths from Ott with the fourth fastest time. Just such a shame that all that time was lost in the previous stage. Also, in the wars was Teemu, who lost 15 seconds after a crash and having to reverse.
SS 5 – Aberhirnant 1 (10,26 km) saw nine cars complete the stage, before it was stopped. The reason? Some spectators who had decided to ignore the marshals' requests to move to a safe place. They weren't only asked once I gather. The stage was later cancelled, and the crews drove through slowly. Elfyn and Jari-Matti shared the stage win. Thierry and Jari-Matti were now up to second and third place behind new leader Kris.
The next stage after lunchtime service SS 6 – Elsi 2 (11,65 km), saw Seb set the best time, and this moved him into third place ahead of Jari-Matti, who had fallen to fifth place. Sadly, the Frenchman's teammate didn't have such a good stage, sliding off the road and being unable to get back on.
The next stage, SS 7 – Penmachno 2 (16,19 km) was also won by the Frenchman. Unfortunately, the stage was stopped after Teemu finished. Jari-Matti had crashed in a big way sadly. Kris continued to lead, with Seb now his closest challenger at just two and half seconds behind. The rest of the crews in the top ten would need to be given notional times, given that they couldn't complete the stage at speed.
The short SS 8 – Slate Mountain (1,60 km) followed, and Thierry won the stage, with his teammate Andreas just behind, whilst Seb, Elfyn and Craig were all third fastest. Kris' lead was now just one and a half seconds over Seb.
On to SS 9 – Dyfnant 2 (19,36 km), and Ott took 6.3 seconds faster than Kris, moving him up from fourth to second place, and just six tenths from his teammate. Seb and Thierry were now in third and fourth.
The final stage of the day, SS 10 – Aberhirnant 2 (10,26 km) and with Ott winning the stage and Kris only fifth fastest and falling to third overall, with Seb moving into second overall again. Thierry remained the only other driver in the top ten close enough to challenge for victory.
STANDINGS AFTER DAY ONE
Tänak / Järveoja (Toyota Yaris WRC) 1:14:30.8
Ogier / Ingrassia (Citroën C3 WRC) +3.4
Meeke / Marshall (Toyota Yaris WRC) +3.6
Neuville / Gilsoul (Hyundai i20 WRC) +8.4
Mikkelsen / Jaeger (Hyundai i20 WRC) +25.7
Breen / Nagle (Hyundai i20 WRC) +33.5
Suninen / Lehtinen (Ford Fiesta WRC) +37.4
Evans / Martin (Ford Fiesta WRC) +51.8
Let's hear from the drivers.
Toyota Gazoo Racing WRT
Ott Tänak (1st)
"It has been a really demanding day. This morning, the grip was generally higher than I was expecting, but it was changing a lot and difficult to predict. This afternoon, the stages were a bit rougher and I struggled with the visibility with the mud on the screen. But in the last two stages in the dark I had a good feeling with the car and we could set some good times. I think that tomorrow's stages should suit us but I'm sure that it will be another intense fight."
Kris Meeke (3rd)
"It's been a good day. We led for most of it and then Ott just got past us in the dark. It was very wet this morning, and then the rain stopped and the grip levels were a bit more consistent in the afternoon. I seemed to lose a little bit of time this afternoon but there's only three seconds between three of us, so I'm happy. I'm really looking forward to tomorrow's stages. Dyfi was my first ever stage in a rally car, and Myherin and Sweet Lamb Hafren are classics too."
Jari-Matti Latvala (Retired)
"At first this morning, I wasn't in the right rhythm with my driving but then in Dyfnant and Aberhirnant it was definitely going much better, even though the grip was changing a lot. In SS7, I came over a crest and the car went light, I lost the rear immediately, we hit the bank and rolled. I just had a little bit too much speed and jumped a bit too far. It's very disappointing to be out of the rally: not only for myself but also for the team, as it was my job to try to bring some good points for the championship."
Citroën Total WRT
Sébastien Ogier (2nd)
"Obviously, we have had a good day today, even though we lost a bit of ground on the last two stages. It was difficult to read the grip and I probably hesitated a bit too much whereas in the end, the level of grip wasn't that bad. When you look at how small the gaps are at the front, everything is still up for grabs, so we'll keep pushing flat out tomorrow. The roads on Saturday's stages are expected to be quicker and wider, and they are very beautiful too, but they will undoubtedly still be very tricky in places, depending on the conditions."
Esapekka Lappi (Retired/Rally2)
"The morning went well for us, since we had gradually upped our pace and our rhythm was pretty good. At the second corner on the afternoon's opening stage, I overestimated the level of grip, ran wide and as it was pretty narrow at that point, I hit the bank and broke the suspension wishbone. And that was that. For tomorrow, we need to talk about it properly with the team but I'm going to do whatever I can to help, possibly testing stuff that may be useful for Seb, whilst trying to keep driving quickly on stages that are faster and more flowing than the ones we tackled today."
Hyundai Motorsport
Thierry Neuville (4th)
"It's been an OK start to the rally, although I don't feel we were always on the pace we wanted. We struggled with the balance of the car during the morning stages, and couldn't really find the confidence we needed. We made it to lunchtime service in second place overall and it was clear the fight for the lead of this rally would be incredibly close. We tried to improve the feeling in the car during the afternoon but it wasn't straightforward with some tricky conditions. We have to make the most of the situation and see what tomorrow brings."
Andreas Mikkelsen (5th)
"We ended the day in a reasonable position, in fifth, but we struggled in the final night stage because I adjusted my lights and couldn't see everything in the distance. Overall, we have experienced some very typical and demanding conditions in the Welsh forests today. We lost a bit of time in the morning but made some changes to the car that helped us find better performance. It's been a while since I've driven on muddy conditions like we have faced today. It took time to adjust and learn to trust the grip, which was better than I thought. It's so easy to make a mistake. There is still room for improvement."
Craig Breen (6th)
"A day of two halves for us, really, including a few things that we were out of our hands. We had a decent morning and it felt great to get back in the Hyundai i20 Coupe WRC. We made it to lunchtime service relatively unscathed. There was a pretty big moment in SS4 where we became at one with the trees, but we had a lucky escape. SS5 was stopped due to spectator issues so we received a nominal time that dropped us down to sixth. We suffered from our road position in the afternoon, and lost time on SS6 as the stage became rutted. We were then given our second nominal time in SS7 before getting back on the pace at Slate Mountain. The day ended with really tough twilight conditions, including foggy parts, in SS9, and a night run through Aberhirnant without the benefit of the earlier daytime stage."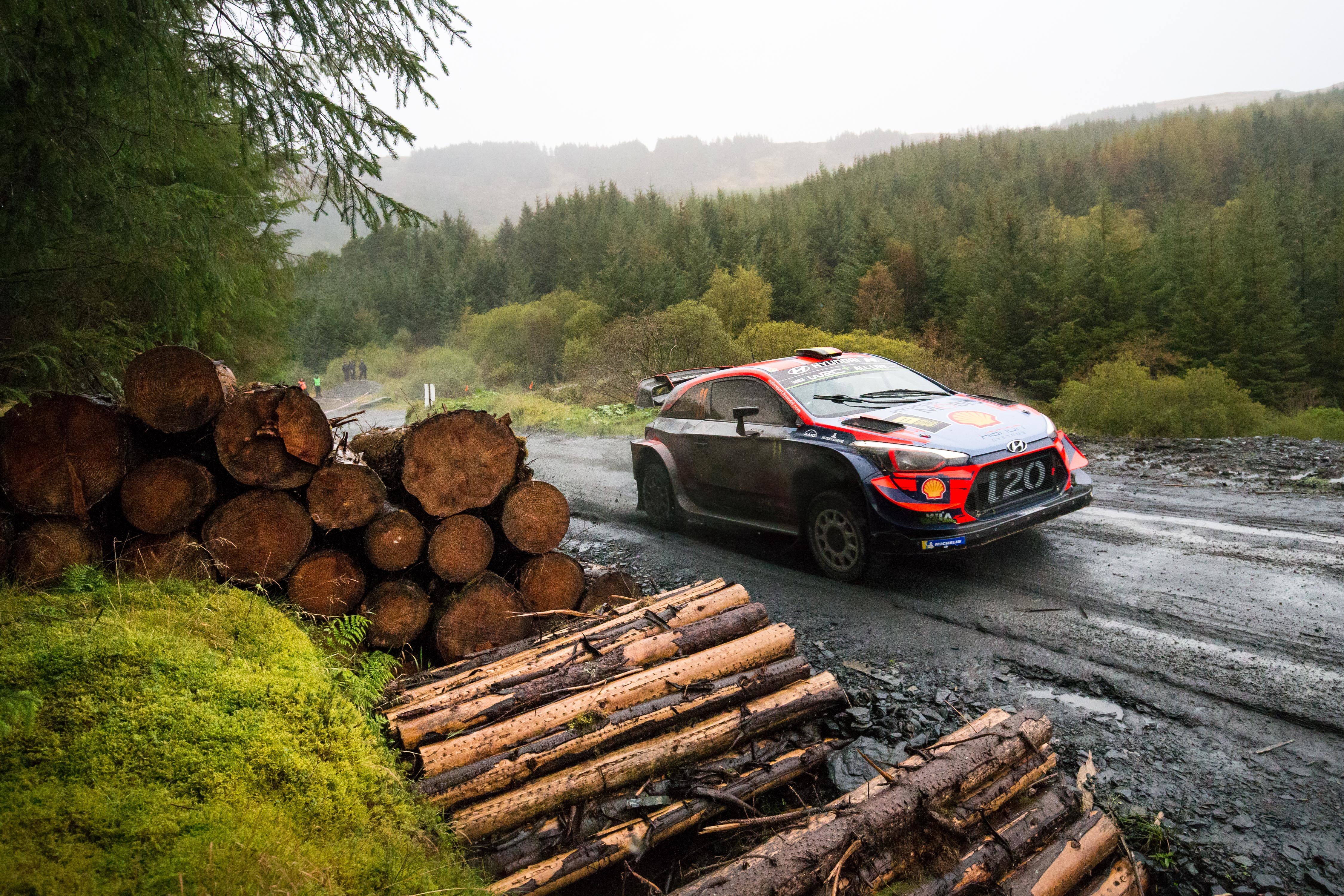 M-Sport WRT
Teemu Suninen (7th)
"It's been a tough day out there with lots of mud and changes in grip. I think we had pretty good pace, but unfortunately, I made a small mistake in the morning and we lost some time. We were battling with the guys at the front, but the mistake happened when I was trying to gain back the time that we lost with a wrong tyre choice last night. We need to learn from this and remember that we can't get all that time back in one or two stages – and tomorrow we just need to continue doing our best and staying on our limits."
Elfyn Evans (8th)
"It's nice to be back behind the wheel – and a pretty long day at it too! There were a few frustrating moments – losing all that time with a mistake and a puncture this morning, and then this afternoon having a stage cancelled and running into darkness in Dyfnant when the guys at the front went through in the daylight. It's tough to do anything in those conditions, but that's the way it is and I think we can still be happy with the day and with the pace we've had."
Pontus Tidemand (9th)
"This morning was one of the toughest in my career, but we made some changes for the afternoon and I felt a lot better and a lot more comfortable in the car. We had a spin early on in the afternoon which wasn't what we wanted, but the pace was better and I hope to show some more improvement tomorrow."
Saturday
The longest day, with 151km over seven stages and no service at lunchtime, just a tyre fitting zone in Newtown. Finding the right balance of speed, but looking after the car would not be easy. The startlist looked like this – Lappi, Tidemand, Evans, Suninen, Breen, Mikkelsen, Neuville, Meeke, Ogier, Tänak.
Well, it was Elfyn and Scott who were fastest out of the blocks, winning SS 11 – Dyfi 1 (25,86 km) and taking thirteen seconds out of Teemu who held seventh place. At the front, Ott was starting to open up a gap to his closet challenger, Seb who could only manage fifth quickest.
The following stage, SS 12 – Myherin 1 (22,91 km) saw a number of interesting things happen. First of all, Elfyn won the stage and secondly, Andreas lost almost ten seconds and was now just eight ahead of Elfyn who had passed Teemu. Craig rolled his car on a fast-left hander, and completed the stage with bits hanging off his car.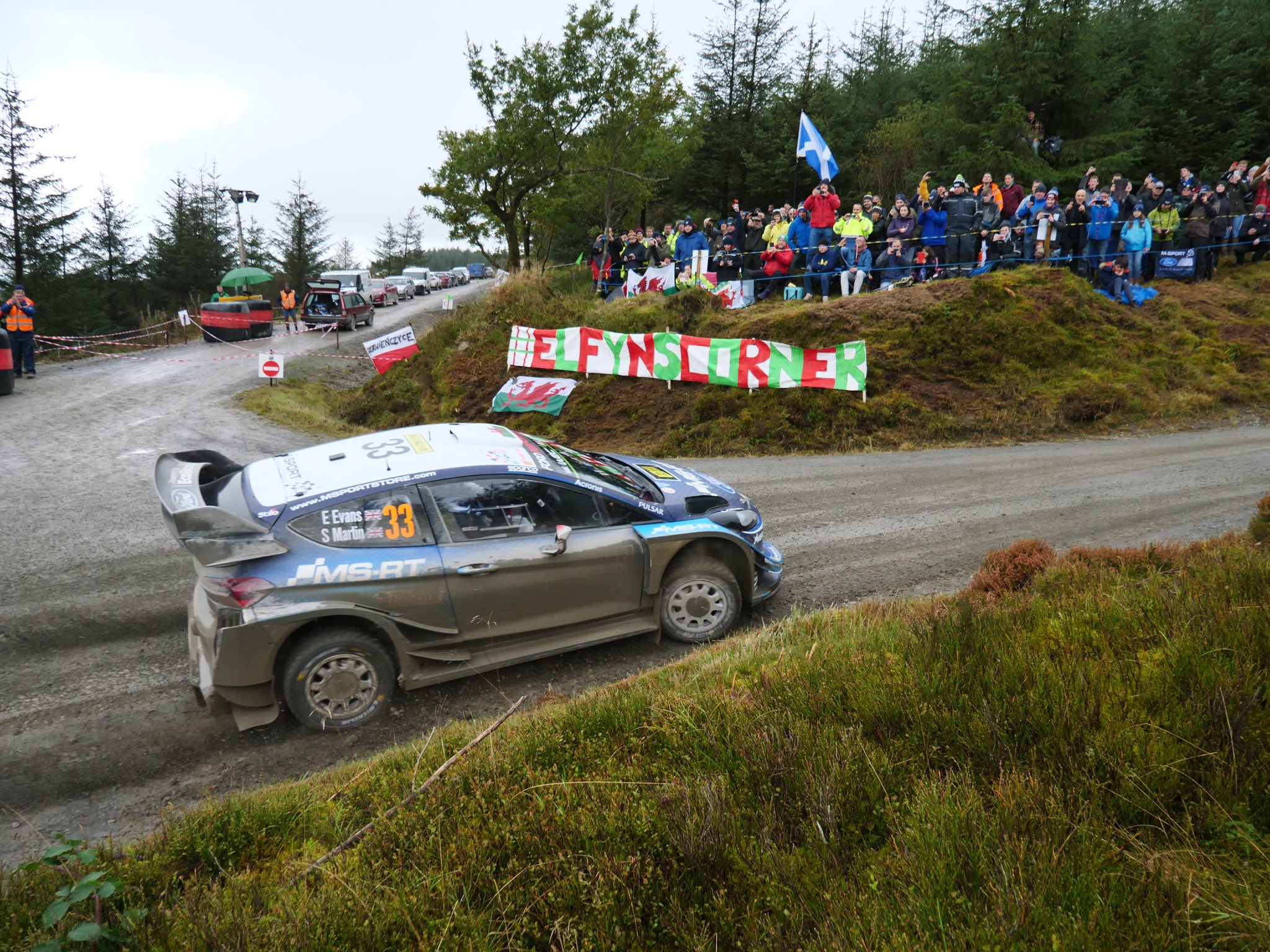 Elfyn made it three in a row, winning SS 13 – Sweet Lamb Hafren 1 (25,65 km) as well! He'd reduced Andreas advantage in their fight for fifth place to just five seconds. Seb had a slide and hit a bank, but he only lost about a second to Ott. Thierry gained time on Seb though, reducing the gap to just two seconds.
The re-run of SS 14 – Myherin 2 (22,91 km) was won by Thierry from Ott and Kris, whilst Elfyn was now just half a second behind Andreas. Ott's lead was now seven seconds and increasing over Seb and Thierry's pace was closing the gap to the French champion.
Onto the second run of SS 15 – Sweet Lamb Hafren 2 (25,65 km), and Andreas took an important stage win, and increased the gap to Elfyn by four seconds. In fact, it was a good stage for Thierry as well, as he moved ahead of Seb and into second place. Up at the front, Ott had increased his lead now to ten seconds.
SS 16 – Dyfi 2 (25,86 km) saw Thierry take a second stage win and Ott was only a few tenths behind, thus keeping the Belgian over ten seconds behind. Meanwhile the ebb and flow between Elfyn and Andreas continued, with the Welshman closing again in their battle over fifth place. The gap was increasing between Seb and Kris as well.
The final stage of the day SS 17 – Colwyn Bay (2,40 km) was won by Ott with Thierry and Seb both within a second of their championship rival. It's well known that Elfyn doesn't like these stages, and so Andreas increased the gap between him and the Welshman to almost five seconds.
STANDINGS AFTER DAY TWO
Tänak / Järveoja (Toyota Yaris WRC) 2:42:02.7
Neuville / Gilsoul (Hyundai i20 WRC) +11.0
Ogier / Ingrassia (Citroën C3 WRC) +17.3
Meeke / Marshall (Toyota Yaris WRC) +26.5
Mikkelsen / Jaeger (Hyundai i20 WRC) +46.9
Evans / Martin (Ford Fiesta WRC) +51.4
Suninen / Lehtinen (Ford Fiesta WRC) +3:07.9
Tidemand / Floene (Ford Fiesta WRC) +4:59.6
Breen / Nagle (Hyundai i20 WRC) +9:16.0
Toyota Gazoo Racing WRT
Ott Tänak (1st)
"It has been a tough and challenging day. The stages were long and the conditions were tricky. In the last stages we started to have some quite bad fog and the roads were rough. We also lost our rear bumper so we had a lot of noise in the car, making it hard to hear the pace-notes. It's still a fairly small gap so we can't definitely relax, but it's the biggest margin anyone has had this weekend. It's hard to have confidence in Wales, as there's always surprises and you're always on the edge, but it's nice to have this margin to take into tomorrow."
Kris Meeke (5th)
"I'm content to be here tonight in fourth place. We're not so far from third, so, there's still a bit to play for tomorrow. We just struggled a little bit today. I gave it everything, and we only lost a couple of seconds on every stage, but that was enough. There are three guys in front fighting for the drivers' championship and today they've just stretched their legs a little bit. I still have my job to do for the manufacturers' championship, that's the main target."
Citroën Total WRT
Sébastien Ogier (3rd)
"It was a tough day, with constant changes in grip, some fog too. We literally gave everything today. I'm glad we made it to the end, but I would love to have been faster. We consistently lost a little bit of time without being able to bounce back. There are still some tricky sections to tackle tomorrow and although Ott is quite far ahead now, none of us is immune to making a mistake in slippery conditions like these."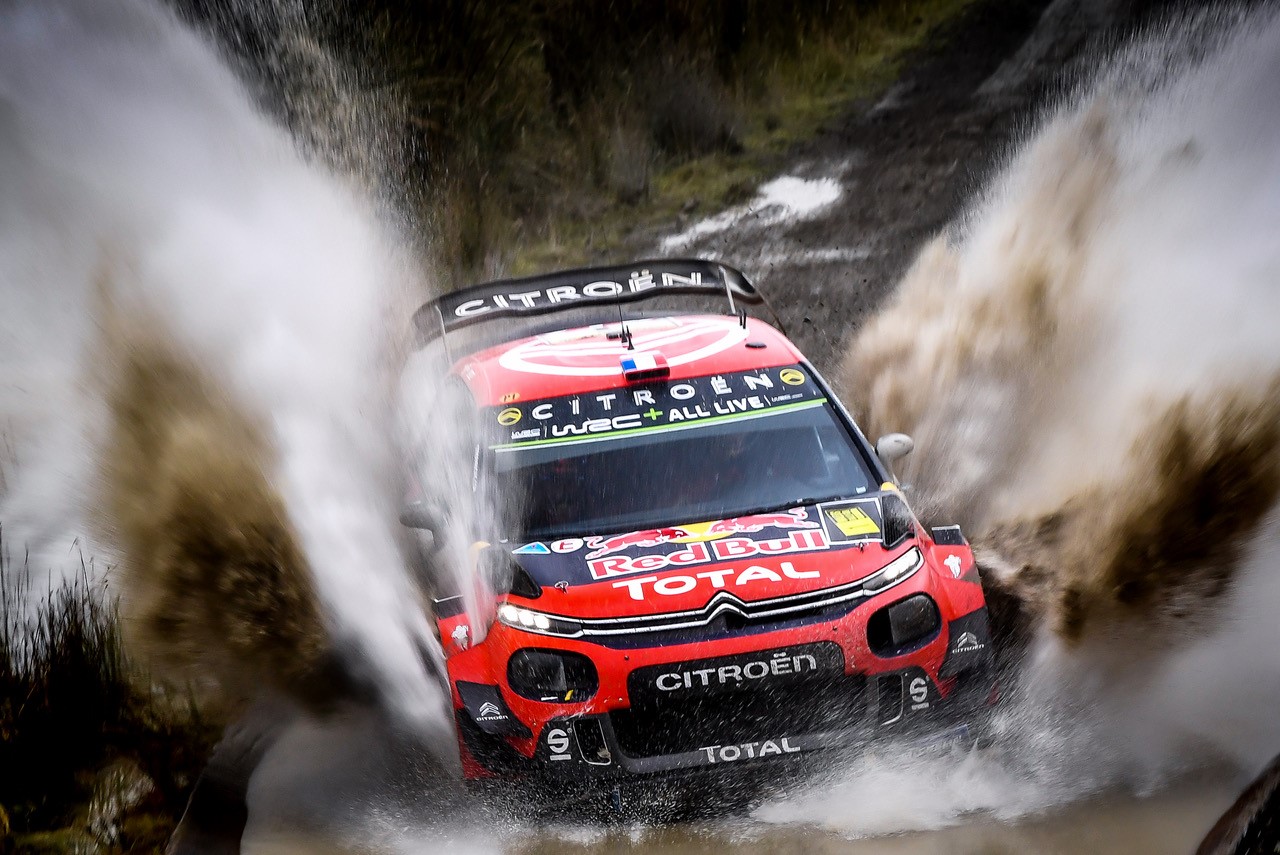 Esapekka Lappi (20th)
"We had a decent day and it was interesting for me to experience what it's like to be first on the road in muddy conditions. Sometimes, it was an advantage in terms of grip. At other times, it was definitely a handicap, with quite a lot of puddles and standing water that I was the first to come across and clear, but it was nonetheless a good learning experience."
Hyundai Motorsport
Thierry Neuville (2nd)
"We have given everything today, and we are still in with a chance of pushing for victory. I'm pleased with what we've achieved. We were able to move into third place during the morning, trying really hard to minimise mistakes. In these conditions, it's usual to lose the odd second here or there, but overall, we've had a positive Saturday. Two stage wins this afternoon helped move us up into second, and we're now determined to reduce the gap, if we can, on Sunday. 11 seconds is not a lot on stages like these, when just the smallest issue can change things around: it's still game on!"
Andreas Mikkelsen (5th)
"It's been a long day but we have given it as much of a push as we could in some very tricky conditions. In many respects, it's been a classic Wales Rally GB Saturday with familiar, beautiful stages, some typical wet weather, and challenging conditions. The car has been pretty good throughout the day. We have made some small mistakes here and there, but we were able to show some strong pace, including a stage win in SS15. We're in a close battle with Elfyn for fifth place. He's been driving really well today, so we'll have to dig deep on the final morning to keep our noses in front."
Craig Breen
"A day to forget for us. Thankfully, we were able to get ourselves out of trouble in SS12 after a pretty big accident. We approached a fast-left-hand corner that tightened a bit more than I expected. I ran out of road and ended up going over through some soft, boggy ground. I got out of the car and quickly realised that everything was pointing in the right direction, so we drove up the bank and completed the stage. The windscreen had cracked so I couldn't see properly. We had to survive like this throughout the afternoon loop, with rainy, muddy conditions making it impossible to see. I was glad to get back to service, where we will now reset for the final day."
M-Sport WRT
Elfyn Evans (6th)
"It's been a great day for us, especially this morning when I could pick my own lines and it was really, really nice out there. This afternoon was a bit more difficult with some more defined lines and quite slippery conditions, but we got through it okay. We had a bit of an annoying overshoot in the last stage [SS17], but that's just the way it goes sometimes. The support has been great all weekend, and we'll push as much as we can tomorrow."
Pontus Tidemand (7th)
"It's been a tough day, but a good day for us. The stages have been fantastic and I'm happy that we are making progress with a good feeling in the car. The trickiest thing to get right is braking late enough and going flat-out in the really fast sections. But we're getting there and will definitely try to make the most of tomorrow's final five stages."
Teemu Suninen (DNF)
"It's disappointing that we won't be back out tomorrow, but there are still a lot of positives that we can take away from this weekend. I was really pleased with my pace on Friday, and it was good to see that we could battle with the guys at the front. We made a couple of little mistakes – but I can learn from this and come back stronger next year with more experience."
Sunday
With 38km over the last five stages, there was still some potential for some changes in the leaderboard. The startlist looked like this – Lappi, Breen, Tidemand, Evans, Mikkelsen, Meeke, Ogier, Neuville, Tänak.
Well, SS 18 – Alwen 1 (10,41 km) was won by Ott with Thierry and Elfyn just a few tenths behind. Andreas lost a second and a half to the Welshman as well and Kris also closed the gap a little too to Seb.
Elfyn passed Andreas in SS 19 – Brenig 1 (6,43 km) after winning the stage, moving into fifth place. He'd driven brilliantly and made up places on the leaderboard with his great pace. Seb was dropping back from the lead two, and was now 14 seconds behind Thierry.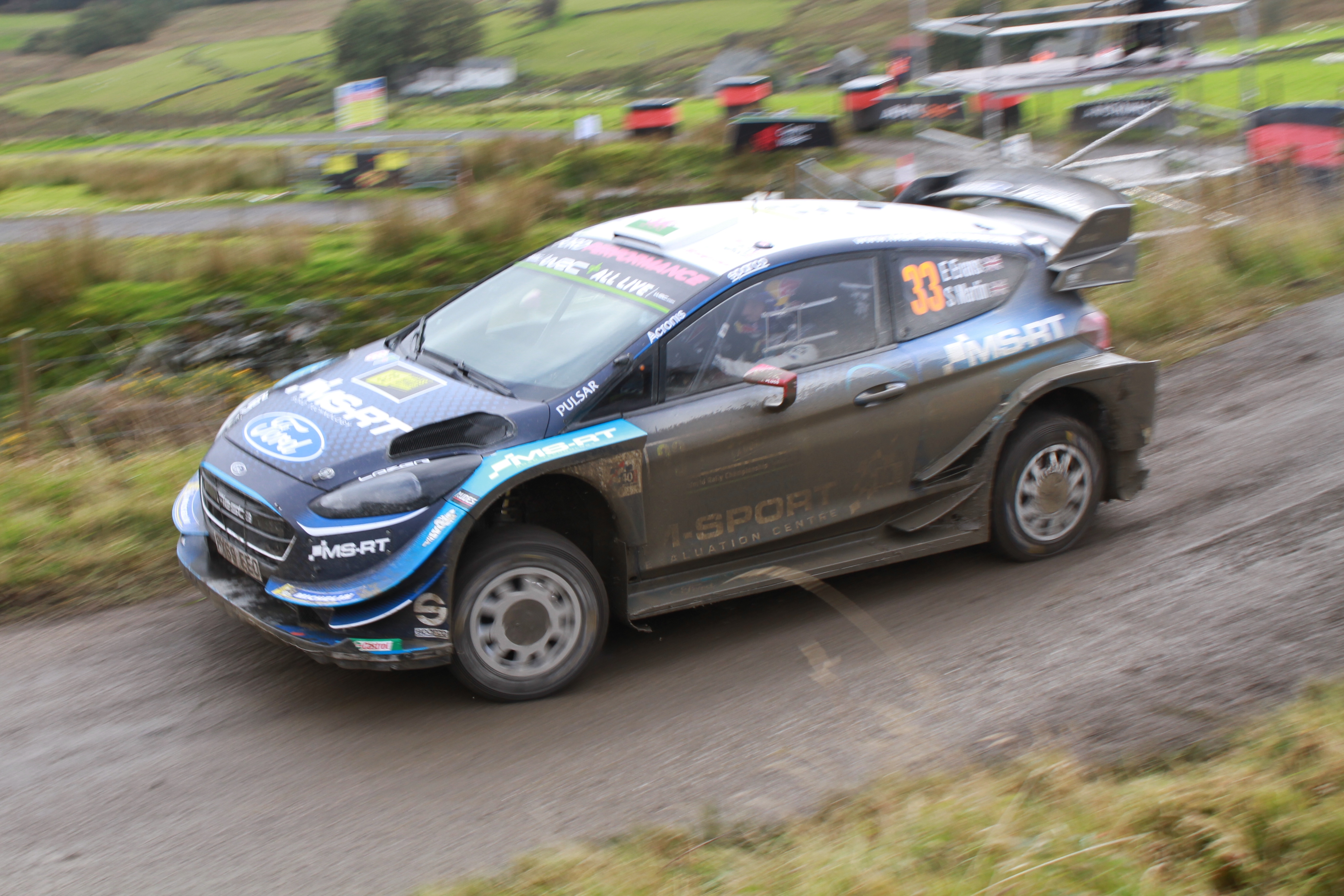 With SS20 – Great Orme getting cancelled, the crews went back to service. It was cancelled due to the stormy seas, meaning that the safety lifeboats couldn't be positioned along the coast. It was one less stage for anyone to challenge Ott for the win.
Into SS 21 – Alwen 2 (10,41 km) then and the top three was Elfyn, Thierry and Seb. The Welshman was making fifth place his, extending the gap between them by almost two seconds. Ott's lead was not huge over Thierry who was just nine and a half seconds.
The final stage then, SS 22 – Brenig 2 Power Stage (6,43 km) and Ott took the stage and five points that went with it. Second to fifth were, Seb, Esapekka, Evans and Neuville. In the end Ott's winning margin over Thierry was just 10.9 seconds, but it was enough to take his first Wales Rally GB victory.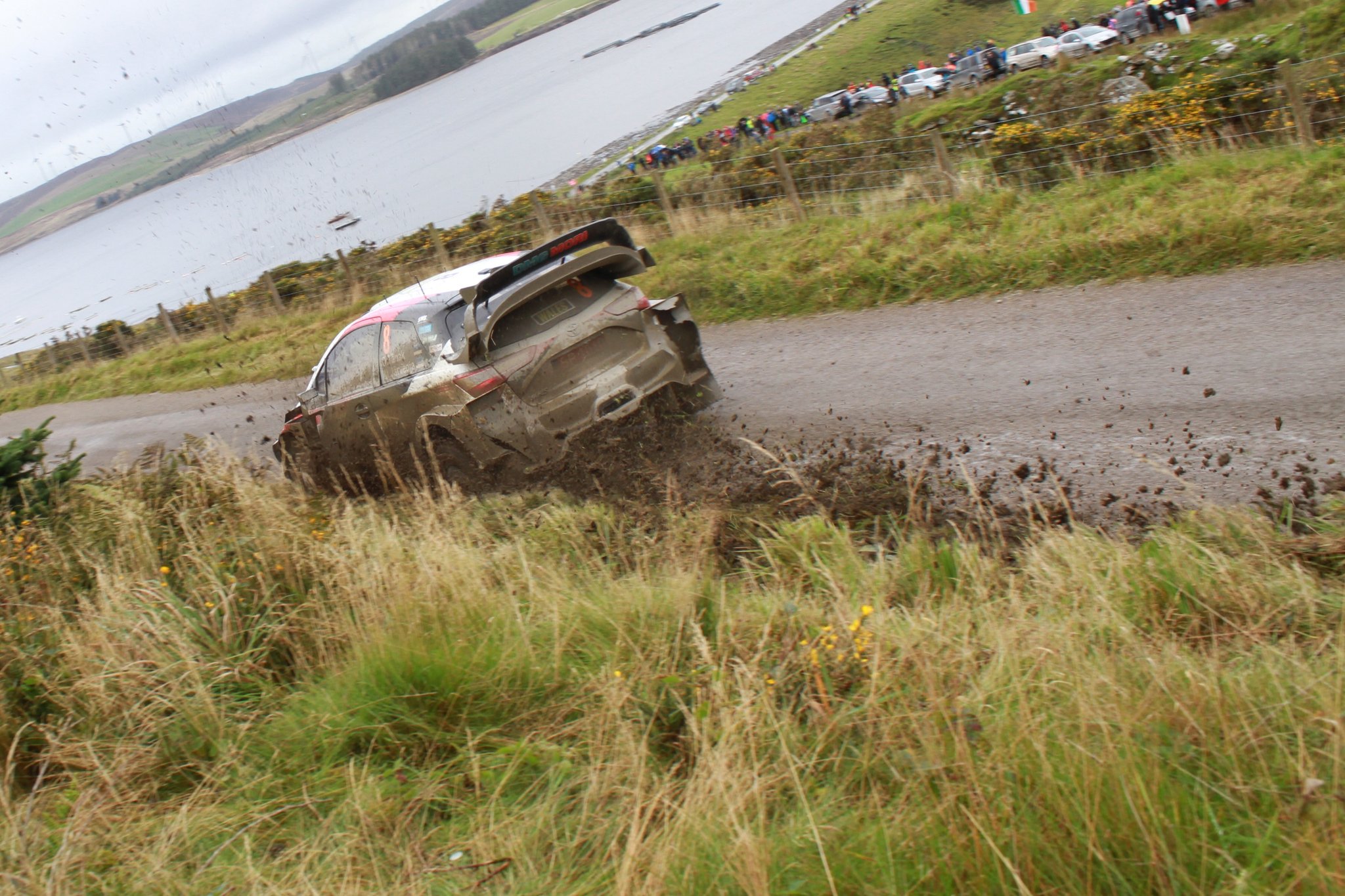 FINAL STANDINGS
Tänak / Järveoja (Toyota Yaris WRC) 3:00:58.0
Neuville / Gilsoul (Hyundai i20 WRC) +10.9
Ogier / Ingrassia (Citroën C3 WRC) +23.8
Meeke / Marshall (Toyota Yaris WRC) +35.6
Evans / Martin (Ford Fiesta WRC) +48.6
Mikkelsen / Jaeger (Hyundai i20 WRC) +58.2
Tidemand / Floene (Ford Fiesta WRC) +5:23.8
Breen / Nagle (Hyundai i20 WRC) + 9:25.0
The driver's thoughts at the end of the event!
Toyota Gazoo Racing WRT
Ott Tänak (1st)
"It's an amazing feeling to win. There's a lot of people working behind us and with the effort they put it, it's great to be rewarded like this with maximum points. On the Power Stage, I had full confidence in the car and I had to take the opportunity, as every point can be crucial. Our team slogan is 'pushing the limits for better' and I always try to do my best. We have two more rallies to come this season and certainly nothing is decided yet, so we need to keep pushing and keep focused."
Kris Meeke (4th)
"After leading the rally for most of Friday, to finish fourth is a little bit disappointing, but to be honest, I'm happy. It was a weekend full of challenging conditions. We weren't so far off, we just lacked a bit of pace on Saturday, but it's still very strong points for the team. I'm delighted to see Ott take the victory and we close the gap in the manufacturers' championship, so it's been a strong weekend for us. We have two rallies to go, I hope we can be strong in Spain and fingers crossed we can have a good end to the year."
Hyundai Motorsport
Thierry Neuville (2nd)
"We could not have given any more this weekend. From the very first stage, it was a tough fight in some tricky conditions – and incredibly close. We can be happy with our own performance but I'm disappointed about the final result. We should have finished ahead of Tänak this weekend, and we did everything we could, but we couldn't achieve it. The championship now moves onto Spain, where we know we have to outscore him to keep our own title hopes alive. Everything can happen in rallying, so we never give up."
Andreas Mikkelsen (6th)
"Overall, the important thing is that we have taken some points away for the manufacturers' championship. Looking back at the rally as a whole, we lost a bit too much time on Friday. Things improved and we had a good Saturday, especially in the afternoon with a stage win. Our aim for today was to defend fifth place from Elfyn, but unfortunately it wasn't to be. We made the wrong tyre choice. I tried to fight back in SS21 but made a mistake at a junction and from there it was too risky to try and make up the lost time. Sixth place might not score as many points as we would have liked, but at this stage of the season they are all extremely valuable."
Craig Breen (8th)
"I would like to extend my thanks to the team for getting our car fixed and ready for today's final stages after yesterday's crash. I had been getting into my stride in the Hyundai i20 Coupe WRC so it's been good to end the rally in a trouble-free manner, and to be back on it. Saturday was really disappointing; without that mistake I think we could have been fighting at the front this weekend. It has been a pleasure to be part of this rally with the Hyundai Motorsport team, with a fantastic car and on the incredible Wales Rally GB stages. We might wonder what could have been possible results-wise, but whatever has happened it's certainly given me a lot of motivation."
Citroën Total WRT
Sébastien Ogier (3rd)
"The Power Stage sums up our weekend in many ways: we have been a couple of tenths back throughout the rally. We tried our best and gave it absolutely everything, but we were just a bit short of performance whilst Ott had a super weekend. It's not a great result for us in terms of the championship with just two rounds to go, but we're going to keep fighting tooth and nail for as long as it remains possible mathematically to win the title."
Esapekka Lappi (27th)
"For sure, it's a shame to find yourself out of contention on the Friday. But there are some positives because I learned a lot here. I was pleasantly surprised by the level of performance we managed to show in the C3 WRC despite having had totally dry conditions for our pre-event test."
M-Sport WRT
Elfyn Evans (5th)
"It's been a pretty good weekend for us. Obviously, it would have been nice to have finished a bit higher up the leader board, but that's just the way it goes sometimes and there's no room for 'what ifs' at this level – not with the competition as close as it is at the moment.
"Our pace has been really good all weekend and the support was absolutely incredible. There really is nothing quite like rallying on home soil, and when you're posting fastest times in front of all those Welsh flags, it's a pretty good feeling and definitely gives us some confidence ahead of the next events."
Pontus Tidemand (7th)
"We've taken some big steps forward this weekend and improved every day. I had a lot to learn, but it was getting better and better and, this morning especially, I really felt as though I had broken the code for driving one of these world rally cars. I found a good set-up with the car and was able to focus more fully on my driving. We set some pretty good times today and were a lot closer to the leaders so I was really pleased with that."
Summary
Well, what a great rally it was for a few drivers. Ott Tänak was on it all weekend, taking seven stage victories, including the powerstage win meaning that he'd take the maximum points again. Elfyn Evans returned with a bang after his enforced absence, winning six stages, and it was the incident in stage three that really, I believe stopped the Welshman from challenging for victory. It was close in the end between Thierry and Seb for the runner up spot, but with three stage wins for the Belgian and two for the current champion, it was Thierry that took that position. Kris Meeke had a good event, winning one stage leading and finishing in fourth place. For Andreas Mikkelsen, it was a pretty good event, with one stage win, but just lacking that final bit of pace to hold off Elfyn in their battle. Both Craig Breen and Jari-Matti Latvala suffered big accidents, with Craig at least managing to keep going. Jari-Matti's accident was much bigger, and it was good to see him walk away from it.
Well, next up is the dual surface Rally de Espana from the 25th to the 27th of October.
DRIVERS' WORLD CHAMPIONSHIP
Ott Tänak – 240 points
Sébastien Ogier – 212 points
Thierry Neuville – 199 points
Andreas Mikkelsen – 102 points
Kris Meeke – 98 points
Elfyn Evans – 90 points
Jari-Matti Latvala – 84 points
Esapekka Lappi – 83 points
Teemu Suninen – 83 points
Dani Sordo – 72 points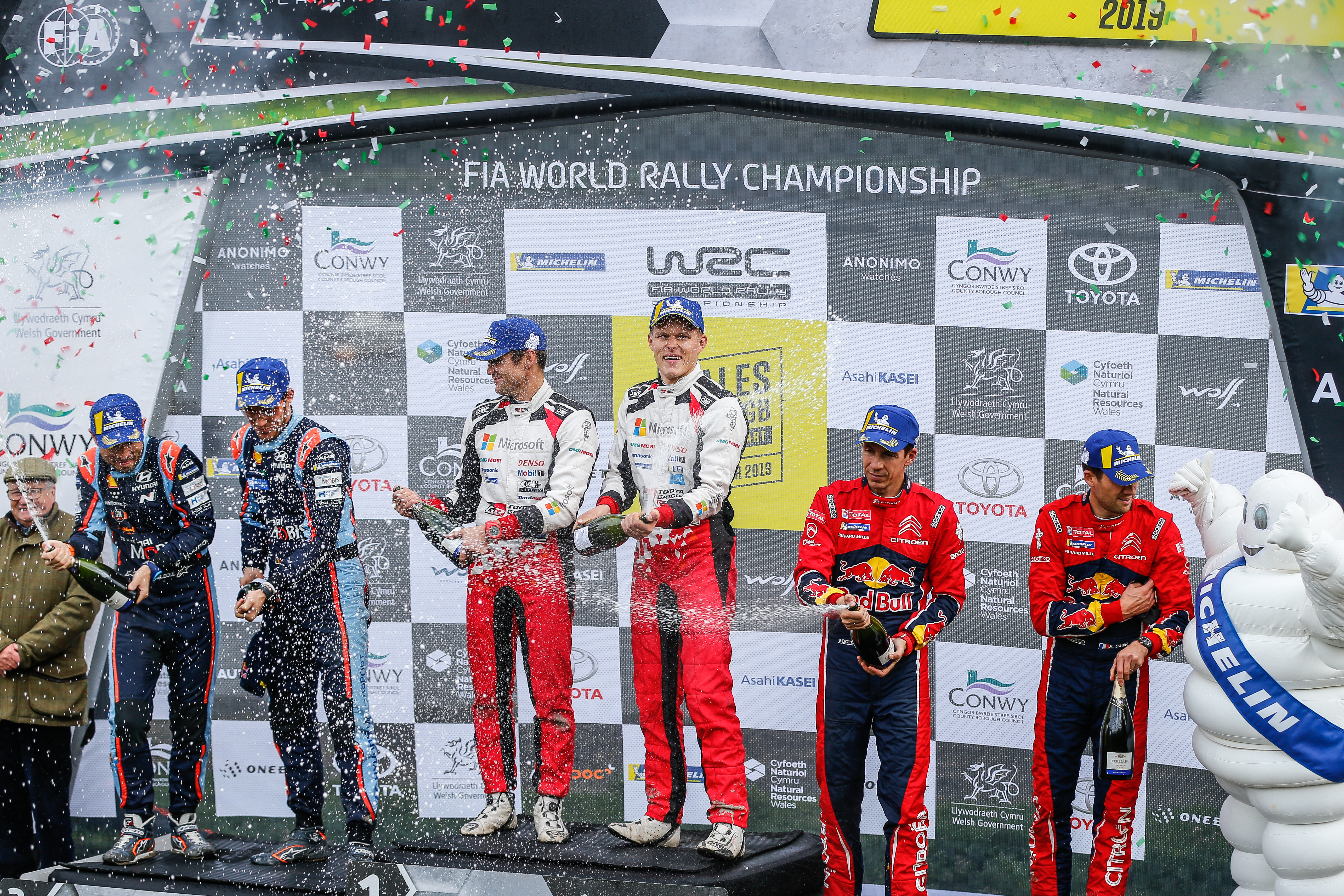 MANUFACTURERS' WORLD CHAMPIONSHIP
Hyundai WRT – 340 points
Toyota Gazoo Racing – 332 points
Citroën Total WRT – 278 points
M-Sport Ford WRT – 200 points