After coming so close earlier this year in Argentina, Elfyn Evans and Dan Barritt took their maiden wrc victory driving a D-Mack shod Fiesta WRC. It had been 17 years since we had last had a British winner.
A record number of fans flocked to the event, numbering more than 100,000, after an amazing season of these new generation cars. What they witnessed was a supreme drive by the 28-year-old. Here's the story of how it happened.
In shakedown, Elfyn set the pace leading Dani Sordo and Ott Tanak in third. This was looking good. The first stage of the rally was held that evening with Seb winning and continuing his amazing run. Elfyn was sixth, but only 1.1 seconds away.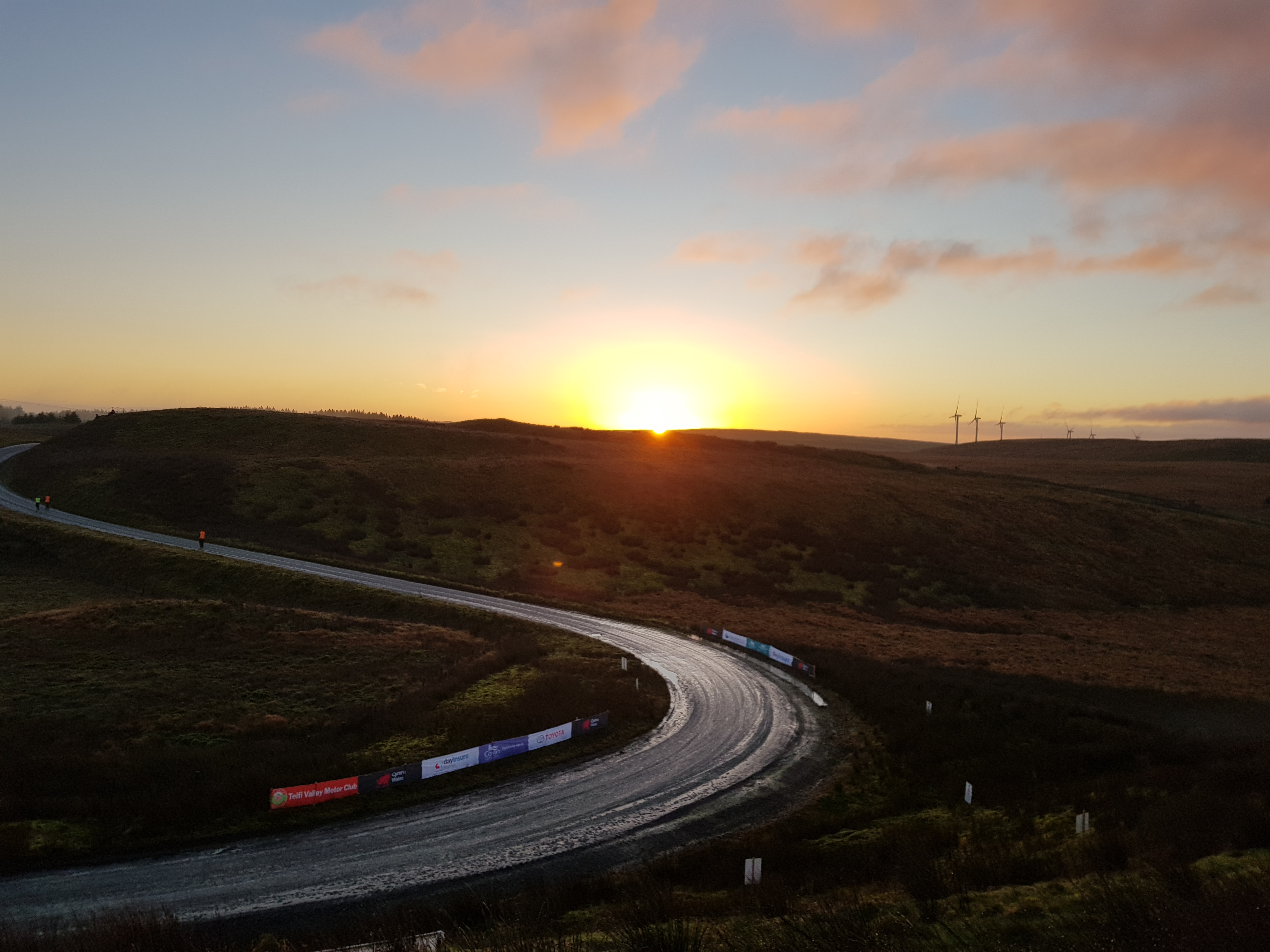 Friday morning dawned a sunny day with light winds. Stage two was the Myherin test. The cars would head onto the stage in championship order meaning that Seb would be first on the road all day. His time would be good enough for third quickest, but it was the home boys that would be top with Elfyn leading Kris in the stage and the welsh wizard moving into the lead as well. Thierry would go wide in this stage, gathering some grass in his wing!
Out on stage, the ElfynsCorner crew were pretty happy! Top three at this point was Elfyn, Seb and Ott- an M-Sport 1-2-3.
Stage three in Sweet Lamb would see Ott and Thierry separated by just a tenth of a second with Elfyn in sixth, the gap was reduced by a second to 2.2 seconds.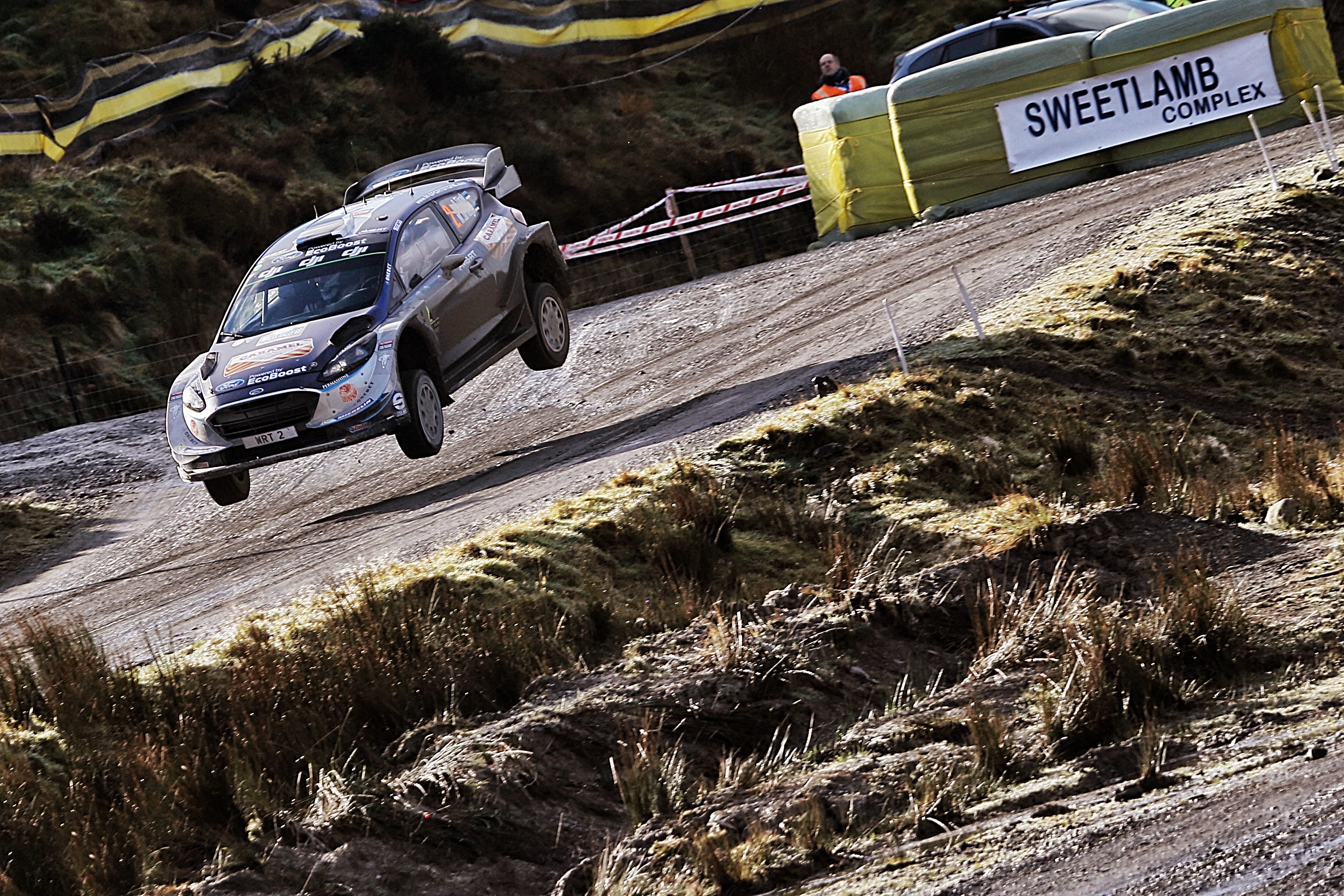 The next stage in Hafren was the longest of the whole event at 35.14 km. Elfyn would emerge quickest again, and increased his lead over Ott to 6.7 seconds. Seb fell from second to fourth, now 16.4 behind the leader. Further back, Craig suffered a puncture, but it wasn't clear how it happened.
With no service, the cars headed for Newtown to change tyres and fit light-pods.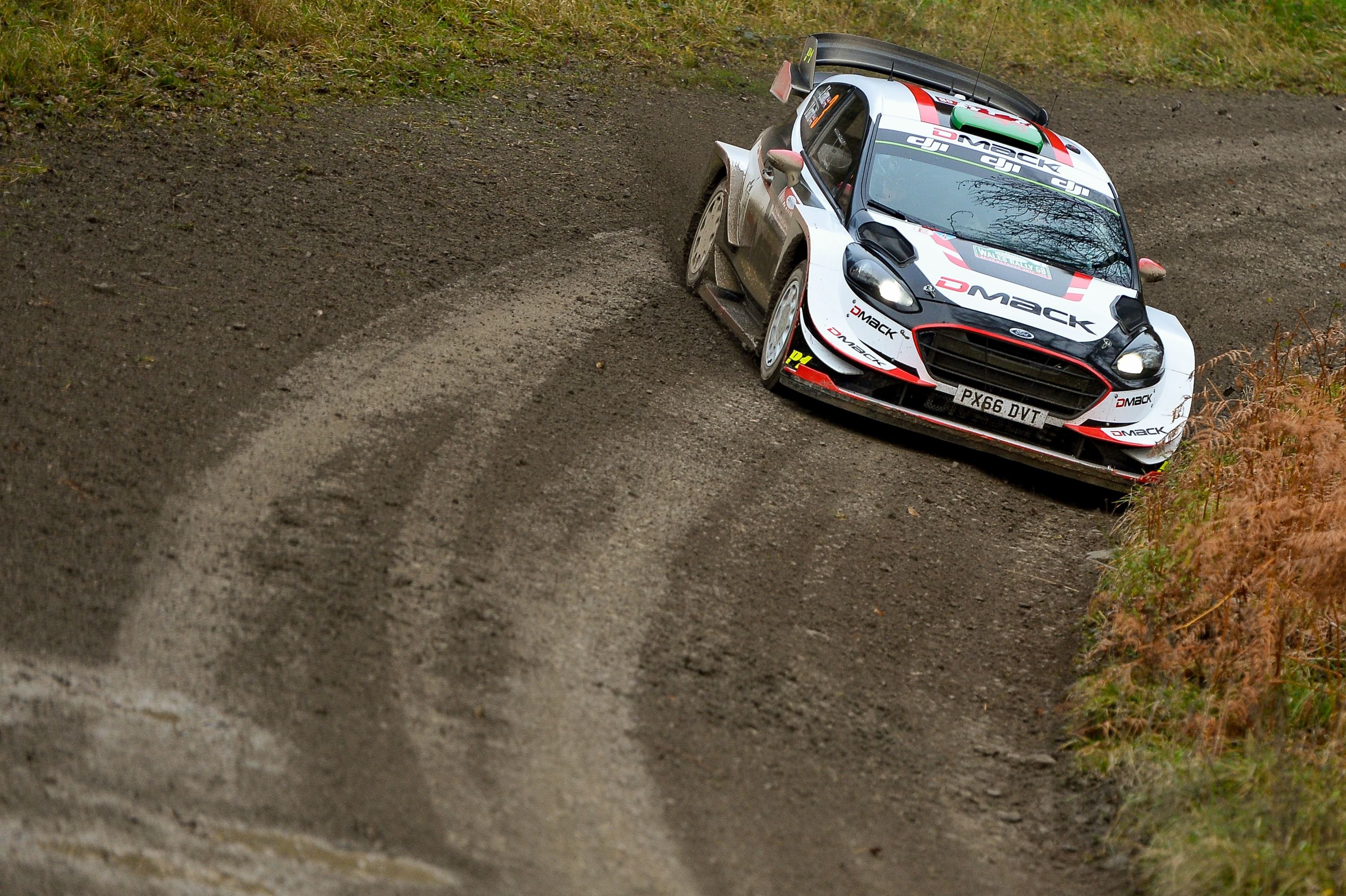 The second run started at half past two. It was getting quite warm out there, and the road had really dried a lot, so much so, that the cars were kicking up a dust trail as they came through! Evans won the stage from Ogier by 4.3 seconds. His closest challenger for the lead, Ott could only manage eighth fastest, and 8.4 slower, meaning that he was now 15.1 behind Elfyn. Seb also moved ahead of Kris, back into third overall.
Seb would win the second run of Sweet Lamb, and closed the gap to Ott as well. This was going well for Elfyn indeed as he was second fastest and his lead was 16.1 seconds with one stage to go, this was looking good!
The second run of Hafren, saw Thierry take his first stage win of the weekend and he would climb into fourth overall, moving ahead of Latvala and Meeke. Ott was slower again than Elfyn, meaning that the lead was now an incredible 24.6 seconds. Further back, Craig had made a mistake and slid off the road, but he managed to get going again and completed the stage.
It was the first time that Elfyn and Dan had led at home ever, and the first time we had a Briton pairing lead at home since 2001!
OVERALL CLASSIFICATION- Day One
Elfyn Evans / Daniel Barritt (Ford Fiesta WRC) +1:09:20.9
Ott Tänak / Martin Järveoja (Ford Fiesta WRC) +24.6
Sébastien Ogier / Julien Ingrassia (Ford Fiesta WRC) +26.8
Thierry Neuville / Nicolas Gilsoul (Hyundai 120 Coupe WRC) +37.1
Jari-Matti Latvala / Miikka Anttila (Toyota Yaris WRC) +41.9
Kris Meeke / Paul Nagle (Citroen C3 WRC) +42.0
Andreas Mikkelsen / Ander Jaeger (Hyundai i20 Coupe WRC) +52.0
Dani Sordo / Marc Marti (Hyundai i20 Coupe WRC) +1:13.9
Hayden Paddon / Sebastian Marshall (Hyundai i20 Coupe WRC) +1:22.9
Juho Hänninen / Kaj Lindstrom (Toyota Yaris WRC) +1:43.5
Here then are the thoughts of all the drivers, starting with the leader.
Elfyn won three stages today, to become the first Briton to lead since Colin Mcrae in 2001 and the first Welshman since David Llewellin in 1989.
Elfyn Evans (1st) said:
"It feels pretty good to be in this position at the end of the day. We've had a solid run with no problems and no mistakes so, so far, so good.
"It's definitely not been an easy day – especially this morning when the grip was changing so often through the stages.
"Finding the balance between pushing just enough and over-driving was pretty difficult as the grip was changing from corner to corner. We just tried to concentrate on using the traction we had as best we could, but it wasn't easy for sure.
"Tomorrow's stages really are fantastic and so enjoyable to drive. They're real home territory for me so the plan is just to go out there and enjoy it."
One stage win combined with good consistency in the other stages means that Ott was in a good position overall.
Ott Tänak (2nd) said:
"It's not been a bad day for us and it's been really nice out on the stages. The sun has been shining and I think it's the first time I've actually seen the Myherin stage without the fog!
"It's still a really close battle behind Elfyn so we'll have to wait and see what we can do. Tomorrow's stages are completely different but they're also really enjoyable.
"I'm sure it's going to be another exciting day, but it will be difficult to make any big-time differences. We'll keep fighting and keep pushing as always."
Rounding out the top three was Seb, only a couple of seconds behind Ott, meaning that M-Sport filled the top three positions. He'd taken two stage wins and set some very consistent times.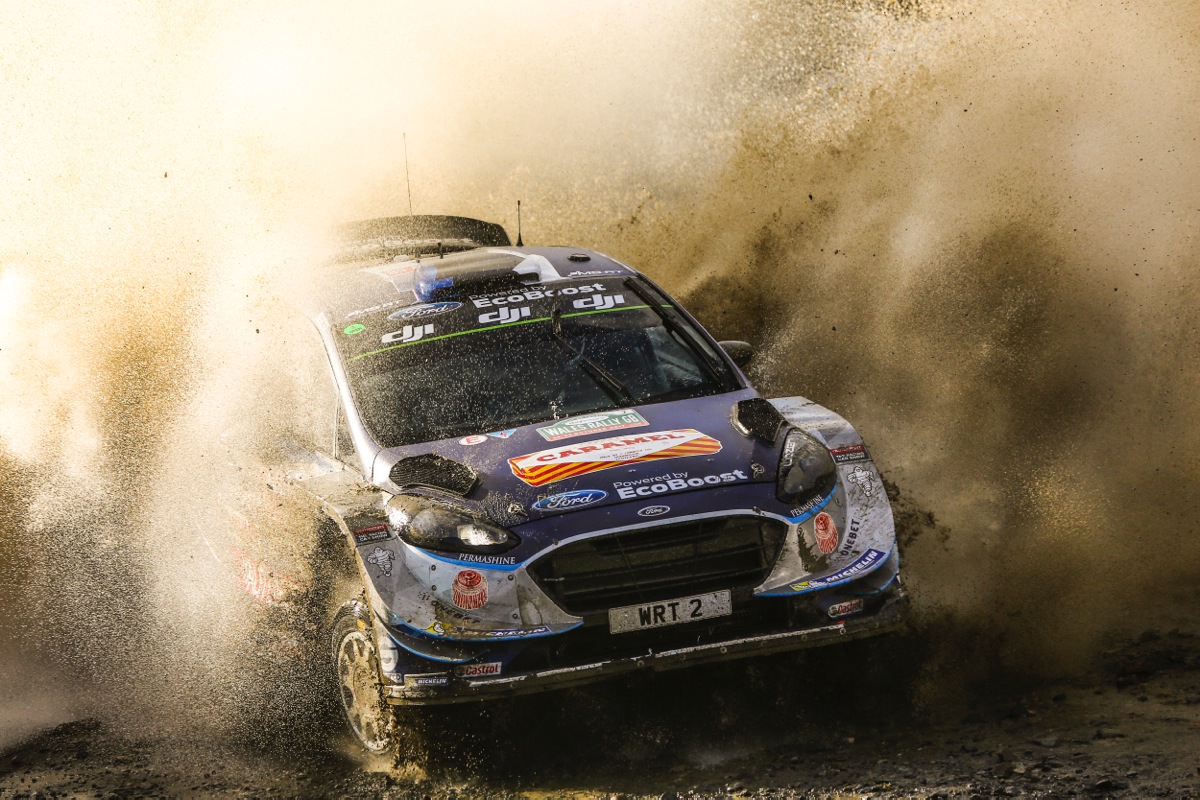 Sébastien Ogier (3rd) said:
"I feel good at the end of the day. Some sections were quite tough and I struggled to read the grip through the first pass of Hafren. I was a bit disappointed at the end of that one, but other than that it has been a good day for us.
"I took my 500th stage win today, at exactly the same place where I took my very first stage win in 2008, so that is a nice story and it seems that I like Sweet Lamb! Actually, the profile of today's whole loop is really nice – nice flowing stages and nice corners which are really enjoyable to drive.
"So long as you can read the grip, you can have a lot of fun out there and for sure Elfyn has had a lot of fun today. We knew he could do well here and, even though the tyres are working well for him, it was still a very strong performance. No matter what tyres you have, you still have to drive the car and he deserves to be where he is tonight.
"All three championship contenders are really close now and if I want to stay in the fight I have to push. That will be the plan for tomorrow – to enjoy, to push, and to see the fight continue."
Thierry Neuville (4th) said:
"We have made improvements during the day and can be satisfied with where we are considering our time penalty from Thursday. The pace is there and we would have liked to be fighting at the top but that put us behind before we'd even really started. I struggled with the settings of the car on the first stage this morning, stalling the engine after running wide and losing some seconds. We changed the differential settings midway through the loop and found some improvements, which have allowed us to move up. Finishing the day with a stage win is encouraging and gives us the motivation we need to keep pushing on Saturday."
Andreas Mikkelsen (7th) said:
"It is always a pleasure to come back to Wales. I started my career here and it's fun to be driving this year with Hyundai Motorsport. Although the weather conditions have been fine today, the stages are still incredibly slippery and that has made things quite difficult. From our road position, there hasn't been much more we could do today. We are still learning about the car in these gravel conditions, and doing all we can to adapt and learn. That is our objective also for the rest of the weekend, and we hope to make up a few more positions on the way, as well."
Dani Sordo (8Th) said:
"The stages this morning were a lot more slippery than I anticipated which I wasn't expecting. The grip in SS4 (Hafren) was better, so we hoped to push more in the repeat loop, after the remote tyre fitting zone. Unfortunately, the grip changed again in the afternoon, which prevented us from doing much more. The stages were really fast at times, and I remain hopeful that we can make up some ground over the next two days."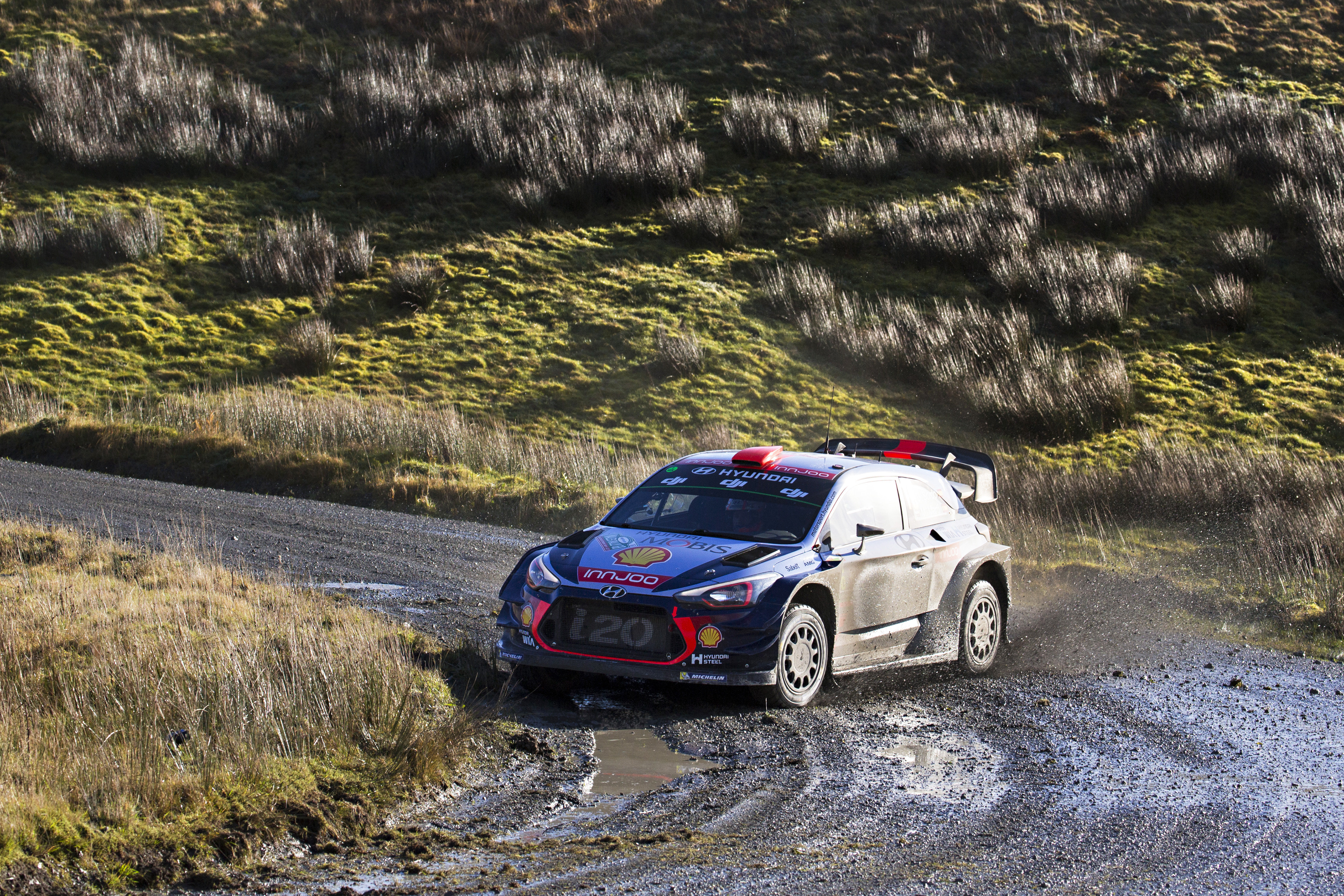 Hayden Paddon (9th) said:
"Wales Rally GB is a great rally, but it has certain particularities that you need to deliver against in order to be quick. First, you need absolutely bags of confidence and to be completely comfortable in the car. We always seem to struggle with understeer on the opening day, so we were mentally prepared for that, but it held us back today. The conditions were tricky, as you'd expect in Wales, but I'd almost have preferred it to be raining. We changed the settings for the afternoon loop but the conditions changed as well, so it's a bit of a moving target. Tomorrow is, of course, another day and I hope we can enjoy it a bit more."
Jari-Matti Latvala (5th) said:
"The conditions have been difficult for everybody today. There was heavy rain overnight and then the roads started to dry, which actually made the situation worse as the moisture came to the top of the road and the surface became slippery. In the morning I was struggling with understeer and didn't have the confidence to push, but we changed some things at the regroup and the car definitely felt better, even though were still struggling a bit with the traction. To be in fifth position is not so bad, but we have been discussing things that we can do to improve for tomorrow."
Juho Hänninen (10th) said:
"It hasn't been so easy today. I knew the conditions would be tricky but trying to estimate the grip this morning when it was changing on every other corner made it hard to find a rhythm. This afternoon the driving didn't feel too bad but the times were not good at all. Now we are thinking carefully about how we can change the setup a bit and get some more confidence for tomorrow."
Esapekka Lappi (11th) said:
"Today has been quite frustrating, as we have just been lacking grip. This morning I was missing some confidence, but it's hard to build confidence when the pace isn't there. I think we have something wrong in the setup because I was quite on the maximum in the last stage and we were still losing a lot of time. Now we have the opportunity to make changes in service to find some more grip and to learn for next year."
Kris Meeke (6th) said:
"I'm very pleased with how today's leg went. I managed to maintain a good rhythm throughout the stages. To be honest, I don't think I could've done much more. I was expecting to have a hard time of it, given our position in the running order but the grip was actually pretty good this morning, when the mud cleaned a bit and you were left with the cobblestones. I think tomorrow should be even better, because the road conditions will be more even for all of us."
Craig Breen (36th) said:
"I tried to keep it neat and tidy, but we started by losing a minute this morning, with a slow puncture. I hadn't hit anything, so I was very disappointed to lose contact with the leaders so early in the rally. This afternoon, I spun the car and there was an enormous water hole. The front went in and we couldn't get out. It was a very small, simple mistake but we didn't get away with it. Thanks to the spectators for helping us!"
Khalid Al Qassimi (28th) said:
"It was a very tough day. I'm really not used to driving in conditions like these. Most of the time, it's been like driving on ice. We are going to work with the engineers to see if it is possible to make it easier to drive the car."
Mads Østberg (12th) really struggled through the first day. Setup issues and the challenging conditions left him outside the points. He said:
"We don`t really know what is wrong, except that the set-up on the car doesn`t work in these conditions. Regrettably we had technical issues during our test on Monday and managed only a few runs, and that meant we couldn`t test different set-ups. Today we have been guessing, but not found any answers. We tried a setup from Spain in the afternoon, but that made the car harder to drive. We shall analyse all data during the evening service and hopefully find a better solution for tomorrow"
Day two dawned cloudy and cooler. It was an earlier start as well for everyone with service at ten past six, a full hour earlier than Friday. Nine stages made this day the longest of the weekend, and with two held at night after service, it would really test the crews out.
Aberhirnant was first up, and Elfyn picked up where he had left off on Friday, taking the stage and increasing his lead over Ott to 30 seconds. Kris moved ahead of Latvala into fifth place. Andreas found some good pace as well, going third in the stage.
Stage nine, Dyfnant was next up and second placed Ott fell further behind Evans, but Seb was having a worse start after only setting the ninth fastest time. Thierry was closing on his rival for the championship. Elfyn was pulling away, the gap now 36 seconds.
Into stage ten, Gartheinog and Elfyn made it three from three, taking his lead to almost 40 seconds over Ott. Thierry also moved ahead of Seb into third. Latvala also closed a little on Kris. It was getting close behind our home leader!
Stage 11, Dyfi next and a lot happened in this one! Kris spun in the chicane losing time after a stall as well. The other news was that Thierry moved ahead of Ott and into second place. Further back, Dani Sordo was really struggling.
The rerun of Gartheiniog, stage 12 saw Elfyn extend his lead some more with his lead now 54 seconds over Thierry. The big news was that Kris lost part of his wing during the stage! I was stage-side, and he came past me with the top part missing! Andreas was also closing the gap to Jari-Matti in their fight for fifth place.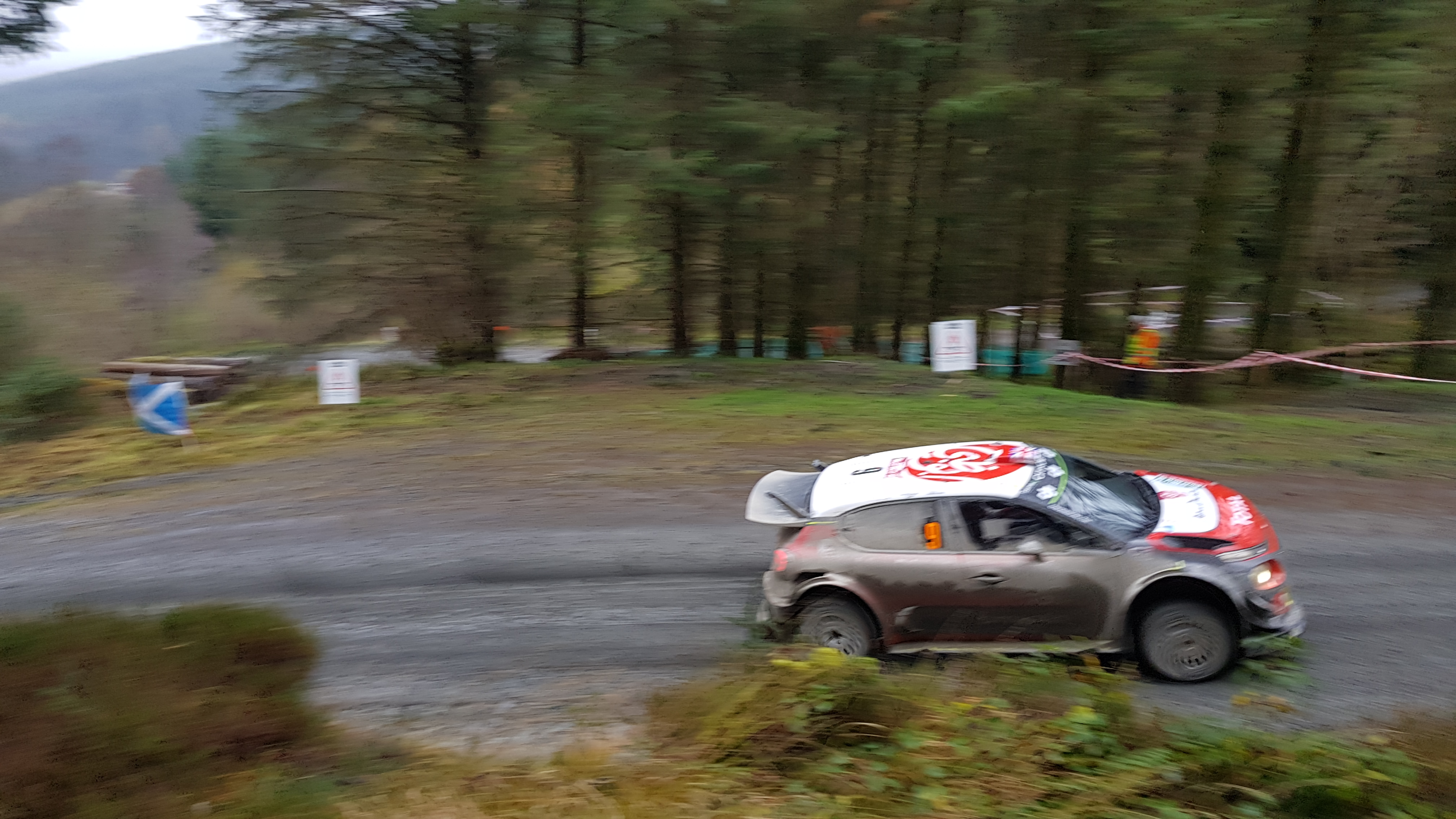 In stage 13, Dyfi, Thierry stopped Elfyn winning all the stages with a very good drive to take top spot, but Elfyn was still firmly in charge. The gap between Jari-Matti and Andreas was getting smaller and smaller, now just 1.6 seconds between them.
The short spectator stage at Cholmondeley Castle, stage 14, saw Juho Hanninen crash out of the event. His teammate, Jari-Matti also dropped behind Andreas in their battle over fifth place. With Thierry winning the stage from Dani and Ott, Elfyn kept it simple and set the ninth fastest time.
Now we just had two stages left, but they were run once the sun had gone down. The crews headed to the second run of Aberhirnant. It was going to be a much harder this time round though! The fog had descended, making everything much harder! Kris Meeke said, "It was completely crazy. You can't see 10 metres off the start line. It was hellishly crazy." Jari-Matti felt at home, setting the fastest time and moving back ahead of Andreas into fourth place overall. Ogier also moved back into second overall after Thierry only managed the ninth fastest time, a full 33.8 slower than Latvala.
The final stage of the day saw the crews return to Dyfnant and Elfyn returned to the top of the times with a very good time and extended his lead over Seb to 53 seconds. He had driven brilliantly all day, able to find the speed to pull away, and able to play it safe when it was needed.
STANDINGS AFTER DAY 2
Evans / Barritt (Ford Fiesta WRC) 2:32:39.2
Ogier / Ingrassia (Ford Fiesta WRC) +53.1
Neuville / Gilsoul (Hyundai i20 WRC) +53.6
Latvala / Anttila (Toyota Yaris WRC) +57.7
Mikkelsen / Jaeger (Hyundai i20 WRC) +1:03.6
Tänak / Jarveoja (Ford Fiesta WRC) 1:06.1
Meeke / Nagle (Citroën C3 WRC) +1:27.6
Paddon / Kennard (Hyundai i20 WRC) +2:04.0
Lappi / Ferm (Toyota Yaris WRC) +2:41.0
Sordo / Marti (Hyundai i20 WRC) +3:35.8
Let's catch up with the drivers after day two.
Six stage wins helped Elfyn pull away from his closest challengers, adding almost 30 seconds to his lead throughout the day.
Elfyn Evans (1st) said:
"It's been a really good day for us and a really enjoyable one as well. I've always enjoyed these stages but I have to say that I was glad to get through the night stages!
"They really were tough. With the fog on Aberhirnant [SS15] you couldn't even see the road in front of you so it was very, very challenging. But we made it through and actually managed to increase our lead.
"That's given us a good cushion for tomorrow and there aren't so many kilometres left, but they're not easy. There are some very tricky stages coming up with a lot of big breaking areas into not a lot of run off and Gwydir [SS19] is massively technical and not been in use since 2013. There's plenty in there tomorrow, so we need to keep focused and keep at it."
Seb endured a puncture and then a failure on his brakes on the same wheel that he got a puncture, although it didn't hold him back.
Sébastien Ogier (2nd) said:
"It's been a tricky day and we've been lacking some pace compared to yesterday. We need to understand why that was, but I'm just happy to be here after this evening's night stages!
"When you drive in conditions as challenging as the ones we faced tonight, there is no way of making it risk free. Do that and you can easily lose a minute or more. The visibility really was terrible at times, but we just decided to go for it.
"It was so close between second and fifth that I had to try and it was working pretty well up until the last kilometre when I didn't see an almost none existent corner. We hit the bank in the fog, damaged the front-left wheel, lost the brakes and honestly thought it would be difficult to finish the day.
"Without the brakes it would have been un-driveable but we managed to close the damaged system and carry on with only three brakes. Somehow, it was still possible to drive and we didn't lose too much time.
"With only small gaps between a lot of drivers, and 40 kilometres left to complete, we'll have to keep pushing if we want to stay on the podium."
Thierry Neuville (3rd) said:
"Overall, it was a better day than Friday in terms of the driving, more consistent and we were able to make up a good chunk of time, although I am disappointed with the way our day has ended. We probably had the worst of the fog and honestly could not have gone any faster. We tried to push but it was impossible in those conditions. I expected poor conditions in the evening, but nothing like we experienced. I gave it all I had in the final stage but all our hard work was undone by the weather conditions."
Jari-Matti Latvala (4th)
"Things started a bit slowly in the first stage this morning but they just kept improving after that. We had much better traction than we did on Friday, and although we have still been struggling with understeer, we kept playing with the dampers during the day and this helped the car to feel better and better, and the stage times became quicker. Tonight, in the dark and the fog I was quite happy with the performance. Sometimes you have to attack when the conditions are trickiest. The grip was quite good and the feeling with the car was good. I'm looking forward to tomorrow now."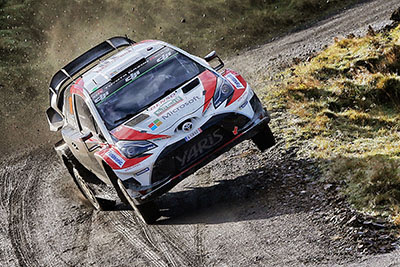 Andreas Mikkelsen (5th) said:
"On the whole, we have had a good day. The daylight stages were particularly positive. We benefitted from a better starting position today so we wanted to capitalise on that and regain some time. We were able to achieve that and were not far off the lead times. The car set-up was amazing. We knew the evening stages would be tough, with the fog, but we had nothing to lose so I drove as quick as I could. We set our light pods too high in the penultimate stage of the evening, and couldn't see anything. We tried to modify those but with no fog in the final stage they were too low and visibility was worse. Still, there are a lot of good things to take from today's running."
Ott Tänak (6th) said:
"It has been a long, tricky day, but also a typical Wales Rally GB day. There was just one really foggy stage where we lost a lot of time. For sure it's disappointing, but it's done now and that's how it is. The gaps behind Elfyn aren't too big so let's see what we can do tomorrow. Hopefully we can show more pace than today and be able to fight. It will be an interesting day for sure."
Kris Meeke (7th) said:
"As we expected, it was a long day with a lot of time spent behind the wheel! I stayed in touch with the group fighting for the podium until I made a small mistake and stalled in a chicane: that cost me a good ten seconds or so. But I don't think it made that much difference to our situation. Most of the time, we were able to match or get close to the performance level of our rivals and I enjoyed driving the Citroën C3 WRC today. Our position in the standings isn't brilliant, but we'll be ready to seize any opportunities if they come up tomorrow."
Hayden Paddon (8th) said:
"There have been some positives and some problems today. On the positive side, the car has felt much better today and I have felt more confident. However, we have also encountered some trouble, which has set us back. We had a puncture at the start of the second stage and then hydraulic issues on the second run through Dyfi – the longest stage of the day. We had no gearbox or differentials for the entire stage, and it was an absolute handful if I'm honest. I was looking forward to the evening stages and felt that we got more out of ourselves. It's the same conditions for everyone, but I am able to trust Seb implicitly on the pace notes, so we could push that bit more."
Esapekka Lappi (9th) said:
"Today was certainly better than yesterday. It helped that we were the third car on the road. We made some big changes in service last night and the car started to feel good. I was still struggling for confidence but it has been a bit more enjoyable today. We made more changes in service before the night stages and I think these helped, as the grip felt better than on the previous stages."
Dani Sordo (10th) said:
"There is nothing I can say. It has been a difficult day, and it ended with a poor stage where we lost a lot of time. The car has performed well, mostly, but we haven't been able to make progress. I was struggling with the traction and grip this morning and the suspension was too soft for my preference. This rally is very special and unique, but so far, I haven't been able to dial into it fully. I am definitely hoping to turn things around on the final day."
Craig Breen (17th) said:
"On this rally, the handbrake really is the driver's best friend. And today, I lost my best friend right at the start! The first runs on the stages were very difficult. It was a bit better on the second pass, because I could use the ruts to get the car to turn on the tight bends. It's a shame we lost the handbrake, because the speed was definitely there today to set some very good times."
Khalid Al Qassimi (23rd):
"It was one of the most difficult days in my WRC career! On the second pass, I was driving on a layer of mud just as slippery as ice. I wasn't pushing at all, I was just trying to avoid going off the road. The night stages were also very tricky, with a lot of fog. I nonetheless enjoyed myself when there was a bit of grip."
Mads Østberg had a troubling day. After four stages on Saturday, he retired his car. During stage eleven, the car stopped. He and his co-driver Emil got the car going again and they completed the stage.
Mads explains: "We had a couple of major high-speed "moments" that nearly sent us out among the trees. With no proper service during the day there was no other choice than to retire, and possibly have a chance to sort out the issues and restart on Sunday."
"Something plays up with the centre differential and suddenly and without warning it stops functioning. We have also had the engine cut out completely at two different occasions on SS11.  Both issues are really something that you don`t want to happen flat in sixth gear."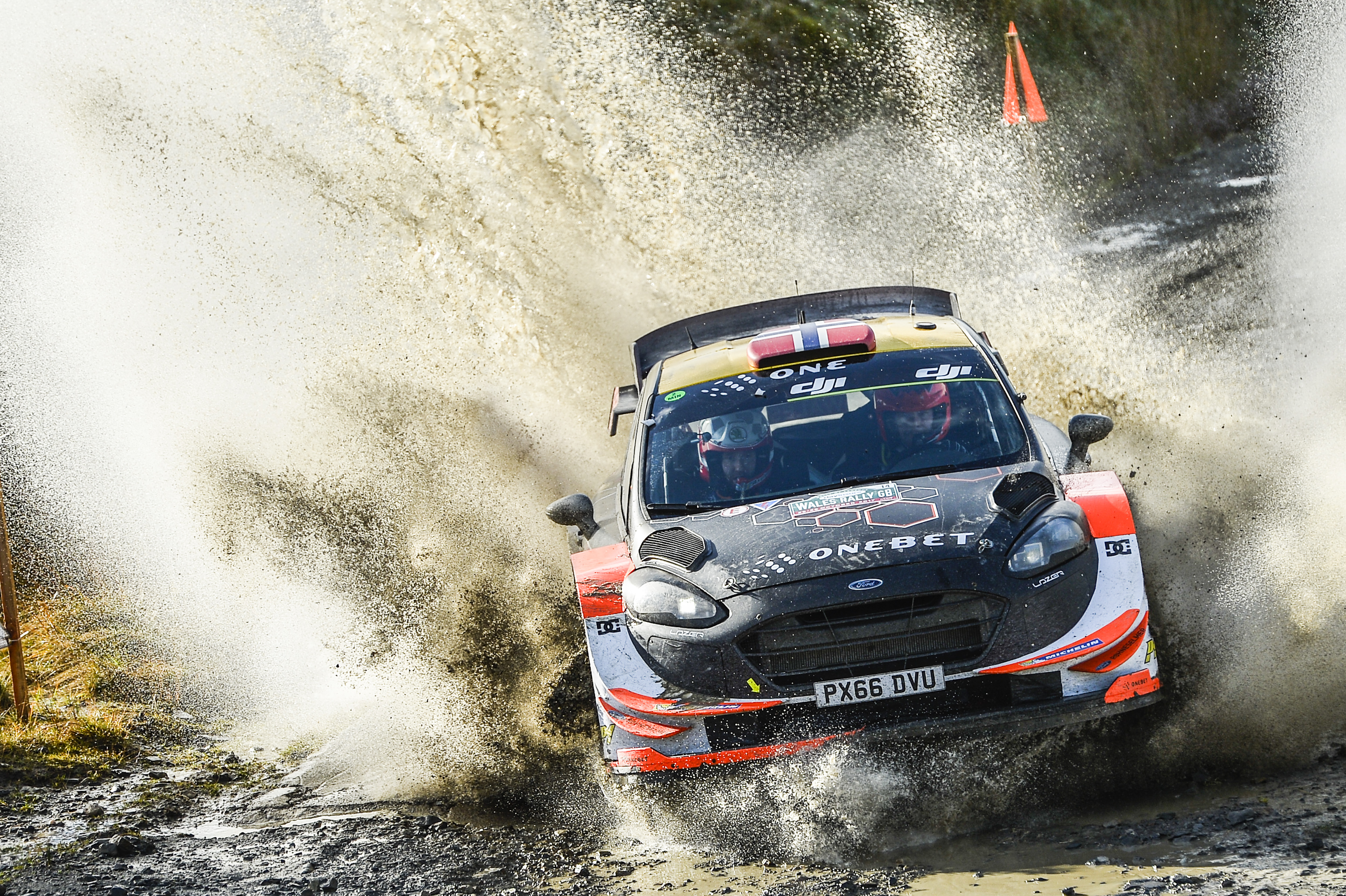 Juho Hänninen (Ret) said:
"Things were better this morning than they were yesterday. We made some changes with the car that helped us compensate for all the mud that we are collecting on stages, so the rear was not sitting down so much meaning we could have better traction at the front. Unfortunately, on the Cholmondeley stage I braked a bit too late and hit a hay bale, broke a front damper and had to retire. There is also some damage to the chassis so we won't be able to restart tomorrow."
Sunday morning dawned bright and sunny like Friday. The crews faced five stages to complete the event. Elfyn had a 53 second lead over his teammate Seb, who was on the verge of his fifth world championship. M-Sport were also looking at winning their first manufacturers championship.
Stage 17, Alwen, fell to Ott, but the big news was that Thierry went three seconds faster than Ogier and with that moved his Hyundai back into second overall.
Next stage, Brenig, which would later be the powerstage, was won by Andreas. Elfyn was on cruise mode, just getting around the stage and using his advantage to his benefit.
Stage 19, Gwydir saw Jari-Matti and Thierry set exactly the same time! Kris was third fastest, which was excellent news for him and Citroen.
Just two stages to go now and history being made. Could Elfyn deliver the win that we had been waiting for at home for 17 years and also become the first driver from Wales to win a World Championship event?
The re-run of Alwen went to Andreas and with the pace he found, he climbed back into fourth overall at the expense of Jari-Matti who could only manage ninth, five seconds slower than the Hyundai driver. Our leader Elfyn was pretty comfortable with this one, going fourth!
Time for the powerstage then and just 6.43km! The top five positions were taken by Thierry, Kris, Jari-Matti, Seb and Andreas.
Seb and M-Sport had done it. Together they'd won the drivers and Manufacturers Championships. However, the big news was that Elfyn had taken his maiden victory at his home event! What a result! Just fantastic!
Let's hear then from the drivers starting with our seventh different winner this year.
Elfyn Evans (1st) said:
"I'm feeling pretty good, and just about managed to keep the tears away at the podium. It's been a really long and difficult weekend, so this one feels good and it was made all the more special when you combine it with everything the team has achieved today.
"Already after Shakedown, we knew if the conditions played into our hands then the speed was there to challenge for the victory. As the weekend went on, I felt that it was always in my reach, but this is an event you can never predict. A clean run with no punctures, spins or mistakes is very difficult. It's all about finding the right balance and I think that's what we managed to achieve this weekend.
"I'm definitely hungry for more wins now, so let's wait and see what next year has in store. Now that I have felt this feeling, it's one that I would like to repeat!"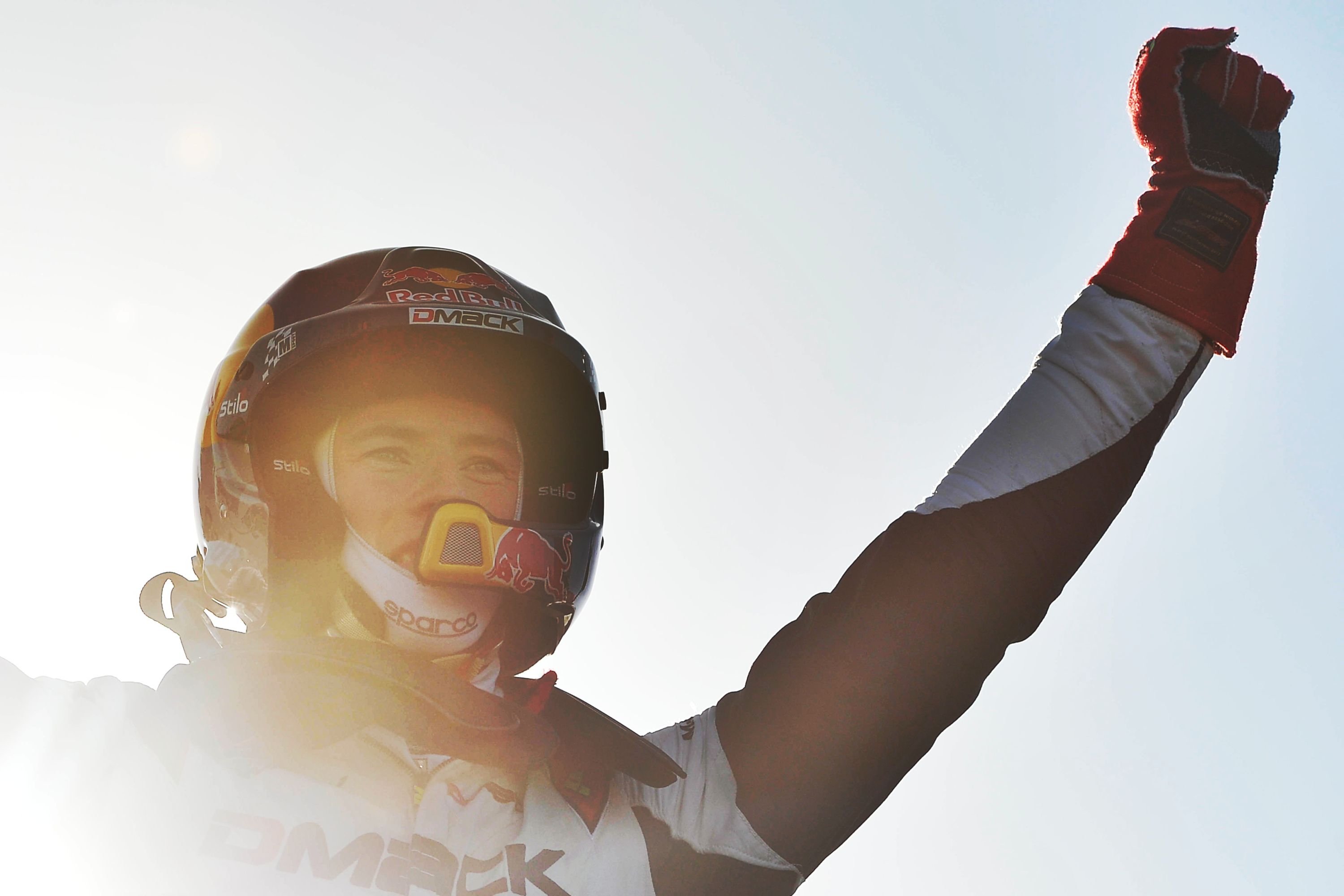 Thierry Neuville (2nd) said:
"Our congratulations to Sébastien on his fifth WRC title, and to M-Sport. We got the message just before the start of the Power Stage that he had done enough. It has been a really exciting battle this year and although we have had our moments of misfortune, we have enjoyed some great fights along the way. Everyone in the team has worked incredibly hard this year, so we can be pleased with our performances and for playing our part in the Championship fight. We could not have done any more this weekend. Elfyn was on incredible form, so to finish second to him is a great achievement. Our five Power Stage points shows our performance level this weekend, and I have enjoyed the rally, despite having to concede the Championship. We will now aim to finish the season well in Australia and to secure second place ahead of Ott."
Sébastien Ogier (3rd) said:
"Emotion is something you cannot control. There is something beautiful about that and I have to say that this was the strongest feeling of emotion that I have ever experienced in my professional life. It's hard to explain the feeling, but it is most definitely a good one.
"Twelve months ago, we decided to take what could have been considered a risk. We decided to team up with Malcolm and set ourselves a challenge. Today, we have succeeded in that challenge and know that we made the right choice.
"I felt immediately proud and very happy for the team. A drivers' title is something that has never happened for them and it was so well deserved. What they are able to do is amazing. Really, a big thanks to all of them."
Andreas Mikkelsen (4th) said:
"We have done our absolute best this weekend, trying to go as fast as we could. We wanted to show progress from Spain and we definitely did that. The battle for the podium was really close and I am pleased that we could finish so close to Séb. Fourth place in our second event with Hyundai Motorsport is pretty good. We took a few stage wins this morning, but also made a few mistakes as well, so there is still room for improvement. Overall, I am happy. As a team, we must now prepare to finish the season in the best way possible in Australia, and then aim to make another improvement in the Championship in 2018."
Jari-Matti Latvala (5th) said:
"I couldn't have gone any quicker than I did on the Power Stage: I gave it absolutely everything! This has not been a perfect rally for us, but we're happy to score some points, we know what we can do to improve, and it doesn't take anything away from the fact that the Toyota Yaris WRC is the best car that I've ever driven. Conditions between the rally and the test were not exactly the same and that was one of the problems we experienced: on the polished stages today, it was impossible to get the car to turn, so that was frustrating. But I've still enjoyed the rally: it was fantastic to see so many spectators out on the stages. Wales is always one of the most difficult events of the year, but after Finland it is definitely my second home rally: I'm always very happy to be competing here."
Ott Tänak (6th) said:
"Our weekend might not have played out as we had been hoping, but crossing the line and securing the manufacturers' championship for the team was something very special. Malcolm, and everyone in the team, have done such an incredible job this year and we've achieved huge success together. They really do deserve everything this weekend."
Kris Meeke (7th) said:
"Normally, I wouldn't be happy with seventh place. But to be honest, Elfyn Evans was in a different class this weekend, he produced an exceptional performance throughout the rally. The battle was mainly for second place and for a long time, we were only thirty seconds or so back, among a group of drivers that were quite tightly bunched together. I dropped back slightly when I made a little mistake yesterday, but I'm still pleased with my rally. I felt good all weekend – it's been a while since I felt that comfortable on this type of surface, throughout an entire rally."
Hayden Paddon (8th) said:
"We have been in a bit of a no man's land today, so we have concentrated on keeping things nice and smooth. The result isn't what we wanted, of course, but we have started to regain our confidence in the car, and just enjoy ourselves a bit more. It has been hard to read the stages this weekend, but it's been fun to get behind the wheel and to be part of the team again. We can now reset and refocus our efforts on Rally Australia, where we have our sights set much higher!"
Esapekka Lappi (9th)
"For me the most important thing was to get to the finish, so I made sure that I concentrated on that above everything else, in order to improve my experience of these challenging conditions. Today we had a good run through the first loop of stages and set some promising times, but on the second run when the roads were cleaner, it was more difficult and I struggled to find the grip. We learned a lot on this rally, so even though it wasn't the result that we wanted, it was very valuable experience that will help us for the future. I'm learning all the time and so is the team."
Dani Sordo (10th) said:
"It has been a challenging rally for everyone, with slippery and often unpredictable conditions. Unfortunately, we haven't had the confidence that we needed to mount a stronger attack this weekend. It's nice to extend our run of rally finishes this season but it isn't the result we know we are capable of. We have had some positive results this year. Although I am not competing in Australia, we will be hoping for a competitive event for the team as we prepare to come back stronger in 2018."
Mads Østberg and co-driver Emil Axelsson finished the event in 39th place after the problems inflicted on Saturday. He said:
"It`s just a bit comical to finish inside the top forty, but this has been the most difficult and frustrating rally this year. The team worked hard to find the source of the electronic "glitches" yesterday, but we haven`t been able to cure the problems. So today has been about driving through the five stages to collect further data and possibly find a solution."
Mads won't be driving in Rally Australia and there are no confirmed details as to what is happening with him next year.
"Finishing the season with the problems we have had here in Wales is of course very frustrating, but all in all there are many positive points from 2017. We have been able to fight for the lead in several rallies and I know my speed is very competitive, especially on the "loose". Spain became a highlight with leading the rally on gravel the first day and securing a solid and good result after two days on tarmac."
DRIVERS' CHAMPIONSHIP
Sébastien Ogier – 215
Thierry Neuville – 183
Ott Tänak – 169
Jari-Matti Latvala – 136
Elfyn Evans – 118
Dani Sordo – 95
Juha Hänninen – 71
Kris Meeke – 70
Craig Breen – 64
Hayden Paddon – 59
MANUFACTURERS' CHAMPIONSHIP
M-Sport World Rally Team – 398
Hyundai Motorsport – 305
Toyota Gazoo Racing WRC – 241
Citroen Total Abu Dhabi World Rally Team – 210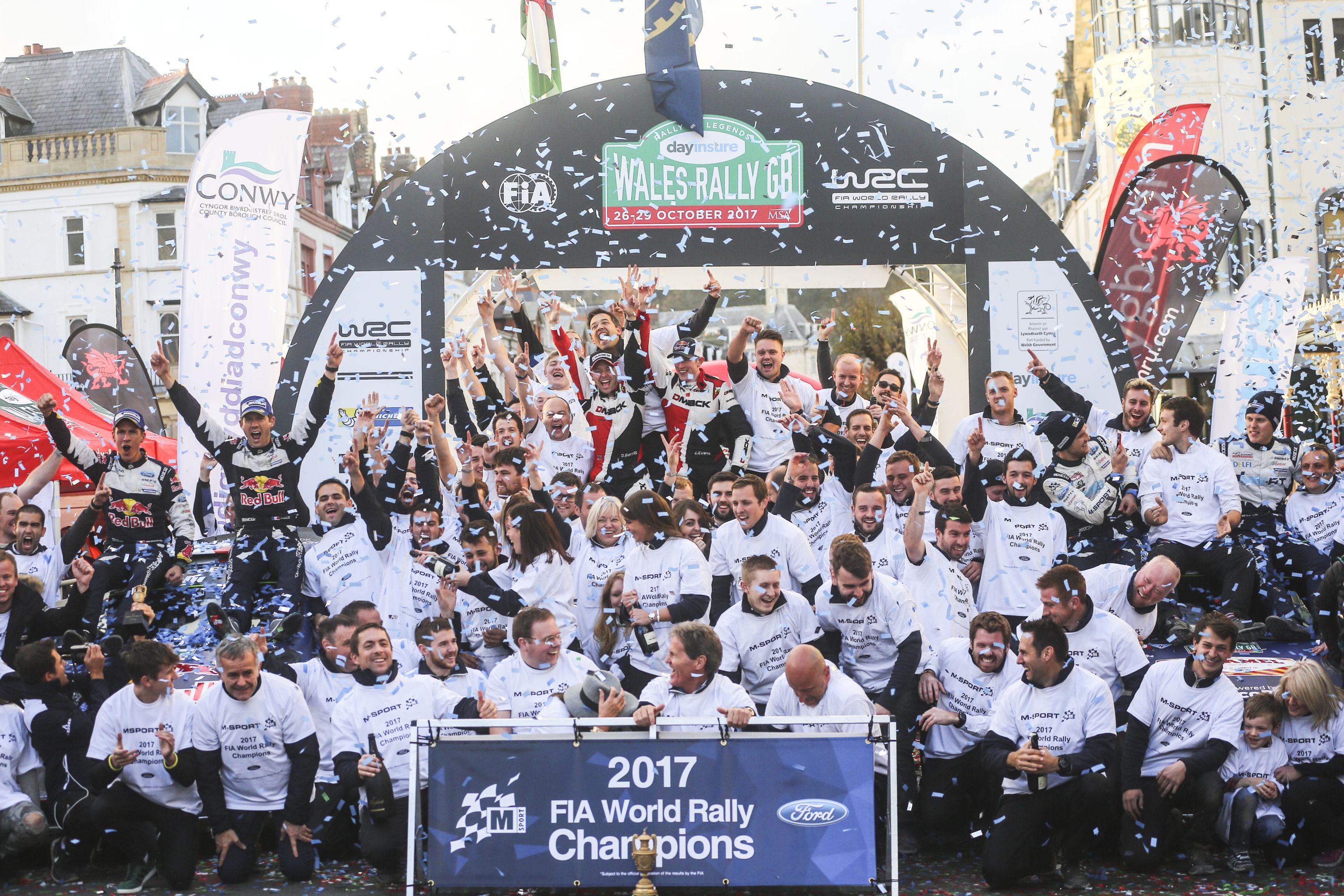 Well, what an amazing Wales Rally GB that was! A home winner and two world championships secured as well!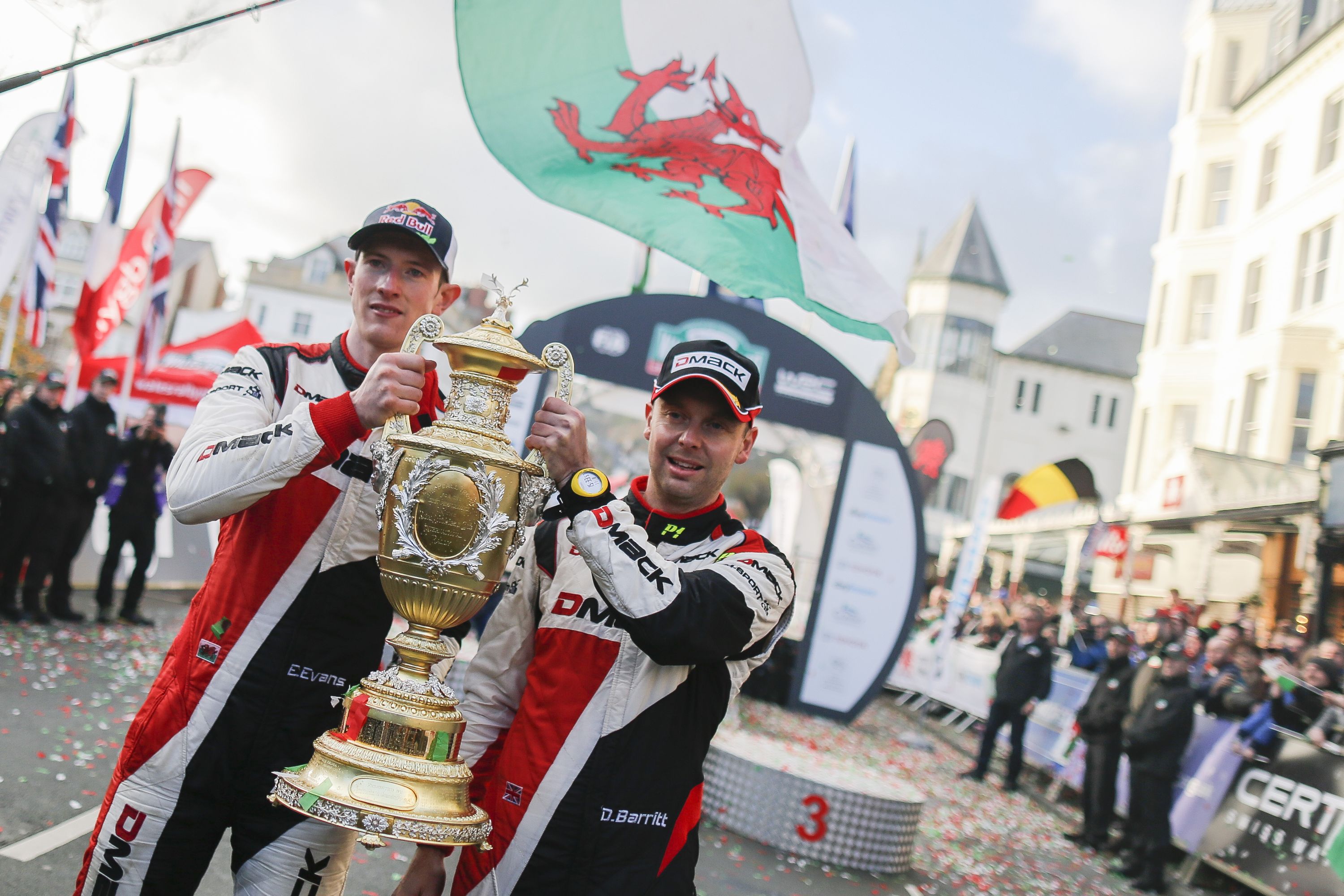 I hope you enjoyed my recap of the event, and now it's just a couple of weeks to the last round of the championship.
Let's see what happens when the teams head down-under!