Vindication. That was the first word that came to mind when Daniel Ricciardo crossed the line and secured a podium finish for Renault at last weekend's Eifel Grand Prix at the Nurburgring.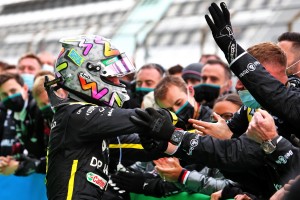 The Australian, who will also have a prodigious sense of justification following his move to the team last year, secured his first podium since 2018. It was the French team's first top-three result under the Renault name since Nick Heidfeld at the 2011 Malaysian Grand Prix, when the German deputised for the injured Robert Kubica. But Renault's return in 2016, taking over from the struggling Lotus brand, was supposed to be the start of a brand new era; the beginning of a glorious success story; the joyful culmination of a story of struggle.
But just eight points between 2016 drivers Kevin Magnussen and Jolyon Palmer was the crash down to earth that the Parisian name was not expecting – along with the rest of the F1 paddock. The manufacturer that had powered 168 wins in Formula One history has experienced a bruising reality check.
But they have come close – Nico Hulkenberg was denied in Singapore 2017 when he lost air pressure in his engine, and in 2019 when he crashed out of his home Grand Prix at Hockenheim. This was a result that was going to come – Renault were always going to persist – but nobody quite thought it would be four years after their return that they would eventually achieve a top three finish.
They had to watch Carlos Sainz, their former driver, take a podium for McLaren in Brazil – the Woking team beating Renault to this achievement, and let's not forget: McLaren are powered by Renault engines.
Even earlier this year, Lando Norris and Sainz both earned podium finishes for the papaya team, inspired by the unstoppable spirit of their founder Bruce McLaren – the New Zealander who, in his time, once became the youngest ever race winner in F1.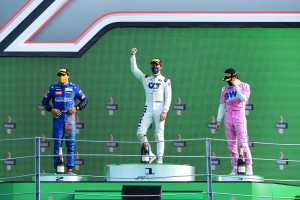 This podium will also be of great personal pride to team principle Cyril Abiteboul. The Frenchman has had a storied history with the manufacturer of his nationality. He led the Caterham team in 2013 and 2014 before it went bust, and had already acted as Deputy Director of Renault Sport F1 until 2012. At this point, Renault supplied Caterham, Lotus and, of course, the revered Red Bull team. The engine of immense significance to Abiteboul, a former engineer himself, was in the middle of powering the Milton-Keynes-based outfit to four consecutive world championships with Sebastian Vettel and Mark Webber between 2010 and 2013.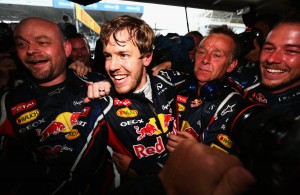 Having seen the success, both with his team and as an individual having had the opportunity to lead Caterham, he witnessed the sudden, and very stark downfall.
Caterham ran out of finances at the back end of 2014, and were forced to fold. Abiteboul's very own team had been taken from him almost as quickly as it had been presented. He returned to Renault, and continued his occupation as Director of Renault sport. Bad, however, went to worse.
In 2014, the turn of the hybrid era had brought Red Bull's world crashing down, and they were no longer the dominant force they were. In spite of Ricciardo's impressive three wins that season, Abiteboul had returned to a largely unsuccessful engine supplier, and some extremely unhappy customers.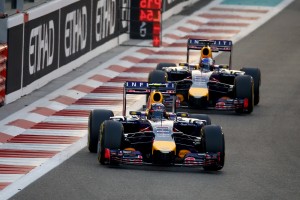 Lotus, who had also hit the mud in 2014, jumped ship and asked for Mercedes engines for 2015, with the German manufacturer and now world champions obliging. Red Bull's fortunes worsened that season, and tensions rose massively between Abiteboul and Red Bull boss Christian Horner. Red Bull were unable to find a different supplier for 2016, and agreed to continue paying Renault for Power Units. There was, however, a catch. The Renault name was not to make an appearance on the car henceforth, with the former champions opting instead to sport the Tag Heur brand.
A few wins but plenty of reliability failures later throughout 2016, 2017 and 2018 spelled the end for Renault's journey with Red Bull. In 2018, Christian Horner made the almost absurd decision to switch to Honda power for 2019, after comments throughout the year which had enraged Abiteboul.
But there was a counter to Horner's decision. Renault had acquired the services of a driver who had grown tired of playing second fiddle to his team mate – that driver's name was Daniel Ricciardo of Red Bull.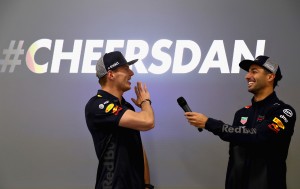 Renault's situation, having been improving to the extent of a fourth placed championship finish in 2018, once again fell the following season. While they had to watch Red Bull win races with Honda engines, Renault fell behind McLaren and were emphatically knocked back into the midfield.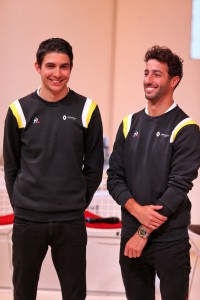 This year though, things are on the up. New-boy Esteban Ocon has been showing signs of improvement following his year out, and the Renault PU is proving to be battling with Honda for the second-quickest motor on the grid. They are quicker than Ferrari, and though they may be fifth in the championship, they are level on pace with McLaren and Racing Point and very much eyeing third in the championship this time around.
The signs are pointing to better times ahead for Renault, and as well as a tattoo for Abiteboul, this podium represents the start of an upwards journey and, finally, the road to success for the soon-to-be Alpine F1 Team.