Renault's managing director Cyril Abiteboul has said he believes the team's 2019 line-up of Nico Hulkenberg and Daniel Ricciardo to be 'perhaps the strongest on the grid'.
Ricciardo will be making his Renault race debut at this weekend's Australian Grand Prix alongside Hulkenberg, who starts his third year with the team, and Abiteboul is optimistic about what the pairing can deliver.
"The first race of the year, the Australian Grand Prix, is a high point of the season," Abiteboul said, "but even more so this year as Daniel Ricciardo makes his race debut for the team. We head there united and with strong determination.
"We have a new car that has shown potential in Barcelona. The power unit has made progress and or driver line-up of Daniel and Nico is perhaps the strongest on the grid. We're looking forward to seeing them showcasing their experience and talent on track. There is a lot of expectation for the first race, especially with Daniel's debut for the team coming at his home Grand Prix."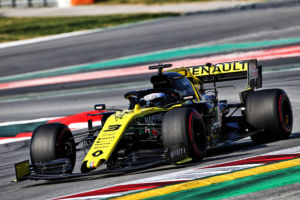 Ricciardo announced his shock move from Red Bull – where he had been since 2014 and with whom he had won seven Grand Prix – at the Belgian Grand Prix of last year. The Australian, too, is positive about the prospect of racing for his new team, even if it is unlikely they will be at the same performance level as Red Bull immediately.
"My first impressions, on a whole, have been positive," Ricciardo said, "and we'll continue to learn more throughout these early races. It's going to take some time to get used to everything, but that's not unexpected.
"We're realistic in our approach and we have work to do. We have a decent platform to build on now and we always strive for better. We've found some things during testing which we'll dissect and see what we want to take forward, but our bigger steps will come during the next few months."
[Featured image – Renault Sport F1 Team]