W Series starts its 3rd on-track season in Miami for the biggest season yet. The series will again be supporting the Formula 1 calendar with a record 10 races, starting with the double header at Miami.
After 195 days since the last race we get two for the price of one. This season features two double headers at the start and the end of the season in Mexico. The rest follows the format of last year with qualifying on Friday and the race on Saturday.
Miami is a very fast street track which demands a lot from the drivers. This is a great place to start to show off the talent of these women and test their ability to tame such a demanding track. Overtaking opportunities will be similar to Formula 1, coming mostly from turns 11 and 17, but lines will be different so don't be surprised if they come in other corners.
The Two time Champion Returns
Jamie Chadwick is back with Jenner racing to defend her title. She starts the season as the women to beat in a newly formed team funded by Caitlyn Jenner. Her main rival from last year, Alice Powell, will be looking to bring the heat all season.
Last season Alice Powell started off her campaign stronger than Chadwick, winning the first race of the season at the Red Bull Ring while Chadwick finished in P6. This is something Powell will want to repeat and take full advantage of the double header. However, she will need to keep this momentum all season if she wants to finally beat Chadwick.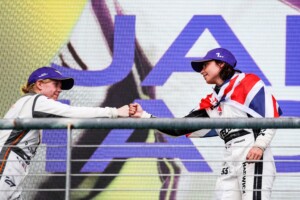 Five New Rookies
After pre-season testing in Barcelona five drivers make their W Series debuts in Miami. Tereza Babickova, Bianca Bustamante, Chloe Chambers, Emely De Heus, and Juju Noda. This is the current surge of young talent to add to break out star from 2021, Abbi Pulling.
They will compete against some of W Series most seasoned drivers like Alice Powell, Jamie Chadwick, Emma Kimiläinen, Jessica Hawkins and many others. But all 18 drivers will start from zero and be given a fair chance to fight for the title.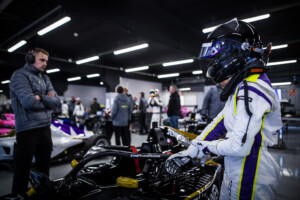 W Series has signed a contract with Sky Sports so all qualifying's and races will be broadcast live on Sky Sports F1. There will also be highlights on channel 4 and practice and qualifying streamed from YouTube and Facebook.
Qualifying starts at 2pm BST on Saturday. Race 1 is at 7:10pm BST on the same day and race 2 is at 3:10pm BST on Sunday.