The second full day then and the crews had eight stages over 84.68km's. Thierry returned, but the damage to Dani and Adrien's cars was too big to deal with meaning that they did not return to the action. The Belgian would therefore be opening the roads throughout Saturday's stages.
First up then was SS9 Nukata Forest 1 – 20.32 km and the stage was red flagged. The reason was that Thierry came through the stage and found one of the course cars stopped on the side of the road. He brought his car to a stop and the driver of the course car then waved him on. He completed the stage in road mode. Later the stage was allowed to run again and Takamoto and Seb shared the fastest time from Elfyn. In WRC2 Andreas continued to lead from Nikolay and Heikki.
Into SS10 Lake Mikawako 1 – 14.78 km and Takamoto was fastest from Thierry and Ott. The Japanese star was closing on Ott, the gap between them just under 20 seconds. Meanwhile EP passed Andreas for fourth overall, gaining two positions as well with Gregoire also dropping a place to sixth. Andreas continued to lead the WRC2 category from Nikolay and Heikki.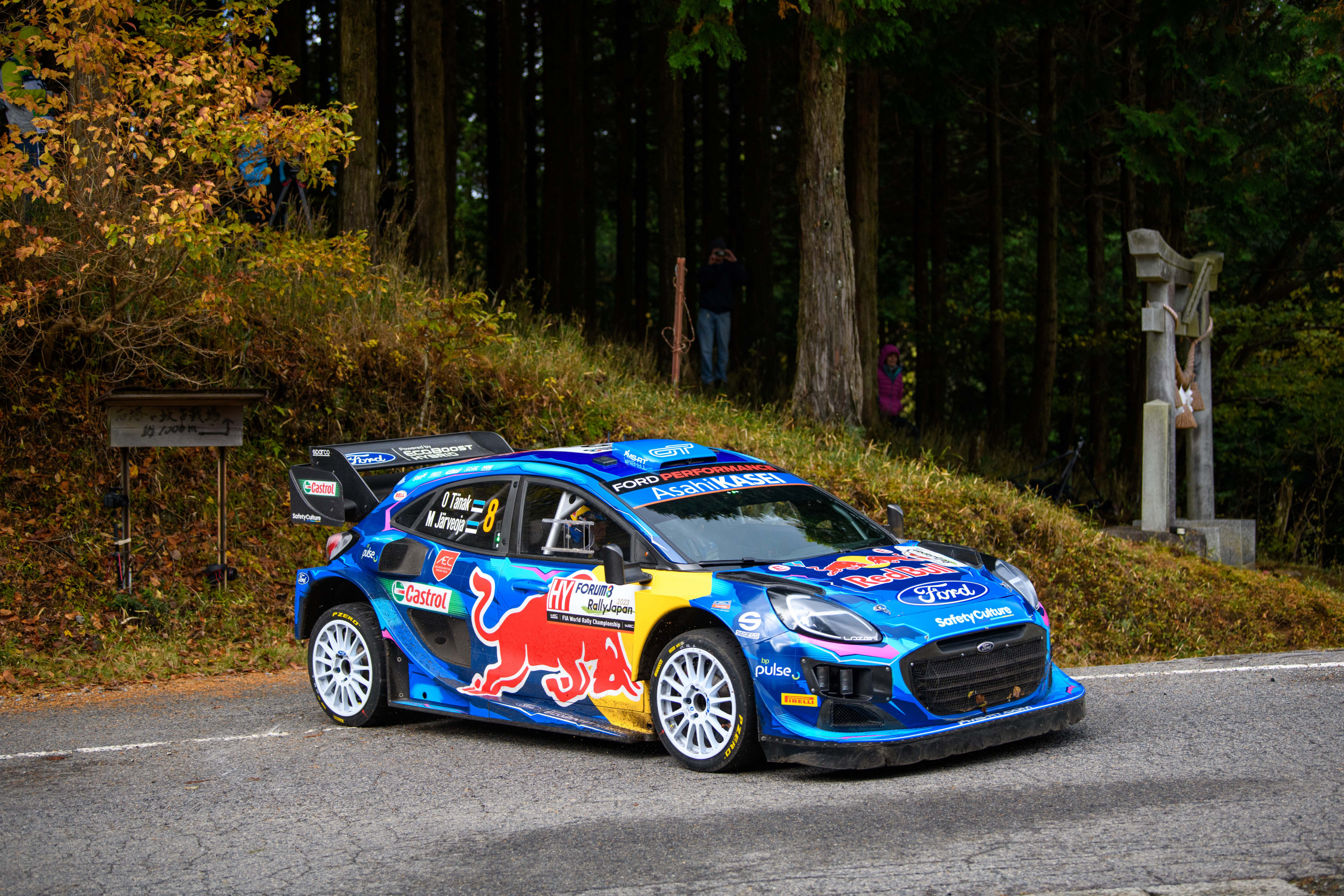 Next up were the two runs of SS11 and SS12 Okazaki City SSS 1 and SSS 2 – 2.84 km. Elfyn was fastest from Ott and Thierry in the first run. In the second run the top three was Elfyn, Ott and Seb.
Takamoto continued his great form winning SS13 Nukata Forest 2 – 20.32 km from Seb and Ott. The Japanese driver gained two positions on the main leader board moving ahead of Nikolay and Gregoire and into seventh overall. There was no change in WRC2 with Andreas, Nikolay and Heikki maintaining their control over the podium positions.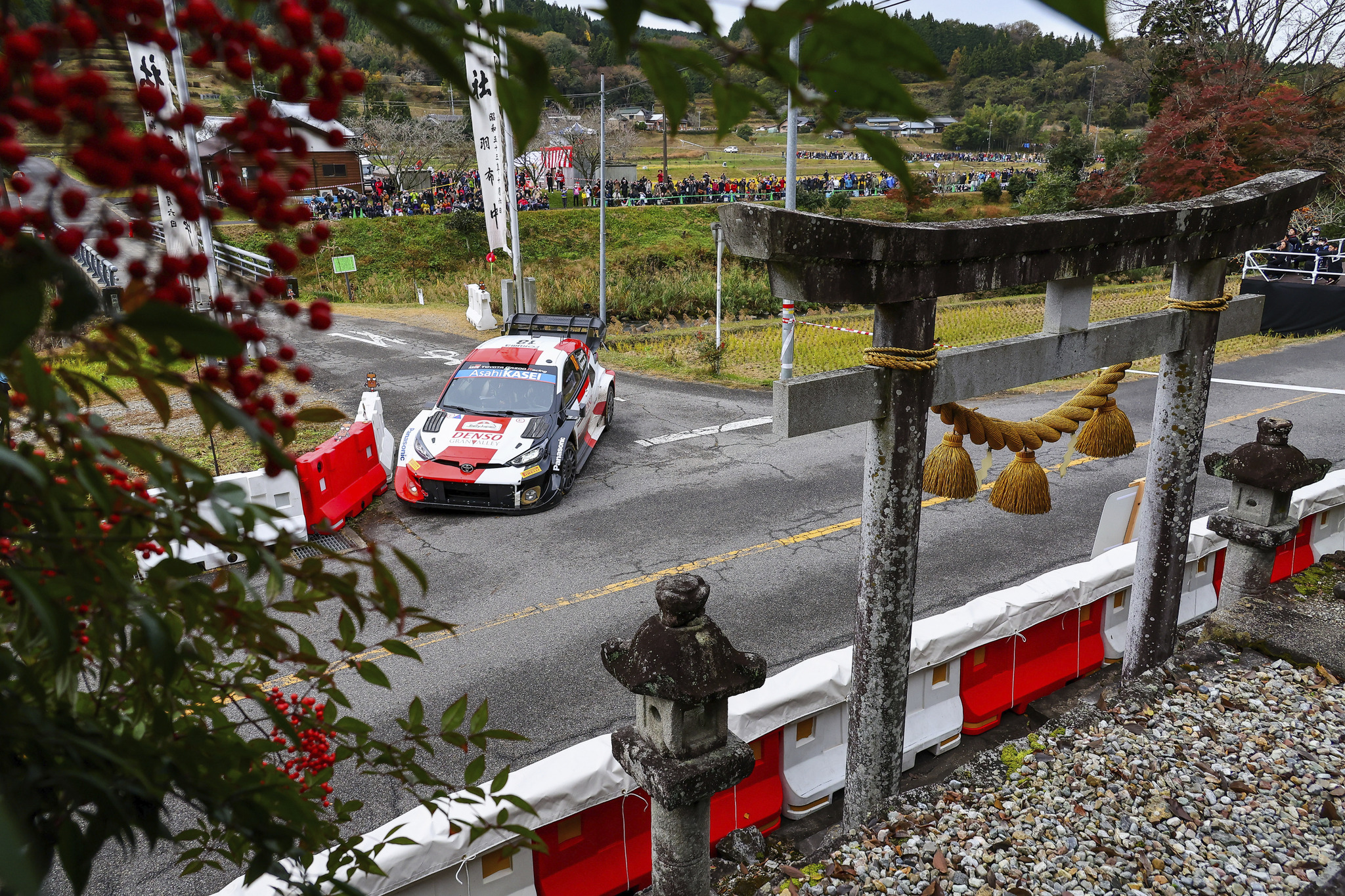 Getting closer to the end of the day's action then and Takamoto won SS14 Lake Mikawako 2 – 14.78 km from Thierry and Ott. There was some real drama in this one, with snow starting to fall for some in the stage. Takamoto had the best conditions of all which helped him. In WRC2 we sadly lost third placed Heikki who retired after suffering transmission failure. What a shame for the former F1 driver. Kajetan benefitted from this and moved into third place behind Andreas and Nikolay.
The final proper stage of the day then SS15 Shinshiro City – 6.70 km and Takamoto was again fastest from Kalle and Elfyn. This stage was quite different in character with a much wider road In WRC2 there was no change.
The final stage then, SS16 Toyota Stadium SSS 3 – 2.10 km and Esapekka was fastest from Ott and Thierry.
Let's hear from the drivers and take a look at the top positions.
Classification after Day Two
| | | | | |
| --- | --- | --- | --- | --- |
| 1 | E. Evans | S. Martin | Toyota GR Yaris Rally1 Hybrid | 2:28:20.8 |
| 2 | S. Ogier | V. Landais | Toyota GR Yaris Rally1 Hybrid | +1:15.0 |
| 3 | K. Rovanperä | J. Halttunen | Toyota GR Yaris Rally1 Hybrid | +1:40.6 |
| 4 | E. Lappi | J. Ferm | Hyundai i20 N Rally1 Hybrid | +3:09.3 |
| 5 | O. Tänak | M. Järveoja | Ford Puma Rally1 Hybrid | +3:35.3 |
| 6 | T. Katsuta | A. Johnston | Toyota GR Yaris Rally1 Hybrid | +3:50.2 |
| 7 | A. Mikkelsen | T. Eriksen | Škoda Fabia RS | +5:11.3 |
| 8 | G. Munster | L. Louka | Ford Puma Rally1 Hybrid | +5:19.6 |
| 9 | N. Gryazin | K. Aleksandrov | Škoda Fabia RS | +5:54.6 |
| 10 | K. Kajetanowicz | M. Szczepaniak | Škoda Fabia RS | +12:51.6 |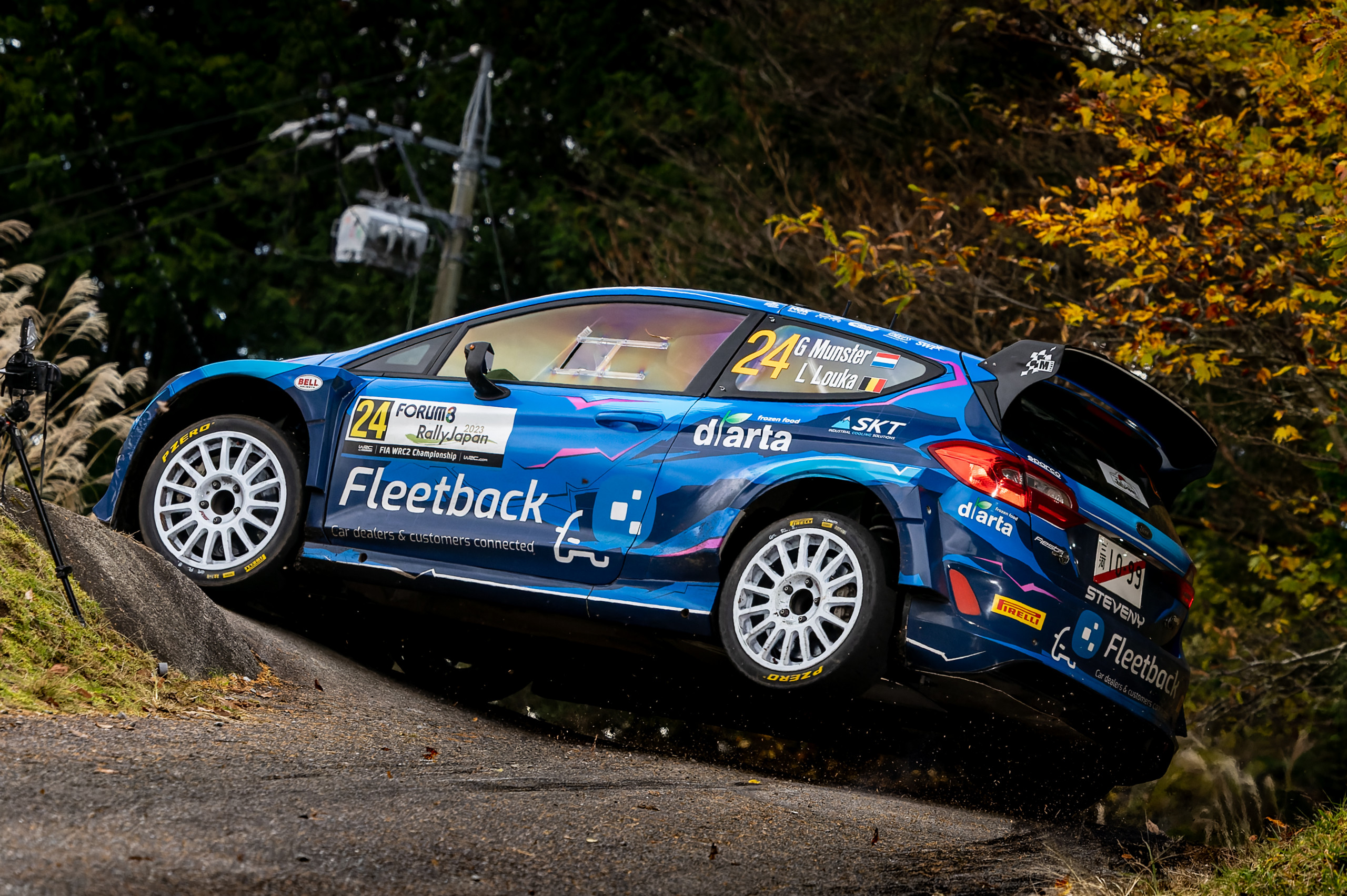 Toyota Gazoo Racing WRT
Elfyn Evans
"It's been quite a mixed day again in terms of the conditions. It was much drier than yesterday but still not completely dry and certainly not easy. We've just been trying to manage the risk as best as we can, which is not easily done on these stages as the margins are so fine that it only takes a tiny little slip to pick up an issue. We're trying to keep focused and manage the gap that we have. When it started sleeting in the second one this afternoon, I couldn't quite believe it, but thankfully we got through it without issue. There's a big day ahead tomorrow: it still doesn't look so straightforward, and we know how demanding those stages are, so it's far from done."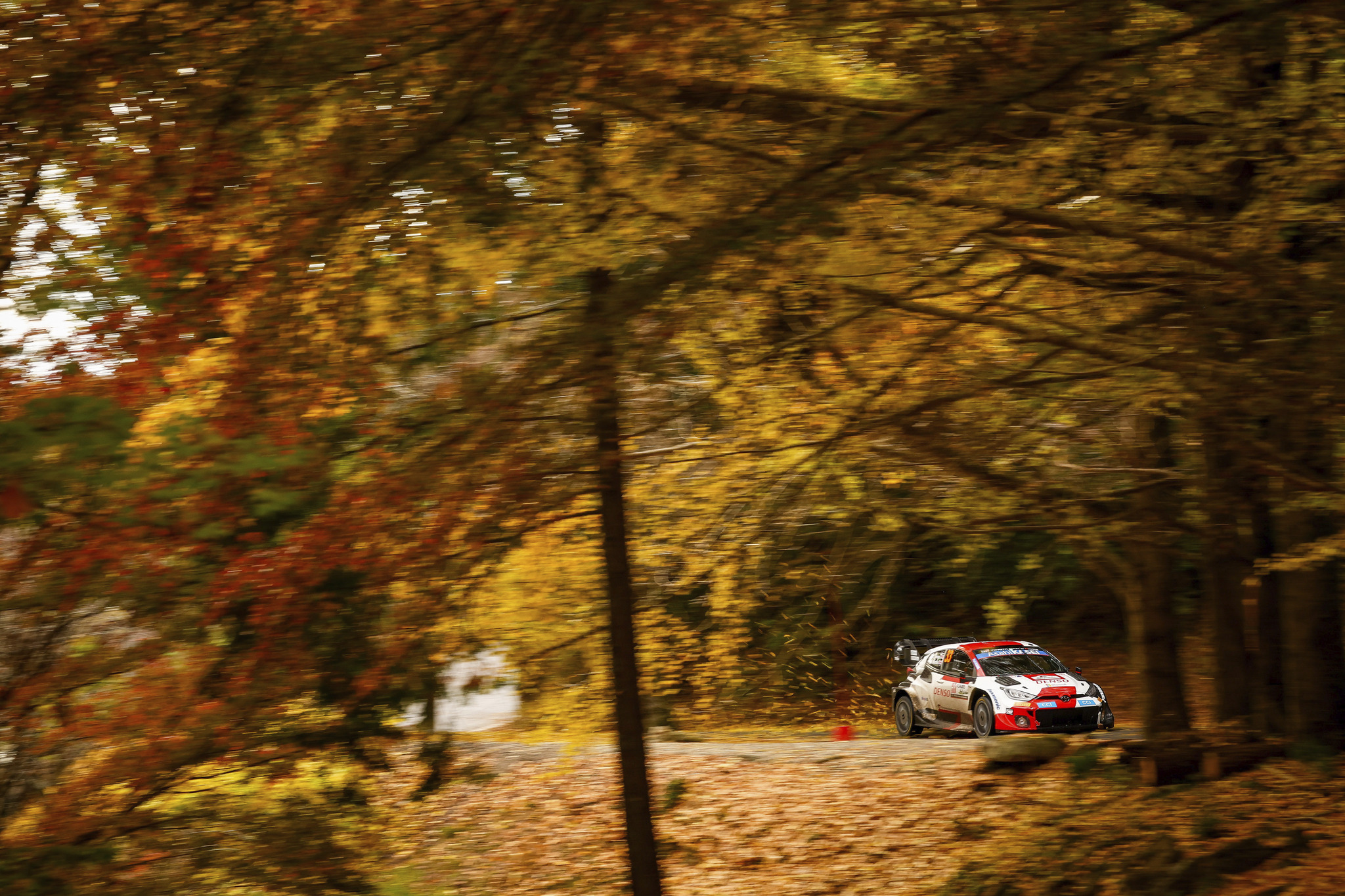 Sébastien Ogier
"It's been a positive day for us. We still faced some crazy conditions out there. This morning there was no rain but, in the forest, it was extremely slippery. Then this afternoon we expected to maybe have a few rain drops, but then I started to see little snowflakes falling. It was for sure costing us more time compared to those ahead of us on the road. Luckily it didn't affect our position, but it was a moment where you needed to keep your calm. We are still on for the team's target with a 1-2-3 and Taka is flying back up the order as well. There are a lot of kilometres left to cover to secure these positions but at the moment it's looking good."
Kalle Rovanperä
"It was still tricky today. This morning we were expecting it to be drier with more grip, but it was still quite greasy and damp after the rain. We didn't have the best setup for that, but we got through it fine. The weather has actually been quite annoying, because just when you think you will have a dry loop of stages and you can enjoy it a bit more, it starts to snow! The last few kilometres in that middle stage of the afternoon were really tricky when we lost the temperature from the tyres. The plan is just to try and bring it home like this for the team. The weather doesn't seem to be letting off for tomorrow, so we'll just try to stay on the road and focus on reaching the finish."
Hyundai Motorsport
Esapekka Lappi
"We managed to improve our pace yesterday afternoon, then we were able to continue that throughout today. Thankfully the conditions were a bit easier and at the tyre fitting zone we changed the car balance, which was a lot better and resulted in some promising splits. Unfortunately, rain in the stage destroyed my time but we are heading in a positive direction. In these conditions, we had a couple of big understeer moments in some corners, but we survived. I think the fight tomorrow is going to be tight – Katsuta has been impressive today. The gap should have been bigger, but my pace hasn't been there this weekend, so hopefully I can be a bit better on Sunday."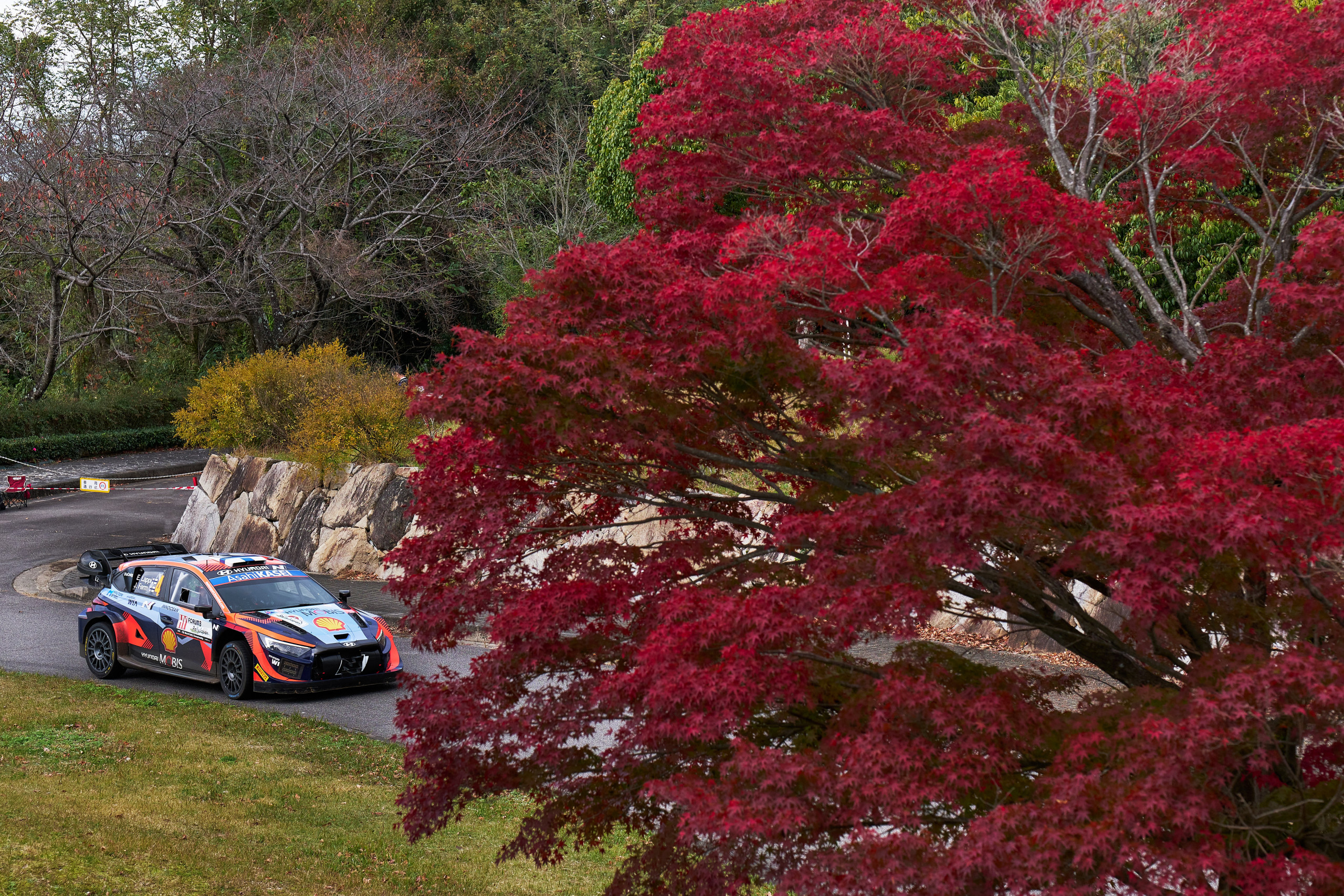 Thierry Neuville
"Thankfully there wasn't much damage, and the team did a good job to fix the car yesterday. I felt comfortable today. It was a long one and we are here to ensure the team has at least two cars in the fight, but there isn't much we can do in our position. We can maybe gamble with the tyres and gather some information, but I think the weather here is very particular to this year and we're unlikely to see it again next season. There were still some slippery conditions out there, but I think we managed them well. The only thing we can take away from today is that we had good pace and look forward to another long day tomorrow."
Summary
Well, what a great day of action. Takamoto showed that he wanted to display the pace which he had on Friday with lots of stage wins. Quite brilliant to see. Meanwhile out the front Elfyn continued to lead of course which was great to see for the Welshman, whilst Seb and Kalle were in second and third positions.
The final day sees the crews tackle 84.08km's over six stages. Let's see what happens on the final day of this year's championship.