The first full day of this unique event saw the crews tackle six stages and a total of 133km's. The first two stages were run on Thursday evening and saw Thierry hold the lead from Ott, with Seb in third.
Friday would see Kalle open the road with his championship challenger Elfyn being second into the stages.
First up was SS3 Vlachovo Březí 1 – 13.66 km and Kalle was fastest from EP and Elfyn. Both Toyota crews were on the move up the leader board the Finn moving into second overall and Elfyn into fourth. In WRC2, Emil was fastest in the stage from Andreas and Nicolas. Andreas was leading the category from Emil whose fastest time saw him jump nine positions and Nicolas also moving up into third.
Next up was SS4 Zvotoky 1 – 23.81 km and Kalle made it two in a row with EP again second and Elfyn again third. Kalle now moved into the lead deposing Thierry who could only manage a time a full 19.5 seconds slower than the Finn and suddenly the championship leader had a huge lead. EP moved up to third place, just 1.5 seconds from his teammate. In WRC2 Nikolay was fastest from Emil and Alejando. Emil moved into the lead of the category, Erik Cais into second and Nicolas third. Andreas fell from the lead after going wide and hitting some trees, damaging his suspension and the front of his Skoda.
The final stage before the tyre fitting zone, SS5 Šumavské Hoštice 1 – 23.43 km and Kalle was fastest again from Elfyn and Thierry. Kalle was building a lead, now almost 30 seconds over his teammate. Elfyn was now in second place having passed Thierry. In WRC2 Nikolay was fastest again from Gus this time and Emil third fastest. The Finn remained in the lead of the category from Erik and Kajetan who'd just moved up into third. EP crashed out of the stage, hitting a tree. There were issues with spectators along the section of the stage where the Finn crashed out.
After the break and SS6 Vlachovo Březí 2 – 13.66 km followed the tyre fitting zone. Elfyn set the pace from Thierry and Kalle. The stage was cancelled after Seb completed the stage though due to issues with spectators in unsafe places. The WRC2 crew were given notional times as they were not able to complete the stage at pace.
Into SS7 Zvotoky 2 – 23.81 km and the top three again was Kalle from Thierry and Elfyn. The Finn continued to pull away and now had a lead over Elfyn of 37 seconds. Meanwhile Thierry was just three tenths behind the Welshman. In WRC2 Nicolas was fastest from Nikolay and Erik.
The final stage then of the day, SS8 Šumavské Hoštice 2 – 23.43 km and Thierry was fastest from Kalle and Elfyn. The Belgian moved into second place pushing Elfyn down to third. Seb was also on the move, gaining two places and into sixth overall. Nikolay was fastest again in WRC2 from Emil and Erik. The Finn continued to lead the category, holding a almost 15 second lead over Erik.
Let's take a look at the top positions and hear from the drivers.
Classification after Day One
| | | | | |
| --- | --- | --- | --- | --- |
| 1 | K. Rovanperä | J. Halttunen | Toyota GR Yaris Rally1 Hybrid | 1:13:05.1 |
| 2 | T. Neuville | M. Wydaeghe | Hyundai i20 N Rally1 Hybrid | +36.4 |
| 3 | E. Evans | S. Martin | Toyota GR Yaris Rally1 Hybrid | +47.2 |
| 4 | O. Tänak | M. Järveoja | Ford Puma Rally1 Hybrid | +1:30.4 |
| 5 | T. Katsuta | A. Johnston | Toyota GR Yaris Rally1 Hybrid | +2:26.8 |
| 6 | S. Ogier | V. Landais | Toyota GR Yaris Rally1 Hybrid | +2:35.9 |
| 7 | T. Suninen | M. Markkula | Hyundai i20 N Rally1 Hybrid | +2:39.1 |
| 8 | G. Munster | L. Louka | Ford Puma Rally1 Hybrid | +2:59.1 |
Toyota Gazoo Racing WRT
Kalle Rovanperä
"The conditions today were super tough and especially in the first two stages this morning. There was a lot of rain, a lot of standing water and even though we were the first car, there was already quite a bit of dirt on the road for us. It was a big challenge, but we still did some really good times. In the afternoon, the conditions were more equal in terms of the starting place, because we also had lots of mud. We took the pace down a bit just to be safe, but still created a bit more gap to the others on the middle stage, so we can be happy. Tomorrow we're going to be the last Rally1 car on the road and if it's wet again, that will be a huge challenge. We just need to keep focused and avoid mistakes."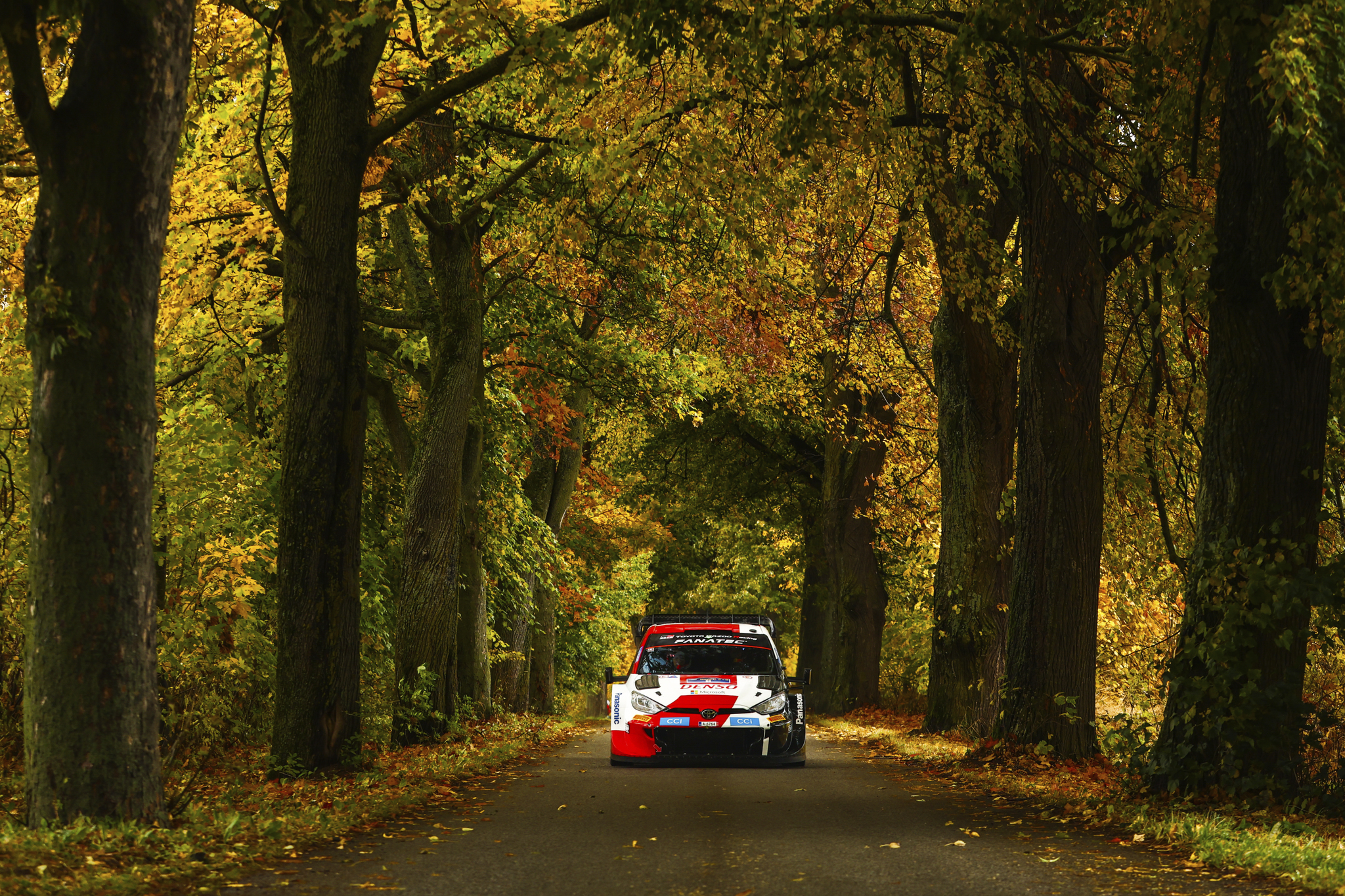 Elfyn Evans
"There was quite a lot of rain overnight and into the morning, so we faced some pretty difficult, full wet conditions. There was quite a lot of mud being dragged out too, so it was not easy to judge the different grip levels. The second pass this afternoon was tough as well with a lot of mud and quite changeable conditions. It started to dry out a bit which almost made it more difficult with the tyres starting to move around, and then a bit of drizzle again for the last stage. Our position tonight is not what we really hoped for, but Kalle has done an incredible job today and we definitely couldn't match his speed. The gap is pretty big, but we'll continue to do the best we can. In a rally like this, anything can happen to anyone, so we have to keep going."
Sébastien Ogier
"It has not been the day that we wanted. It all went wrong for us very quickly this morning. In the heat of the moment, I probably overreacted a bit and I'm sorry for blaming the tyre. In the end, the problem was that the wheel rim was broken, and this is why the air escaped from the tyre. In a very narrow section in the mud, it looks as though there was a rock that we could not see. In these conditions you just have to follow the line and I could not do anything. I think a lot of people damaged their wheels, but unfortunately for us the air escaped. That was a tough thing to take to start the day. After that we tried to keep it consistent and didn't take maximum risk. I have not been feeling 100 per cent with some illness, and it was difficult anyway to do the best times with our road position. We just tried to bring the car back in one piece and aim to do better tomorrow."
Hyundai Motorsport
Thierry Neuville
"It was a challenging day out there. The road conditions weren't really good for us, we were constantly losing a little bit of time to Kalle who had the advantage of the cleanest roads of the day. We kept on fighting, did what we could with the package we had, and, in the end, I think second place is not too bad. It was muddier than we were expecting and went too stiff with the set-up this morning; we went too aggressive and had to stick with it for the rest of the day. Tomorrow will be another discovery day for us – everything is completely new, and we hope the conditions will be more stable. We're going to do some changes overnight which will hopefully benefit us well."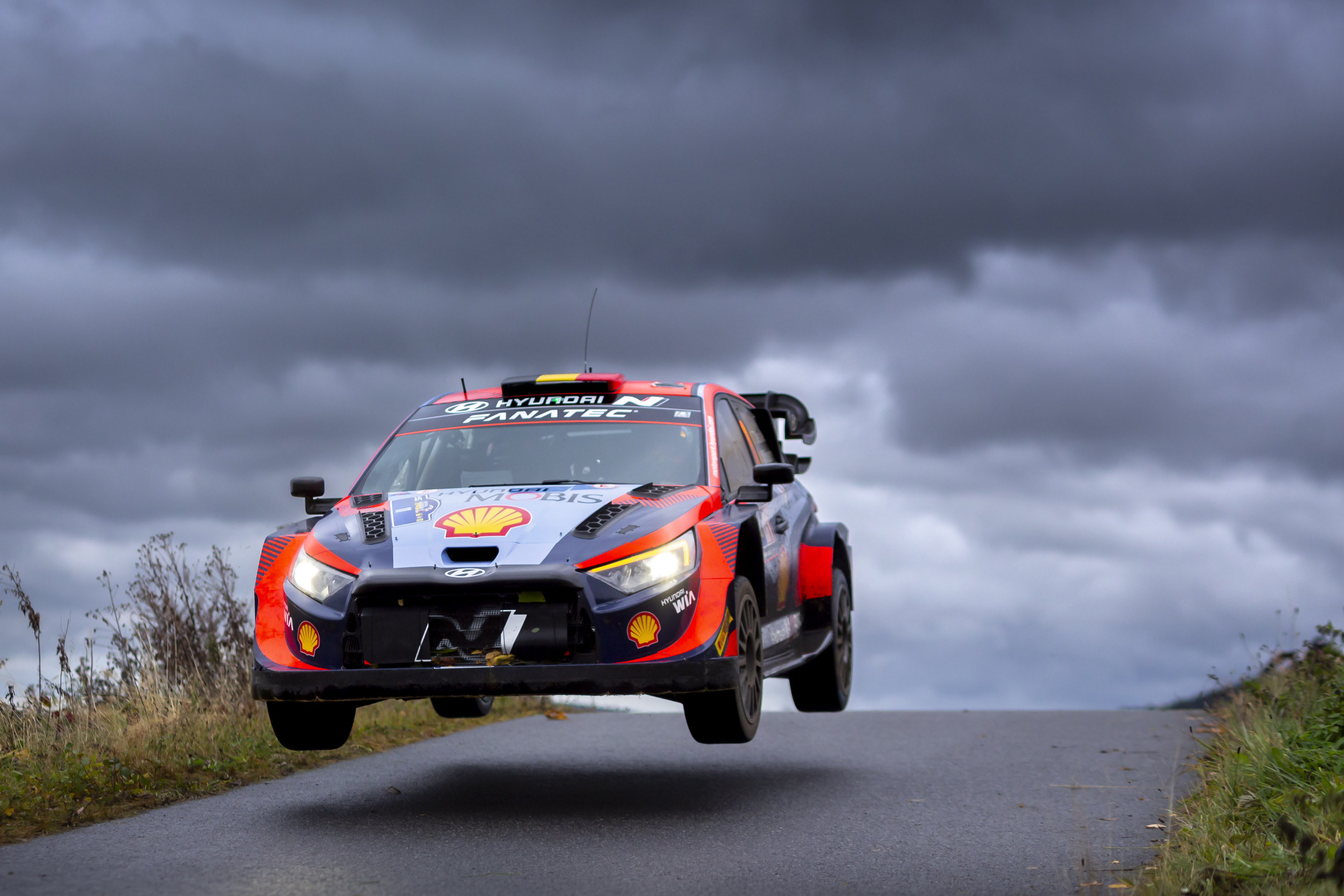 Teemu Suninen
"I must say the day was super tricky. It rained quite a lot and got incredibly slippery in the places where we were able to cut. I haven't driven in conditions like this with the Hyundai i20 N Rally1 Hybrid so there was a lot of adjusting, but I was quite happy with the car – especially this afternoon, so it is getting better. I think the roads were getting slower car by car, but that's part of the game and now we have a big job to do tomorrow. The gap is now three seconds to Ogier so let's see how he will drive, but I believe it is better to focus on ourselves to try to take steps forward. I expect tomorrow's stages to be simpler with a slightly better flow, but as today showed it is going to be difficult anyway."
Esapekka Lappi
"This is one of the biggest disappointments of the season for me. Today I felt very confident – this was the best day on tarmac with this car ever. I had new brakes which gave me a much better feeling, which really helped in these dirty conditions. I was doing good times; they were coming naturally to me; I didn't have to force it. My gravel crew did a great job predicting exactly where we would and wouldn't find mud, so I was able to really commit in certain places. Unfortunately, on SS5, my best guess is we were too close to the edge of the road and the right rear was on some mud, and under braking we lost the rear immediately. With the trees, there was nowhere to run wide, and it was game over."
M-Sport Ford WRT
Ott Tanak
"In the morning it was quite a big struggle and managed to improve a bit. The lever broke into two places (gear lever) which caused some problems."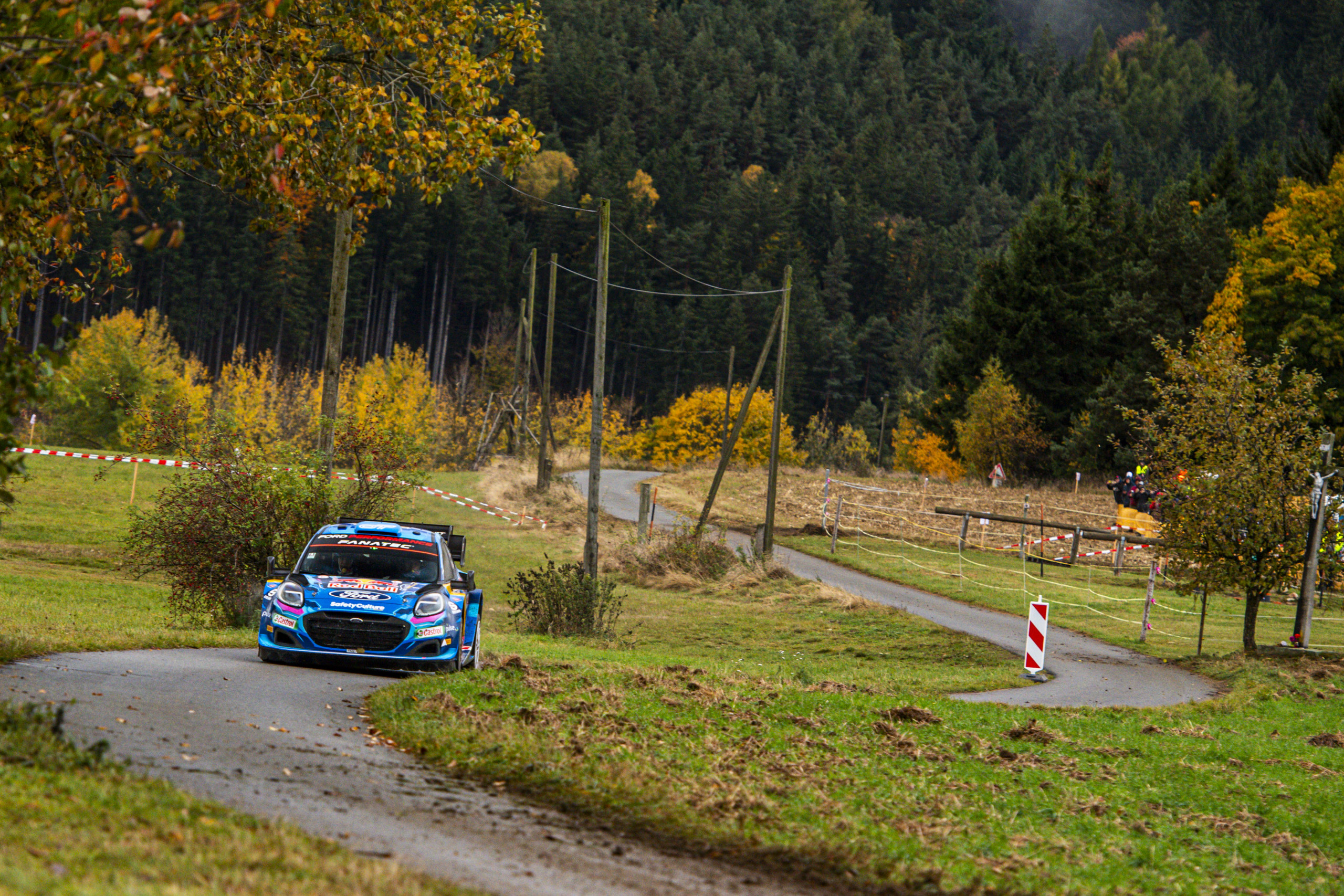 Summary
Well, what a crazy first day on the stages. The rain came and really gave Kalle a chance to grab and take the lead. He and Jonne took the opportunity and grabbed it with both hands. They deserve to hold the lead given this.
Saturday sees the crews tackle 109km's over six stages. Can Elfyn and Thierry fight back and close the gap to the Finnish world champions? We shall see.