The first full day of action saw some real drama on the quick stages of Finland. The world champion would open the road throughout the day, courtesy of being the championship leader. The crews faced 108km's over nine stages in total with the usual four stages being rerun in the afternoon and the second run of Harju which was the opener yesterday evening. The early top three from Thursday evening stage, was Ott, Thierry and Kalle.
First up then, SS2 Laukaa 1 – 11.78 km and Takamoto was fastest from Elfyn and Kalle. What a great stage from the Japanese star! There were a few changes in the leaderboard with Kalle moving into the lead from Ott, just four tenths of a second between the top two, with Elfyn on the same overall time as the Estonian. It was Thierry who fell a couple of places and was just half a second ahead of Takamoto as they fought for fourth overall.
The next one, SS3 Lankamaa 1 – 14.21 km was where we saw the first bit of drama with Ott exiting the stage after an impact to the bottom of the engine and this saw the Puma lose power, The Estonian pair were out not only for the day, but it was later confirmed that they would not be re-joining for the remaining two days. It was a double whammy for M-Sport as well, with Pierre-Louis taking a wheel off his Puma. What a shame for the Cumbrian based team. Everyone gained a place apart from the two leaders Kalle and Elfyn who were separated by just 2.2 seconds. In WRC2 Sami was holding the lead from Jari, the gap even closer at 1.5 seconds.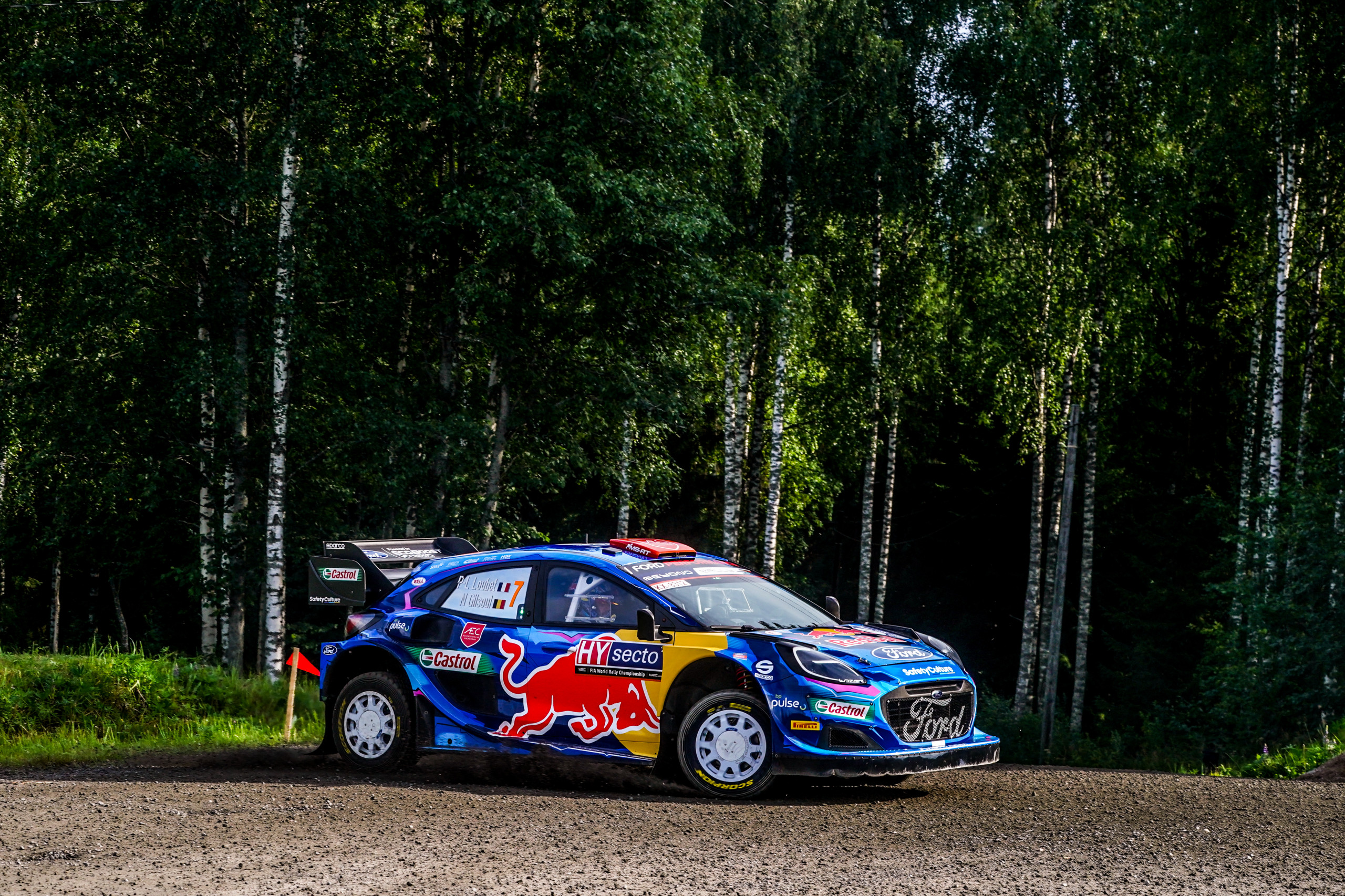 The top three in SS4 Myhinpää 1 – 15.51 km was Kalle, Elfyn and Esapekka. The two top Hyundai crews were beginning to fight for the final spot on the podium, just 0.3 separating them at the end of this one. In WRC2 Sami was fastest from Emil and Adrien and there was a change in the top two, with Emil moving ahead into second, Jari dropping one place to third.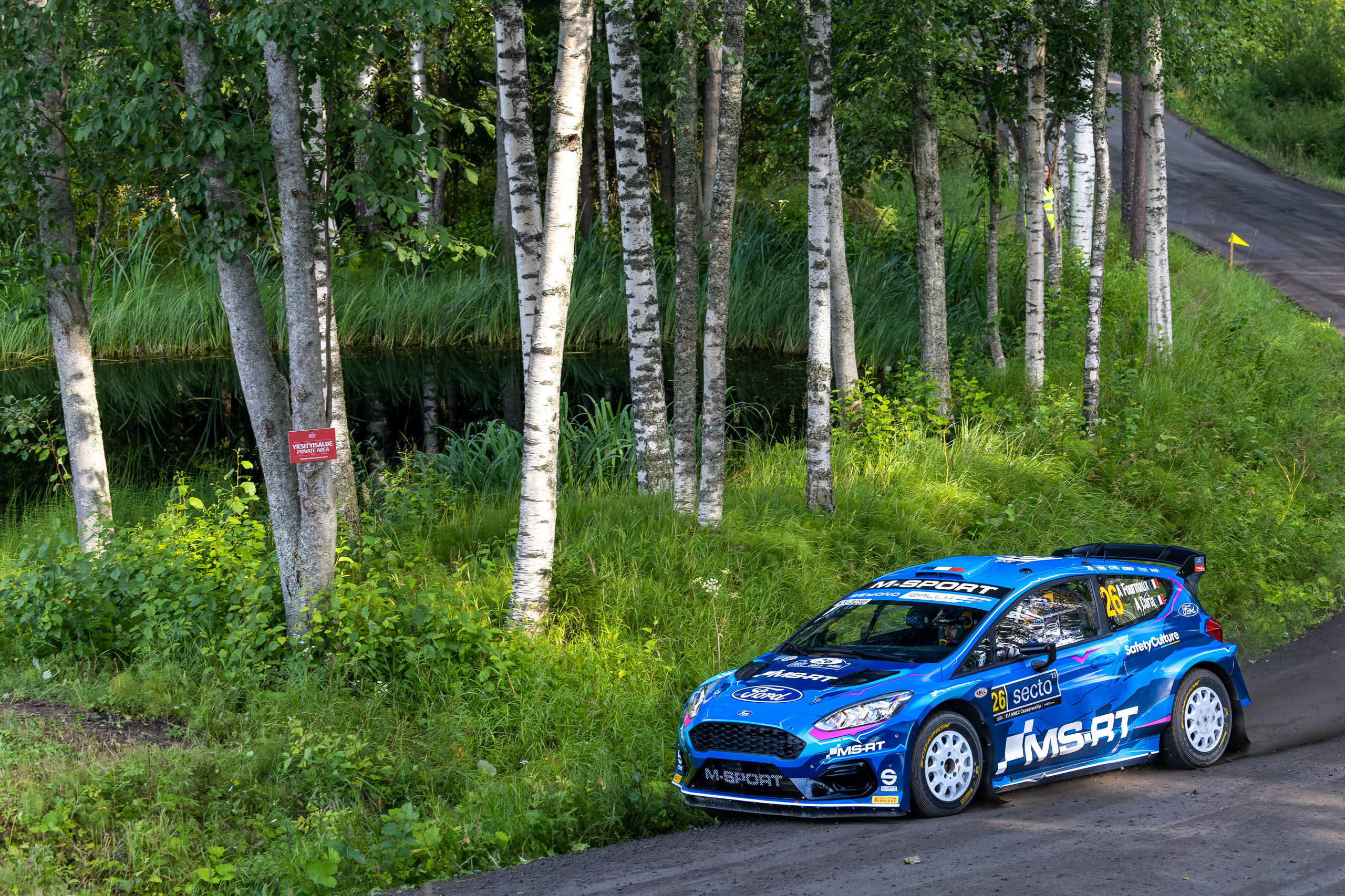 The final stage of the morning loop then, SS5 Halttula 1 – 9.14 km and Kalle was fastest again, but his teammate Elfyn was just three tenths down from the Finnish driver. Unfortunately, we lost EP in this one. The Finn ran wide and ended up hitting some trees, heavily damaging his i20. In WRC2 Andreas was fastest from Jari and Georg. Sami continued to lead the category from Jari who'd moved back into second pushing Emil back to third.
After the lunchtime service, SS6 Laukaa 2 – 11.78 km was won by Kalle from Takamoto and Teemu. Takamoto and Thierry now held third overall, 16 seconds from the lead. The returning Jari-Matti was learning a lot in his first drive of the GR Yaris Rally1 and having a lot of fun to boot! Sami continued to lead in WRC2 from Jari and Emil.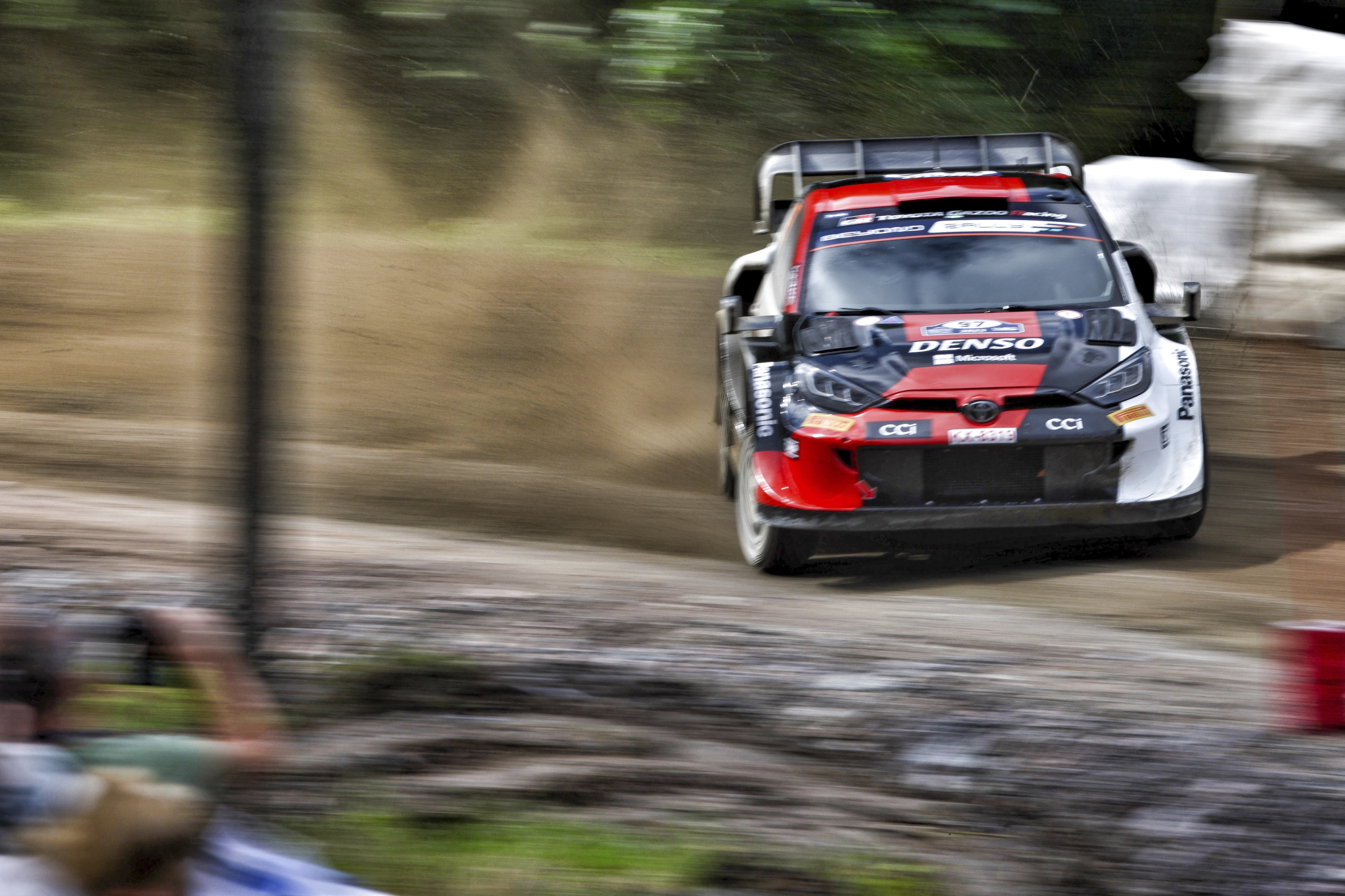 The second run of SS7 Lankamaa 2 – 14.21 km and again Kalle was fastest from Elfyn, just three tenths between them, and Takamoto third again. The Japanese star moved ahead of Thierry and into third overall. Jari was fastest in the WRC2 category from Sami and Nikolay who moved up into third in the category.
Into SS8 Myhinpää 2 – 15.51 km and there was drama for the world champions as Kalle and Jonne rolled their GR Yaris! Thierry won the stage from Elfyn and Takamoto with the result that the Belgian moved into second overall. Elfyn deserved to lead the rally after the exit of his teammate, the gap between him and Thierry now 10.9 seconds. Sami was still the leader of WRC2 from Jari and Nikolay.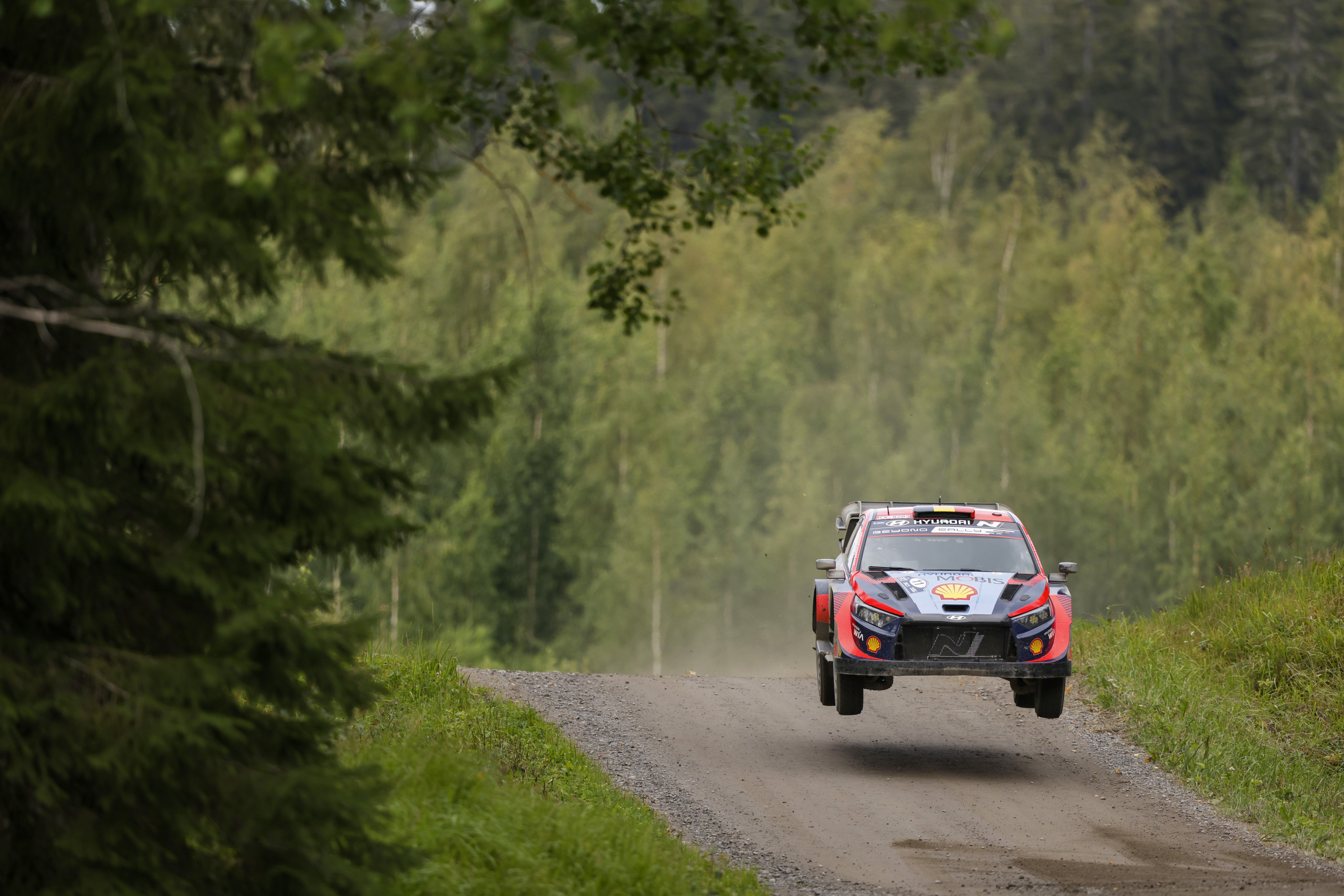 The penultimate stage of the day, the final proper stage of Friday and Thierry was fastest from Takamoto and Elfyn, the Toyota teammates setting the same time. Elfyn's lead remained a very strong 9.7 seconds. There was a change in WRC2 though with Jari moving into the lead of the category and Sami dropping down to second place.
The final stage then of the day, SS10 Harju 2 – 3.48 km and Takamoto set the early pace before Thierry and then Elfyn came through and went first and second fastest. It is well known the Belgian likes the small super special stages and Elfyn not so much. The gap was trimmed a little to 6.9 seconds between the top two.
Let's take a look at the top positions and hear from the drivers.
Classification after Day One
| | | | | |
| --- | --- | --- | --- | --- |
| 1 | E. Evans | S. Martin | Toyota GR Yaris Rally1 Hybrid | 51:34.4 |
| 2 | T. Neuville | M. Wydaeghe | Hyundai i20 N Rally1 Hybrid | +6.9 |
| 3 | T. Katsuta | A. Johnston | Toyota GR Yaris Rally1 Hybrid | +16.4 |
| 4 | T. Suninen | M. Marrkula | Hyundai i20 N Rally1 Hybrid | +28.8 |
| 5 | J. M. Latvala | J. Hänninen | Toyota GR Yaris Rally1 Hybrid | +1:23.7 |
Toyota Gazoo Racing WRT
Elfyn Evans
"We had a good start this morning, quite clean with no big mistakes. It was pretty fast-paced out there and there were a few small places where we could have been better, which can be frustrating when the gaps are only a few tenths of a second on each stage. It was quite wet on and off during the day and grip was not so high, but I generally enjoyed it in the car. The conditions caught a few people out, and unfortunately Kalle was also one of those. He was doing a great job and I was sorry to see him go out that way. There's still a long way to go, and although tomorrow should be a drier day, we could still be in for some slippery conditions."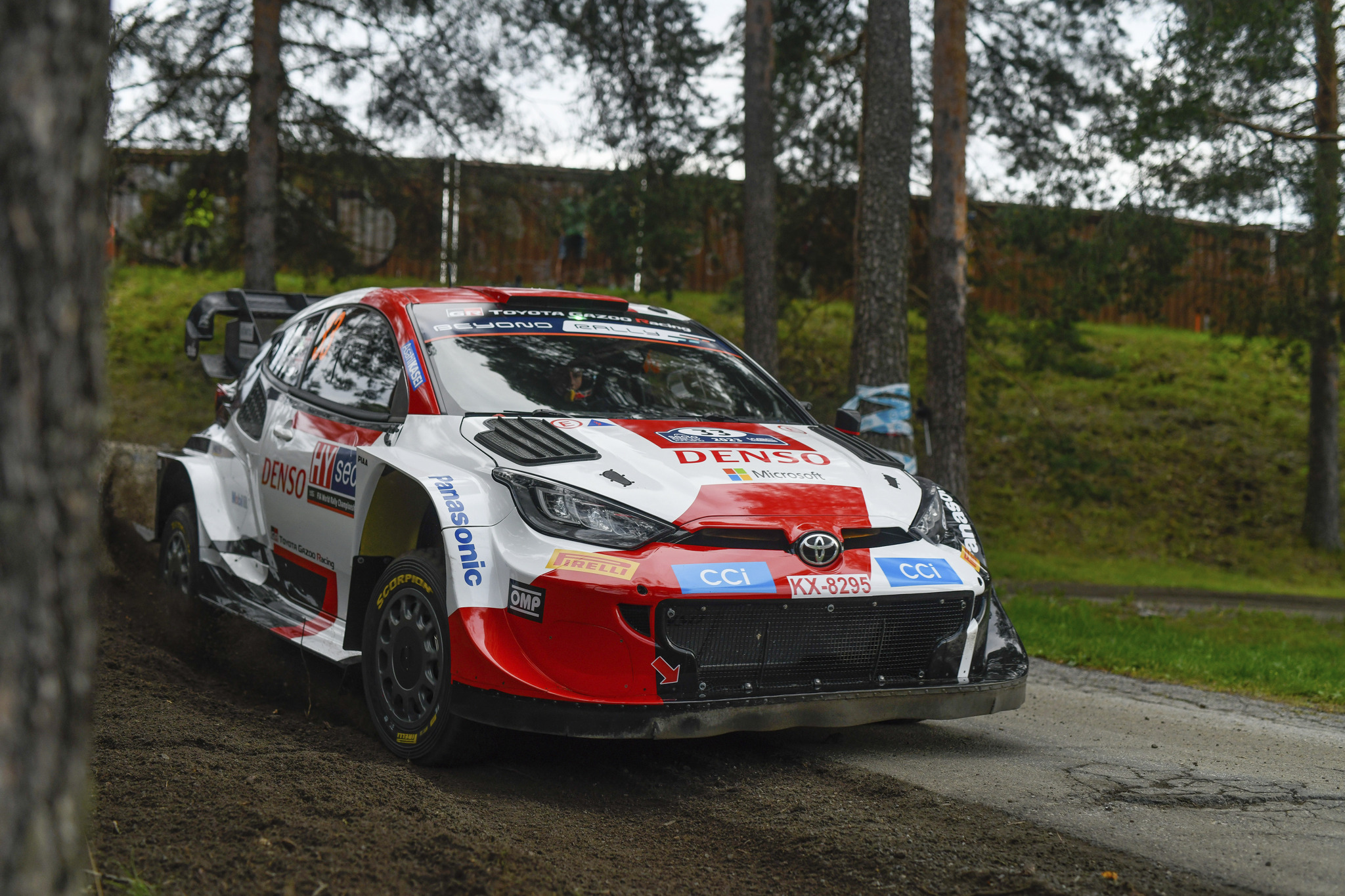 Takamoto Katsuta
"We started very well this morning with the stage win in Laukaa. I like that stage, but the beginning section was new, so I was not sure how the time would be. But I felt very good with the car and we had a good run. Then in the following stages I was a bit too careful and losing quite a bit of time. The conditions this afternoon especially were very tricky and changing a lot. But overall, I'm quite happy as we're still pretty close to the top positions. Hopefully we can continue like this tomorrow and try to push a bit more, but it will be a big day and a big challenge."
Jari-Matti Latvala
"It's been a great day in the car. I could never have imagined that we could be fifth overall after Friday. We haven't been so fast, but I tried to keep everything under control and have a good rhythm. We have been about six tenths of a second per kilometre from the fastest guys, which is better than I expected, so I'm really happy with that. It's an amazing feeling driving this car. Some of the stages have been really nice, and some of the conditions have been really difficult. We've not had this kind of Rally Finland with such variable conditions for a very long time. Hopefully tomorrow we can continue having a really nice experience."
Kalle Rovanperä
"The day was going well. We had a good morning loop as the first car on the road, and it was a nice fight with Elfyn. We could be a little bit quicker without over pushing. The way we crashed was quite unfortunate and I feel like I couldn't have done much more in this corner. Under braking, the speed felt fine, but as first car in the mud we had a big slide. Even with full lock steering I couldn't straighten the car, and in the ditch, we hit something hard which sent us flying. It's definitely a pity for the team and for the fans that we are out of the fight like this. Hopefully the car is OK, and we can get back out there tomorrow."
Hyundai Motorsport
Thierry Neuville
"Now we have no choice; Kalle, one of our main contenders, is out, and Elfyn is also in front of us in the championship. We are fighting for a victory, and we are going to go for it. The day was good; I don't think I have been in a position to fight for a win in Finland before. It was very challenging, lots of grip changes but we kept it all under control. We worked a bit on the car to find more speed, but we could see the Toyotas were faster. We had to keep our rhythm and make no mistakes. Tomorrow, we're going to push even harder."
Teemu Suninen
"I'm quite happy with today; it's been super tricky conditions with the rain and the grip changes, but I have been comfortable with the car and managed to stay close to the front. I've been missing a little bit of pace, but I think if we can push to the limit then we can find it. This afternoon I was nearly flat out on the first two stages and set some good times; step by step I am improving my driving. The dream to get a podium is still alive but I need to have a good day tomorrow."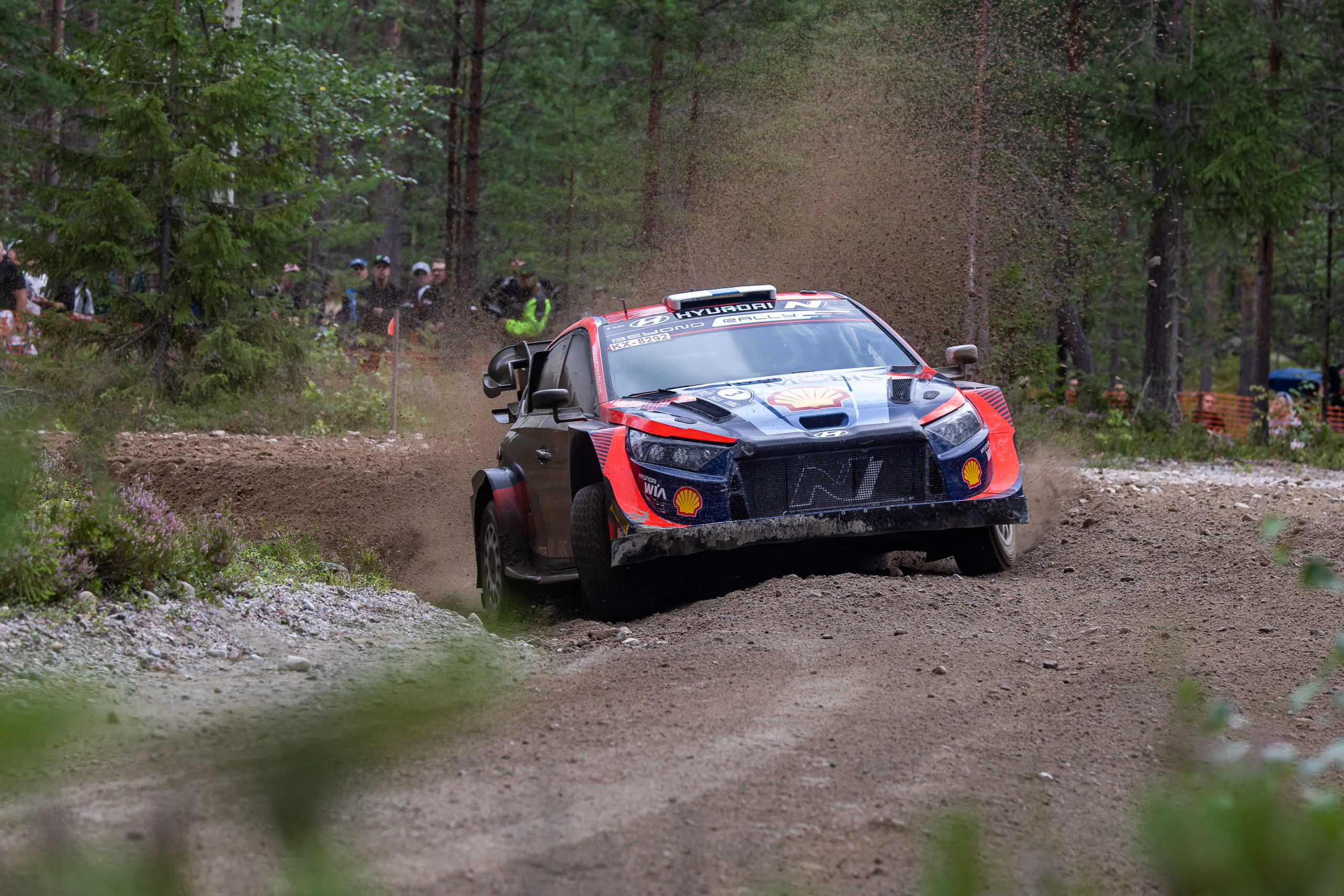 Esapekka Lappi
"Physically, everything is ok; a swollen ankle for me but no broken bones. The accident was a pace note mistake, I was too optimistic for the right-hand corner, we were too fast, and we went into the trees. The information from my side was wrong when we did the recce. To be honest, I wanted to be closer to the lead of the rally, so I wasn't overly satisfied with how our day was going. It is a shame we are unable to re-join the rally for the rest of the event, but the main thing is both Janne and myself, are fine. I am really sorry for the team and the Finnish fans as this was the rally, I was most looking forward to and I was eager get a strong result. We now look forward to Greece and hopefully return to the good feeling we had earlier in the season."
Summary
Well, what an amazing first day. Lots of drama out there. What does Saturday hold? Well, there are 160km's over eight stages. Elfyn will want to hit the ground running and look to build on his lead. Can Thierry fight back and take the lead? It will be interesting to watch and find out.