Round 10 and Round 11 of the ABB FIA Formula E World Championship brought many turns, drama and unexpected events.
Round 10:
Qualifying:
Qualifying for round 10 saw Dennis, Vandoorne, Vergne and Frijns get through from group A and Gunther, Wehrlein, Rast and Mortara go through from group B.
Quarter Final 1 saw the DS Penskes go head to head with Vergne taking victory over Vandoorne. It was Frijns and Dennis in quarter final 2 with Dennis winning over the Abt Cupra driver. Rene Rast went against Pascal Wehrlein in quarter final 3 with Wehrlein beating his fellow German. Both the Maserati drivers went against eachother for quarter final 4 with Gunther winning.
Vergne and Dennis went head to head for Semi final 1 and Jake Dennis won over the 2 time champion. Wehrlein and Gunther went to battle and Gunther won over the championship leader.
It was Jake Dennis vs Maximilian Gunther for the final and Gunther took his first pole position!
Race:
Round 10 of the ABB FIA Formula E World Championship in 2023 took off with a clean getaway for the majority of drivers. Vandoorne managed to get ahead of Jake Dennis on the opening lap with the Envision of Sebastian Buemi falling down the order to P21.
Further on, David Beckmann (the stand in rookie for Andre Lotterer for this weekend) had a collision with Buemi and lost his front wing with Buemi suspecting he had a puncture. Wehrlein then took the lead of the race with DiGrassi, Mehri and Buemi taking their first attack mode. Attack mode was very different for this weekend. Drivers could go for 2 minutes then 6 minutes, 4 minutes in both stints or 6 minutes then 2 minutes. It was up to the drivers and teams whichever one they went with. Gunther and Dennis then joined the other drivers by taking attack mode.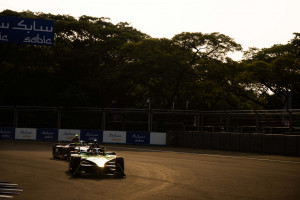 When Wehrlein took attack mode for the second time, he dropped down to P3 with Gunther in P1 and Vandoorne in P2 respectively. When Vandoorne went for his second attack mode on lap 12, he rejoined at P4, ahead of Jean-Eric Vergne but far behind Dennis. Wehrlein then takes back the lead after Gunther goes for his attack mode. Dennis eventually takes his 6 minute attack mode and Muller joined him while Mortara went for 2 minutes. Dennis passed Vandoorne with 4 minutes remaining.
Towards the latter stages of the race, the championship leader Nick Cassidy nearly spins his car. He collided with Vergne in turn 1. Dennis also got ahead of Gunther for P2. Gunther tries to line up a move into turn 1 but he didn't manage to make it stick. Cassidy had to take his final attack mode but he dropped to P7 with no one having attack mode ahead of him. Rene Rast had a spin at turn 16. Near the end of the race, Evans got hit by his teammate Sam Bird in turn 1. Bird then ended up bringing out another yellow flag on the final lap. Wehrlein then crossed the line as the winner! Jake Dennis finished in P2 with Maximilian Gunther in P3. Stoffel Vandoorne and Jean-Eric Vergne made it a DS Penske P4-P5 respectfully. Educardo Mortara finished P6, Championship leader Nick Cassidy finishes P7, Antonio Felix Da Costa finished P8 with Robin Frijns and Jake Hughes filling the final 2 points positions.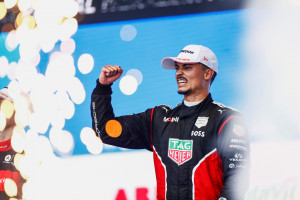 Round 11:
Qualifying:
Qualifying for round 11 consisted of Dennis, Fenestraz, Evans and Hughes getting through from Group A and Gunther, Mortara, Wehrlein and Vandoorne through from group B.
Evans came out victorious over Fenestraz, Dennis beat Hughes in a Jake Vs Jake quarter final, both the Maserati drivers beat both Wehrlein and Vandoorne in the final 2 quarter finals.
Dennis and Mitch went head to head for semi final 1 and Dennis got through by 0.001 of a second. Mortara and Gunther went against eachother in semi final 2 with Gunther winning out.
It was Dennis vs Gunther in the final(the exact same as Round 10 Qualifying) and the result as the same as Gunther won pole position.
Race:
The race for Round 11 of the ABB FIA Formula E World Championship in 2023 started off with 2 drivers being wheeled to the pitlane before the formation sequence even began. Sacha Fenestraz and Sam Bird had an issue on the grid which was not able to be fixed intime for the race. Gunther kept the lead as the lights went out. Gunther managed to keep the lead as the race went on, he took attackmode after his engineer told him to gain 4 tenths. This meant the German driver dropped down to P3.
Dennis then took attack mode after Gunther but he stayed ahead the Maserati driver. Evans was then leading the race but when he took attack mode, he fell behind both Dennis and Gunther.  Behind Gunther and Evans was Vandoorne and Mortara in P4 and P5. Soon after, David Beckmann had to retire due to an incident with Di Grassi. Both Evans and Mortara managed to make p a place to P2 and P4 respectfully. Gunther then makes a move to go up to P2 which he manages to make stick. It was then revealed that Roberto Mehri was down to 65% energy while everyone else was down to about 70%. Gunther looks to go around the outside of Dennis.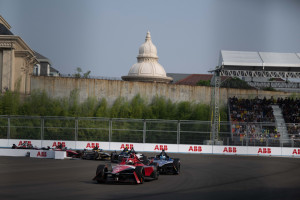 Buemi then pits for a new front wing after getting damage. Jean Eric-Vergne follows him after a seperate incident. Dennis then takes attack mode but drops down to P3. Gunther takes his attack mode soon after Dennis but Gunther stays ahead of Dennis. Following this, Mortara, Da Costa, Nato and Vergne (who rejoined after pitting a few laps back). Further on, Gunther lead the race by over 2 seconds to Dennis. Vandoorne was hot on the heels of Evans for the final podium spot. Gunther's teammate Educardo Mortara locked up going into turn 1 and fell down a few places.
Towards the final stages of the race, Wehrlein took attack mode and dropped back to P8. He then managed to get past Da Costa. Vandoorne then got overtaken by Fenestraz while Fenestraz' teammate Norman Nato tries to make 2 overtakes at once but he doesn't manage to make it stick. Wehrlein overtook Vandoorne to make it up to P6. Wehrlein started to struggle to catch up to the rest of the pack at the front of the field. There was no added laps to the race.  Dennis tried to get past Gunther but it did not work as Maximilian Gunther won the Jakarta E-Prix! Jake Dennis finished P2 and Mitch Evans in P3.  Sacha Fenestraz finished P4 with his teammate Norman Nato in p5. Pascal Wehrlein was in P6, Antonio Felix Da Costa in P7, Eduardo Mortara in P8, Stoffel Vandorne in P9 with Sebastian Buemi finishing the points positions.
In the championship standings, Pascal Wehrlein leads the way by 1 point to Jake Dennis in P2 with Nick Cassidy behind by 5 points to Dennis. Mitch Evans is 19 points behind Cassidy with Jean-Eric Vergen 12 points back from Evans with 97.