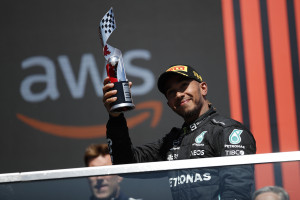 Lewis Hamilton  announced a split from his performance coach Angela Cullen with both posting on their social media channels
Angela has been by Lewis side for much of his time at Mercedes.
The 48 year old has become a familiar face to millions of fans.
Angelas role was as much personal assistant and personal trainer, the two clearly became close friends  
"For the last seven years, Angela Cullen has been by my side, pushing me to be the best version of myself," the Lewis said on Instagram ahead of the Saudi Grand Prix in Jeddah.
"I am a stronger athlete and a better person because of her. So today I hope you'll join me in wishing her the very best as she takes her next steps to pursue her dreams"
"Thank you for everything Ang, I can't wait to see what the future has in store for you."
Angela said on her Instagram page "that it was seven years to the day since she stood in the F1 paddock in Australia for the first time.
"I am so grateful and blessed to have had this incredible journey in F1 and I know my story will continue," she said.
Thanks to the MB team who have been my family for the last seven years.
"And @lewishamilton you GOAT!! It's been such an honour and pleasure to stand along side you. I'm so proud of you and everything you have achieved."
Will Lewis find someone else to fill the giant void left by Angela or continue alone?
Where will Angela go next? It has to be tough on family life to travel round the world with the Grand Prix circus.