The second day of this classic rally and we saw some amazing drama throughout the stages. This day would be the longest with over 126km's of competitive stages. The good news was that Takamoto was back following his roll in the second afternoon stage yesterday. The Japanese star would now open the road.
First up was SS9 Norrby 1 – 12.54 km and Thierry was fastest from Kalle and Craig. Ott was a bit off the pace with the sixth best time and Craig's lead was now 4.6 seconds. Despite opening the road, Takamoto was not far off the pace, just 1.1 slower than Ott. In WRC2 and Oliver was again fastest from Ole Christian and Jari was third. However, there was a change in the positions with Ole Christian moving into third overall in the category.
Next up, SS10 Floda 1 – 28.25 km and Craig was fastest from Kalle and Thierry. The Irishman was rebuilding his lead over Ott, who was just 1.1 seconds slower and fourth fastest. Kalle was on the move and went past Elfyn into third, whilst Kalle pace also brought him into fourth overall. In WRC2 Ole Christian was fastest from Egon and Emil. The Norwegian's pace took him up into second overall and Jari followed him through to third overall in the category, whilst Sami dropped to fourth.
Into SS11 Sävar 1 – 17.28 km and Kalle was again fastest from Thierry and Ott. The Estonian was closing on Craig for the lead, the gap between the leaders just 3 seconds. Meanwhile Ole Christian made it two stage wins in the WRC2 category from erstwhile leader Oliver. The gap between them was still over 30 seconds.
After the service break it was the world champion again setting the pace in SS12 Norrby 2 – 12.54 km from Ott and Esapekka. In fact, Thierry set the same time as his Finnish teammate for fourth in the stage standings. The Belgian's pace took him ahead of Elfyn who spun in this one early in the stage and losing around 18 seconds. Meanwhile in WRC2 it was Emil who was fastest from Ole Christian and Oliver third.
Thierry was fastest in SS13 Floda 2 – 28.25 km from Ott and Kalle who spun in the stage, but stayed out of the snowbanks. There was huge drama though for Esapekka who spun near the end of the stage. He lost over seven minutes being helped out of the snowbank by the spectators. They did an amazing job to get the car out. When he came to the end of the stage, his tyre was completely delaminated. Craig also suffered the same problem. Oliver was fastest in WRC2 from Ole Christian and Sami and this trio were the top three as well.
Thierry was also fastest in SS14 Sävar 2 – 17.28 km, but in fact Ott was on target to beat the Belgian's time, by a huge seven seconds. However, he suffered a delamination as well, just like Craig and Esapekka on a straight, again just before the final corners, ultimately going third fastest behind Esapekka. However, the Estonian still took the lead as Craig was 2.8 seconds slower. In WRC2, Oliver was again setting the pace from Sami and Robert, the young Estonian going well in this tricky stage.
The final stage then of the day SS15 Umeå 1 – 10.08 km and Thierry made it three in a row from Esapekka and Takamoto. Amazingly the Belgian's stealthy pace had now taken him ahead of Kalle and onto the final podium position. They were on the same overall time coming into this stage, and with the Finn going 3.8 seconds slower, meant he dropped to fourth. Oliver kept his control over WRC2 winning the stage from Teemu and Sami. His lead was now a huge 51.6 seconds over Ole Christian, with Sami a further 22.3 seconds back.
Classification after Day Two
| | | | | |
| --- | --- | --- | --- | --- |
| 1 | O. Tänak | M. Järveoja | Ford Puma Rally1 Hybrid | 1:54:45.4 |
| 2 | C. Breen | J. Fulton | Hyundai i20 N Rally1 Hybrid | +8.6 |
| 3 | T. Neuville | M. Wydaeghe | Hyundai i20 N Rally1 Hybrid | +23.7 |
| 4 | K. Rovanperä | J. Halttunen | Toyota GR Yaris Rally1 Hybrid | +27.7 |
| 5 | E. Evans | S. Martin | Toyota GR Yaris Rally1 Hybrid | +57.7 |
| 7 | P. L. Loubet | N. Gilsoul | Ford Puma Rally1 Hybrid | +2:28.1 |
| … | | | | |
| 11 | E. Lappi | J. Ferm | Hyundai i20 N Rally1 Hybrid | +7:26.4 |
Let's hear from the drivers
M-Sport Ford WRT
Ott Tanak
"A challenging day, quite challenging for tyres it seems, it was a shame that something outside is deciding results. But you know we had everything planned with the tyres and to take the time. The last stage was had to do with a tyre with no studs which was so tricky."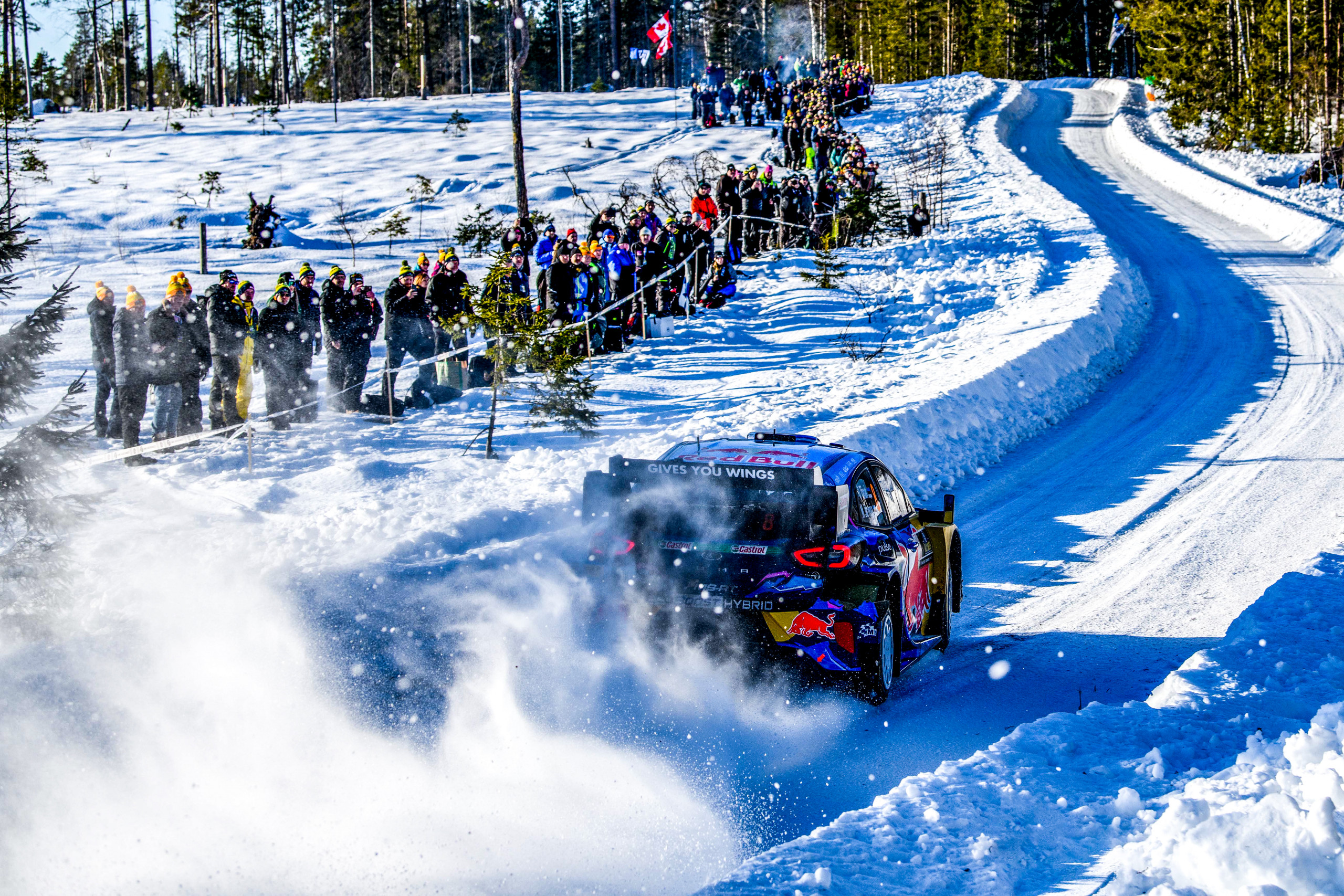 Hyundai Motorsport
Craig Breen
"It was important for us to get this morning out of the way. There was a lot of talk yesterday about road position, but thankfully today we could keep a good rhythm, and were happy with the opening loop. We made it into service still in the lead of the rally. We all live for that feeling to be in the fight. I've missed it greatly, so I was soaking up every second. Unfortunately, we lost the hybrid quite early in the second stage of the afternoon. We carried that around with us for the rest of the loop, so it was a case of damage limitation. It's a bit disappointing but that's how it is. We will get everything back working again for tomorrow; the kilometres are few and the gap is relatively big, but we'll keep at it and keep our shoulder to the wheel. Overall, it's still been a good weekend so far, we just need to round it off in the best way we can."
Thierry Neuville
"The main difference today has been our road position. Since we got better grip, we have been capable of showing our speed. The lack of pre-event testing probably didn't help yesterday, but we made a few set-up changes overnight – not too many – and we had a clean run. There was no doubt that we were attacking yesterday, it's just that our times were masked by the road position. Today, we could set several fastest times and close in on third place. It will continue to be a tough fight with Kalle; nobody will give up and we will certainly give everything we've got."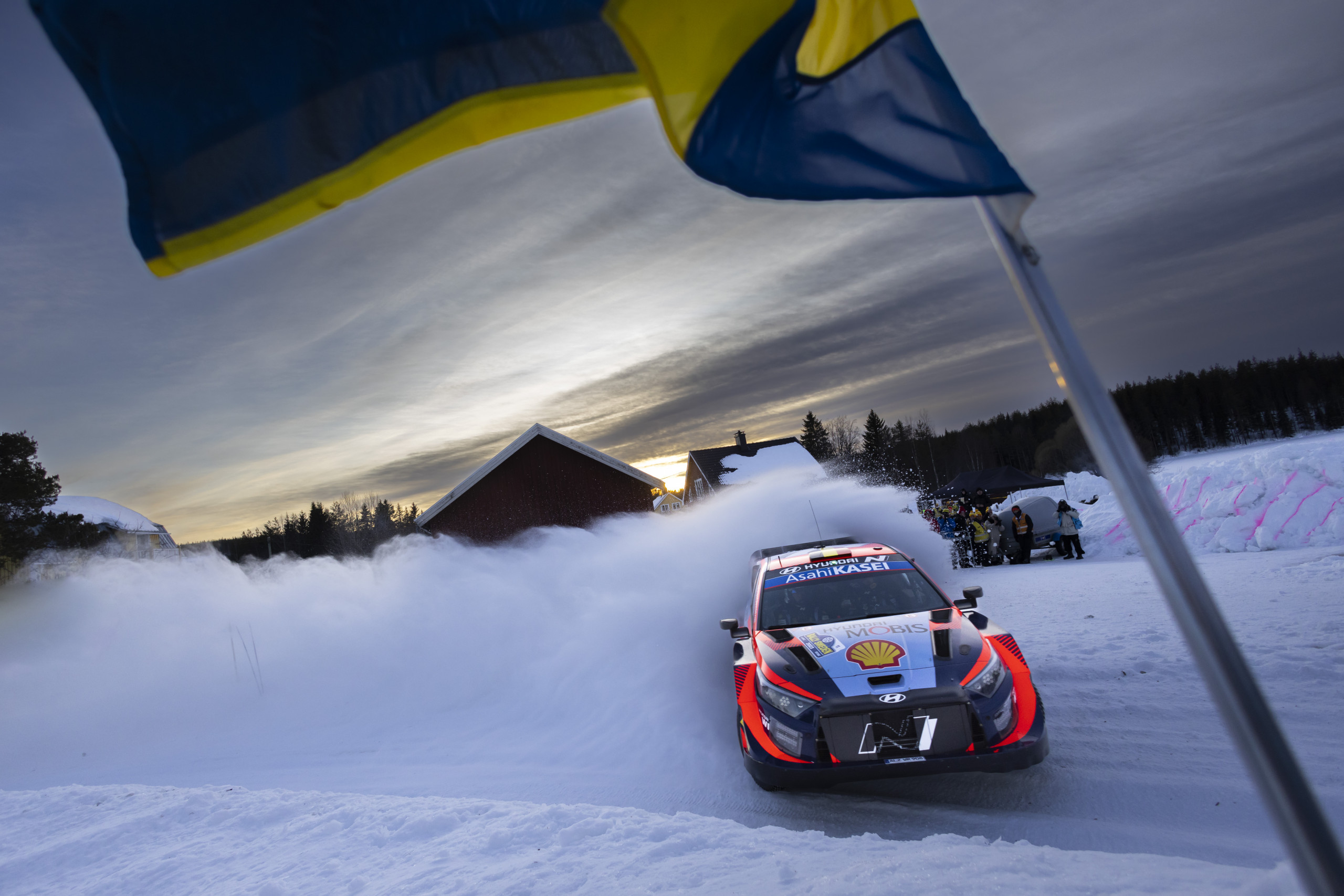 Esapekka Lappi
"Like we all saw in the morning, we couldn't match the times on the first two stages. The final one of the loop was improved, and in the afternoon we definitely had better pace. We drove fairly cleanly, and it felt like we could probably push a bit more. We were managing the tyres well, and it was generally OK. In the end, if you lose seven minutes stuck in a snowbank, it doesn't help. We had a small vibration on the straight before, and I thought there was ice or something on the tyre. It seems the tyre delaminated; as I approached the final corner, I had no grip. There was too much snow under the car, and we were in the ditch on the other side, so we couldn't get out easily. Now we must decide what our strategy will be for tomorrow – try to climb up the ranking or attack the Power Stage."
Toyota Gazoo Racing WRT
Kalle Rovanperä
"It has been a big fight today. In the first pass we did quite well. The feeling in the car was not perfect but still we could do some good times. The afternoon was not so good. I think we messed up a bit with our plan for the tyres. I don't think we were necessarily wearing them more than our rivals but they were rotating them better between each stage; we ended up with worse tyres for the last two stages and lost too much time. But tomorrow there are still many kilometres to go with a new stage in the morning. We'll try to do well on the first pass and see what we can do after that."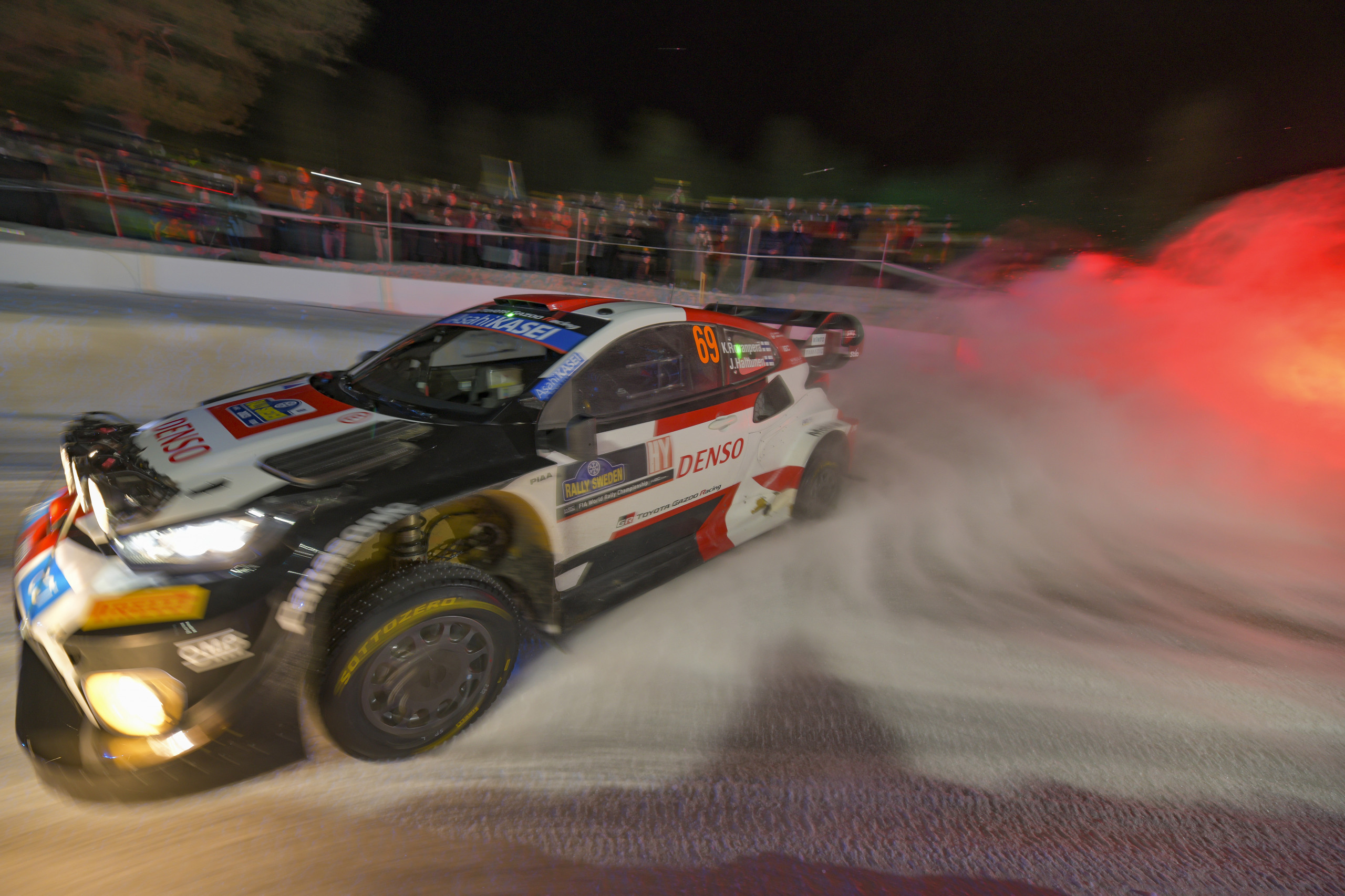 Elfyn Evans
"Today has not been our day to be honest. I've struggled again to feel comfortable behind the wheel and I think that has shown in the times, and of course we had the spin this afternoon that has put us further behind. I've not been able to find the confidence needed so it's been a disappointing weekend so far. With the pace we've had we're too far away and now we just have to salvage what we can tomorrow; secure some points and see what's possible on the Power Stage."
Takamoto Katsuta
"I was very happy to be back on the stages this morning. A big thank you to the team: they fixed the car perfectly. It looked and felt brand-new and I got back the good feeling that I had yesterday. The only thing that had changed was our road position. The conditions opening the road were quite difficult and a new experience for me on snow. There was a lot of learning and the pace was pretty fine when the conditions were OK, I was just losing time when there was a lot of snow and we needed to create the lines. Tomorrow I will focus on the Power Stage and try to push for some points there."
Summary
Well, what a crazy second full day of competition! We had it all, spins, crews changing positions and sadly some tyre failures as well. The question now is, can Ott go on to take victory, or will Craig be able to fight back and retake the lead? Well, there are three stages and 63km's left to run on the final day. In the WRC2 category, Oliver is on target to take victory and set him and Elliott with a good points haul for the category championship.