The first full day of stages would see the crews tackle 106km's over seven stages. In terms of the starting list, the crews would enter the stage in championship order and meaning that Kalle would open the stages throughout the first full day. Between the stages, would be a 30-minute service break.
We'd already had one stage on Thursday evening and leading the way was Kalle from Ott and Elfyn.
First stage on Friday morning was SS2 Brattby 1 – 10.76 km and it was Craig that was fastest from Ott and Esapekka! Best of the Toyota crews was Takamoto. Craig's time put him up to second overall, whilst Ott's time put the Puma driver into the lead. Great to see! Also on the move was Esapekka, who'd jumped one place and into third place. In the WRC2 category Emil and Reeta were fastest from Teemu and Sami and therefore took the lead. Oliver Solberg was not happy with his run and was now in fifth place in the category.
Into SS3 Sarsjöliden 1 – 14.23 km and the conditions in the stage suited him and he was fastest from Esapekka and Takamoto. Elfyn went wide on a left hander, clipping the snowbank a little and losing some pace. He was only seventh fastest and dropped two places to seventh overall. Meanwhile it was all change in WRC2, with Oliver leaping up four positions to take the lead and we had a new driver in second place as well, Ole Christian Veiby taking that from Teemu who fell to third in the category.
Takamoto won SS4 Botsmark 1 – 25.81 km from Kalle and Ott whilst Elfyn started to climb the leader board, moving ahead of Thierry. The overall top three remained the same, whilst in WRC2, Oliver was second fastest in the stage from Sami, but remained in the category lead.
After the service break there was a few changes following SS5 Brattby 2 – 10.76 km with Craig winning the stage from Pierre-Louis and Esapekka! The Irishman's pace took him into the lead, pushing Ott down to second place and Esapekka remained third overall. Unfortunately, Takamoto rolled his car in this one and dropped three positions to eighth overall. In WRC2 Oliver took another category win and was 10 seconds ahead of Sami, whilst Jari was climbing up the leader board and into third place overall.
Craig took another stage win in SS6 Sarsjöliden 2 – 14.23 km from Elfyn and Ott. The Irishman was increasing his lead over the Estonian, now up to 10.5 seconds ahead. In WRC2, Sami was quickest from Ole Christian, whilst the leader Oliver was fourth. The gap reduced just a little to 8.5 seconds.
Into SS7 Botsmark 2 – 25.81 km and Ott was fastest from Esapekka and Craig third. The gap between the leaders came down a little to 6.4 seconds. In WRC2 Sami took another stage win from Oliver, reducing his lead down to just 6.8 seconds. Crazy that at the top on both categories the gaps were so similar!
The final stage of the day then, SS8 Umeå Sprint 2 – 5.16 km and Kalle was fastest from Ott and Esapekka. Craig was sixth fastest and now his lead was just 2.6 seconds. He was pretty calm though and very happy with his day. Oliver was in a stronger position though having increased his lead to 13 seconds over Sami.
Classification after Day One
| | | | | |
| --- | --- | --- | --- | --- |
| 1 | C. Breen | J. Fulton | Hyundai i20 N Rally1 Hybrid | 57:05.5 |
| 2 | O. Tänak | M. Järveoja | Ford Puma Rally1 Hybrid | +2.6 |
| 3 | E. Lappi | J. Ferm | Hyundai i20 N Rally1 Hybrid | +11.2 |
| 4 | E. Evans | S. Martin | Toyota GR Yaris Rally1 Hybrid | +26.5 |
| 5 | K. Rovanperä | J. Halttunen | Toyota GR Yaris Rally1 | +31.1 |
| 6 | T. Neuville | M. Wydaeghe | Hyundai i20 N Rally1 Hybrid | +36.8 |
| 7 | P. L. Loubet | N. Gilsoul | Ford Puma Rally1 Hybrid | +1:16.2 |
Hyundai Motorsport
Craig Breen
"It is hard to imagine that things would be as good as they have been today. We have had a good road position, of course, but we also have a good car. We tried to use both to take an advantage; to lead the rally overnight is a bit of a dream. I feel completely comfortable in the car, it feels soft and cuddly. For the moment, I am happy with it but there is still a lot of work that needs to be done. I still don't feel we are at the peak of where we need to be. It's far from over. Tomorrow is a long day, and we've seen today that it's hard to make much of a difference. I will give all I can, and whatever happens it won't be for the want of trying. It's like the Mad Hatter's Tea Party in this rally – everyone is invited!"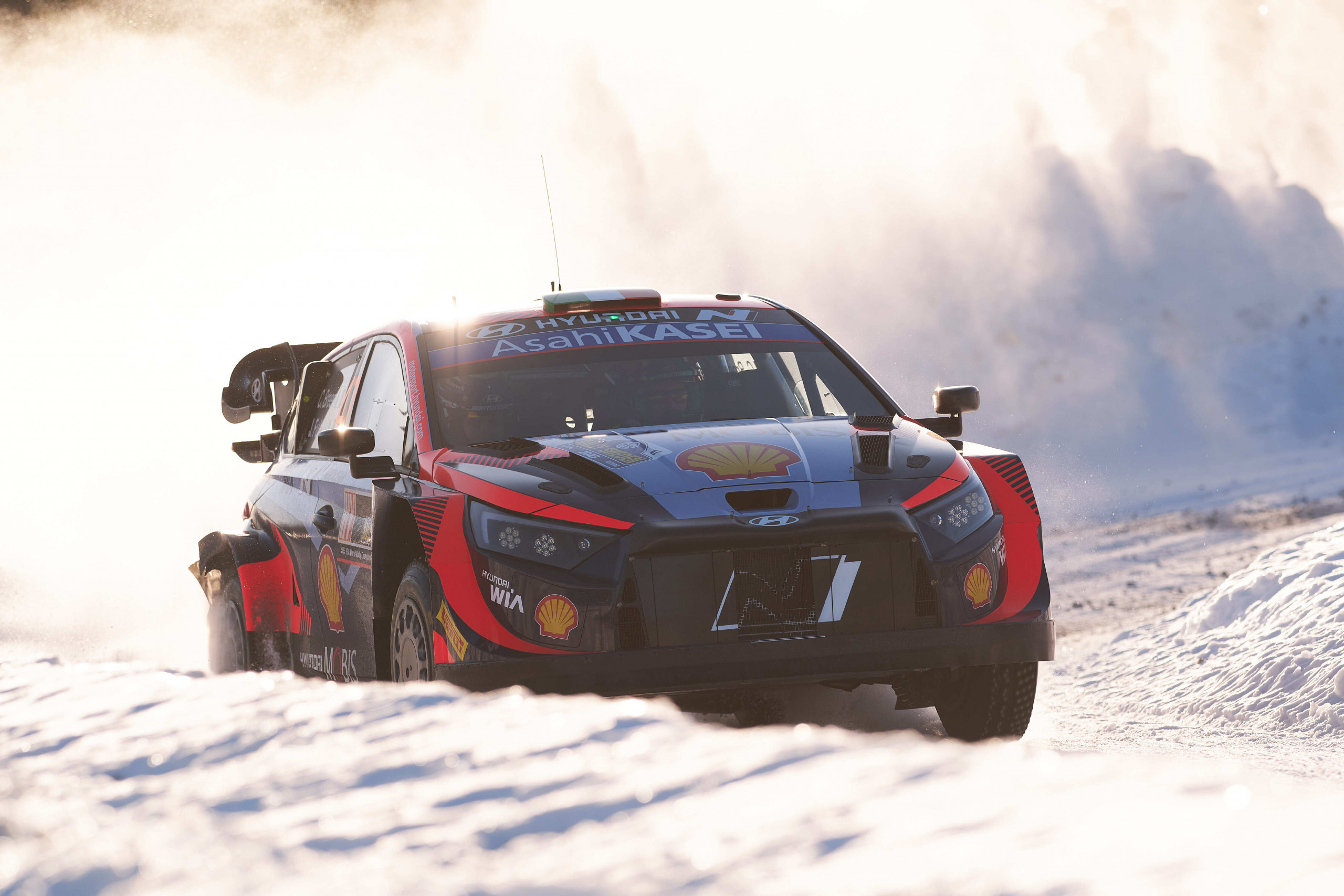 Esapekka Lappi
"Today has not been too bad but I feel there is much more to come. I was quite satisfied this morning, and thought we were where we wanted to be. It's always good to be further up but it was a solid start. Our preparation for the event was good, and I like these conditions. I thought we would have a better set-up for the second pass but that didn't happen as we'd expected. We will have a think overnight to see what changes we might make. We don't want to do anything too drastic, especially with the feeling we have now, otherwise we risk something going wrong. There are small things to perfect as we try to find more improvements in our pace."
Thierry Neuville
"It has been a very challenging day out there. We knew that road conditions would not be great for us as one of the first cars on the road, but we still had hope. Despite the conditions, we were incredibly unlucky to lose the bumper twice, this morning and this afternoon, so we were handicapped by that. We started the day five seconds behind Kalle (Rovanperä) and ended it 5.7 seconds back; we would have loved to turn things around but with the missing aero we just couldn't. We had to limit the damage. Tomorrow, the road position is better but we still have the front guys behind us so it will be another challenge; we will give it our best shot anyhow."
M-Sport Ford WRT
Ott Tanak
"It's been a very positive day, we were not expecting this coming here and it was difficult to predict, but it's been an okay day and let's see what we can do tomorrow."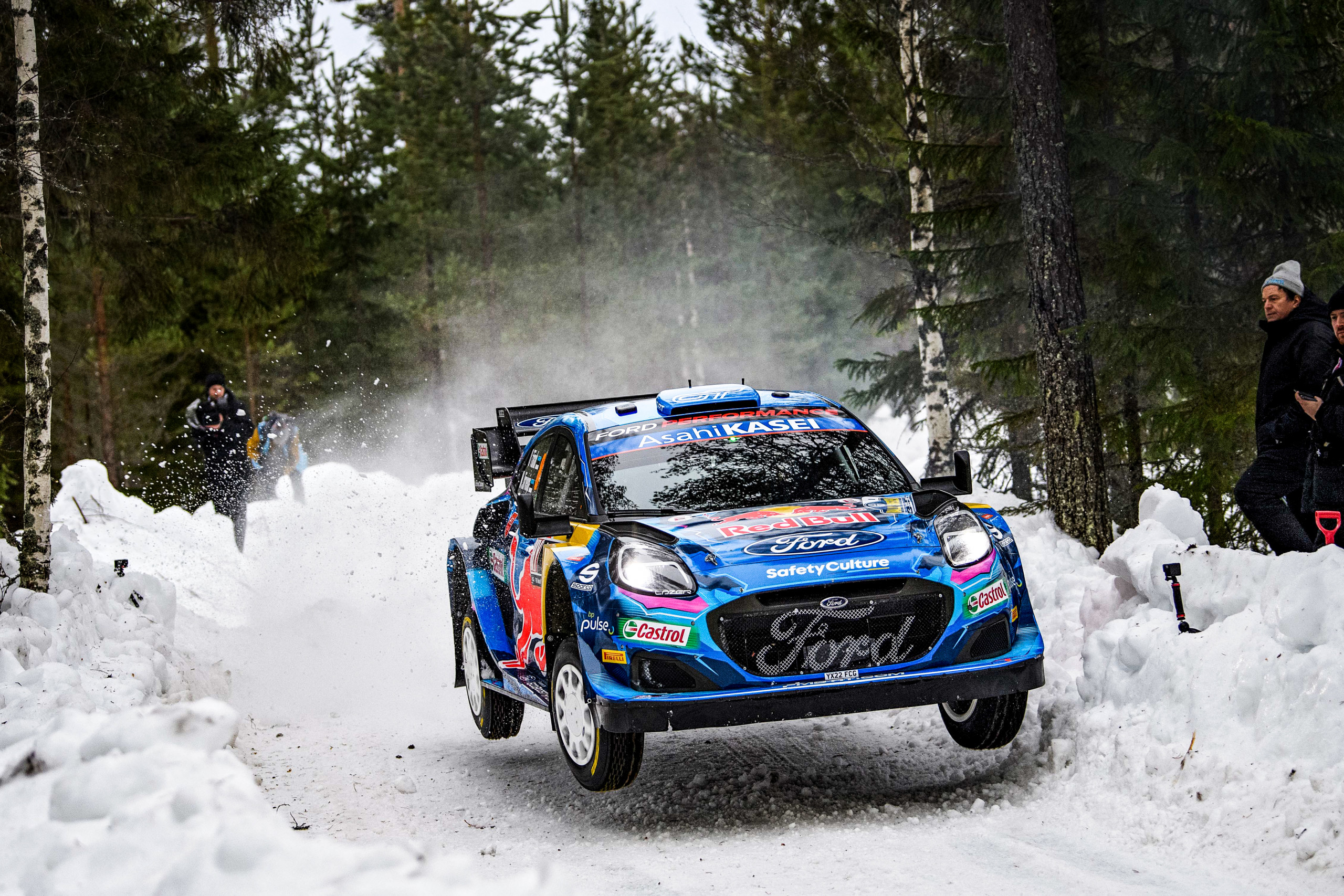 Toyota Gazoo Racing WRT 
Elfyn Evans
"It was not a strong morning at all from our side, as I was struggling with the balance and not able to find full confidence. This afternoon was better; we made some changes to the car setup at lunchtime that seem to have improved the feeling a bit. So overall I'm happy with how the afternoon went but still we are not really where we would have wanted to be. We're definitely going to keep trying our all. The stages are technical and it's easy to be caught out, so anything can happen. We just need to keep fighting and hopefully continue to climb the leaderboard tomorrow."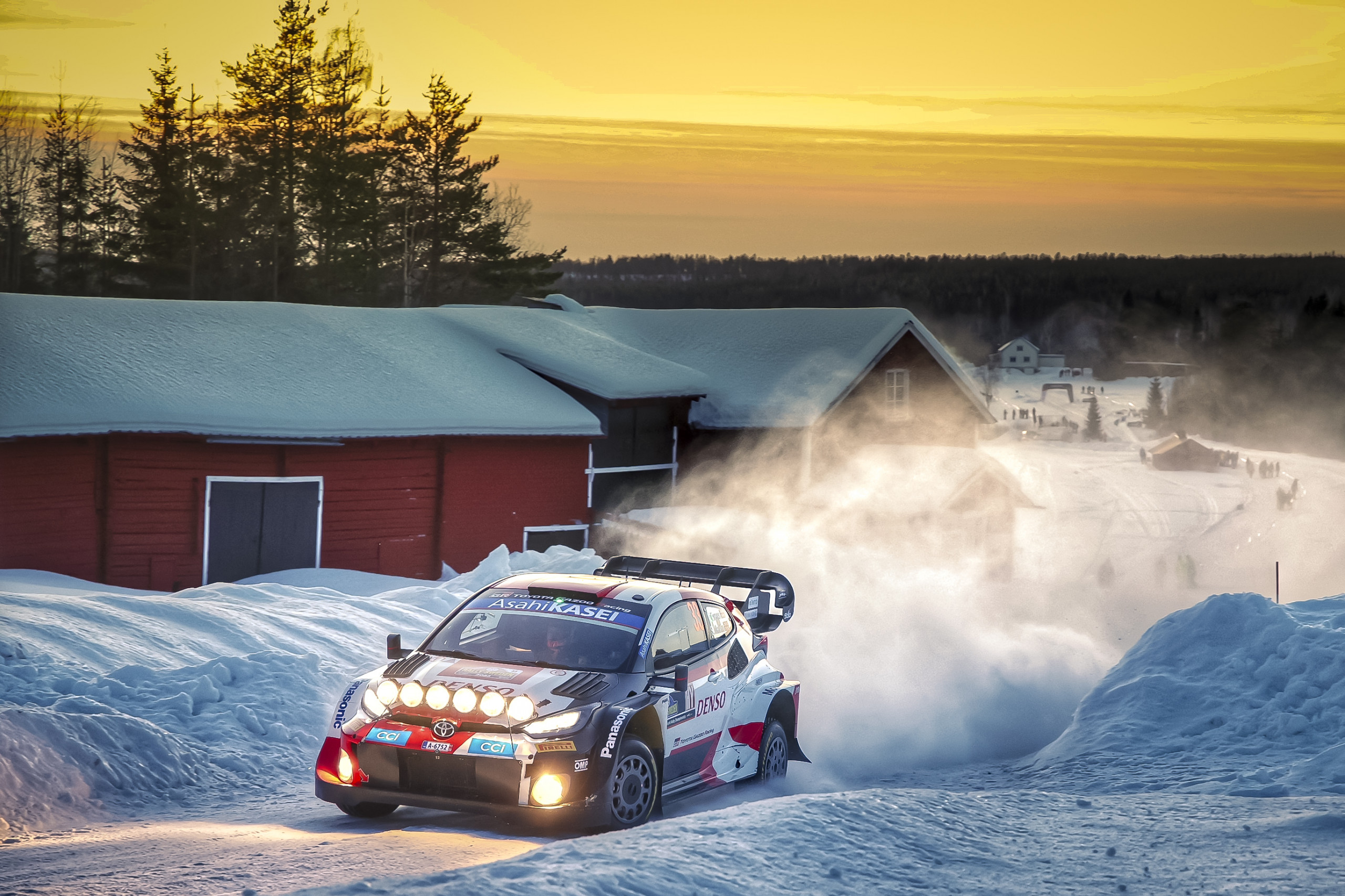 Kalle Rovanperä
"This morning the conditions were surprisingly good. In the first stage we lost a lot of time as we had expected given the snow was really soft and loose. But after that we could do good times when the conditions were nicer, so the time loss was not too big this morning. This afternoon was a huge challenge: I think the first stage of the loop was the most difficult stage on snow any of us have ever done with huge ruts and a lot of loose snow. We lost a lot of time there and just tried to keep it clean and stay on the road. But when we had conditions where we could push, we were quite fast compared to our rivals, so I'm quite confident we can do more with our road position for tomorrow."
Takamoto Katsuta
"I felt really good with the car and very comfortable this morning. I was not pushing too much, but the feeling was there and the times were there also, so I was very happy. This afternoon I tried to keep a good speed without a crazy push, but the conditions were very difficult with lots of loose snow and deep ruts. In a fast corner near the end of SS5 I couldn't slow down enough or turn the car fully because of the ruts and we went wide and hit the snowbank heavily, as we were way too fast. It was my mistake and I'm really sorry for the team. We had a really good start this morning so I'm very disappointed. Hopefully we can restart tomorrow and get that feeling back but let's see."
Saturday
What does tomorrow hold for the crews? Well with 126 km's over six stages including the longest stage of the event at 28.25km's.
Can Craig stay in the lead tomorrow, or will we see Ott get into his groove like we have seen in the past and go past his former Hyundai teammate? Can Oliver also do the same thing and stay ahead of Sami? One thing is for sure, it will be an amazing day on Sweden's stages.