Hometown driver Colton Herta smashed the track record this afternoon, held by Hélio Castroneves, by nearly a second with a 1:05.3095 securing pole position for tomorrow's Grand Prix of Long Beach. Herta is starting where he finished off last year's event, where he won the 2021 Grand Prix of Long Beach and is now set to go back to back.
Herta had been flying for all of qualifying. The Andretti Autosport driver, born just 60 miles away from the track, topped the round one, group one session with a 1:05.73, and then replicated this in round two with a 1:05.41. Talking to NBC, Herta said "The car was so fast. Honda have been spectacular."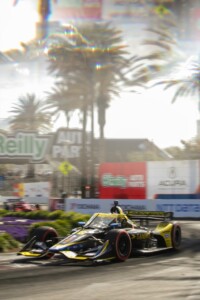 Herta's teammates were also blisteringly fast. In both of Herta's sessions, Alexander Rossi had finished second while Romain Grosjean had topped the round 1, group 2 session with a 1:05.75.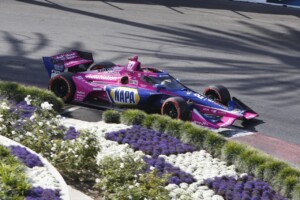 Going into the Firestone Fast Six, it looked like it was Andretti Autosport's destiny to lock out the top three positions for tomorrow's race but while Grosjean was on a flying lap and on course to go quicker than Herta, he tagged the wall coming out of turn four, broke a suspension tow link, and with a loss in steering crashed the Honda into the turn five tyre wall, bringing out the red flag.
After the red flag was lifted with just two seconds of the session left, IndyCar followed the rulebook and allowed the drivers to complete one flying lap but Rossi did not go out again and would settle for fifth after Grosjean got demoted to sixth for having brought out the red flag. Talking to NBC regarding the incident, Grosjean said "Worst case scenario is sixth so just send it right?" Grosjean had been fastest in practice two earlier in the day.
Through all the chaos towards the end of the Firestone Fast Six, Josef Newgarden found himself having qualifying second. Álex Palou qualified third, and Felix Rosenqvist fourth. Palou won the IndyCar championship last year at Long Beach who hosted the final race of the season, after finishing fourth.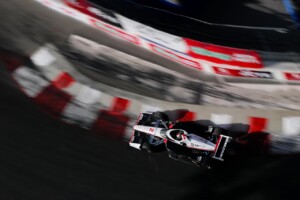 Team Penske had been the challenger to Andretti Autosport over the race weekend, but it had appeared that championship leader Scott McLaughlin had the edge over teammate Newgarden, going third fastest in practice one and eigth fastest in practice two however he was affected by a build up of traffic at the turn 11 hairpin where drivers had been backing up the field somewhat throughout qualifying.
During the round two session, McLaughlin had let Marcus Ericsson past but Ericsson felt his lap was compromised and backed off before going side by side with McLaughlin around turn 10 heading to the hairpin compromising McLaughlin's next flying lap. McLaughlin would qualify ninth.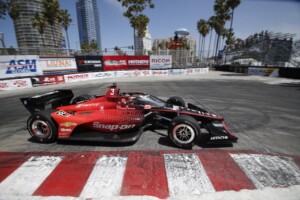 A similar incident occurred for Will Power where he felt he had also been impeded and missed out on the fast six and instead will have to start seventh for tomorrow's race. It was even more painful for Pato O'Ward who was more than on course for making the fast six before going wide at the turn 11 hairpin and missed out by 0.005 of a second.
A big name of the weekend missing from the top six was Simon Pagenaud, who had been fastest in practice one and fifth in practice two. He had gone second fastest in round one, group two with a 1:05.89 but in round two, Pagenaud would only manage 10th.
Scott Dixon would only manage 16th while Kyle Kirkwood was the highest qualifying rookie in 12th and had been mixing it up in the top 10 during practice and qualifying.
The two round one group sessions some saw some close shaves as well as crashes. Jimmie Johnson, who was nursing a broken bone in his right hand from yesterday's practice crash, crashed into the turn one tyre wall after missing the apex of the corner. The frustrated Californian yelled "Dammit, dammit, dammit!" on the radio. Before this, Johnson had been penalized for interference with Graham Rahal in turn one and would not advance to the next session.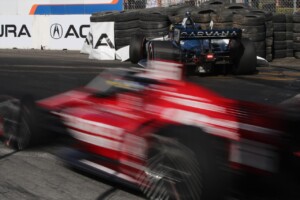 Rookie David Malukas would slide into the tyre wall opposite the fountain bringing out the red flag, but would continue and qualify 19th.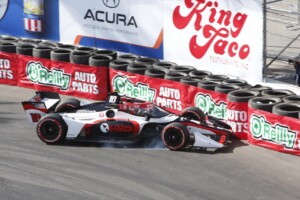 Conor Daly's car was damaged after tagging the turn eight wall and would have to come down pit road.
Rosenqvist locked up over the bump heading into turn nine and had to take the escape road while Ericsson nearly flung his Huski Chocolate Honda into the turn five tyre wall while on his flying lap.
The green flag for the Grand Prix of Long Beach flies at 3pm ET on Sunday.
The full qualifying results are as follows: Colton Herta (1st), Josef Newgarden (2nd), Álex Palou (3rd), Felix Rosenqvist (4th), Alexander Rossi (5th), Romain Grosjean (6th), Will Power (7th), Marcus Ericsson (8th), Scott McLaughlin (9th), Simon Pagenaud (10th), Pato O'Ward (11th), Kyle Kirkwood (12th), Graham Rahal (13th), Hélio Castroneves (14th), Rinus VeeKay (15th), Scott Dixon (16th), Devlin DeFrancesco (17th), Conor Daly (18th), David Malukas (19th), Christian Lundgaard (20th), Jack Harvey (21st), Callum Ilott (22nd), Takuma Sato (23rd), Dalton Kellett (24th), Jimmie Johnson (25th), Tatiana Calderón (26th).