Before the Russian Grand Prix weekend, many Formula One fans would have sighed at the prospect of a Lewis Hamilton-Max Verstappen 1-2 in Sochi. In the end though, we had by far the best Russian race since it's debut in 2014, and one which was a microcosm of the season so far.
As soon as Max Verstappen opted for new power unit components after FP1 on Friday, his weekend was always going to be about damage limitation, whereas Lewis Hamilton knew he wouldn't have a better chance to retake the championship lead with his main rival out of the picture. This looked like a straightforward task right up until the final moment s of qualifying, when old intermediates on a drying pitlane led to the smallest of mistakes from the seven-time champion. Fixing the front wing meant Hamilton (and Valtteri Bottas, who was held behind the Brit) only got one lap on slick tyres, leaving Lewis starting fourth behind Lando Norris, Carlos Sainz, and his future teammate George Russell.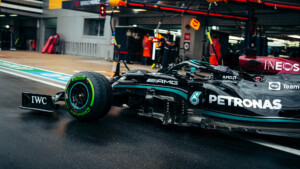 Still, many would have expected the Mercedes man to take an easy victory on Sunday, but this looked a lot less likely by the time the field reached the braking zone for turn two. Just like in the Monza sprint race, Hamilton was slow away, and he dropped to seventh before re-passing Fernando Alonso.
As his rivals pitted, this is where Hamilton's mastery came to the fore. 'Bono my tyres are gone' has become the most feared message in Formula One, as it's normally followed by purple sectors across the board for Car #44. For a man who was initially known as being hard on his tyres, Lewis seems to be able to eek out performance when the rubber is far from fresh, and this – combined with a less than ideal stop for McLaren's Ricciardo – helped him jump up the order.
Once on fresh hards, Hamilton looked unstoppable. Sainz was dispatched with consummate ease, and the gap to Norris started rapidly reducing. Dirty air started having an effect though, and Lewis couldn't quite get within that all important one second window.
Up until Spa, the prospect of wet-weather led to excitement rather than trepidation from Formula One fans. And Sochi proved that you don't need monsoon-like conditions to cause drama; just a small shower can create panic and problems. As the heavens opened over the Black Sea coast, Norris initially extended his lead, and it looked like we were going to get a second debut winner of the season. Both drivers stayed out when the majority were pitting, before a decisive move from the McLaren driver proved to be costly. Whereas the Woking team were more advisory about Lando pitting, Mercedes were insistent: The slicks would soon be skidding, and intermediates were the only option. Straight away Hamilton gained time, and within one and a half laps he was well on the way to his hundredth victory – a simply staggering achievement.
Of course, the irony in this is that the rain hindered Hamilton's chances of taking a record-breaking eighth title. Max Verstappen was in seventh, struggling to make up ground before the downpour, and he came in at just the right time to shoot up the order, finishing in second, and an astonishing eighteen places higher than he started. A twelve point swing had been reduced to seven, and he is now just two points behind with seven races still remaining.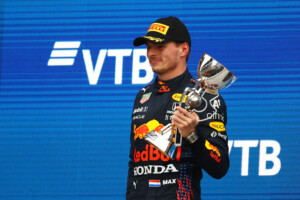 For Lando, his time will come. And with an extra engine in the bag, Max may well be slight favourite for the championship despite trailing in the standings, thanks to a drive which again showed why many expect him to be the man to pick up the baton from Hamilton. But yesterday was Lewis' day. Even the young karter from Stevenage could have barely imagined getting one hundred race victories, and there's no reason why more won't be added to the tally. The greatest of all time? That's a bold statement. The greatest of his time? Unquestionably. The future is bright for Formula One, with Max, Lando, George and Charles Leclerc all looking like world championship material. But you'd be a brave individual to bet on any of them to surpass the achievements of Sir Lewis Carl Davidson Hamilton.