Toyota hypercar took its first win in this new era but its fourth in a row at Le Mans the driver line up of Mike Conway, Jose Marie Lopez and Kamui Kobayashi brought car #07 home to victory with what was an easy run in the 89th running of the Le Mans 24 hours, but it still wasn't without drama at the end, with only a few hours remaining car #07 reported they had a fuel pick up problem would the curse of the 7 car strike again for Toyota, it was the same fuel drama that plagued car #08 at the 6 hours of Monza back in July, but in the end it was an easy win for the Japanese manufacturer and its sister car #08 made it a 1 & 2 with the Alpine ELF Matmut filling the final podium spot4 laps down on the Toyota's, both the Glickenhaus cars #708 (4 Laps) car #709 (7 Laps) finished 4th & 5th in the hypercar class, the American team based in Italy where happy with the result at there debut of the great race Luca Ciancetti (Technical Director) " We are supper happy, you have to be if you get two cars to the finish".
In the LMP2 class the honours went to the Belgian team of WRT with Robin Frijns, Ferdinand Habsburg and Charles Milesi in car #31, it was a hard close fought race for all the LMP2 team's, especially the WRT sister car #41 with one lap to go and leading the race the car came to a halt with a broken throttle sensor shut the Gibson down handing the race to its sister car in dramatic style, Jota car #28 of Sean Gelael, Stoffel Vandoorne and Tom Blomquist came 2nd with the Untied Autosport's car #65 of Will Stevens, Julien Canal and James Allen in 3rd.
In LMGTE-Pro it was Ferrari's day with AF Corse and car #51 with James Calado, Alessandro Pier Guidi and Come Ledgar again like Toyota's victory led the final 205 laps the closest anyone got to putting pressure on was Corvette racing car #63 of Antonio Garcia, Jordan Taylor and Nicky Catsburg getting the gap down to 23 seconds but this wasn't close enough, the Corvette finished runners-up with the works Porsche car #92 on the final step of the podium in 3rd.
In LMGT-Am it was a double for Ferrari and AF Corse with car #83 bringing the car home and its 3rd win of the season in the championship with reigning champions Nicklas Nielsen, Francois Perrodo and Alessio Rovera at the wheel it was a hard-fought race but they controlled it to the chequered flag with the TF Sport Aston Martin car #33 in 2nd with Felipe Fraga, Ben Keating and Dylan Perrira 3rd in class, in 3rd was another Ferrari of Iron Lynx car #80 again at the wheel Matteo Cressoni, Callum Ilott and Rino Mastronardi.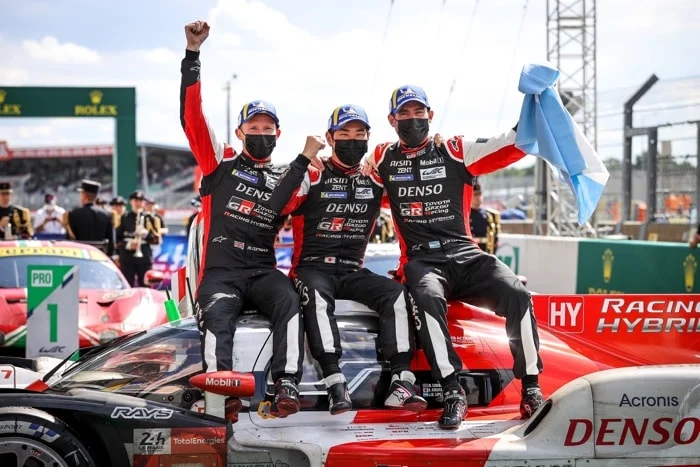 Image courtesy of 24 hours of le mans